Eric Zamuco sees art in airplane windows in Visible Currents at Silverlens
The exhibit runs until July 2.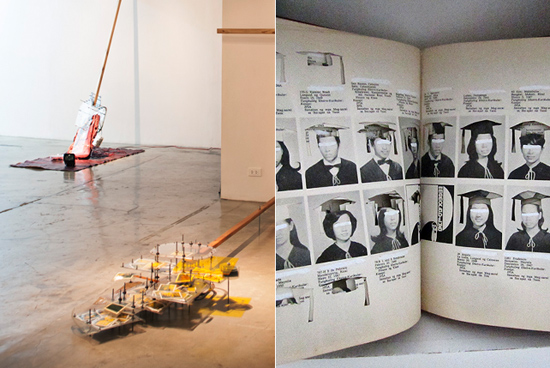 (SPOT.ph) It was in 2002 when artist Eric Zamuco stumbled upon a number of airplane windows at a junk shop. He bought the pile without knowing what exactly he would do with them; all he knew was that he would create art. Fast forward to today, he is presenting his art pieces at his exhibit, Visible Currents at Silverlens Galleries.
ADVERTISEMENT - CONTINUE READING BELOW
CONTINUE READING BELOW
Recommended Videos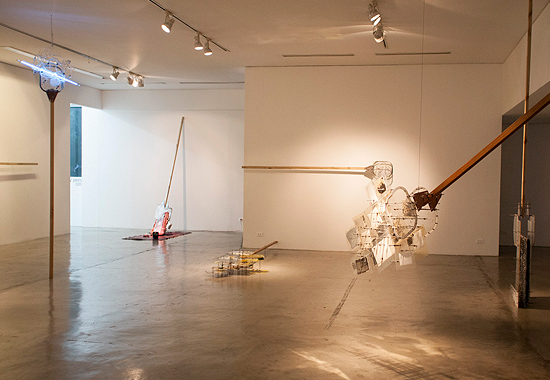 Zamuco, a recipient of the Ateneo Art Award in 2015 and the Cultural Center of the Philippines' Thirteen Artists Award in 2003, transforms airplane windows by attaching found objects on them and then adding a wooden handle at the end. He calls his assemblages oars, and he has periodically made different sets of them. The first ones were done after his art residency in Vermont, which was also the first time he was able to travel abroad.
ADVERTISEMENT - CONTINUE READING BELOW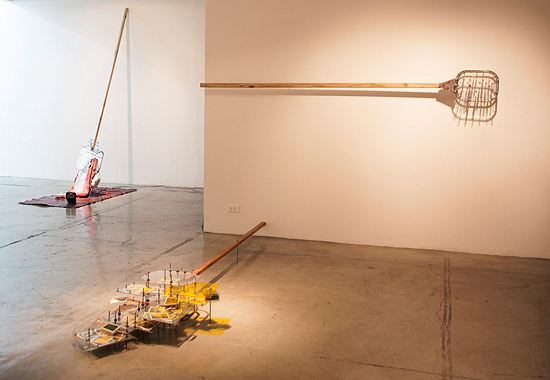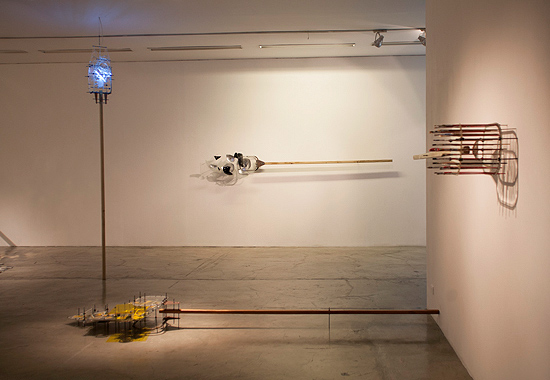 ADVERTISEMENT - CONTINUE READING BELOW
Zamuco also lived in Missouri for seven years before coming back to the Philippines. He says that all of these experiences have seeped into his art. "There's something about living elsewhere that makes me believe in the temporariness of existence," he says. He adds that every time he goes abroad, he begins looking for a home, and yet, when he returns to the Philippines, he finds himself still searching for a home. "Hindi humuhumpay ang paghahanap," he says. It is no wonder that his works of art feature oars, tools that allow him to continue his journey, one that is filled with various thoughts, from the personal, to the spiritual, and even the political.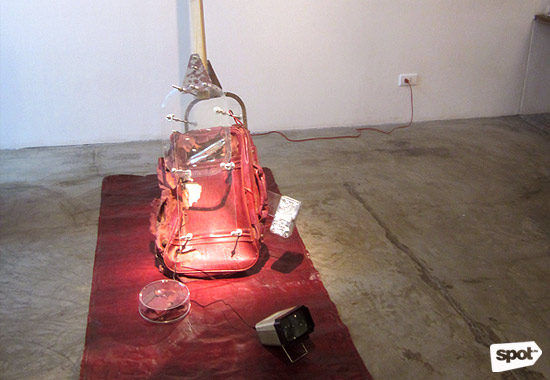 ADVERTISEMENT - CONTINUE READING BELOW
"With You"
Sometimes the journey is fraught with pain, as seen in his piece entitled "With You." Instead of the spoon of the oar, it has a dilapidated red bag, and then, spread under it is a sheet of red leather. If you crouch down, there is also a slide viewer where you'll see a photo of a woman's feet. The photo is presented as a negative, but if it were in full color, it would have been blood red. It actually references a moment when Zamuco's wife experienced a miscarriage. "I thought she was bleeding to death," he said, and the situation made him ask "What is the wisdom in loss?" While his wife was going through this, their six-year-old son began singing her a hymn, which had the words "Be strong, be courageous, don't be afraid because God is with you wherever you are." This struck Zamuco. "Even at a time of loss, God is present," he says.
ADVERTISEMENT - CONTINUE READING BELOW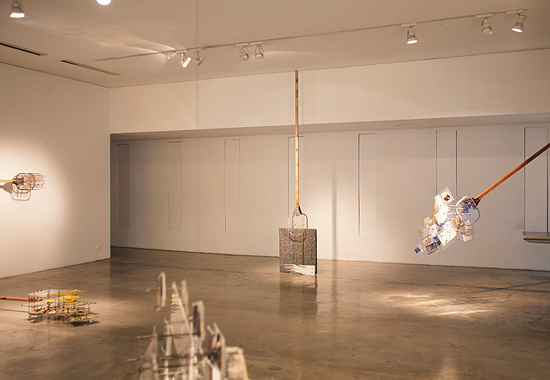 Sometimes the journey is marred by forgetfulness. In "Prize and Memorabilia," the spoon of the oar is made with pieces of black paper encased in clear acrylic sheets, which turn out to be paper cut-outs from a yearbook. That yearbook is placed on the shelf beside the artwork, and if you open it, you'll find that all of the caps of the graduates are cut out. Then you realize that the black paper on the oar comes from the graduation caps themselves.
ADVERTISEMENT - CONTINUE READING BELOW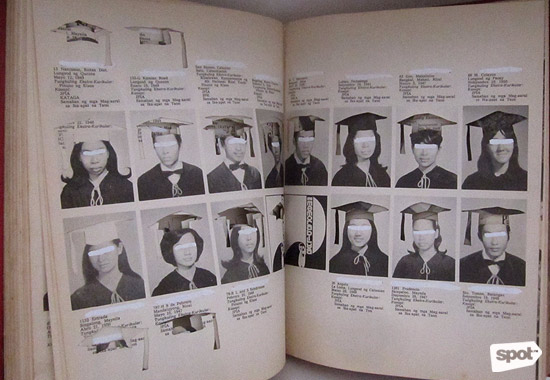 Yearbook from "Prize and Memorabilia"
This yearbook interested Zamuco because it had several photos that expressed resistance against Martial Law. He also explained that he discovered the yearbook at a secondhand bookshop in May during the elections, where we saw Bongbong Marcos, the son of dictator Ferdinand Marcos, running for vice president.
ADVERTISEMENT - CONTINUE READING BELOW
One harrowing torture method is represented in Zamuco's artwork, as a reference to Martial Law. Below the graduation caps is an aluminum foil shaped into a chili pepper. He remembers that during Martial Law, chili peppers would reportedly be rubbed on an eggplant, then that eggplant would be used to rape a woman so she'll feel the searing pain of the spicy pepper. For Zamuco, there is a compelling contrast between the individuals in the yearbook and the society today—all of those people have already graduated from school, but for the rest of us, we have not even graduated from the lessons of history.
The exhibit runs until July 2. Silverlens is at 2/F YMC Building 2, 2320 Don Chino Roces Avenue Extension, Makati City. For more information, visit Silverlens' website and Instagram.
Photos by Jasmine Agnes Cruz (yearbook from "Prize and Memorabilia" and "With You"); other exhibit photos courtesy of Silverlens
ADVERTISEMENT - CONTINUE READING BELOW
Load More Stories