10 Things You Need to See at Art Fair Philippines 2017
Dropping by this weekend? Here's what you can't miss.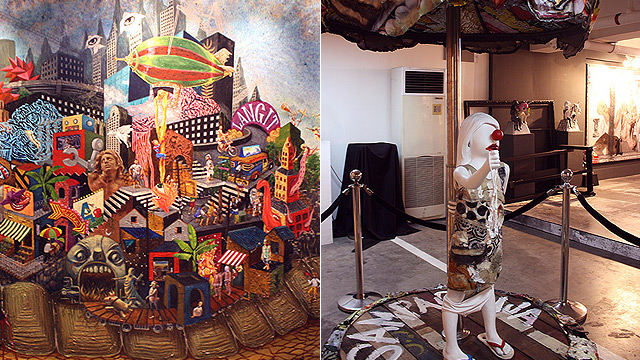 (SPOT.ph) When Cathy Bengzon of Ayala Land promised that Art Fair Philippines 2017 would be "bigger, better, and bolder," she wasn't kidding. This year's roster of galleries increased to 46, and a first-timer may find the three-floor event overwhelming.
Considering that time may not always be on your side (and that you might only have an hour or so to explore), we list down 10 pieces that you shouldn't miss. Careful not to get lost, it's a big maze out there.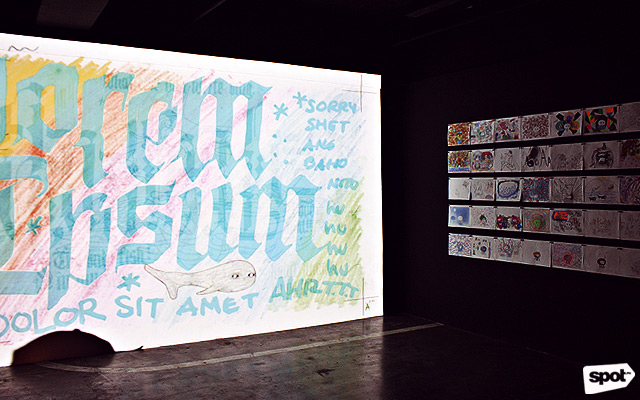 "Hobo in Wonderland" by Dex Fernandez
Location: 7/F, near an emergency exit at the far end of the floor
In Fernandez' work for Art Fair Philippines 2017, he makes the famous Garapata Man move through a video installation. Drawings on the wall show the multi-legged creature's many (mis)adventures all over "Wonderland" and these are all flashed onscreen. Good luck getting out of a trance while looking at the slides.
ADVERTISEMENT - CONTINUE READING BELOW
CONTINUE READING BELOW
Recommended Videos
"Ang Patuloy na Pag-usad ng Lipunang May Sayad" by Sangviaje
Location: 6/F, CANVAS Booth, across Secret Fresh Booth
The 152 cm x 122 cm artwork by a collective of six young artists hailing from Antipolo is a collage of high-rise buildings, a graveyard, icons of the Catholic Church, and fun rides in a carnival. All these small things are put on top of the shell of a turtle, known for its slow movement, especially when on land. Its insight about patuloy na pag-usad is on-point.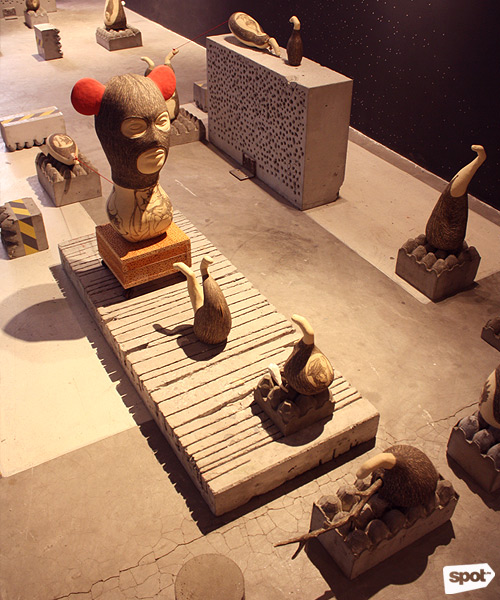 ADVERTISEMENT - CONTINUE READING BELOW
"New Folk Heroes" by Mark Valenzuela
Location: 6/F, near the elevators and stairway
Using ceramic, concrete, timber, and found objects, Valenzuela makes a commentary on the prevalence of machismo and tyranny in the Philippines today. What appears to be a Mickey Mouse figure is actually a sculpture of a man wearing a mask similar to ones used by robbers and muggers, reflecting the questionable face of safety on our streets.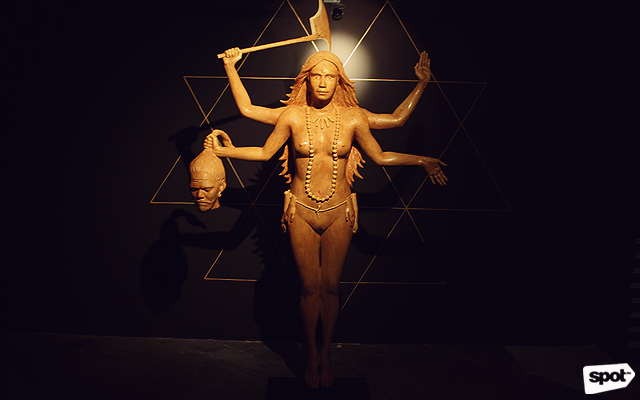 "Project Pleiades" by Agnes Arellano
Location: 7/F, near an emergency exit at the far end of the floor
Seeing "Project Pleiades" all set up inside a dark room was a completely different experience from when we first saw it as a work-in-progress in Arellano's bright studio. The four cast stone sculptures stained with tea are inspired by different mythologies from different civilizations and different eras—all reflecting the artist's spiritual views and politics about women.
ADVERTISEMENT - CONTINUE READING BELOW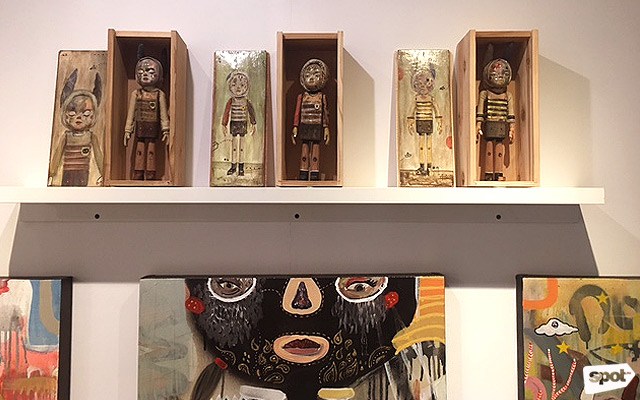 "Ohlala" by Reen Barrera
Location: 6/F, Vinyl on Vinyl Booth
They're easy to miss given their size, but once they catch your eye you'll be transfixed. Reen Barrera's haunting works will make you conjure stories of beguilingly unusual children with a peculiar taste in toys.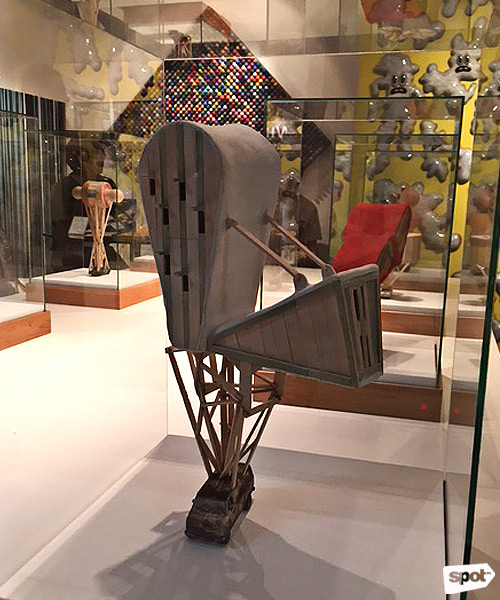 ADVERTISEMENT - CONTINUE READING BELOW
"Mobile Series" by Mariano Ching
Location: 7/F, MO_Space Booth, across the wine bar
Mariano Ching's mini cars look like they're about to take flight at any second, made buoyant by balloon-like structures attached to their roofs. These whimsical pieces are likely to take you to a far-off world reminiscent of those created by Hayao Miyazaki, where imagination has no limits.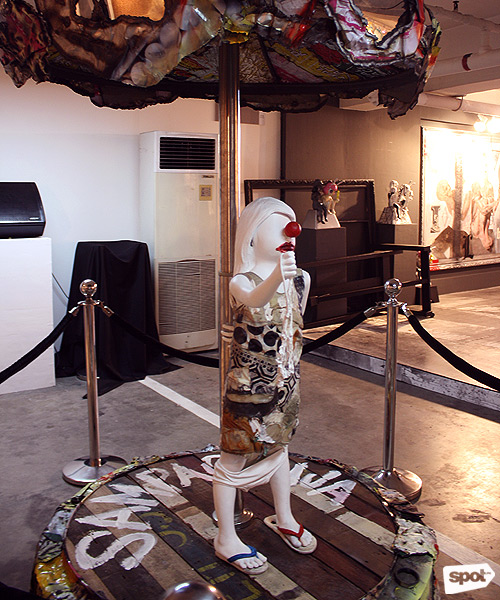 "Sampaghija" by Max Balatbat
Location: 7/F, Yavuz Gallery, behind the mural by Borlongan et al.
This resin sculpture of a child, poised like a clown with a big red nose and big red smile, at the center of a carousel is as haunting as its title. The underpants that seem to have been pulled down with force is hard to miss.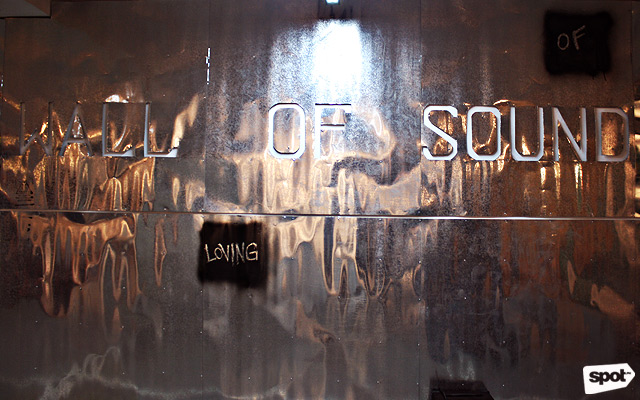 ADVERTISEMENT - CONTINUE READING BELOW
"All Watched Over by Machines of Loving Grace" by WSK
Location: 6/F, beside Mark Valenzuela's sculptures
WSK (pronounced as wasak, a Filipino word which means shattered) shatters boundaries with its multimedia installation. The exhibit is enveloped by a metal sheet that itself is interactive, as pointed out to us by curator Erwin Romulo: touch the metal and touch a person beside you, and make sure to listen. Inside, the RELAY Robot Orchestra surprises you with its cybernetic sounds.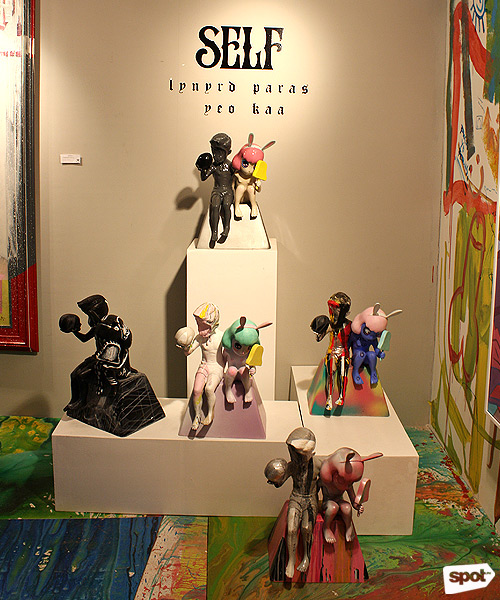 The Secret Room at Secret Fresh
Location: 6/F, Secret Fresh Booth, near an emergency exit at the far end of the floor
Secret Fresh maintains the playful vibe that the gallery is known for by having splashes of paint in different colors on its wall. But don't let these bright blends of pink and orange fool you because the works of featured artists Lynyrd Paras and Yeo Kaa are anything but sunny. Don't forget to visit the secret room hidden behind a black curtain. We can't tell you who the featured artist is, but it's certainly someone you would'nt expect in a toy store.
ADVERTISEMENT - CONTINUE READING BELOW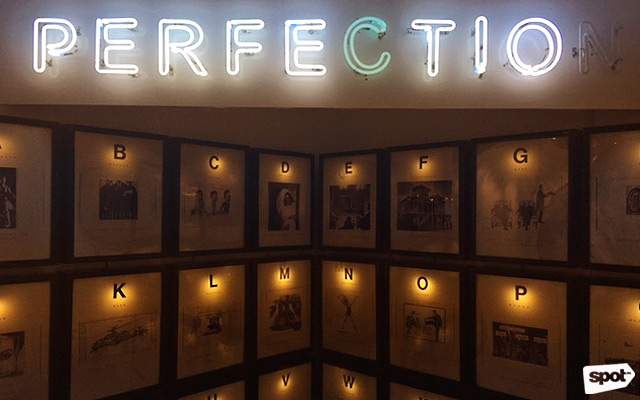 "A to Z from the Chameleon" by Cesare A.X. Syjuco
Location: 7/F, Art Lab Booth, beside Dex Fernandez's room
Syjuco transforms his Palanca-winning poetry piece into a multimedia piece presented through 26 backlit panels. See for yourself what each letter represents through both an image and a verse. It's definitely a multi-sensory experience. 
Art Fair Philippines 2017 is from February 16 to 19, 10 a.m. to 9 p.m. at The Link, Parkway Drive, Ayala Center, Makati City. Tickets are at P250. For more information, visit Art Fair Philippines' website.
Share this story with your friends!
---
Help us make Spot.ph better!
Take the short survey
Load More Stories