HUDYAT! is a call to stop turning a blind eye to what's happening around us
The exhibit runs until March 25 at FEU.
(SPOT.ph) "If they are there in your neighborhood, feel free to call us, the police or do it yourself if you have the gun. You have my support." This is what President Rodrigo Duterte said during his thanksgiving party in June 2016 after winning the national elections. "If he fights and fights to the death, you can kill him. I will give you a medal," he continued, referring to his anti-crime crackdown. Well, it has been nine months since he started his term and the latest body count of casualties from the so-called drug war has reached over 7,000.
Now, Filipino artists are coming together through various art forms to protest the rise of extrajudicial killings in the country. Aptly titled HUDYAT!, a Filipino word for alarm or signal, it looks into how the Philippine National Police's Operation Tokhang is being carried out. It also reminds us—or alarms us—about how the situation is reminiscent of the atrocities committed during the late dictator Ferdinand Marcos' Martial Law. The exhibit runs until March 25 in various venues (Technology Building, FEU Plaza, FEU Gazebos, and Nicanor Reyes Hall) at the Far Eastern University in Manila.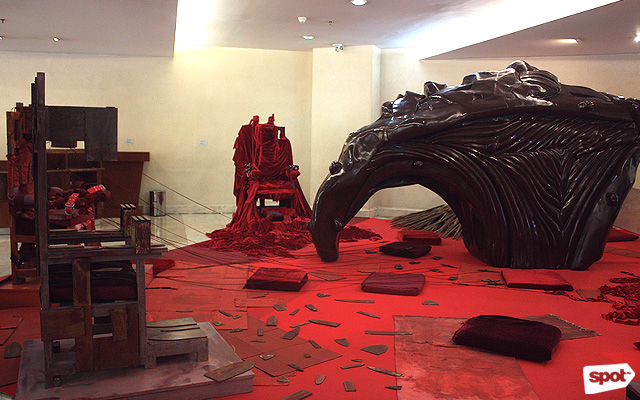 ADVERTISEMENT - CONTINUE READING BELOW
Jose Tence Ruiz's "The Langue Lounge" (2017)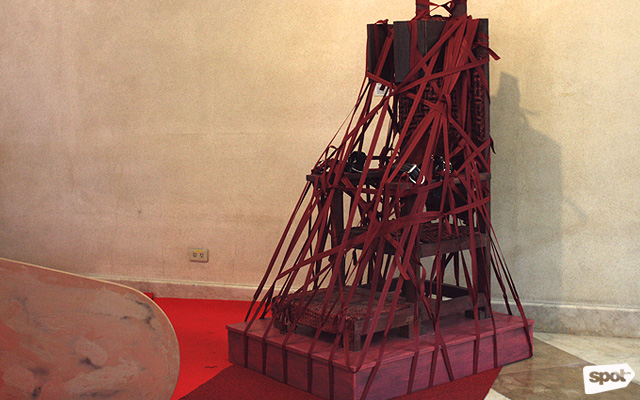 CONTINUE READING BELOW
Recommended Videos
Jose Tence Ruiz's "The Langue Lounge" consists of a giant tongue rolled out on a red carpet surrounded by seats that look like thrones or electric chairs. This installation piece was first displayed at The Link in Makati for Art Fair Philippines 2017 and is meant to allude to the problematic statements and twisted rhetoric prevalent in Philippine politics.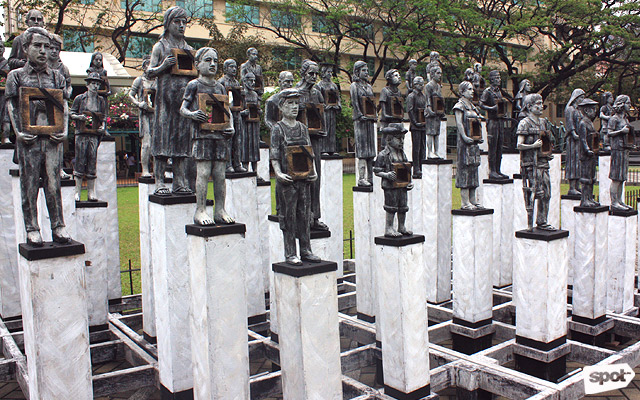 ADVERTISEMENT - CONTINUE READING BELOW
Toym Imao's "Desaparecidos" (2015)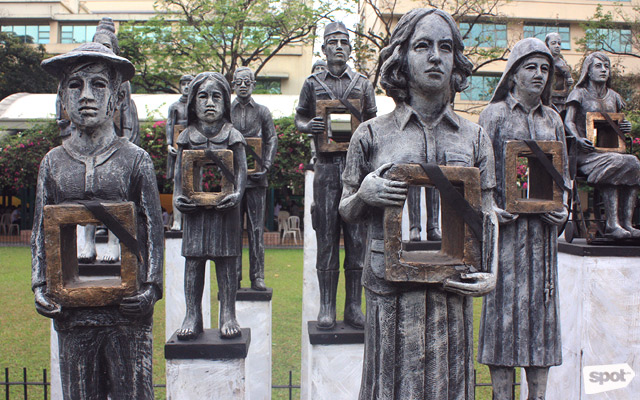 Toym Imao's "Desaparecidos" was brought to the FEU Plaza from the Bantayog ng mga Bayani Memorial Center in Diliman, Quezon City just for HUDYAT! It presents 43 figures made of resin to represent those left behind by victims of forced disappearances, which was rampant during the Martial Law period. Their personas vary—from a young boy, to a nun, to a Muslim, to an Ifugao—symbolizing how 43 years of this dark period affected the whole society. What seems to be blank picture frames are actually empty niches, signifying the emptiness and pain that the loved ones of the desaparecidos have to deal with.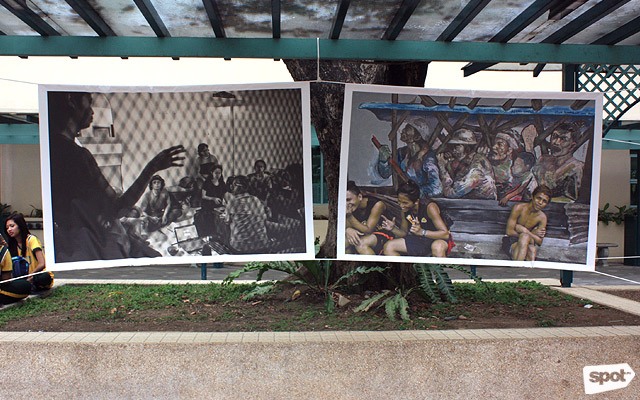 ADVERTISEMENT - CONTINUE READING BELOW
Photographs by Melvyn Calderon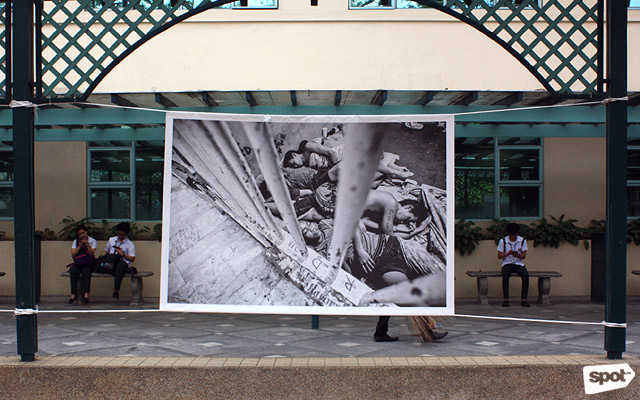 Photograph by Rick Rocamora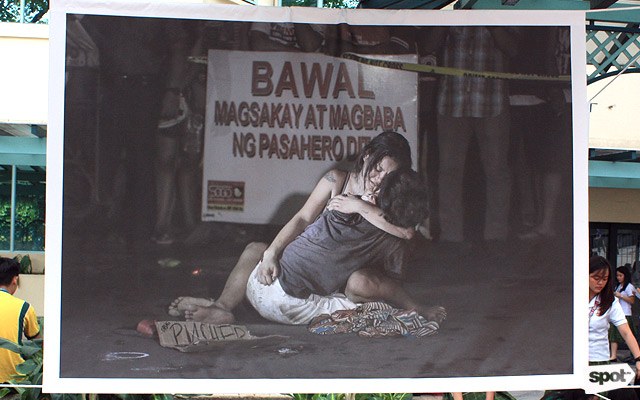 Photograph by Raffy Lerma
Surrounding the FEU Gazebos, where FEU students gather for group meetings or quick chit-chat, are large prints of photographs taken during the Marcos era and the current war against drugs. It includes the viral photo by Raffy Lerma, published on the front page of The Philippine Daily Inquirer in July 2016. The photograph shows a weeping Jennelyn Olaires as she hugged Michael Siaron, who was shot dead by motorcycle-riding gunmen—a scene that looks like Michelangelo's "Pietà."
ADVERTISEMENT - CONTINUE READING BELOW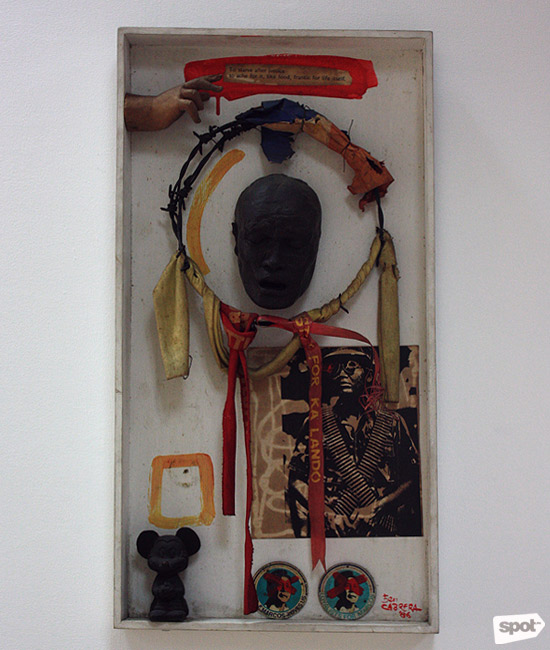 "Cry for Justice" (1986) by BenCab
National Artist Benedicto Cabrera's prized works are in the lobby of FEU's Nicanor Reyes Hall. On display is "Cry for Justice," a collage of found objects, such as barbed wire, red banners, and a figure of a face with hollow eyes, reflecting on the Martial Law era.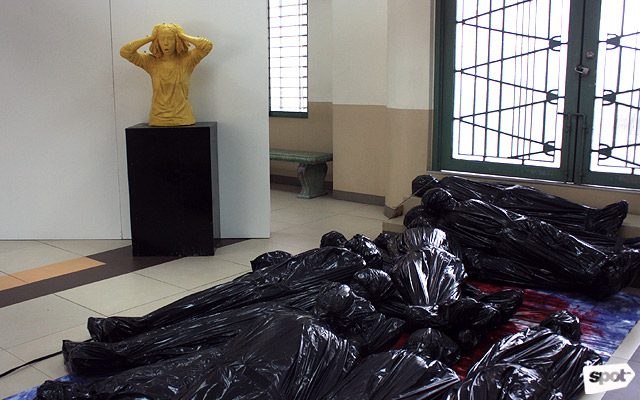 ADVERTISEMENT - CONTINUE READING BELOW
Artwork by Julie Lluch
Julie Lluch's wax sculpture of a woman holding her hair in shock or confusion (or both!) is an appropriate reaction towards the ghastly sight of dead bodies wrapped in black garbage bags.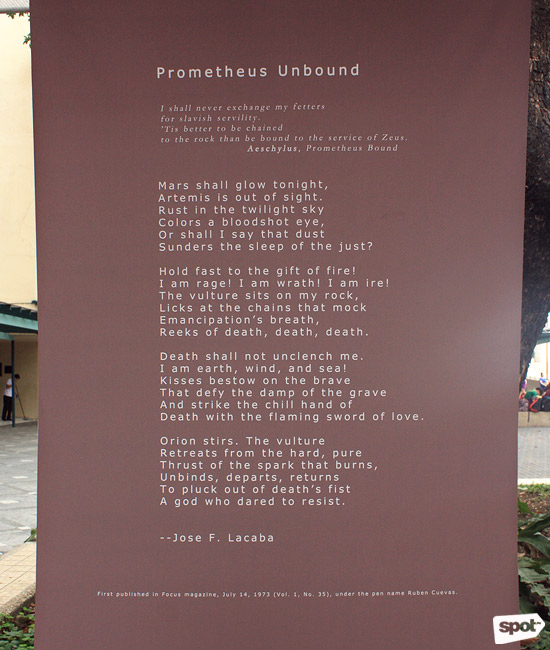 "Prometheus Unbound" (1973) by Jose F. Lacaba
It's not only the visual artists who joined HUDYAT! Also on display is Jose F. Lacaba's famous "Prometheus Unbound," first published in 1973 under the pen name Ruben Cuevas. If you look closely, the first letter of each verse spells out "Marcos Hitler Dictator Tuta." Who knew that this poem about Mars, Artemis, and Orion was actually a protest piece? Poet Marne Kilates' "Ressurection," which is an ekphrasis on BenCab's "Remembering and Forgetting," as well as Shiela Coronel's article "Her Brother's Name" are also on exhibit.
There's still a lot to be said about the loss of human dignity and the disregard for human rights. For now, this exhibit curated by Ricky Francisco should be enough to serve as a signal to start fighting for what is just, or at least stop sitting idly by.
ADVERTISEMENT - CONTINUE READING BELOW
HUDYAT! runs from March 10 to 25 in various venues at the Far Eastern University, Nicanor Reyes Street, Sampaloc, Manila. Guided tours are available daily from 4 p.m. to 5 p.m. through the President's Committee on Culture, G/F, Technology Building. For more information, visit Hudyat: Filipino Artists for Human Dignity's Facebook page.
Share this story with your friends!
---
Help us make Spot.ph better!
Take the short survey
Load More Stories