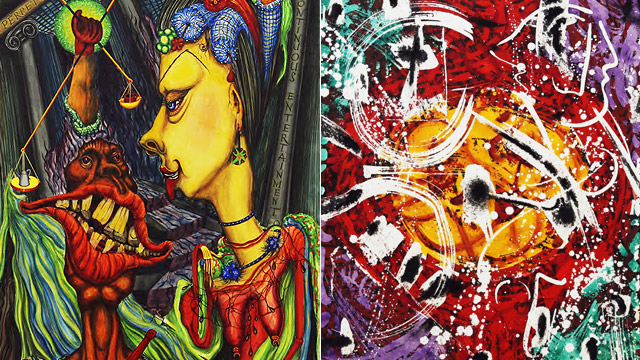 (L) "Entertainer and Entertained" and (R) "16-X-79" by Alfonso Ossorio
(SPOT.ph) "Something fabulous," describes art restorer and curator Liliane "Tats" Rejante Manahan on what to expect from the Alfonso Ossorio exhibit titled Grazing Light at Leon Gallery in Makati from April 21 to May 12. The gallery was designed to be reminiscent of Filipino houses in the 1940s, to create the right backdrop for a selection of Ossorio's works ranging from 1942 to 1989. Included are some of his early drawings, assemblages of objects he called "Congregations," and other colorful abstract paintings that are anything but accidental. 
ADVERTISEMENT - CONTINUE READING BELOW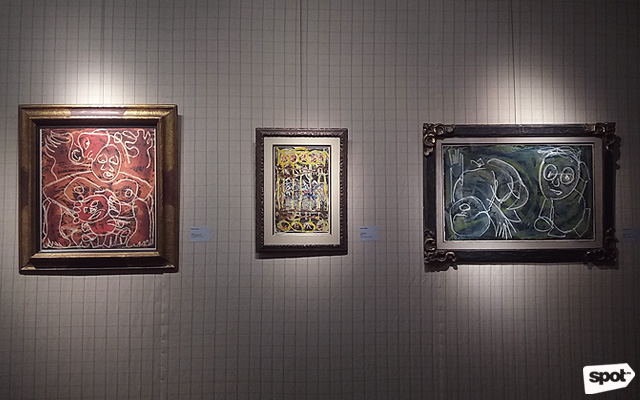 (L to R) "Family," "5 Doppelganger," and "Two Wounded Children" 
"There's a whole story connected to it," Manahan continues, explaining the homey feel intended in the curation as well as the interiors. The Manila-born American artist's works were direct reflections of how he felt at the time of each piece's creation, expressing feelings like angst and hurt. "As his brother was saying, he does not derive inspiration from without, it's from within," the curator puts it. 
ADVERTISEMENT - CONTINUE READING BELOW
Recommended Videos
He was the fourth of six boys in his family, and on one wall you'd see colorful representations and abstractions of that: there's "Family", "5 Doppelganger," and "Two Wounded Children," all created in 1950. Also apparent in his paintings are symbols of motherhood, an homage to his Filipino-Chinese mother, Maria Paz Yangco. "Even his mural [called "Last Judgement"] in Victorias [Negros Occidental] is actually a very personal statement of how he is thinking of himself during the last judgment," Manahan points out. The wall painting, often identified as the "Angry Christ," can be found at the St. Joseph the Worker Church right in the Victorias Milling Corporation founded by his Spanish-American father, Don Miguel Ossorio.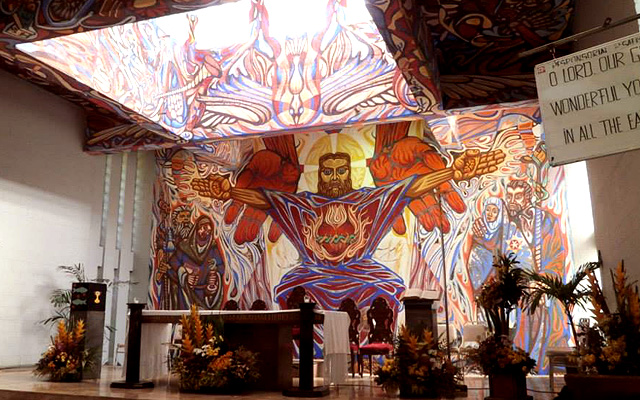 ADVERTISEMENT - CONTINUE READING BELOW
"The Last Judgement" or "Angry Christ" (1950)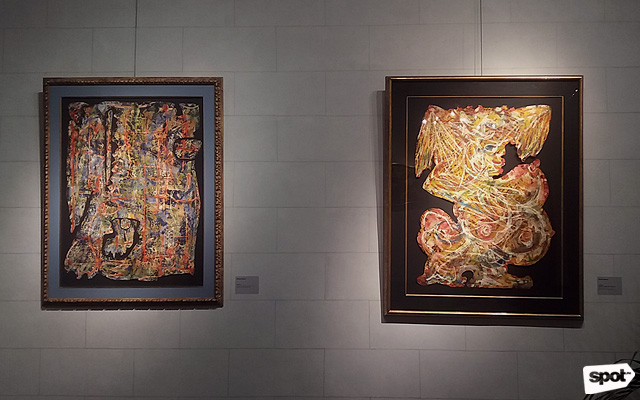 (L to R) "Untitled 4" and "Untitled 2" (1975) 
But this self-reflexivity seen in his paintings was just a small part of how his brilliant mind and hands worked. "I kind of just got drawn into him. Because nakaka-intrigue his technique, his process, his curiosity, the whole thing. So interesting in a nerdy sort of way for me," shares Manahan with excitement.

Like the curator, Ossorio was also schooled in art restoration and conservation, thus his keen interest in various media for his art. His medium of choice, the watercolor, was used in such an elevated and intricate manner that you'd question why watercolor is often regarded as a sub-par tool. He experimented with it, even came up with a technique of using various liquids that coalesce to form a texture like no other, as in the painting "Untitled" (1958). To put it succinctly, Manahan says that Ossorio's works are "layered," which was also the reason she named the exhibit Grazing Light. 
ADVERTISEMENT - CONTINUE READING BELOW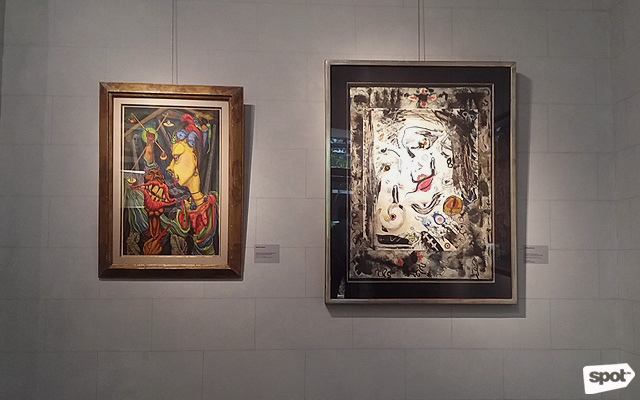 (L to R) "Entertainer and Entertained" (1946) and "For Marilyn Monroe" (1963) 
Although a very poetic phrase, "grazing light" is actually a technical term in art restoration. It is a technique in which light is angled from the side of a painting to "graze" on the surface and emphasize the texture through highlights and shadows. It is used to identify the materials on the canvass and detect surface blemishes. 
ADVERTISEMENT - CONTINUE READING BELOW
"The meanings of Ossorio's art become visible perhaps to a keen mind's luce radiente, that is, grazing light, where examination of his work in the light, held close to the surface, posed at a tangent, emphasizes textures strata by strata, to reveal his narrative, which is appreciated frontally as a cohesive whole," the exhibit note at the entrance of the gallery points out. 
Looking at Ossorio's paintings through photographs, a catalogue, or even Instagram, just isn't enough. You'd have to see them first hand: once from afar, up close, from the sides, then all over again. 
Grazing Light runs from April 21 to May 12 at Leon Gallery, G/F Corinthian Plaza, 121 Paseo de Roxas corner Gamboa, Legazpi Village, Makati City. For more information, visit Leon Gallery's website.
Share this story with your friends!
---
Help us make Spot.ph better!
Take the short survey
Load More Stories