Makati Cinema Square keeps it hip with these secret art galleries
Cool finds await!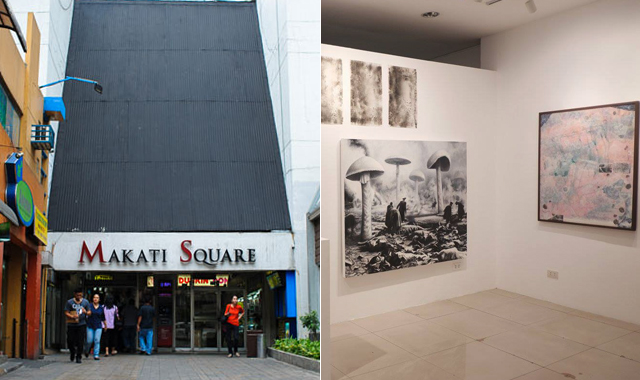 (SPOT.ph) Makati Cinema Square is an institution among those who live in, or are well-acquainted with, the areas surrounding Legazpi Village. It's known for being a good place to go for obscure eating spots, reliable watch repair, or even target-shooting. But hidden inside are also three art galleries currently making their presence felt in the art scene. Here are the under-the-radar art spaces worth checking out and their ongoing shows this month:
ADVERTISEMENT - CONTINUE READING BELOW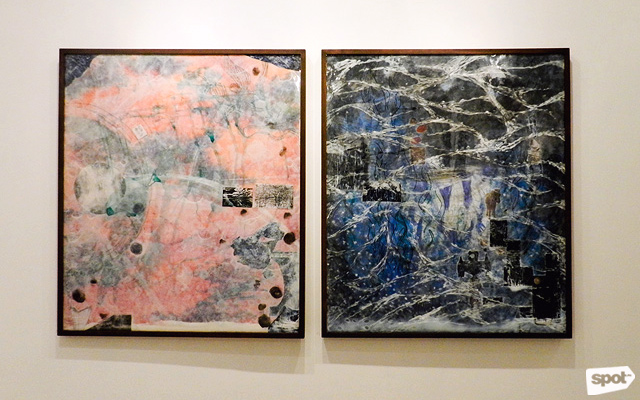 From Obscura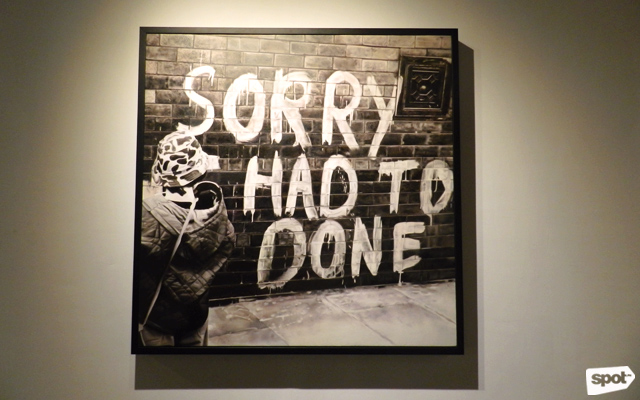 ADVERTISEMENT - CONTINUE READING BELOW
From Annie Cabigting's The Whole World is Watching
Underground Gallery
Established in 2015 by entrepreneur Manny de Castro, Underground has shown some of the best in Philippine contemporary art. The gallery currently features exhibitions such as Jem Magbanua's Garden, City, or Wilderness displaying the artist's remarkable ability to work with pencil while delving into the process of transformation in the urban landscape. It is an investigation of how these changes affect the meaning of a "place" as defined by the vicissitudes of time and how dwellers are shaped by dwellings and vice versa. Garden, City, or Wilderness runs until May 27 along with Obscura, a group show featuring Laura Abejo, Antonia Baytion, Joven Buan, ND Harn, and Jone Sibugan. Also on exhibit is Annie Cabigting's The Whole World is Watching.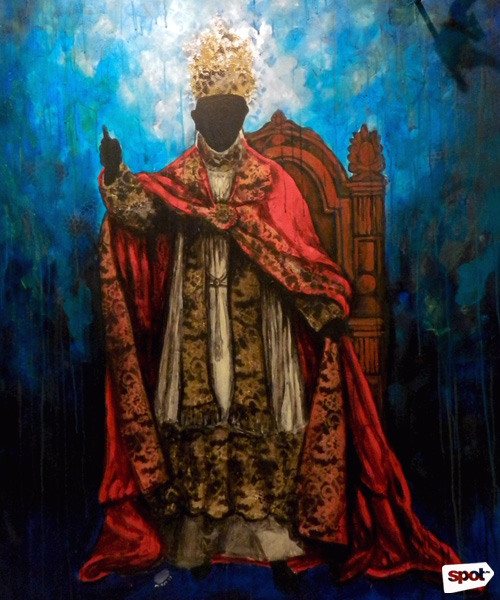 ADVERTISEMENT - CONTINUE READING BELOW
From Mideo Cruz' PI Paraiso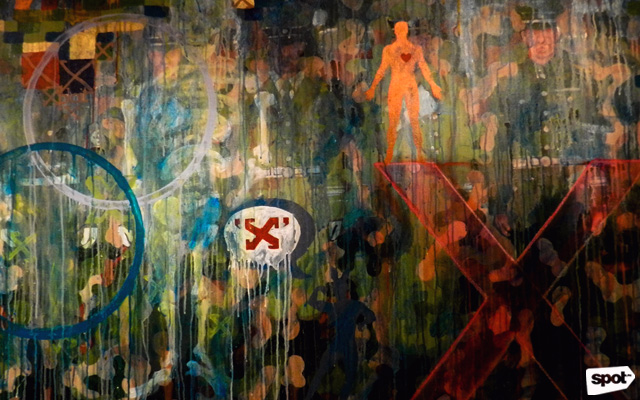 From Mideo Cruz' PI Paraiso
Kanto Gallery
Founded by Toshihiko Uriu, along with artist Tomas Leonor as Chief Curator, Kanto Gallery serves to provoke the art establishment by bringing in artists who are interested in questioning standards. Works on display often allow us to think more about the place of art in the society other than the usual aesthetic value that comes with each piece. Currently on show is the much-anticipated return of the controversial Mideo Cruz who for the first time used acrylic as medium in his paintings. His current show entitled PI Paraiso permits us to view icons and deities through his perspective, and their effect on society is left for the viewer to answer. In this show, the artist also used excess materials from his previous shows and art residencies abroad in an attempt to shake up capitalism and oversupply by utilizing surplus as a tool to stand against its origins.
ADVERTISEMENT - CONTINUE READING BELOW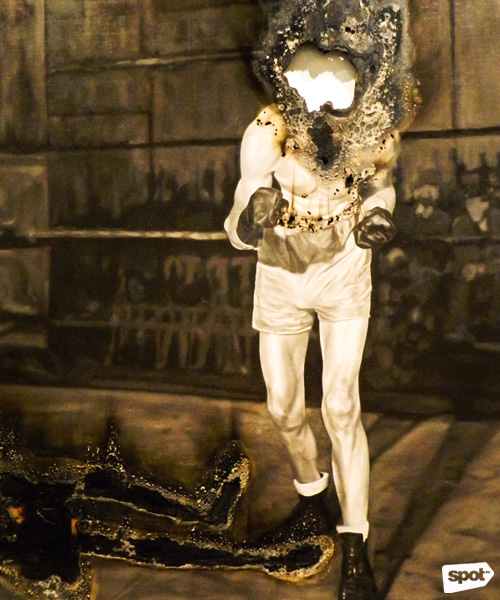 "Testosterone" by Leonard Onia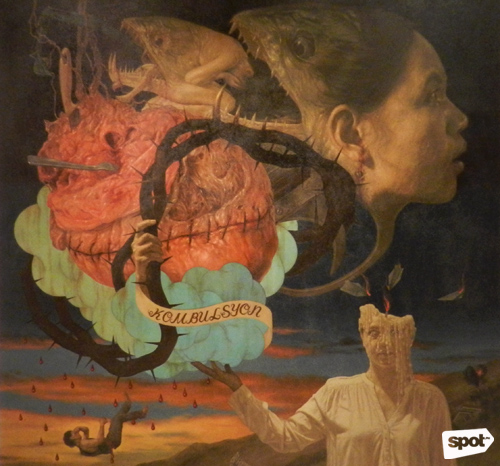 ADVERTISEMENT - CONTINUE READING BELOW
"Kombulsyon ng Tagilid Na Panahon" by Alfredo Esquillo
Eskinita Art Gallery
The newly founded Eskinita Art Gallery currently has Mutable Decay, a group show featuring esteemed social realist artists such as Ricardo Gerri Dueñas, Guerrero Habulan, Ronald Jeresano, Lotsu Manes, Rodel Omampo, Leonardo Onia, and Alfredo Esquillo. The exhibit displays works that illustrate decay in varying degrees and in forms that confront the political, social, or personal. In one of the pieces from the show, artist and professional art restorer Manes allowed decay in the form of time and water damage on an old ID photograph, in an effort to find the answer to the question: If something can be restored, can anything really last forever? The show runs until June 6.
Underground Gallery, Kanto Gallery, and Eskinita Art Gallery are all at 2/F Makati Cinema Square, 2130 Don Chino Roces Avenue, Makati City.
Load More Stories