An Environmental Wake-Up Call: Jonas Eslao's Meanwhile at the Blanc Gallery
Catch the exhibit until July 1.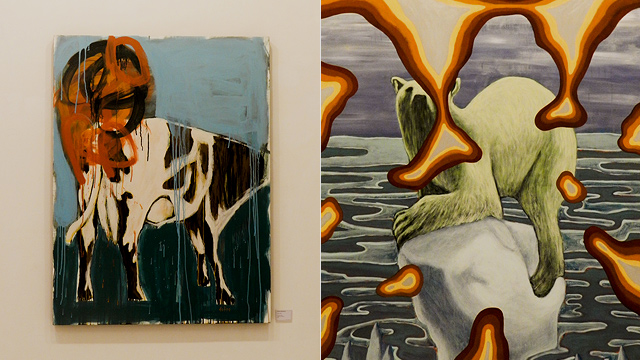 (SPOT.ph) In the opening scene of the documentary Before the Flood, American actor Leonardo DiCaprio recounts his memory of a framed poster that hung above his crib. It was a copy of a painting made by the Renaissance master Hieronymus Bosch in 1500 entitled, "The Garden of Earthly Delights." The painting, a triptych, has assumed to tell the story of the earth in three forms: the beginning, the present, and the aftermath. In Bosch's painting, the right panel—believed to be the artist's portrayal of the earth's destruction—is dark and frightening. When artist Jonas Eslao watched the documentary, he felt so terrified that he decided to make sure that his next show should somehow raise awareness about climate change, a crisis that has become a household name, but one that we still fail to truly understand. Meanwhile hopes to be the visual catheter that supplies that consciousness.
Climate Change around the World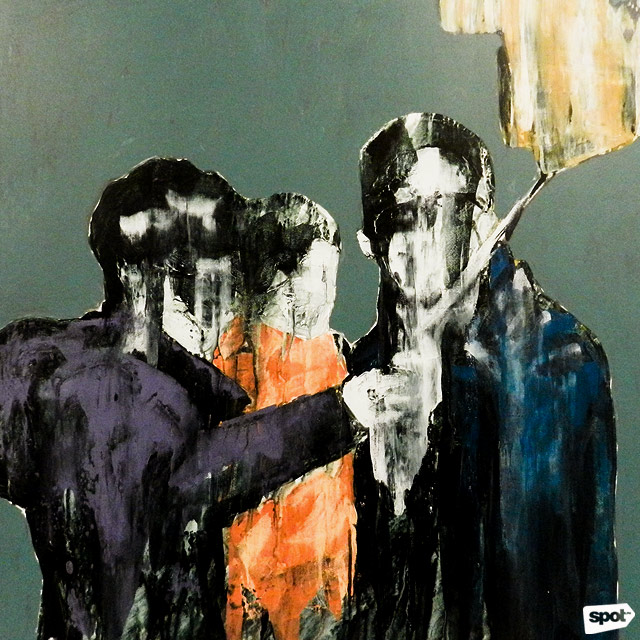 ADVERTISEMENT - CONTINUE READING BELOW
"Moments Like These"
A picture of a family taking a selfie in the middle of Beijing is seen in one of Eslao's works for the show. The thick smog behind them covers what would have been a city landscape while their smiles are covered by a face mask.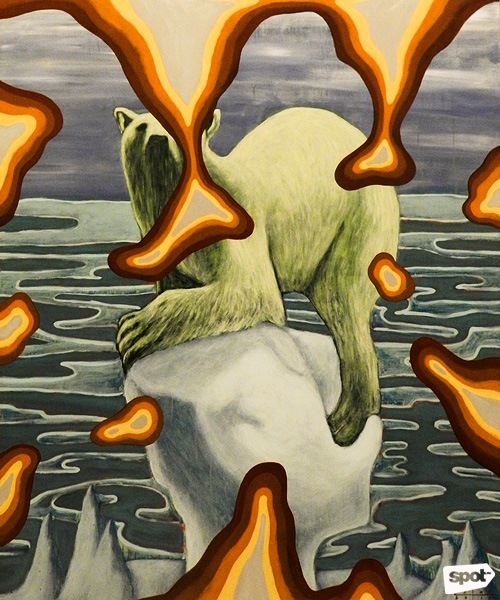 CONTINUE READING BELOW
Recommended Videos
"The Boat is Sinking"
In other works, he reveals the effects of coal burning resulting in the melting of the glaciers in the Arctic Ocean through his pieces "The Boat is Sinking" and "Diminishing Fortress." In "Local Refugee," we notice a displaced orangutan whose home in a jungle in Indonesia has been cleared out to make way for palm oil production.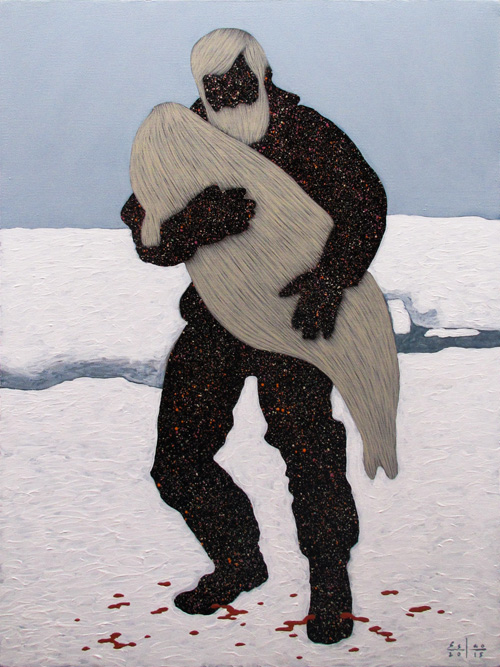 ADVERTISEMENT - CONTINUE READING BELOW
Artwork from Apex Predator (2015)
The paintings appear to be rough; an alteration of Eslao's previous styles in his works from Apex Predator (2015) and Beyond (2016). While his previous shows featured the relationship of humans to animals as predator and prey, in this show, the artist attempts to examine and understand our relationship to the destruction.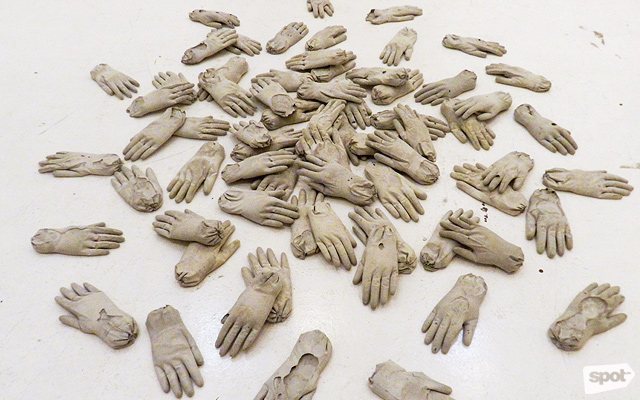 "Everybody wants to be part of it; nobody wants to get their hands dirty"
Perhaps this is perfectly captured in his installation piece, "Everybody wants to be part of it; nobody wants to get their hands dirty" where Eslao molded gloves in cement and piled each glove on top of each other: a poignant picture of how we keep ourselves clean while contributing to the injury. While we are innocent and unaware of our harmful actions towards the earth, we wear these gloves and leave permanent marks that destroy crops in farming lands of developing countries, worsen tropical typhoons, and will soon sink small Pacific islands.
ADVERTISEMENT - CONTINUE READING BELOW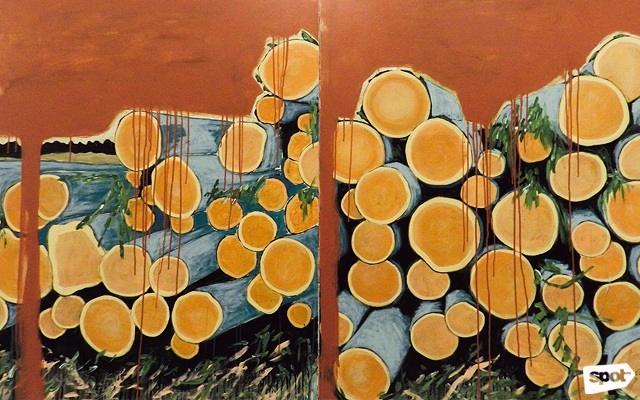 "Abundance of Surplus"
His work "Abundance of Surplus" presents us an image of logs with what appears to be blood dripping on the surface. This is his commentary on how too much logging destroys forests that eventually leads to tragedies such as flash floods.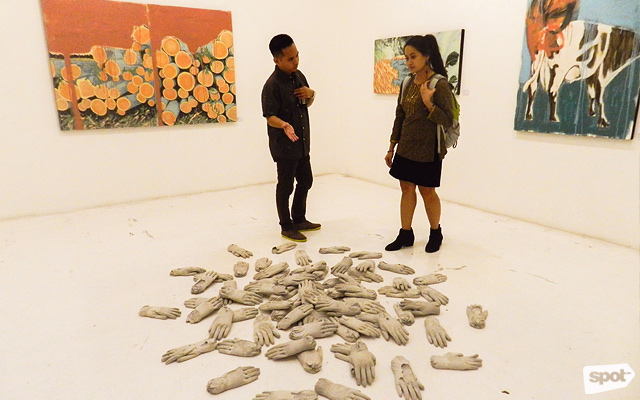 ADVERTISEMENT - CONTINUE READING BELOW
The artist discusses his installation piece
A Profitable Planet
Eslao clarifies that he does not call himself an environmentalist but rather someone who hopes to understand the breadth of our damage through art. He does not do it to preach but rather to begin a conversation to confront the truth: That our lives are built in a spectrum of underwriting the devastation (albeit, unaware), that has now resulted in a crisis. This realization is tormenting and is hard to swallow. He used to think that ethical disposal of garbage is enough to help. Now, he has come to realize that everything evolves in greed. The damage in this world is caused by corporate shortcuts and the unethical industry practices that would cost less expenditures but would provide bigger profits, all at the expense of the environment. In viewing Eslao's works, questions are raised to the point of helplessness: Why should I care about tragedies happening thousands of miles away from home? Who should we blame? If things become sustainable, are they also accessible? Is climate change real or is it really the biggest hoax of this decade?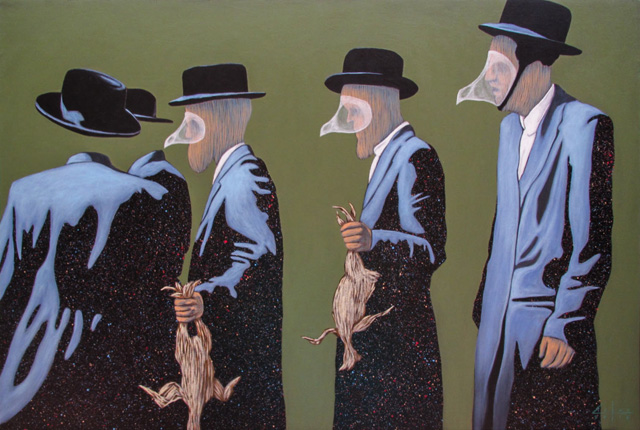 ADVERTISEMENT - CONTINUE READING BELOW
Artwork from Beyond (2016)
Powerless
This realization has tremendous effects on Eslao's view of the world and his ability to change it. This is evident in his new works where the tactility of the paintings provides a narrative that seeks to understand what is happening, through his process of hesitantly smoothing out the surface and creating beauty out of tragedy. In this show, he does not hold back and his fears are directly translated to the canvas in a delicate but punitive manner. His works continue to peel out conscience from all of us—we shed our guilt but we also look away because we feel powerless.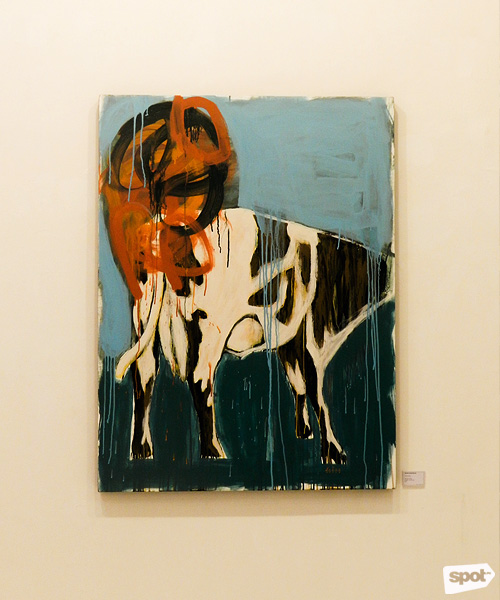 "Bovine Intervention"
In Meanwhile, through the process of painting the images that represent pieces of evidence to the crisis, Eslao takes a moment to pause and hopes that just like in the movies where the protagonist suddenly experiences epiphany, that he will have the answer to all the questions that have bothered him and that he will find a way to contribute to the solution without the superficiality of aloof environmental activism—one where you try to help by planting trees in an event sponsored by an oil company drilling and destroying the ocean halfway around the world. Meanwhile, Eslao does what he knows best: Imitating what Bosch might have intended for us in "The Garden of Earthly Delights," that is, to warn about an imminent inferno.
ADVERTISEMENT - CONTINUE READING BELOW
Meanwhile runs until July 1 at Blanc Gallery, 145 Katipunan Avenue, St. Ignatius Village, Quezon City. Also on display are Gino Bueza's (While Ten Thousand Actions Speak Louder) Taste is Something You Can't Muster and Francis Bejar's The Crisologo Chronicles. For more information, visit Blanc Gallery's Facebook page.
Share this story with your friends!
---
Help us make Spot.ph better!
Take the short survey
Load More Stories