This Exhibit Will Make You Rethink Your Very Odd Dreams
Recent Drawings runs until July 29.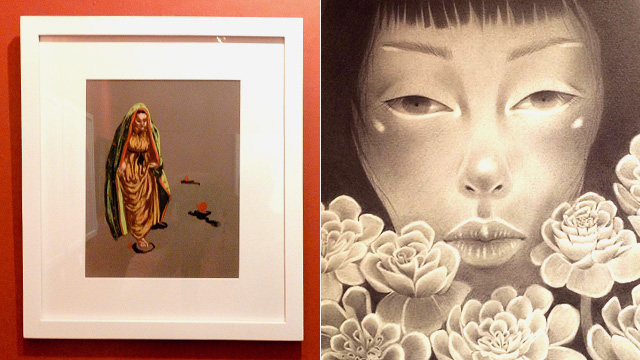 (SPOT.ph) Have you ever experienced waking up from a weird dream in the middle of the night and finding yourself on Google searching for possible interpretations? How about writing down the very strange details and then talking to your friends about it? There are many ways to cope with disturbing dreams, and in Recent Drawings at Kanto Gallery in Makati, artists are doing it through art.
The exhibit showcases artists humbly drawing from their dreams, relationships, and personal dilemmas as inspirations for their pieces. It includes new works from Tomas Leonor, Pam Liban, Fabrianne Morales, Zoltan Pabon, Mary Palag, Dang Sering, and Claire Rojas.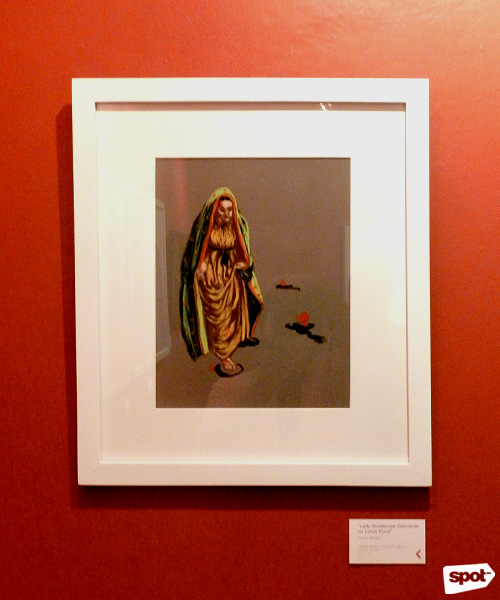 In one of the drawings, a woman in the image of the Our Lady of Guadalupe is seen stepping on a lotus. The artist, Dang Sering, reveals that this work was actually inspired by her personal affinity to the subject. While she hesitates to declare the religious attributions in context, she is firm in relating that this image brings her protection and comfort especially since the Our Lady of Guadalupe is considered miraculous in many parts of the world, particularly in Mexico.
ADVERTISEMENT - CONTINUE READING BELOW
Sering received a tilma (a cloak made of cactus fiber) with the lady's image on it from a friend. She now brings it practically everywhere she goes, almost like a security blanket. The image is Sering's effort to bring the ethereal, in this case, the Our Lady of Guadalupe, closer to the viewer as she descends on a lotus leaf, as though she is extending her hand to anyone who needs to be comforted. Her other pieces in the show include scenes and images from recurring dreams where she sees a woman with red and blue eyes standing and an image of a hand throwing runes.
CONTINUE READING BELOW
Recommended Videos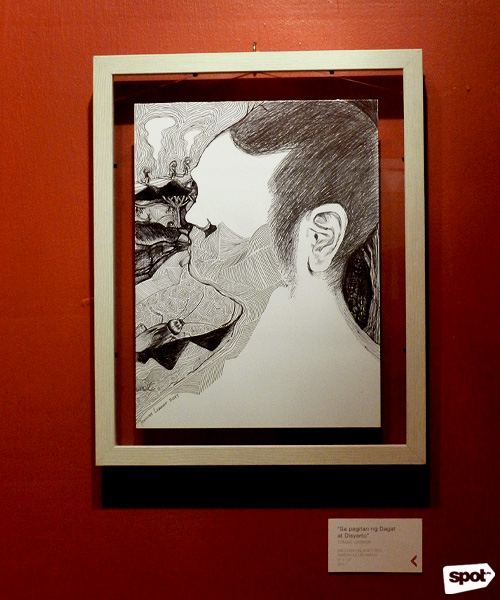 This show also features Tomas Leonor's "Sa Pagitan ng Dagat at Disyerto." He explains to us that he decided to illustrate a very troubling dream that he had. In this dream, he was walking with his family in a forest that resembled one of the reserves in Zamboanga Del Norte. His mind then went blank and he suddenly found himself standing on a shore, which was impossible because the forest is in reality very far from the sea. In the dream, he was in a dark place and saw many allusions to death. He feels that this is somehow connected to field work he did in Mindanao and how the place has seen many violent and senseless deaths in recent years.
ADVERTISEMENT - CONTINUE READING BELOW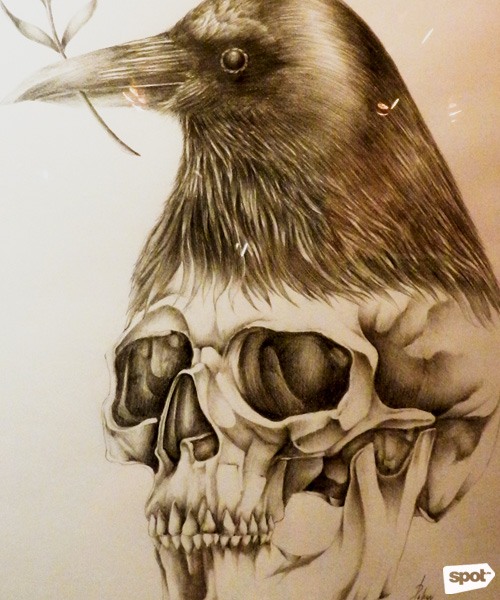 Speaking of Mindanao, a rather more political take is seen in Zoltan Pabon's works for this show. Like most, he was troubled by recent events in Marawi. In his works, he depicts metaphors of death while exhibiting images that would remind us of the beauty of the province, long before turmoil came upon them.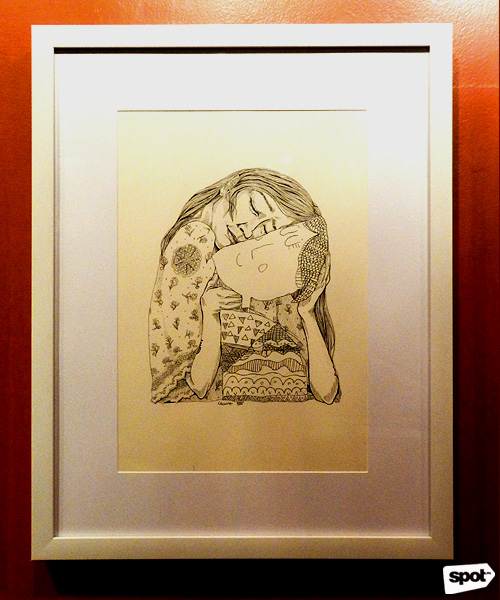 ADVERTISEMENT - CONTINUE READING BELOW
In another piece, Pam Liban and Claire Rojas collaborated on three illustrations entitled "Yesterday, Today, and Tomorrow." These drawings resemble their mother-daughter bond as they experience loss, despair, discoveries, and forgiveness while finding their way to building a family of their own. Liban shares that in the process of creating these drawings, they talked about their fondest memories while discussing the past, the present, and the future. Perhaps this is the reason why these works will immediately touch the heart of the viewer.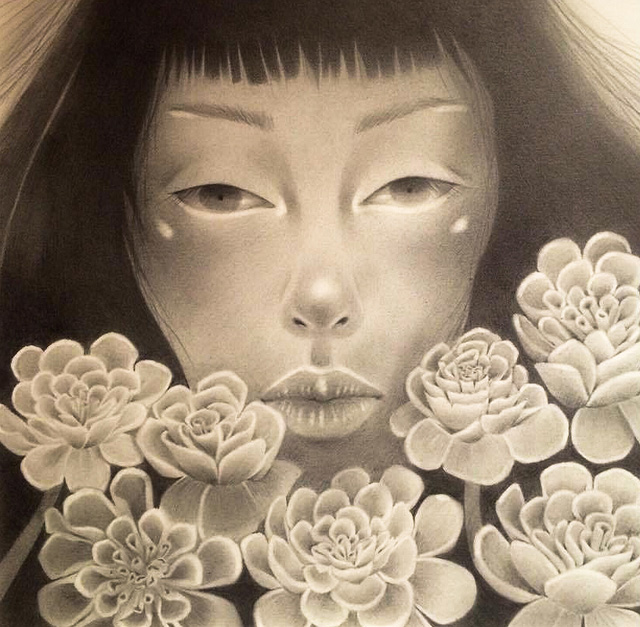 At the end of the gallery is Mary Palag's "Bloom Forever," the artist's love letter to herself by way of drawing. It is a reminder that she will always bloom in beauty amidst difficulties in life. The eyes of the subject resemble that of the artist and appear to be in the middle of being preoccupied and becoming stable.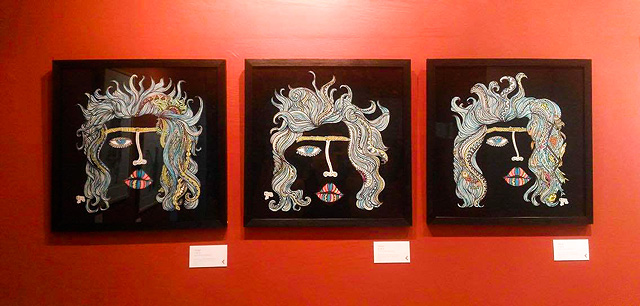 ADVERTISEMENT - CONTINUE READING BELOW
Lastly, Fabrienne Morales' "Alive" is a series of illustrations that present a sea deity nourishing sea creatures and other life forms, calling on us to do what we can to protect the ocean.
Recent Drawings runs until July 29 at Kanto Gallery, 2/F Makati Cinema Square, 2130 Don Chino Roces Avenue, Makati City. For more information, visit Kanto Gallery on Facebook.
Share this story with your friends!
---
Help us make Spot.ph better!
Take the short survey
Load More Stories