This Ayala Museum Exhibit Features the Work of a Former Barangay Captain
Art and Family: The Asuncion Legacy runs until January 2018.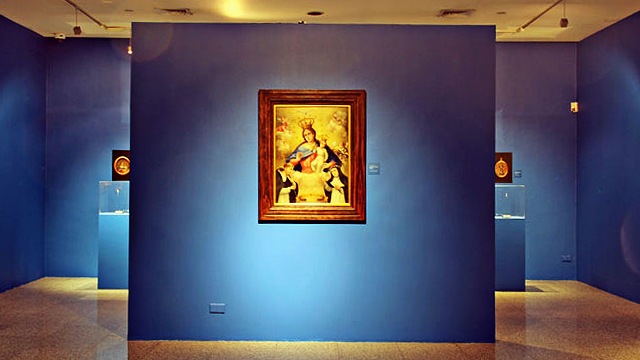 (SPOT.ph) 19th Century Philippines is a period in our history which we can now only read about in books or hear about from our grandparents. It's so far off from present day: no traffic and definitely no Uber-Grab issues, no Internet, no colonialism (though debatable), and so on. But it can't be denied that this was a period in which Philippine art flourished, giving birth to ilustrados like Juan Luna, Felix Resurreccion Hidalgo, and Rafael Enriquez. This month, another Filipino artist by the name of Justiniano "Kapitan Ting" Asuncion is reintroduced to art enthusiasts through an ongoing exhibit at the Ayala Museum—Art and Family: The Asuncion Legacy. It showcases works by the former cabeza de barangay of Sta. Cruz, Manila, as well as his two other siblings, Mariano and Leoncio.
Featuring illustrations, medallions, paintings, and sculptures by the three celebrated artists, it started out as a planned retrospective to commemorate Kapitan Ting on his bicentennial birthday. Now, it is a personal celebration for the family. "Art" in Art and Family are choice pieces that have lasted centuries and endured floods, fires, and earthquakes. The "family" is depicted through a large mural of the Asuncion family tree, traced back to Mariano, Leoncio, and Justiniano's parents, Mariano Asuncion and Maria dela Paz Molo de San Agustin.
ADVERTISEMENT - CONTINUE READING BELOW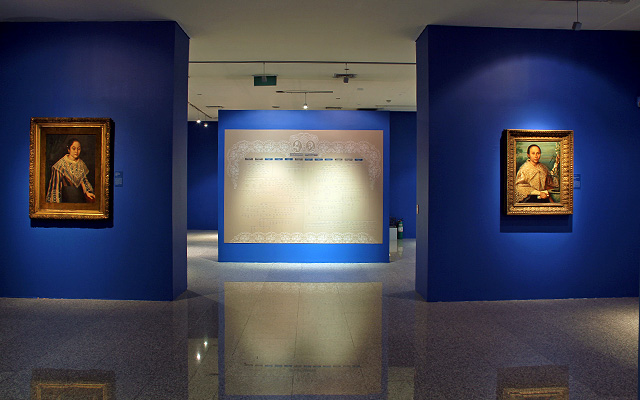 CONTINUE READING BELOW
Recommended Videos
(From L to R) "Portrait of Filomena Asuncion Villafranca," Asuncion family tree, "Portrait of Romana Carillo"
The entire concept was developed by one of Justiniano's heirs, Ma-an Asuncion Dagñalan, with managing curator, Kenneth Esguerra. "I felt I had the responsibility to reintroduce [Justiniano Asuncion] to the Philippine art scene," says Asuncion-Dagñalan about the intent behind the initially planned exhibit. The opening came a year after the original 2016 plan, and is now a showcase of contributions of the three Asuncion brothers to Philippine art history.
Mariano, Leoncio, and Justiniano were artists during a time where the affluent merchant class started commissioning artists for portraits, as well as religious and secular works of art. Their works "depict the society and culture of their time," says Mariles Gustilo, Ayala Foundation's Senior Director for Arts and Culture. "Each brother had contributed both sacred and secular images, as well as iconic and picturesque 19th Century Philippine art in either formal portraits, tipos del pais, or devotional depictions of adored saints."
ADVERTISEMENT - CONTINUE READING BELOW
Justiniano studied at Escuela de Dibujo in 1834 and became captain municipal in 1855. Most of his important paintings—life-sized renditions of San Agustin, San Geronimo, San Antonio, and San Gregorio—were housed at the Sta. Cruz Church until it was bombarded by the Japanese in 1945.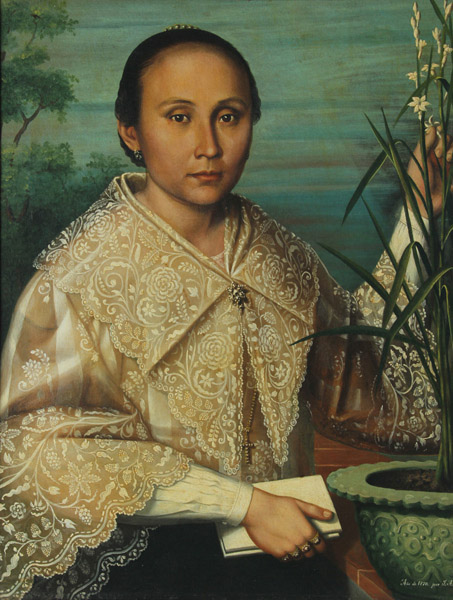 "Portrait of Romana Carillo" by Justiniano Asuncion
This exhibit shows more variety to his body of work, aside from the religious pieces. In the oil on canvas painting, "Portrait of Romana Carillo," his mastery of miniaturismo is most evident. It is a style in painting that pays particular attention to the details of clothing, especially embroidery. He also focuses on details of the face and jewelry, drawing your eye to the object of the portrait rather than its background details.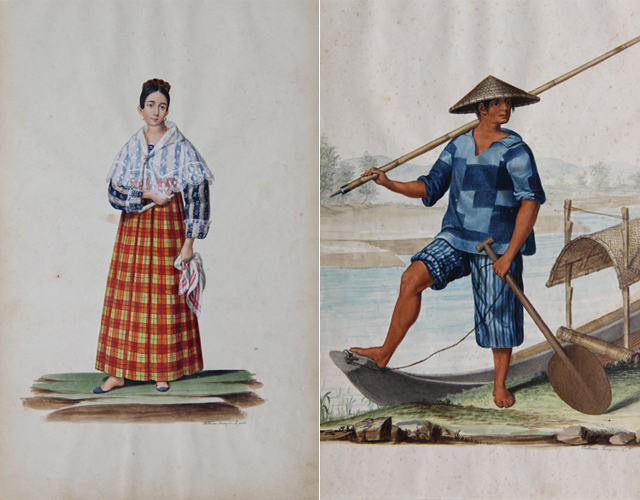 ADVERTISEMENT - CONTINUE READING BELOW
Tipos del pais watercolor paintings by Justiniano Asuncion
Justiniano's particular interest and attention to the details and movement of clothing does not diminish even for smaller paintings such as his tipos del pais—paintings that show native Filipinos in their usual garb. These watercolor on paper pieces were popular decorative items of the time, often commissioned by ilustrados or foreigners.
The culture of 19th Century Filipinos are well represented in Justiniano's work. From occupations like fishing and peddling banig to pastimes like cockfighting and bathing in ponds, these varied pieces are like little capsules of the Filipino way of life. They also provide insight into the fashion of those days. Women wore panuelos (shawls) as well as tapis (skirt worn over another skirt), but they also wore dark shades of blue when in mourning. Local men used to sport raincoats made of nipa. High fashion at the time included sheer barong and top hats. Local barangay officials walked the streets in saya saya (loose trousers with alfombras) or slip-on shoes to show wealth and authority. They were often adorned with large scapulars, proof that religion was never too far away from the art that the Asuncion brothers created.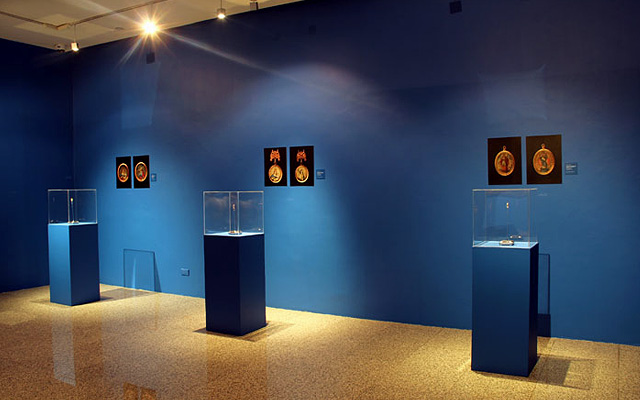 ADVERTISEMENT - CONTINUE READING BELOW
Mariano Asuncion's oil on ivory medallions
Working on this common theme, Mariano Asuncion painted religious images on ivory medallions, fashioned into jewelry or rosaries that were in style at the time. He enjoyed a wide variety of religious clientele and created work that depicted the miracles of saints, the Passion of Christ, and images of the Virgin Mary.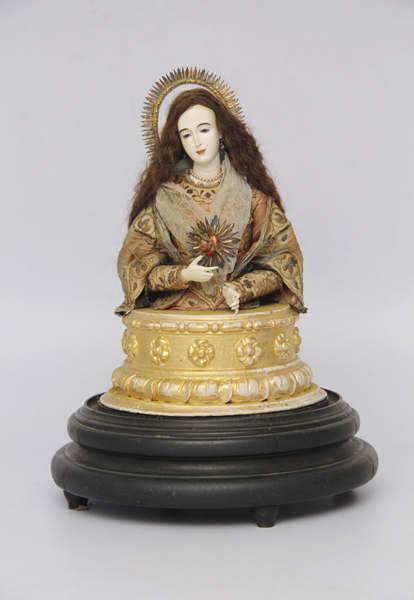 "La Purisima Corazon de Maria" by Leoncio Asuncion
Leoncio Asuncion, for his part, was regarded as the Father of Modern Religious Sculpture. He was most known for creating santos or religious sculptures out of wood and ivory. In "La Purisima Corazon de Maria" (or "The Purest Heart of Mary"), materials like hair and gold were used to accessorize the Marian sculpture.
Art and Family: The Asuncion Legacy is indeed a reintroduction, not only of the Justiniano or the Asuncions, but also of the life that was once was. Metro Manila won't only be reintroduced to the legacy of these great artists, but also to the religious and artistic interest of art patrons of the 19th Century.
ADVERTISEMENT - CONTINUE READING BELOW
Art and Family: The Asuncion Legacy runs until January 14, 2018 at the Ayala Museum, Makati Avenue corner De La Rosa Street, Greenbelt Park, Makati City. For more information, visit Ayala Museum's website.
Share this story with your friends!
---
Help us make Spot.ph better!
Take the short survey
Load More Stories