Challenge Your Senses at This Performance Art Exhibit
Re-Enactments runs until September 10 at Museum of Contemporary Art and Design.
(SPOT.ph) You may have seen, in one way or another, the video of Marina Abramovic's performance at the Museum of Modern Art after it went viral in 2010. It's the one where the artist, clad in a red dress, is seated quietly across a table, inviting strangers (some are even Hollywood celebrities) to sit opposite her. They quietly stare at each other and occasionally shed tears. It became even more interesting when Ulay, Abramovic's ex-lover and former collaborator whom she had not seen in years, approached her. This show, titled "The Artist is Present" is a performance art exhibition that encourages the audience to participate and use their bodies to create art.
It's not something most Filipinos are used to, but the Museum of Contemporary Art and Design opens that door with Re-Enactments, an exhibit that gathers works of eight artists from different countries, until September 10. In the show, the focus is steered away from the artists' concrete presence in their artwork and in the exhibit. Instead, the emphasis is directed towards how the artists use language and the human body in a performance while appealing to the viewer's senses.
ADVERTISEMENT - CONTINUE READING BELOW
Live Performances
There are two scheduled acts performed live for Re-Enactments: "There is No There" by Australian siblings Silvana and Gabriella Mangano, and Dora García's "The Artist Without Works: A Guided Tour Around Nothing."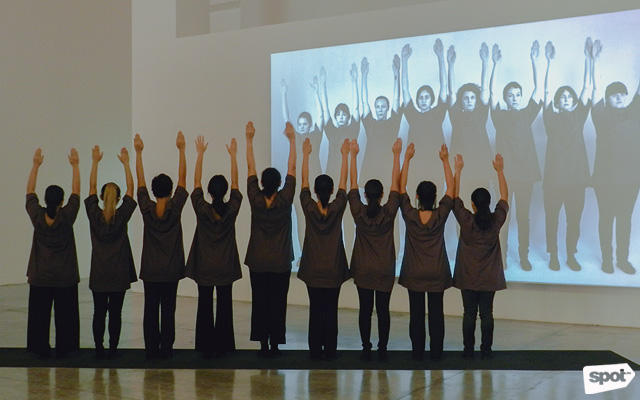 CONTINUE READING BELOW
Recommended Videos
"There is No There"  by Silvana and Gabriella Mangano 
"There is No There" features a group of women dancers engaging in a carefully choreographed performance of the piece while a video in a large HD format plays in the background. Accompanied by a cellist playing simultaneously, the dancers re-enact familiar gestures and movements from the large video behind them. Influenced by the Blue Blouse Theatre Collective of the 1920s, the Mangano sisters explored movements and gestures we frequently see while watching the news. In watching the performance, the viewer should muster the courage to face a group of women pointing their fingers at you, which could possibly make you anxious and feel a hint of unknown guilt.
ADVERTISEMENT - CONTINUE READING BELOW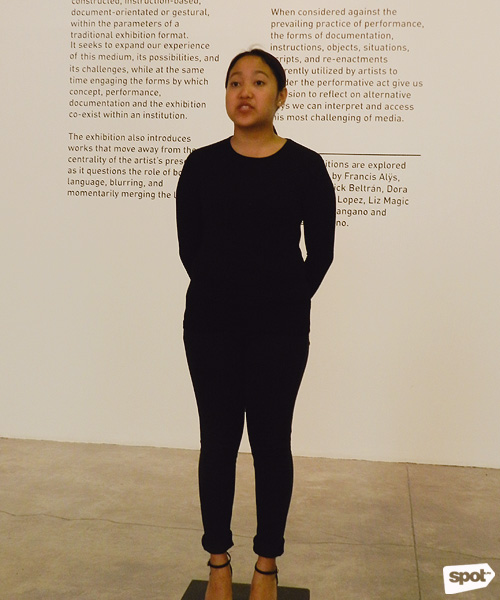 "The Artist Without Works: A Guided Tour Around Nothing" by Dora García
The second live performance for Re-Enactments highlights humor and wit—Dora García's "The Artist Without Works: A Guided Tour Around Nothing." In this act, the performer raises a newspaper and holds a pedestal as she calls out to people who would like to walk with her on a tour around....nothing (yes, nothing!). The artist then takes the group around the museum, stopping at corners and providing insights to the "works of art" she wishes to present. She then starts her monologue on art and politics, driving the audience to laugh and react; it also ventures to serious points raised as she proclaims that there are only two kinds of artists in this world: the failed and the unknown.
ADVERTISEMENT - CONTINUE READING BELOW

"Re-enactments" by Francis Alÿs
Video Performances
Aside from live performances, the exhibit also features performances captured on video. One of which is "Re-enactments" by Belgian artist Francis Alÿs. The main title of the show is lifted from this piece. The work contains a two-channel video installation synchronized to show similar footages, except that one is only a re-enactment. In the actual footage, the artist is seen illegally purchasing a gun from a store in Mexico before he brazenly strolls the city, walking past different establishments and groups of people while holding a loaded gun. It took 12 and a half minutes until the police finally apprehended him. The following day, Alÿs replicated the scene and walked around the city, only this time, with a fake gun. His work brings us to our senses not to simply watch the footages but to carefully point out the differences between the real and the dramatization. This leads us to question our discernment of the authentic and the fictional, and presents a familiar situation where media plays a vital role in manipulating reality.
ADVERTISEMENT - CONTINUE READING BELOW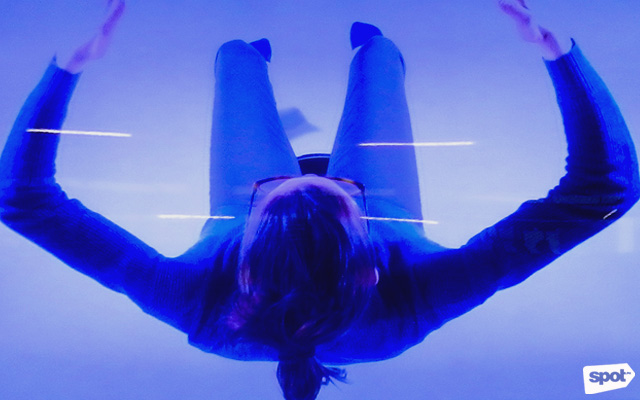 "Invisible Object" by Michelle Lopez 
In another video performance, Michelle Lopez takes us on a challenge to guess something that we can't see. In her piece, "Invisible Object," different men and women with eyes closed describe an invisible object. They try to tell us about it through words (and even in different languages). However, when words fail them, they frustratingly use their hands and depend on gestures. Inspired by sculptor Alberto Giacometti's "Hands Holding the Void," Lopez's work plays on our capacity to imagine objects that are physically absent and yet manifest in our mind to fill a space we have visualized but eventually vanish once we open our eyes.
ADVERTISEMENT - CONTINUE READING BELOW
The exhibit also presents works of American performance artist Liz Magic Laser: "The Thought Leader" and "Primal Speech." In the former, a 10-year-old actor speaks in front of an adult audience while standing on a marker and reciting Laser's adaptation of Fyodor Dostoevsky's Notes from the Underground. The child becomes a character from the novel, the bitter and retired civil servant; only this time, he throws powerful statements using a format that is reminiscent of TED talks. He tells the audience "Only fools can become anything they want. Why is that? Because a fool can always find a greater fool they listen to."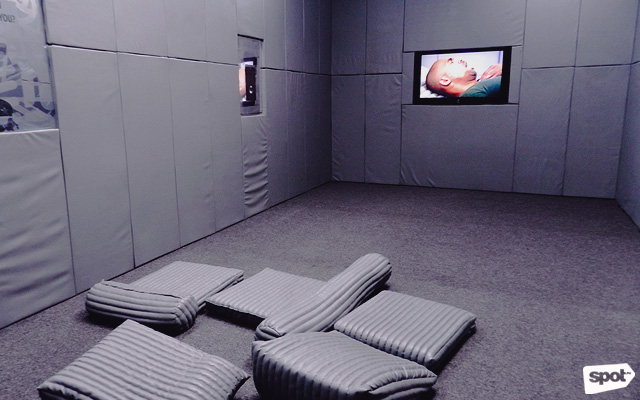 ADVERTISEMENT - CONTINUE READING BELOW
"Primal Speech" by Liz Magic Laser 
Meanwhile, you are encouraged to release your repressed political feelings in "Primal Speech," where a therapy room has been set up, complete with punching pillows and padded gray walls. The public is encouraged to make themselves comfortable inside the room while expressing their anger.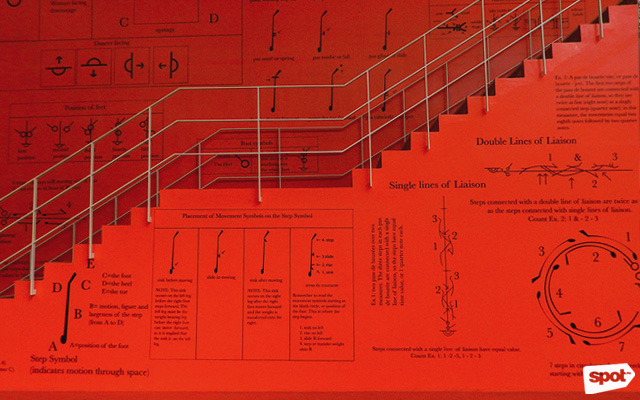 ADVERTISEMENT - CONTINUE READING BELOW
"Demonstrative Figures (Assimilated)" by Erick Beltran 
Installations Related to Performance Art
While performances are not seen in Erick Beltrán's "Demonstrative Figures (Assimilated)," movements can be understood through the site-specific work covering almost half of the museum. The large orange installation shows dance notes (similar to music notes) of Sarabande—a slow court dance from the Baroque period believed to have originated in Mexico. The artist used the Raoul-Auger Feuillet's system of dance notation to indicate the dancers' movements and he inserted protest gestures linked to previously colonized societies.
Finally, "Untitled Episode," a work by Filipino artist Yason Banal also graces the show. The installation presents an actual stage, with lights and other elements in creating a film, as the artist's way to create an "experimental curatorial essay."
Re-enactments runs until September 10 at Museum of Contemporary Art and Design, College of Saint Benilde's School of Design and Arts, Dominga Street, Malate, Manila. For more information, visit MCAD's website.
ADVERTISEMENT - CONTINUE READING BELOW
Share this story with your friends!
---
Help us make Spot.ph better!
Take the short survey
Load More Stories