Ina Jardiolin Creates Androgynous Paintings on Leather and They Are Fascinating
Her latest exhibit opens on September 10 at Kaida Contemporary.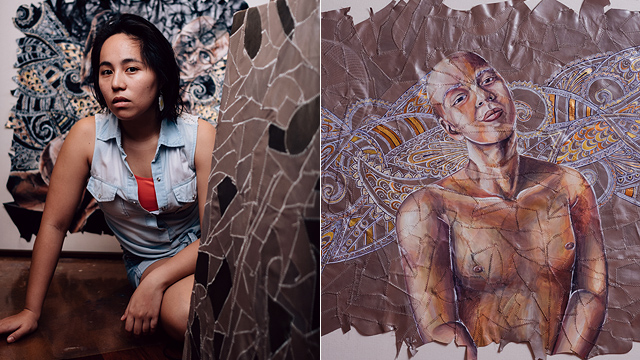 (SPOT.ph) "Using leather as [canvas] for my paintings is almost the same as painting on canvas—the only difference is I feel like I'm painting on skin."
These are the words of young up-and-coming artist Regina Margarita "Ina" Jardiolin in an interview with SPOT.ph. Her androgynous paintings on leather bring to life the idea of exploring gender identity from under the skin—a concept she's been studying ever since she graduated from the University of the Philippines, College of Fine Arts. She finds beautiful irony in her work, however, as she believes that "most gender issues arise when the surface does not match [with] what the person feels inside."
And yet here she is, painting androgyny on (leather) skin.
The vibrant 27-year-old's unconventional use of discarded leather scraps as her canvas exemplifies a home-grown affinity for elevating local materials by way of magnificent pieces of art—a movement that has increasingly gained traction locally over the course of the last decade.
ADVERTISEMENT - CONTINUE READING BELOW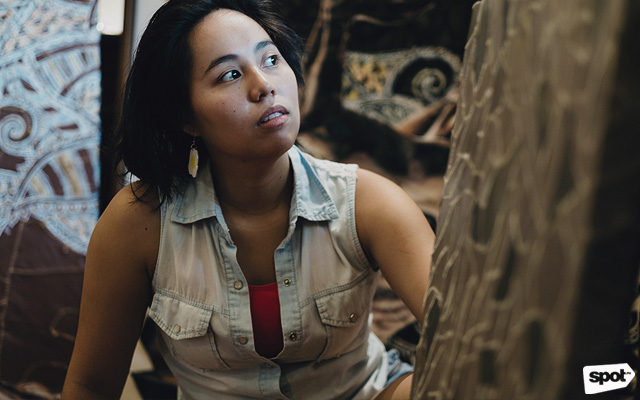 Family Heritage
Growing up in a family that's been nurturing a shoe and clothing business within the world-famous Marikina shoe industry, one might assume that venturing in visual art was not the ultimate career route for the young Jardiolin. And yet, she insisted on pursuing this path and managed to pay homage to her family heritage at the same time.
"It was my mom who first suggested it. To take the scraps of leather from our shop and incorporate our family's business with my work," says Jardiolin.
And soon as she laid her paintbrush on leather, she immediately found an intimate bond with the pliancy and resilience of the material—the same resilience epitomized by her family for generations.
The Jardiolin family business, which was born from scratch, was founded by a widowed parent of three who built a brand that has stayed firmly for more than two decades. Ina, forging her own path, manages to echo her family's spirit by going with a style that exists just outside the lines set by her art predecessors.
ADVERTISEMENT - CONTINUE READING BELOW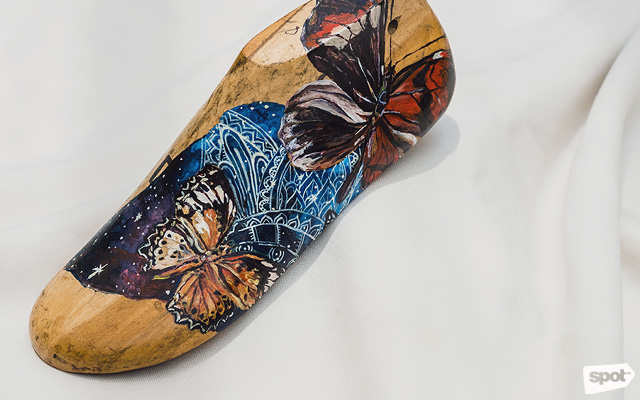 "Paru-paro"
Her creative utilization of various shoemaking implements was first made public during her first solo exhibit, titled Stripped, where she showcased a series of paintings done on wooden shoe lasts or molds (locally called "hulma"). She aptly titled it "In My Father's Shoes." Her use of recycled shoemaking materials suggests that an artist's creativity doesn't have to be confined by conventional styles and techniques. And by stepping outside the lines, Ina successfully marries her style with her message: That everything—and everyone—should not be restricted by a set of roles made by those who are comfortable staying within the bounds of what is "normal" and "acceptable."
Beauty in Androgyny
In her first solo show, Jardiolin opened eyes by stripping layers of preconceived notions and revealed her subjects as mystical creatures—neither male nor female—which baffled, intrigued, and fascinated onlookers.
In Stretch(ed and) Mark(ed), which opens on September 10 at Kaida Contemporary, she doesn't just strip the idea of androgynous identity to her audience—she now celebrates it with them. She stretches the obstructive boundaries of preconceived roles in modern society to inspire people to face various concerns: From sexual, emotional, to societal. She stitches together discarded scraps of leather, like discarded truths we have long since let go of, to create canvases that resemble unwanted, imperfect skin. She then "marks" them with intricate, festive patterns, letting them swim with life as they cascade around her androgynous subjects, inspiring a sense of beauty, freedom, fluidity, and empowerment.
ADVERTISEMENT - CONTINUE READING BELOW
An Expression of Self
Revered American photographer Alfred Stieglitz once said: "The goal of art was vital expression of self." In essence, it can be said that Jardiolin's work champions this adage; as almost all facets of her artworks—from the materials, to the style, to the message—reverberate pieces of who she is.
Her strong beliefs on gender roles and gender fluidity are seen on the subjects of her paintings. The insistence to use recycled resources and minimize the use of any potentially hazardous material reveal her environmental advocacy. And lastly, her use of leather and shoe scraps as canvas for her visual creations show her strong love for her roots and the unshakeable bond she has with her family.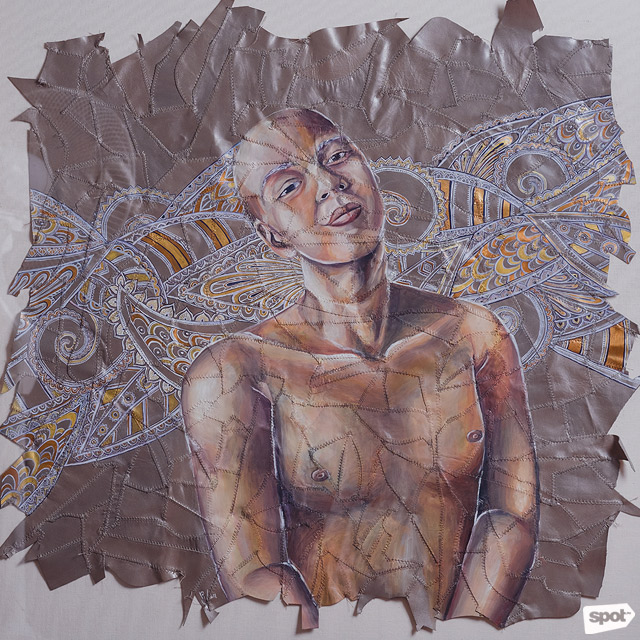 "Would You Like To Know A Secret"
Jardiolin's intentions are inspirational by nature and yet, ironically, all her efforts stem from her candidness to just be herself. Observing her portfolio, one can best describe her art as "organic." Organic in the sense that one, she almost exclusively uses materials such as leather and wood for her projects and two, she lets her androgynous paintings suggests a wider, more comprehensive look at the idea of genuine self-perception and the joys of being true to one's self.
ADVERTISEMENT - CONTINUE READING BELOW
A Message of Empowerment
Art, over the course of history, has been considered a populist endeavor. When someone stands in front of a painting and walks away without understanding or feeling anything, the painting loses its potency—simply because people demand meaning in what they see.
Jardiolin's view towards gender roles is not just a product of personal experiences, but also has significant parallels with our country's history—from the residual ideas of patriarchy to unfair expectations on both men and women. And through her paintings, she makes her viewers feel a juxtaposition of emotions, jarring their perceptions of gender by blurring the lines between the sexes.
And once she gets them to open their hearts to this ideology, she then makes her audience understand the kind of empowerment that self-acceptance brings: Truly loving yourself starts by finding your identity and accepting it completely.
And that is not just beautiful—it's heroic.
Stretch(ed and) Mark(ed) runs from September 10 to 25 at Kaida Contemporary, 45 Scout Madriñan Street, South Triangle, Quezon City. For more information, visit Kaida's Facebook page.
Load More Stories