Katrina Pallon's Drifter Is a Poignant Look at Womanhood and Traveling
The exhibit runs until September 12 at SM Aura.
(SPOT.ph) When we travel, we experience different emotions. From the moment we book those bus or plane tickets, we experience a roller coaster of emotions ranging from excitement to anxiety; bliss to frustration; then later, perhaps, nostalgia. These are just some of the unearthed feelings explored in Katrina Pallon's latest show, Drifter, which runs until September 12 at the Art Elements Asian Gallery in SM Aura.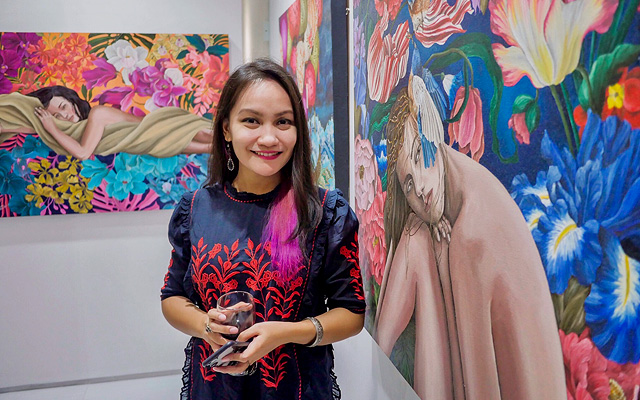 In this exhibit, the artist was inspired by her recent visit to Singapore where she was able to reflect on what it means to travel, as well as the radical change of emotions that affect the traveler. To her, this fast-paced change of mood is also comparable to the experience that an artist at work goes through—going around Manila's congested streets to procure materials, working on studies for hours, painting on the canvas, and struggling to finish the work perfectly. She shows that even though her works were created within the confines of her studio, she still succumbs to the same mood swings that she also gets while traveling.
ADVERTISEMENT - CONTINUE READING BELOW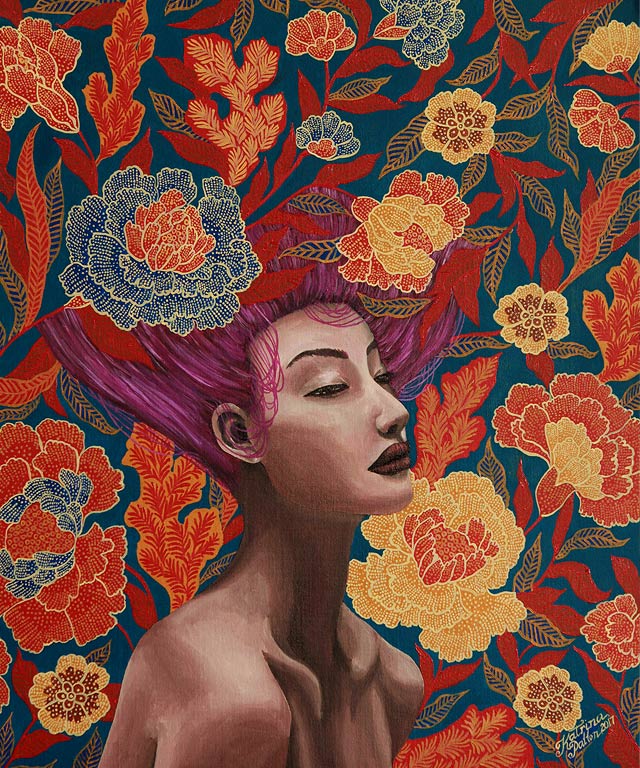 CONTINUE READING BELOW
Recommended Videos
"Opium"
The artist's signature style of a female body surrounded by intricate patterns is also realized in Drifter. This is apparent in her works that feature women merged with her surroundings, neither in the foreground nor in the background. They tend to be adjoined with the delicate patterns (usually made of floral, organic elements) that make them whole but can also be viewed in fragments.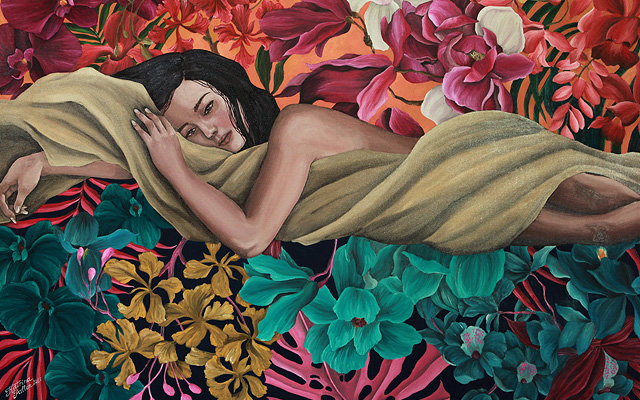 ADVERTISEMENT - CONTINUE READING BELOW
"Horizon"
We also become privy to Pallon's portrayal of her deep personal feelings—a subject that the artist is often hesitant to talk about. The paintings can be viewed in any order since the narrative at play is always just within each piece, but this doesn't mean that they are disconnected. The women are well inside the different worlds that the artist has created for them: an ensemble of emotions rendered in her idea of beauty and aesthetics.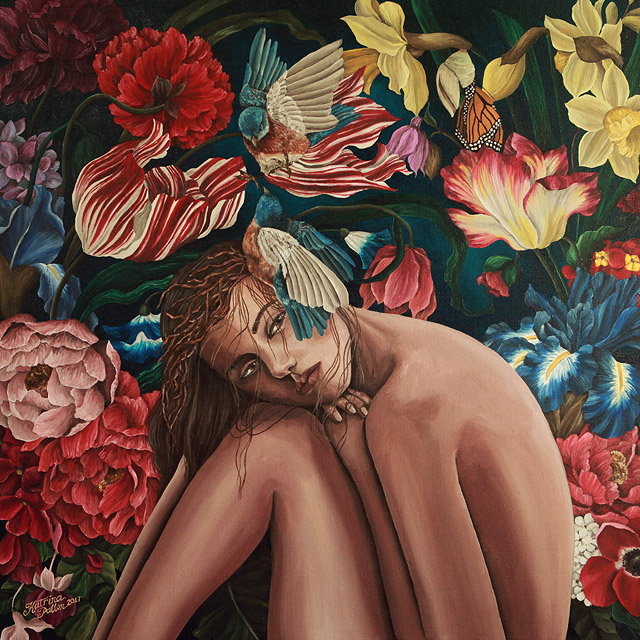 These things ring true in one of her works titled "Patience" which features a woman whose body is bent amid a jungle of flowers. Meanwhile, her face is partially covered with roots, which is a likely statement about waiting for something or someone and how much more time she is willing to spare.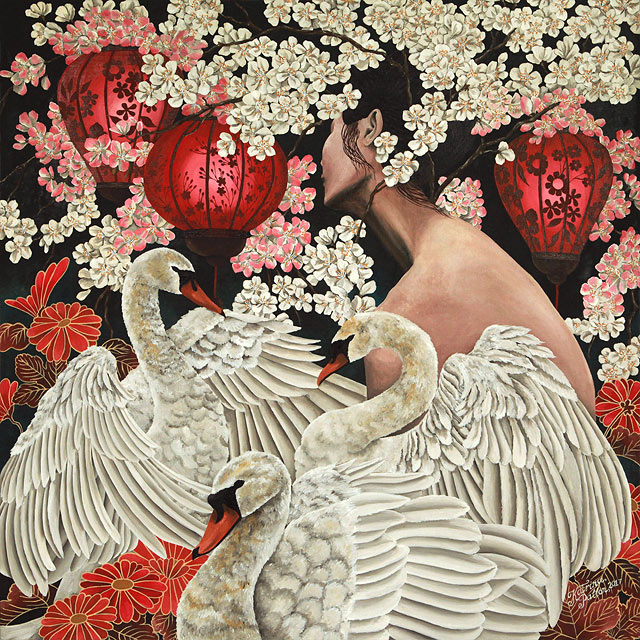 ADVERTISEMENT - CONTINUE READING BELOW
In "Swan Song," the subject that's partially turned away is surrounded by swans and red lanterns. It's as if she's reluctantly saying goodbye.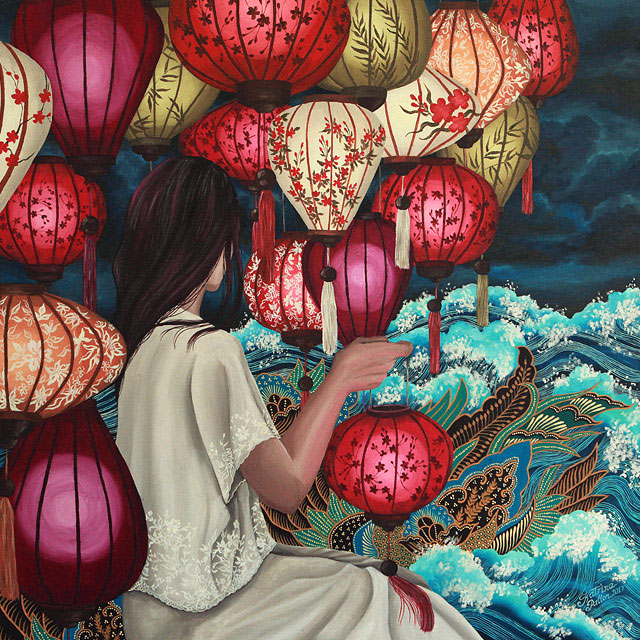 Another notable piece is "Polaris" where a woman sits in front of the ocean surrounded by colorful lanterns. This hints on the serenity and calmness that one experiences despite being in the middle of the unpredictable but steadfast waves of the ocean.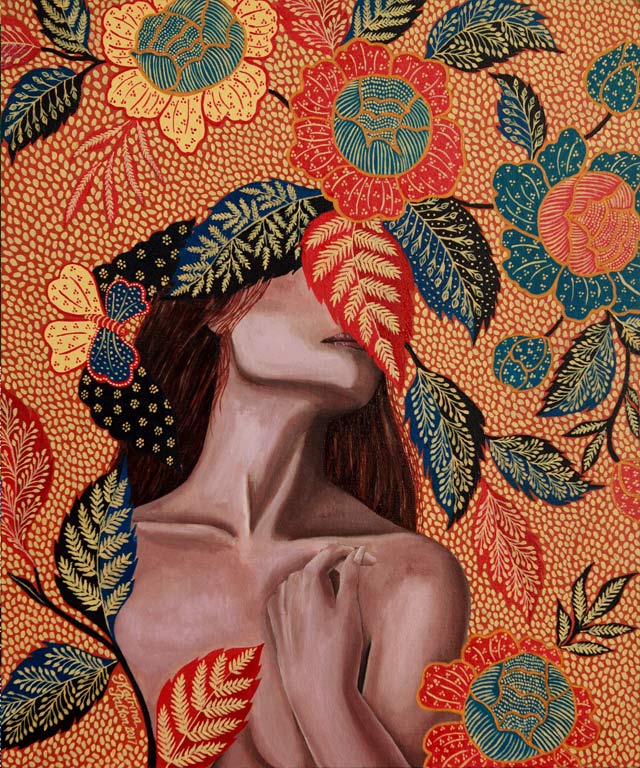 ADVERTISEMENT - CONTINUE READING BELOW
"Tempest"
Elsewhere in the exhibit, three paintings hang in their golden frames: "Tempest," "Sparrow," and "Synergy." They also appear smaller than the rest of the works and the textures also tend to be smoother.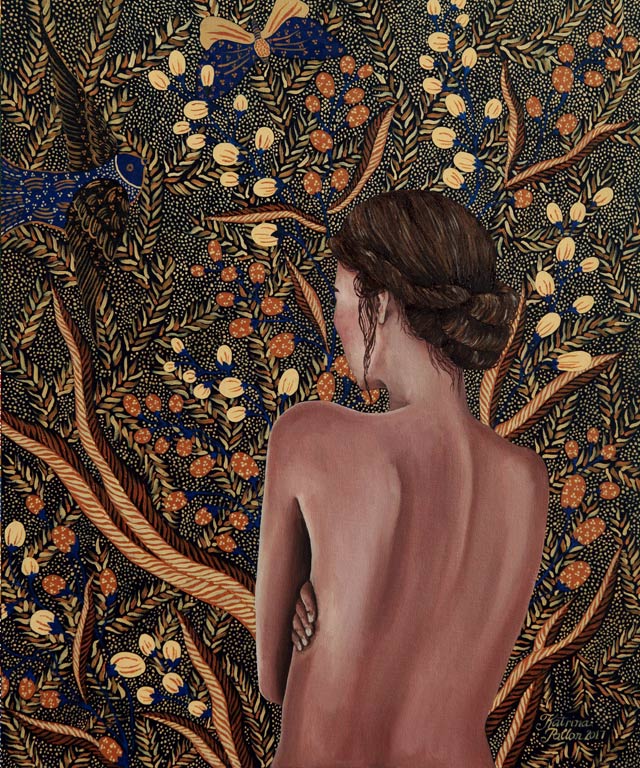 "Sparrow"
Unlike previous works from her past shows such as "Madonna Reimagined" (2015) and "Lovers, Death, Judgment" (2016) where the female form is often painted as an icon, a goddess, or a demi-goddess—therefore, a powerful feminine symbol, the women in Drifter drift away from becoming the mighty force. Their faces and bodies almost always appear to be turning away. The women have their backs turned or are burying themselves well within the pattern reflecting much of the intimacy and conscientiousness involved as the artist paints on the canvas. The mood swings manifest at every stroke and in every color, aiming to strike a balance between the representational and the abstract.
ADVERTISEMENT - CONTINUE READING BELOW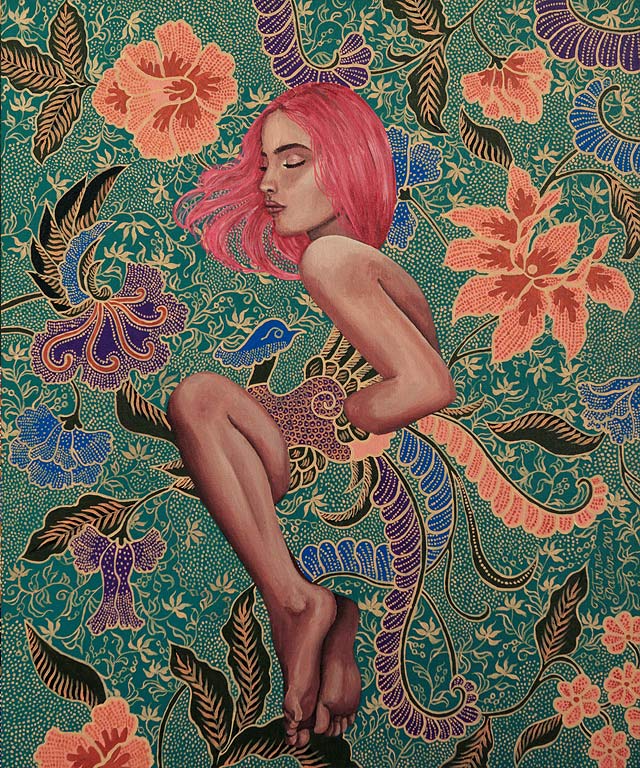 "Synergy"
And as we walk around the small gallery, we are then transported to each of the emotions portrayed in Pallon's works. We stand before them and see an image of ourselves in the women her works portray, traveling secretly into the series of feelings that are shared and presented to us.
Drifter runs until September 12 at the Art Elements Asian Gallery, 3/F SM Aura Premier, 8 McKinley Parkway, Taguig City. For more information, follow Art Elements Asian Gallery on Facebook.
Share this story with your friends!
---
Help us make Spot.ph better!
Take the short survey
Load More Stories