(SPOT.ph) What is your best childhood memory of playing on a swing? It's probably an image of you standing on one with hands holding tight on the chains while swinging away all afternoon. Or maybe a picture of you sitting patiently, while your mom or dad pushes you gently, comes to mind. For Filipino artist Jose Tence Ruiz, this favorite playground item evokes a completely different—and grim—memory.
His solo show, Ang Liblib na Katuturan ng Obrang Walang Saysay, which runs until December 9 at Art Informal in Mandaluyong, features a large set of rusty swings in the middle of the main gallery. The chains and seats are twisted and entangled together making it impossible for someone to sit and play with it.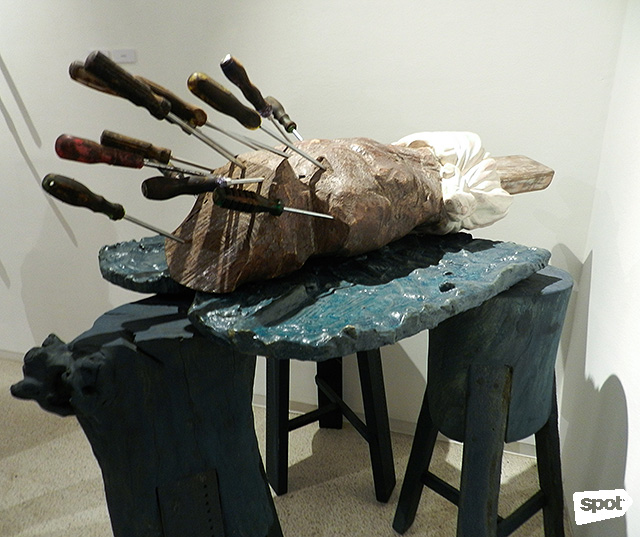 ADVERTISEMENT - CONTINUE READING BELOW
"Screwpulous"
The rest of his exhibit includes pieces that may drive the viewer's curiosity and easily stun those unfamiliar with his works. Scattered around are odd objects in large proportions that include what appears to be a toilet seat made from porcelain and resin, a giant brush made from wood that you can mistake for a tree hanging on the wall, a small coffin surrounded by broken mirrors, a three-decade-old Styrofoam where the word "lumot" is spelled out, a sculpture that looks like a torso stabbed with multiple screwdrivers, and a giant popsicle lined up together with degrading metal bars and electric boxes among others. These images appear to be worthless objects but with secluded and concealed meanings.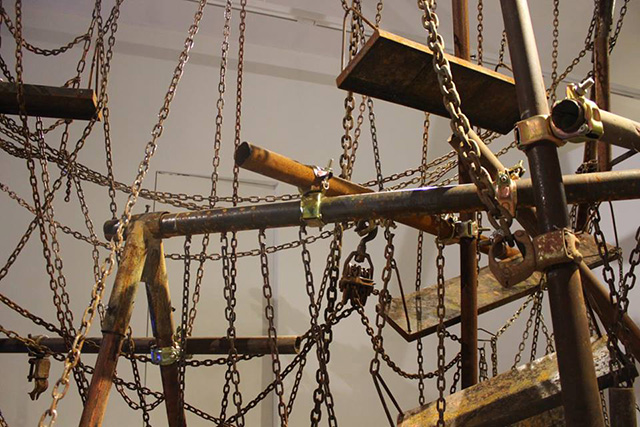 "Hi-Ho"
The swing set, cleverly titled "Hi-Ho" (inspired by the popular song from a film adaptation of Snow White and the Seven Dwarfs), entices us with Ruiz's humor partnered with his ability to present political and social issues in visual satire. When asked as to why he chose a frivolous title, Ruiz answers with a question: "Do you know what's the next verse of that song after the dwarfs sing Heigh-ho, Heigh-Ho?" He pauses and then sings the part, "...it's home from work we go, Heigh-ho, Heigh-ho, Heigh-ho." Ruiz then discusses how in the song and in the story, the dwarfs look happy as they walk in line to go to work. But he also raises a point: "But who among us is happy to wake up in the morning and go to a job that is repetitious and meaningless?" This is evident in the lines that follow: "We dig up diamonds by the score, but we don't know what we dig 'em for."
ADVERTISEMENT - CONTINUE READING BELOW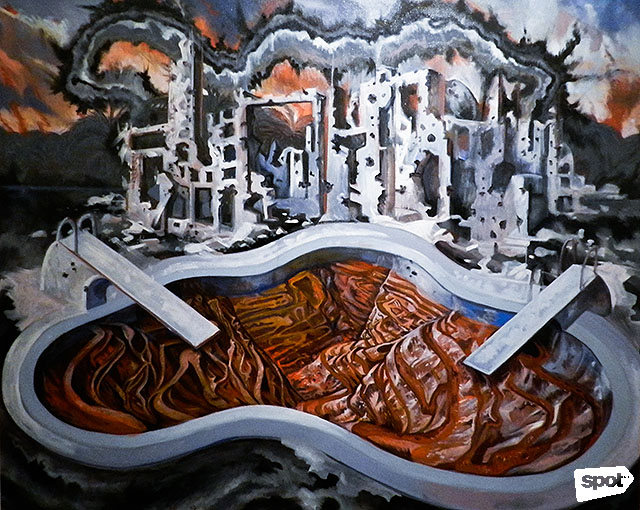 "The Ultimate Resort: The Grey Rainbow Motel"
The other works in the show are large paintings with images and colors reminiscent of classic Philippine comics, which reflects Ruiz' background as an editorial cartoonist for decades. In "The Ultimate Resort: The Grey Rainbow Motel," a human form stands on a diving board in the middle of a swimming pool that is somehow a repository of all but the most toxic of wastes. Known to have works that depict social realism in the past, the artist now brings to us his portrayal of our reality as something absurd, exaggerated, and challenging as we live in the time of post-truths and alternative facts. Therefore, an alternative take on visual arts is also fitting.
ADVERTISEMENT - CONTINUE READING BELOW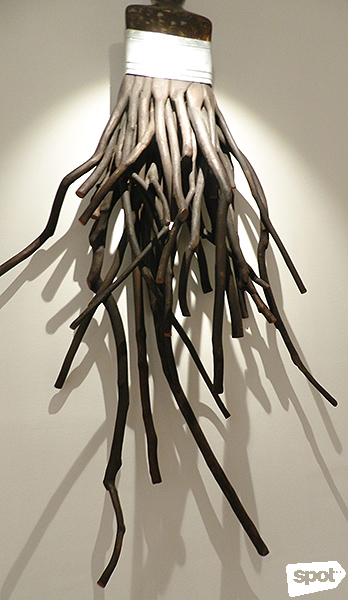 "Eh, 'Di Brunch"
Articulate as he is, Ruiz also presents a case for "Accountability and Countability." Countability, a word he coined, lies on the idea of internal accountability—where our accountability is with our constituency, the people we choose to spend our lives with. This is an idea that sprung to him after reading important works of theoretical physicist Stephen Hawking.
ADVERTISEMENT - CONTINUE READING BELOW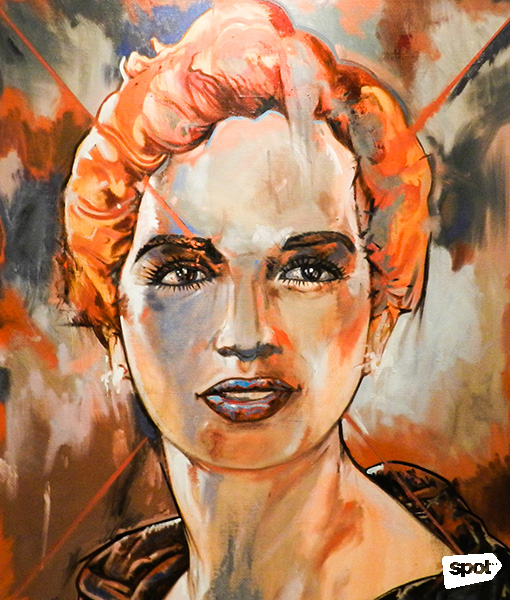 "Kupit sa Mandurugas: Chicks Katarungan"
Another idea he dabbles with is how highly educated and esteemed people in his field have forgotten the basic human decency of introducing oneself—making that person appear to be full of pride to assume that the audience or the other party knows all about him/her. This makes one miss out on internal accountability, he says. It is also why we might become a black hole—assuming so much gravity that we begin to collapse on our own weight, dragging everything else to its own density. This impression of criticizing self-importance is evident in another piece in his show,"Qurrente." The art installation features a large sculpture of a popsicle stick, particularly the famous Filipino dessert pinipig crunch. It warns us against the cult of the "sweet-talker," in which constituents blindly follow an idol with relentless self-importance.
ADVERTISEMENT - CONTINUE READING BELOW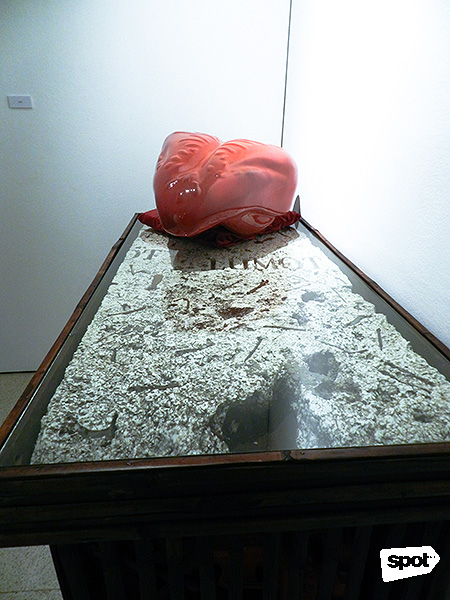 "Sa Pula"
Ruiz was one of the artists who represented the Philippines at the 2015 Venice Biennale and made a large-scale installation that pays homage to BRP Sierra Madre, a commissioned Philippine Navy ship parked at the West Philippine Sea staking a claim on our territories amid its evident decay. Like his previous work, his current show—mostly influenced by his fascination with wordplay, visual puns, and pop culture—allows us to laugh at what might look like a foolish presentation of the current political climate. Our jaws then retreat back to seriousness right after as we face the truth and tremble in our vulnerability to horrors in the society.
ADVERTISEMENT - CONTINUE READING BELOW
Ang Liblib na Katuturan ng Obrang Walang Saysay runs until December 9 at Art Informal, 277 Connecticut Street, Mandaluyong City. For more information, follow Art Informal on Facebook.
Share this story with your friends!
---
Help us make Spot.ph better!
Take the short survey
More Videos You Can Watch
Load More Stories