Here's What You Need to Know About Those Sculptures at Greenbelt 5
Reg Yuson's "Conditions of Space" is on display until March 4.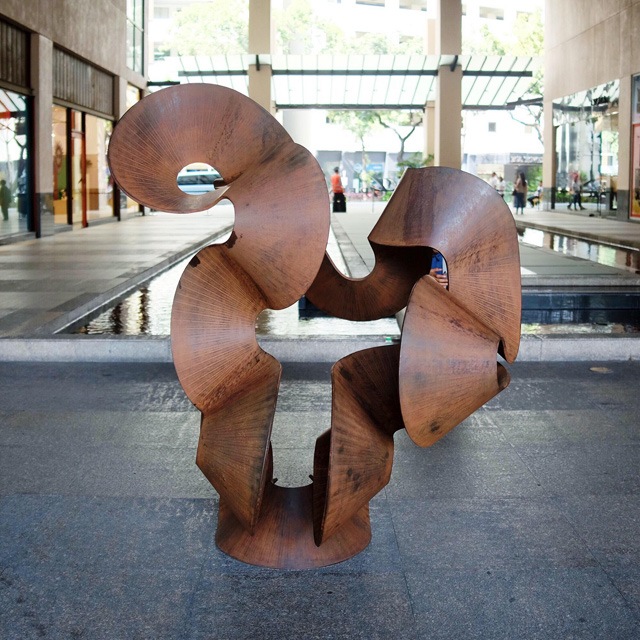 "Conditions of Space" by Reg Yuson
(SPOT.ph) Each year, Art Fair Philippines ignites Metro Manila with a jolt of creativity. The nerve center of the fair is located in a multi-level Makati parking area known as The Link. It's here that local artists gather to exhibit and discuss the best of Philippine contemporary art. But not all the art is limited to this locale. In museums, public walkways, and even restaurants—the fair has organized 10 Days of Art, a metro-wide celebration of Filipino artistry that the public can enjoy beyond the carpark.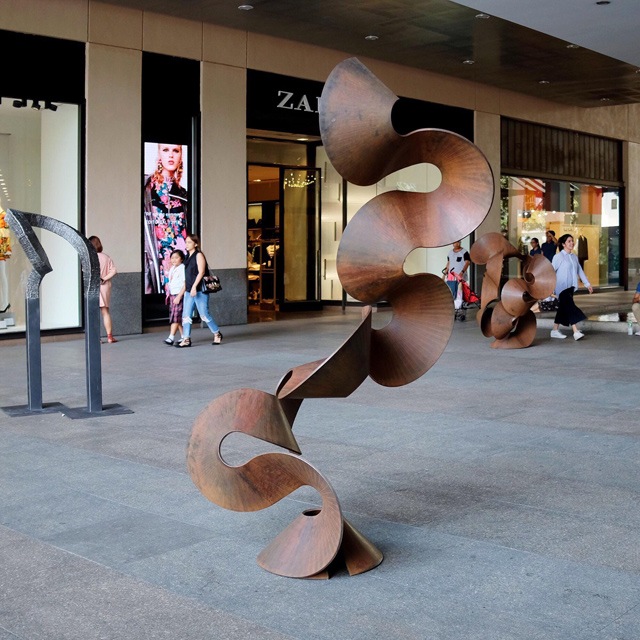 ADVERTISEMENT - CONTINUE READING BELOW
Reg Yuson, one of the artists who is contributing to 10 Days of Art, put up sculptures on public display at Greenbelt 5 Fashion Walk until March 4. The work, known as "Conditions of Space," is graceful, abstract, and thoughtful while still maintaining an air of mystery. Like most of his sculptures, this collection does not offer an obvious meaning. Instead, it invites the audience to stop and reflect on the art, considering the area it's displayed in, the material used to make it. Despite the artist's conceptual approach, art aficionados and passers-by will appreciate his work for being refreshingly unusual—and definitely Instragram-worthy.
CONTINUE READING BELOW
Recommended Videos
"Hearsay"
Metro Manila locals are probably already familiar with Yuson's work, even if they may not know it's his. Throughout Bonifacio High Street, his large, interactive sculptures have become landmarks for the area's visitors. Kids, in particular, are drawn to "Hearsay," the bright green tentacle-like pipes that can be used to send sound from one end to another. What makes it is interesting is that the pipes are twisted underground; so, when you whisper into one end, your voice is heard at the end of what seems to be a totally separate pipe. Although it's a fun game for children, this piece is also Yuson's statement about gossip.
ADVERTISEMENT - CONTINUE READING BELOW
"Specific Gravity"
His most well-known work is the monumental "Specific Gravity" that now serves as High Street's centerpiece. It features a boulder suspended in mid-air (with the help of metal beams), from which water pours down to the ground. It uses the same elements as a traditional Zen garden but rearranged into something unfamiliar. In an interview with SPOT.ph, Yuson says, "I wanted it to be a contemplative piece unlike the other artworks we were placing in the same strip," adding that these primordial elements in the middle of a highly commercial area would "humanize the experience of being at Bonifacio High Street."
Much of Yuson's art, whether displayed in a high-end hotel or public school, is created not only to engage its immediate audience, but also how that effect will ripple out into the world at large. "Public art is important," he explains, because as an audience, it "stimulates us intellectually, emotionally, and even physically." But beyond just the personal, art that is out in the open and accessible to everyone "makes us curious about our surroundings, makes us learn how people think differently, makes us ask questions, and helps develop a thinking society."
ADVERTISEMENT - CONTINUE READING BELOW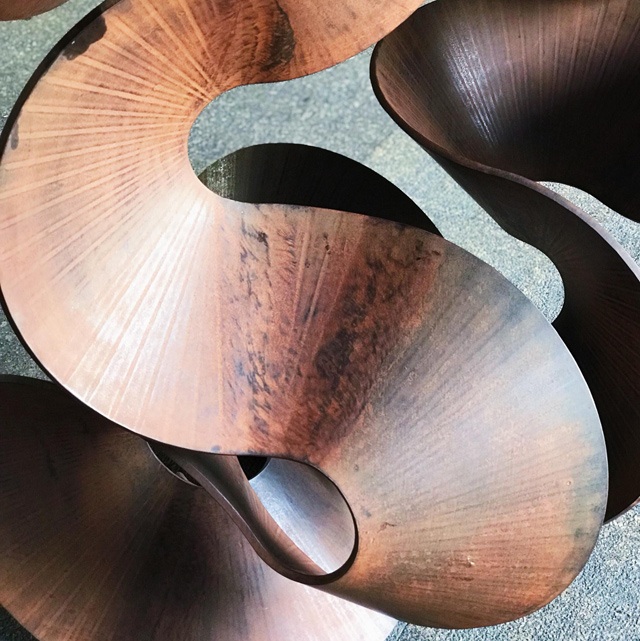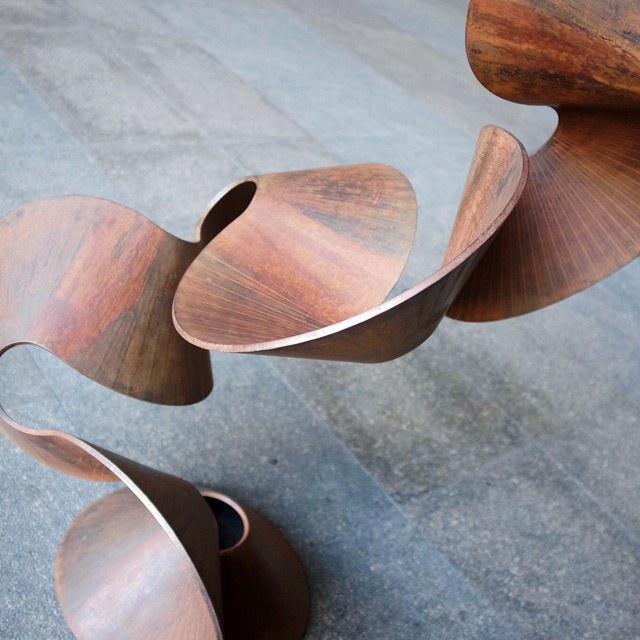 Although he always has the viewers in mind, Yuson prioritizes the art's concept and execution over the public's approval. He studied painting and sculpture at the University of the Philippines, where he learned his technique, and where he also developed his values as an artist. "I think good public art is [made] not to please an audience, but to engage," he tells us.
ADVERTISEMENT - CONTINUE READING BELOW
Likewise, he places a lot of value on the artistic community. Despite the fact that he may "not be very immersed in the [art] scene," he does believe that Filipino creators should support one another. In fact, it's one of his main reasons for being a part of Art Fair Philippines.
"If you are a young artist, it would be good to get your works out [in the fair]," he reveals, describing how the existence of the fair is a good indication of a vibrant market and environment for artists. "If you are an established artist," he points out, presumably referring to people as accomplished as he, "it would be healthy to support the younger artists by your presence."
Art Fair Philippines 2018 is from March 1 to 4 at The Link, Parkway Drive, Ayala Center, Makati City. Tickets, priced at P350, are available through Art Fair Philippines' website.
Share this story with your friends!
---
Help us make Spot.ph better!
Take the short survey
Load More Stories