This Artist Wants You to Stand in a Bucket and Be Part of His Exhibit
Erwin Wurm's exhibit runs until June 10 at the Ayala Museum.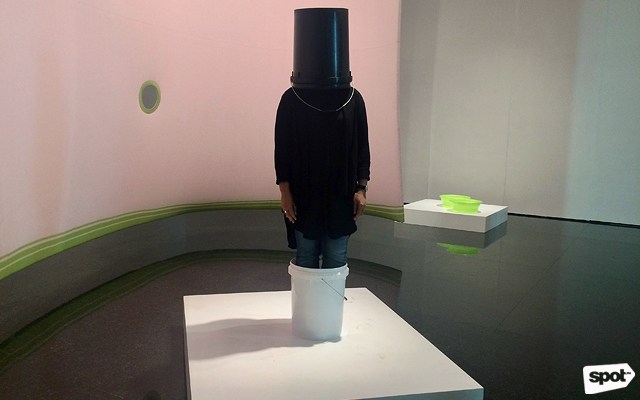 (SPOT.ph) From our earliest visits to museums during school field trips, we have been conditioned to view art in a certain way: Don't touch the artworks, don't take selfies, keep a safe distance. This reinforces the idea that works of art are important, fragile artifacts kept behind bulletproof glass and velvet ropes. After all, you don't want to be that kid who ruins a priceless masterpiece.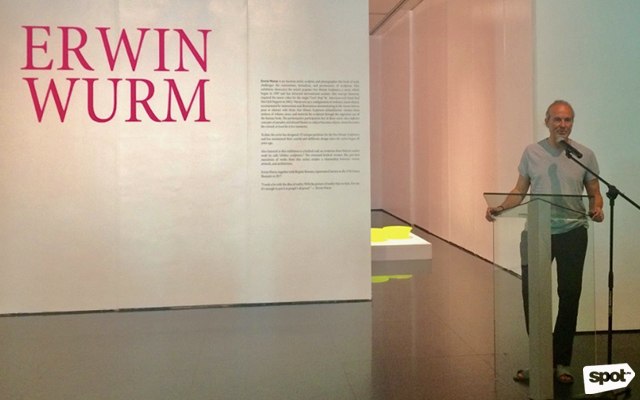 ADVERTISEMENT - CONTINUE READING BELOW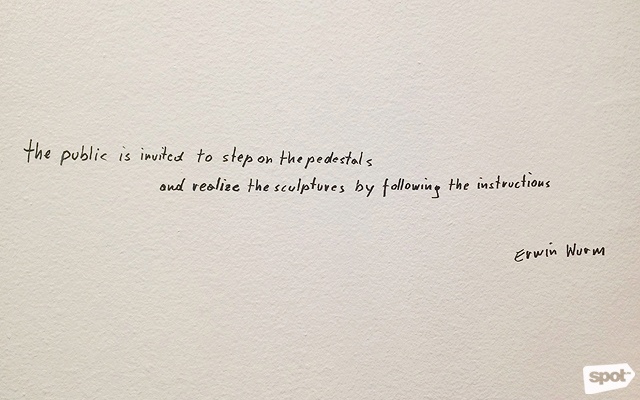 CONTINUE READING BELOW
Recommended Videos
But renowned international artist Erwin Wurm, whose works are on display for the first time in the Philippines as a collaboration between 1335MABINI and the Ayala Museum, wants to reverse all that, wants to reverse all that. There are two parts to his exhibit, which ends June 10—a giant knitted sweater that the audience can interact with and a series called "One Minute Sculptures," which make use of ordinary objects one uses in daily life. The Austrian artist, known for his surreal and eclectic sculptural works, provides instructions on what one should do with a particular object for 60 seconds. "The public is invited to step on the pedestals and realize the sculptures by following the instructions," Wurm scrawled on the white walls with a Sharpie. With that, the distance is shattered, the velvet rope brought down; the artist is inviting the audience to come, create—and for a minute (or less!) be part of the exhibition. Take pictures while you're at it, too.
ADVERTISEMENT - CONTINUE READING BELOW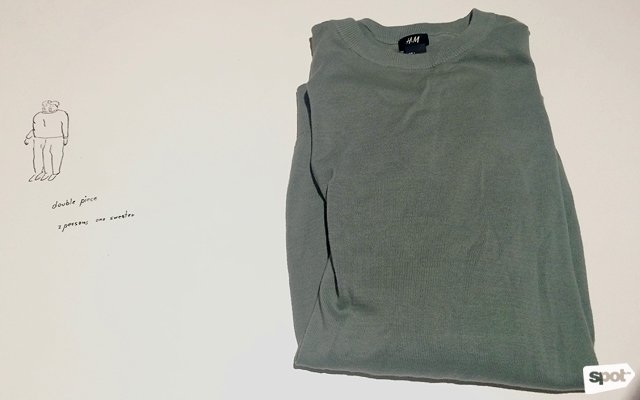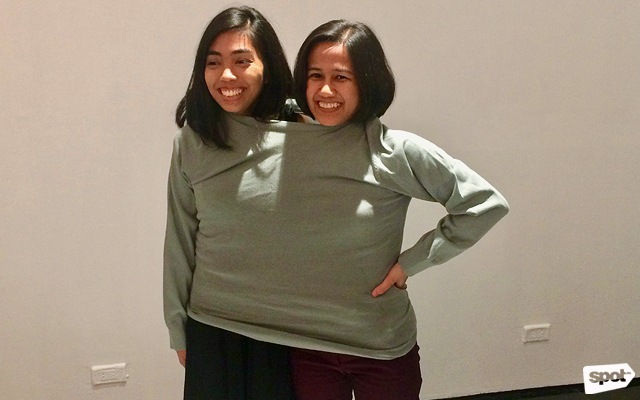 Wurm acknowledges the role of photography in completing the full experience of his exhibit, since the audience-participant can't fully know what he or she looks like while following the artist's directions. "At the beginning, the public was allowed to take pictures of themselves with Polaroids and this automatically transferred to the selfie-generation by itself," he told the press in a special preview on April 24. For this iteration, Ayala Museum partnered with Fujifilm so that exhibit-goers get the chance to have their poses for "One Minute Sculptures" captured and printed out for posterity with an Instax.
ADVERTISEMENT - CONTINUE READING BELOW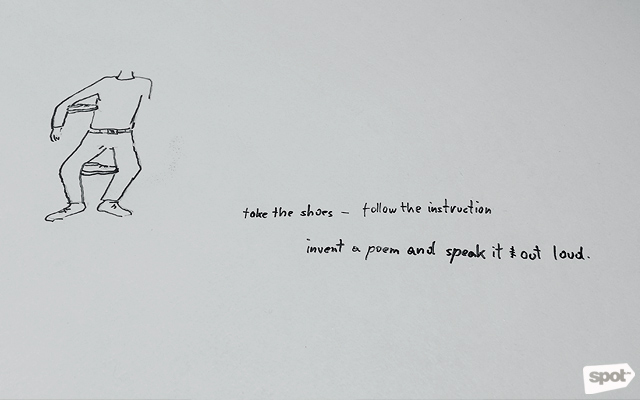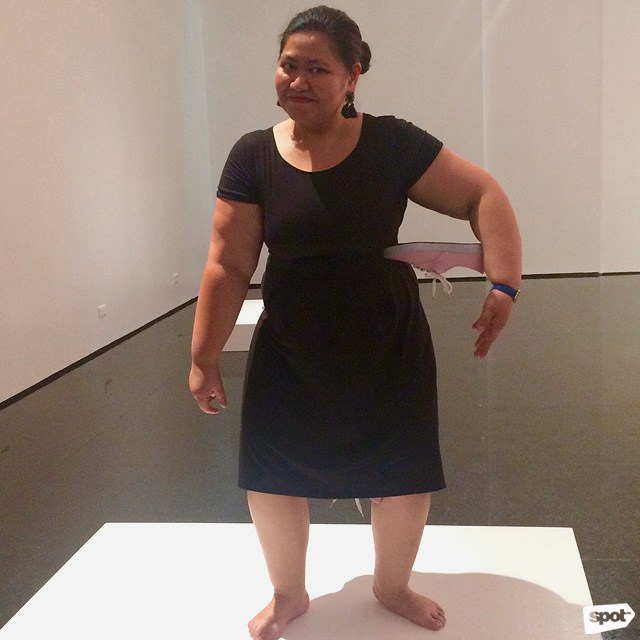 There are five pedestals, each with its own set of objects and unusual instructions. There's a pair of black and white buckets. Climb in one, hold the other over your head. Best. Hiding. Place. Ever. Two bright neon green basins allow you to pretend to be a clamshell in Bikini Bottom for a minute. For the verbally inclined, take the sneakers, invent a poem, and speak it out. The most physically challenging is the pen, which are to be balanced between your knee and your chin—all while standing on one leg.
ADVERTISEMENT - CONTINUE READING BELOW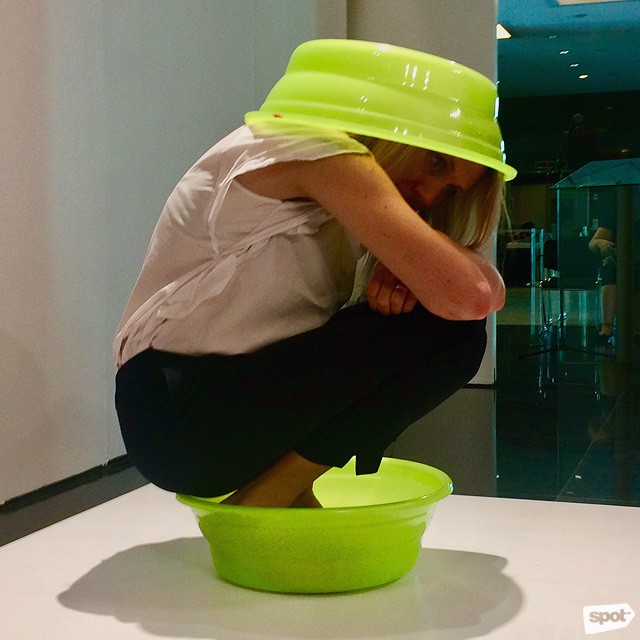 Being part of the museum display even for a minute is fun and inherently IG-worthy. It tests your creativity by having to rhyme hope with soap, or challenges your stamina while you're standing with a pail over your head.
When asked about the rationale behind combining mundane things with seemingly random instructions, Wurm explains that it was all for practical reasons. He couldn't be in several different places at the same time. So he would send instructions for museums and galleries for them to mount, even if he was on the other side of the world. Since he began in 1997, Wurm has come up with over 100 versions of these sculptures.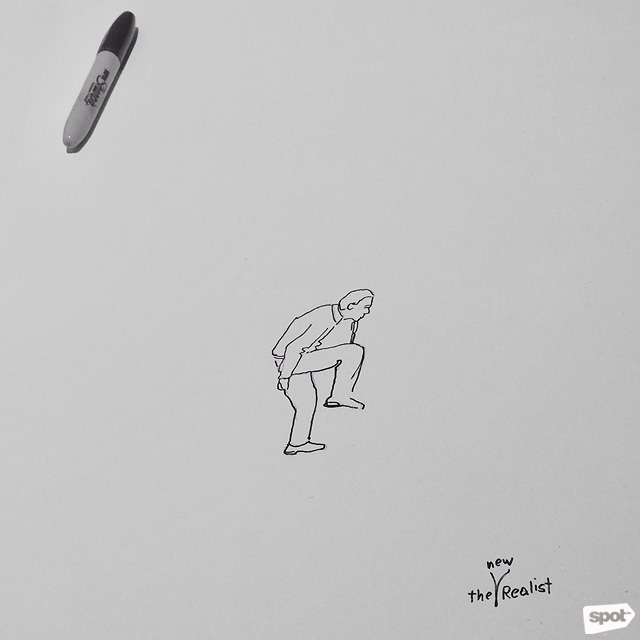 ADVERTISEMENT - CONTINUE READING BELOW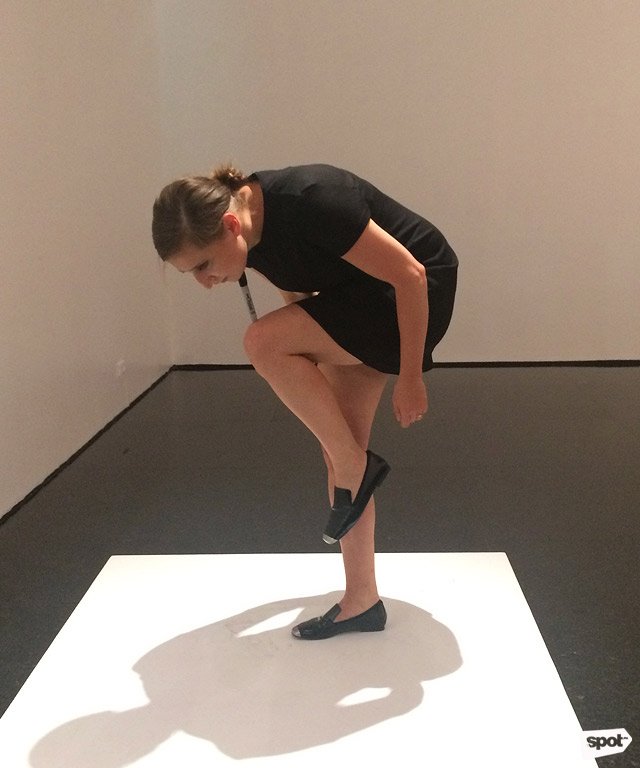 But more than that, the artist also wants you to think about philosophical and social issues. Why are we so willing to climb on a wooden box and gleefully follow his orders even if it makes us look foolish? Grab a buddy (or your crush) and try to fit inside an oversized sweater, ending up a weird blob with two heads, two hands, and four feet.
Wurm says we must look at the world from the point of view of absurdity. If we follow his rules, then it's art. If we don't, then it's not his work. When you think about it, being asked to stand on one leg isn't as mad as our day-to-day reality. Our daily lives are like little dictatorships: We do have to follow somebody else's commandments, which are—more often than not—much more illogical or nonsensical than his. We follow these rules, because we have to. And most likely, we wouldn't be picture-worthy.
ADVERTISEMENT - CONTINUE READING BELOW
"There is no personal freedom. It's ridiculous. We need to find our lives in between these borders. We feel pressure everywhere in the world," Wurm concludes. Crouched in between neon basins, we shut out the world and hope to find ourselves in a minute.
Erwin Wurm's exhibit runs until June 10 at the Ayala Museum, Makati Avenue corner De La Rosa Street, Greenbelt Park, Makati City. For more information, visit Ayala Museum's website.
Share this story with your friends!
---
Help us make Spot.ph better!
Take the short survey
Load More Stories