The Beatles' John Lennon Called American Artist Bruce Conner His "Fave Rave"
Find out more about him at this exhibit, which runs until June 3.
(SPOT.ph) When French novelist Marie-Henri Beyle (a.k.a. Stendhal) visited Florence in 1817, he was overwhelmed by all the art, especially with the beauty of frescoes by Italian painter Giotto inside the Basilica of Santa Croce. He wrote about how the works seem to have spoken to his soul. Centuries later, this feeling became popularly known as the "Stendhal Effect," which is characterized by hallucinations, an increase in heart rate, and confusion when one is deeply moved by a certain artwork. And that's exactly the goal for Bruce Conner: Out of Body, which showcases video installations, drawings, and other works made from lithographs and inkblots by the late American artist Bruce Conner. The show runs until June 3 at Bellas Artes Outpost in Makati and Las Casas Filipinas de Acuzar in Bataan.
Bruce Conner: Out of Body summarizes the artist's obsession with confronting the body and identity as defined by one's ego. He also dwells on a series of images and sound that allow the transformation of the audience's consciousness, separating your physical and emotional state—almost hypnotizing you and sending you into a trance.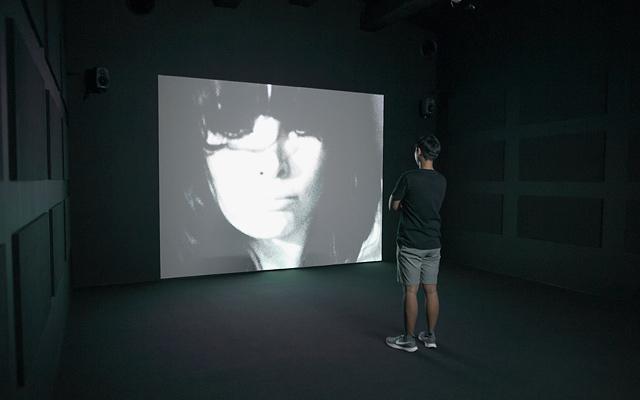 ADVERTISEMENT - CONTINUE READING BELOW
Breakaway
Premiered on February 24 at the Bellas Artes Outpost in Makati, the introduction to Conner's art started with a screening of his 1966 film Breakaway, which features singer Toni Basil dancing to her song with the same title. The dancer makes quick random poses in front of the camera while wearing a bra and leggings with holes that double as polka dots. As the song progresses and its lyrics are revealed ("I'm gonna break away from all the chains that bind"), we see only parts of Basil as the camera zooms in and out of the frame. This depicts a gradual breaking away from the chains that limit her physical state. The images provide a sense of liberation for the female body, which is captured in film long before music videos were a thing.
CONTINUE READING BELOW
Recommended Videos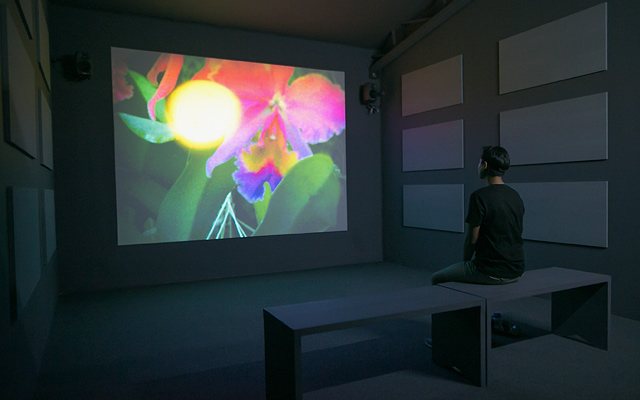 "Easter Morning"
ADVERTISEMENT - CONTINUE READING BELOW
Another work on view is "Easter Morning," a 10-minute video compiled from a series of footage that Conner took between 1966 and 2008. It features overlapping images, such as close-up shots of flowers and ferns, candles, and kaleidoscopic Oriental patterns to create a visual trance. Accompanied by composer Terry Riley's "In C," the combination of Conner's footage with the repetitive and minimalist sound taps deep into your consciousness. It pushes viewers to daydream and—in a sense—separate the mind from the body.
I am (NOT) Bruce Conner and other works
Bruce Conner was born in Kansas in the decade preceding World War II. He lived in San Francisco in the middle of the Beat Generation when artists, musicians, and poets came together to defy artistic traditions and redefine contemporary art. He did not receive proper training in filmmaking, but he developed an interest in the way American movies were made from the 1930s to the 1940s. He found it interesting how these films were edited and how they often follow strange scene sequences. Conner observed that a film from this era may show a confrontation between lovers and then suddenly transition to an image of a moving train about to go off a cliff. This seemingly irrelevant arrangement of images inspired Conner's perception of film as collage.
Many were impressed by his avant-garde experimental films, including the legendary John Lennon who once wrote to Conner saying, "You don't know me but I know you and you are my fave rave." This exchange eventually led to The Beatles composing the musical score for Conner's "Looking for Mushrooms."
ADVERTISEMENT - CONTINUE READING BELOW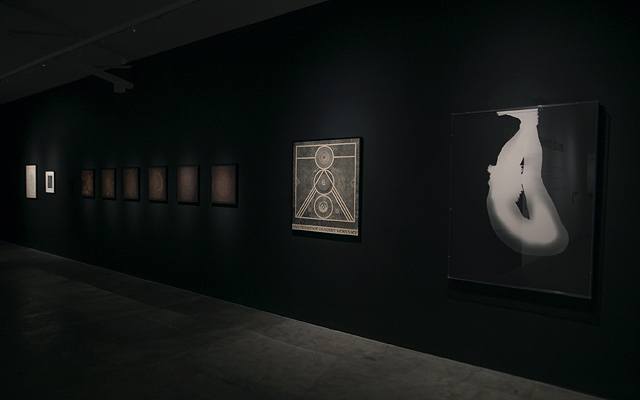 Drawings, Lithos, and Photogram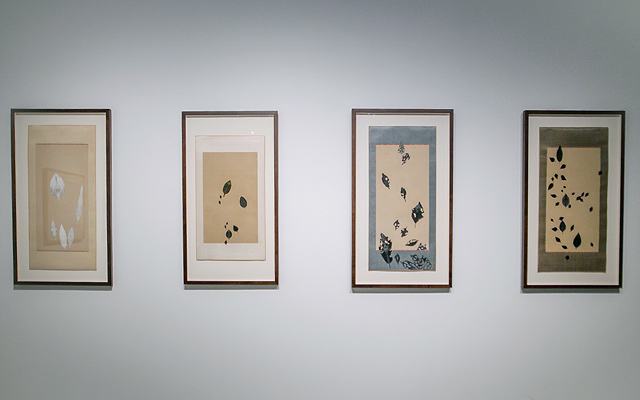 "Fallen Leaves"
Though he collaborated with many artists and celebrities, he was never comfortable with being photographed and attending exhibit openings. He also felt that there was something false in artists signing their work, a mark that made Conner different from other artists obsessed with their legacy, turning their names into brands, aiming for self-importance. Conner was more interested with how an artist can transcend the ego by using different aliases with his works, finding triviality in his name.
ADVERTISEMENT - CONTINUE READING BELOW
Once, he looked through the phone book and searched for people who had the same name as himself and toyed with the idea of inviting all of them in a small convention. It was an event welcoming all the Bruce Conners in the world, hosted by Bruce Conner for Bruce Conner (Think Marc by Marc Jacobs for Marc Jacobs). It may sound very narcissistic, but this concept relied on the multiplicity attached to his name so that it no longer meant anything: The identity separated from the body, hence, melting away the ego.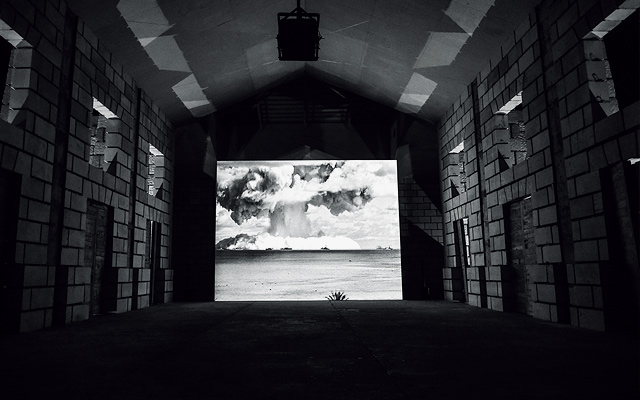 Operation: Crossroads
The final installation of the exhibit is found inside an unfinished church at Las Casas Filipinas de Acuzar where the Bellas Artes Projects' headquarters is located. Bruce Conner's "Crossroads" from 1976 is projected onto a massive screen, almost as high as the church's marble walls.
ADVERTISEMENT - CONTINUE READING BELOW
In 1946, the U.S. government conducted a series of nuclear weapons tests at Bikini Atoll in Marshall Islands. When footage of these experiments was finally declassified, Conner turned them into a beautiful yet haunting film, Crossroads. He also collaborated with composers Patrick Gleeson and Terry Riley for the musical score. The video is divided into two parts—the first taps into our fear of an impending tragedy; the second brings euphoria in the midst of destruction. Coincidentally, Bellas Artes Projects in Bataan is found almost within 10 miles from the closed Bataan Nuclear Power Plant.
In the first part of the film, ships are seen sitting quietly on a still ocean while the sound of drones hovers around mushroom clouds, leaving us in awe of a powerful image and the terrifying sound of an explosion. Meanwhile, the second part tends to be more contemplative. Riley's scoring matches the pace of the blasts: Nuclear clouds launched unpredictably, like watching fireworks in the sky. The feeling creates a confrontation between the logical and the subconscious, and the understanding that the beauty in front of you is made out of destruction and the horror of calmly submitting to it—a hypnotic resignation towards a euphoric calamity.
Bruce Conner: Out of Body runs until June 3 at the Bellas Artes Outpost, Karrivin Plaza, 2316 Chino Roces Avenue, Makati City; and Las Casas Filipinas De Acuzar, Bagac, Bataan. For more information, visit Bellas Artes Outpost's website.
Share this story with your friends!
---
Help us make Spot.ph better!
Take the short survey
Load More Stories