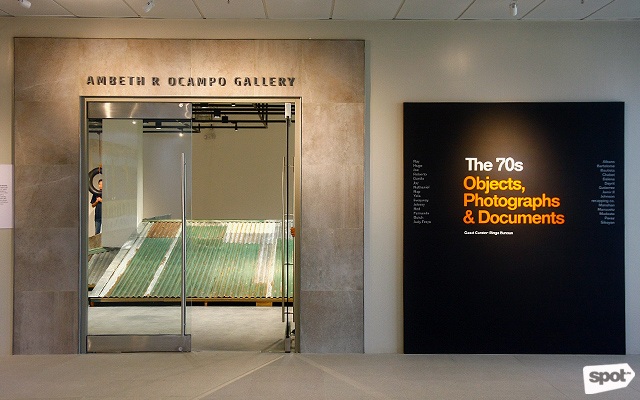 (SPOT.ph) The Philippines saw a major shift in economics and politics in the 1970s—there was a series of leftist protests, a significant increase in external debt, the shut-down of mass media, the suspension of the Writ of Habeas Corpus, and, of course, the declaration of Martial Law. And it was during this time of political unrest that the government started building art institutions including the Cultural Center of the Philippines. Interestingly, it was also the period when Filipino artists showcased work that did not just concentrate on showing only the "true, good, and beautiful." This is the subject of The 70s: Objects, Photographs, and Documents, an exhibit which runs until July 2 at the new Ateneo Art Gallery in Areté.
ADVERTISEMENT - CONTINUE READING BELOW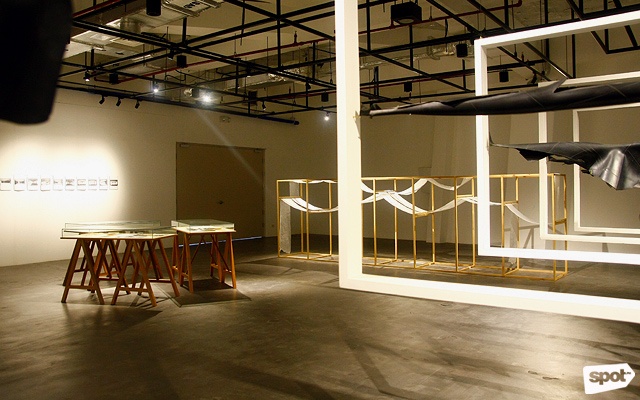 Curated by Ringo Bunoan, it focuses on art practices in the 1970s that were marginalized in art historical texts and narratives. It is mostly based on research surrounding Roberto Chabet and other artists he has collaborated with in the past. What was found is the rise of conceptual art, which became "a means for artists to critique established institutions and ideologies," according to Bunoan. Conventional notions of art and art production were challenged, with artists breaking away from traditional Modernist painting and sculpture, aside from experimenting with the use of space to create installations.
ADVERTISEMENT - CONTINUE READING BELOW
Recommended Videos
Because conceptual art emerged within the walls of the Cultural Center of the Philippines (CCP) through Chabet—who was then the museum director—most of the experimental photographs and installation art that defined the decade were seen as "antithetical to the work of the social realist painters" and "apathetic to the harsh realities of the Filipino people." Bunoan wishes to change this thinking and show that Filipino conceptual artists in the '70s actually protested against the cultural elite by using locally found materials and scraps.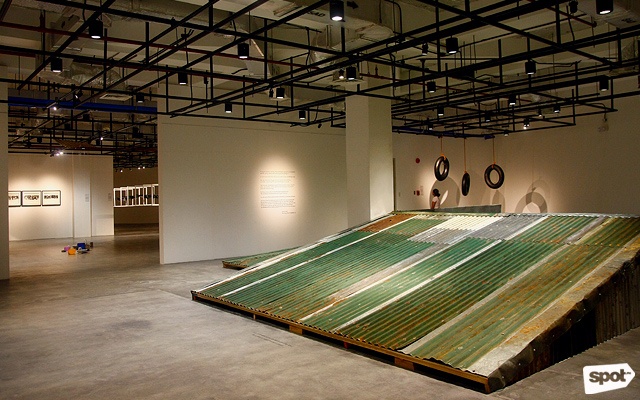 ADVERTISEMENT - CONTINUE READING BELOW
"Bubong" by Joe Bautista"
This is obvious in Joe Bautista's "Bubong," which is basically a piece of dilapidated and rusting corrugated tin evoking the image of Manila's slums. It was first created as part of the exhibition 5 Contemporary Sculptors at the CCP Main Gallery in 1979, but was later deemed inappropriate by then First Lady Imelda Marcos and had to be closed down.
Danilo Dalena's "Tulo" revolves around the same theme as it mimics a makeshift solution to leaking roofs in the city's most depressed areas and reflects on the prevailing social conditions in the country.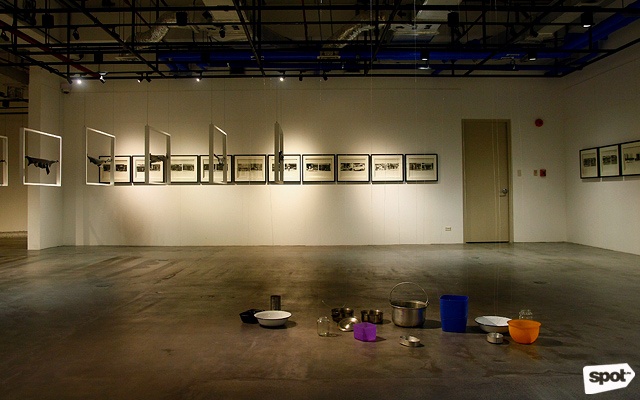 ADVERTISEMENT - CONTINUE READING BELOW
"Tulo" by Danilo Dalena
Three inner tubes were also put on display under the title "the liwayway recapping co.," an undercover collaboration between Chabet, Ray Albano, and Boy Perez. It was first put on exhibit at Joy T. Dayrit's now-defunct printing press for only one night in May 1970. "You won't feel the same sensation we felt when we experienced the exhibition as a whole that evening, you won't feel what the balloons are all about, what the shadow is all about, what the tires are all about, and we will feel sorry for you, but nevertheless no attempt will be made to explain what the pictures are all about," writes the group's members.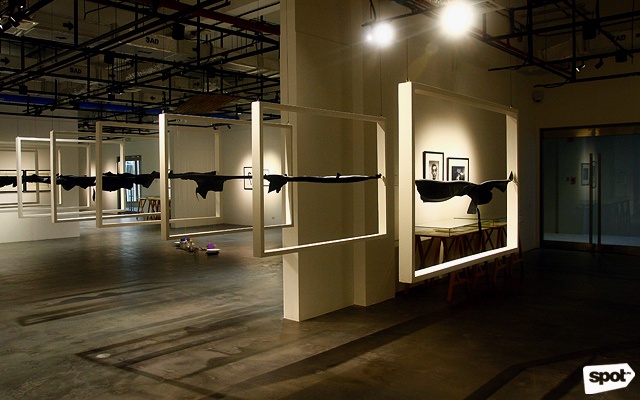 ADVERTISEMENT - CONTINUE READING BELOW
"Sky Horizons" by Roberto Chabet
Finally, there's Roberto Chabet's "Sky Horizons," which was the central installation of his solo exhibition in 1973. It is composed of strips of rubber tire stretched across wooden frames, repeated all throughout the room to create an image of the skyline. Like most of his works, this dwells on what conceptual art should mean—less about the abstract and more about everyday life, even of the mundane.
The 70s: Objects, Photographs, and Documents is just the first in Ateneo Art Gallery's program series titled "Philippine Art by the Decade." Perhaps looking back at what was hidden and forgotten can make us wake up to our senses—and, hopefully, try our best to not repeat the downfalls in our history.
The 70s: Objects, Photographs, and Documents runs until July 2 at 3/F Ateneo Art Gallery, Areté, Ateneo de Manila University, Katipunan Avenue, Loyola Heights, Quezon City. It is open from Tuesday to Saturday, 9 a.m. to 7 p.m., and every Sunday, 9 a.m. to 5 p.m. For more information, visit Ateneo Art Gallery's website.
ADVERTISEMENT - CONTINUE READING BELOW
Share this story with your friends!
---
Help us make Spot.ph better!
Take the short survey
Load More Stories