(SPOT.ph) While there are many ways to turn recycled materials to art, artist Tekla Tamoria takes it one step further through her first solo show titled Baby Girl X, which runs until June 20 at Kaida Contemporary Gallery in Quezon City. She used recycled paper to create not only three-dimensional works of art but also wearable dresses.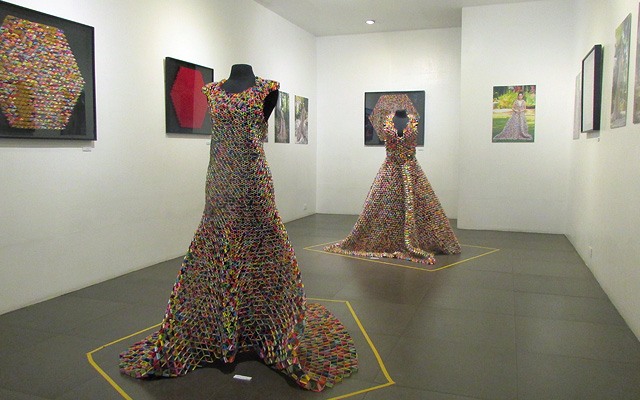 ADVERTISEMENT - CONTINUE READING BELOW
The exhibit features wall-bound works (like an assemblage) and a couple of dresses made from recycled paper that she had collected over the years. These pieces of paper were folded, then turned into pyramid-like puzzle pieces that were joined together to create various forms. Tamoria does not paint over the material but painstakingly sorts the bits and pieces of paper according to color and shade—revealing a festive and playful scheme in her works.
After graduating from the University of the Philippines College of Fine Arts, Tamoria took a day job as a graphic designer and fostered a hobby involving the art of origami. She would obsessively fold piece after piece of paper—a way to also tame her anxious urge to create something. The paper's flatness and malleability led to Tamoria's decision to use the material to let her imagination run wild.
Her years and years of folding and paper resulted in an art installation called "Colony," which she presented at Art in the Park in April. It comprises hexagon paper patterns that formed beehive- and cocoon-like sculptures, which were mounted on trees and plants. The biomorphic shapes in "Colony" speak of familiarity with nature, while the bright colors reveal its strangeness.
ADVERTISEMENT - CONTINUE READING BELOW
Recommended Videos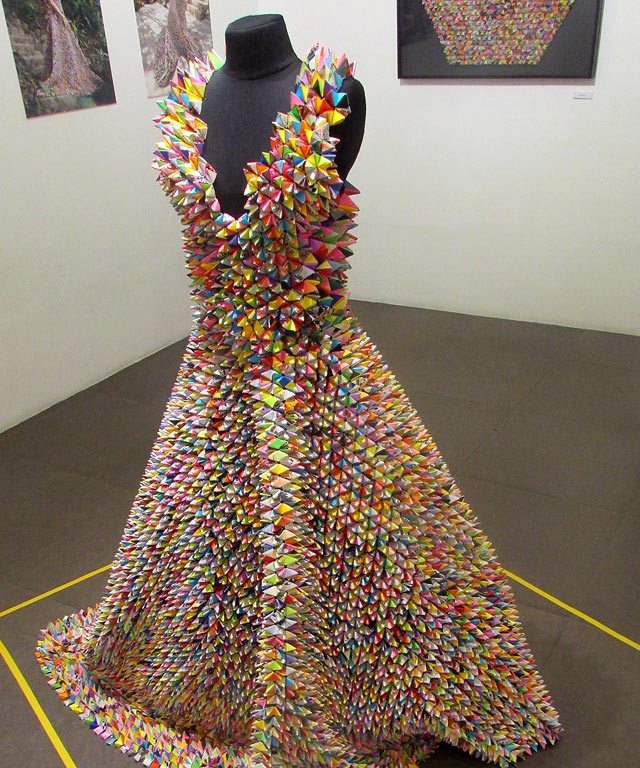 Art and Fashion
Aside from taking up visual arts at the state university, Tamoria also studied a vocational course in dressmaking. The challenge to create dresses out of paper piqued her curiosity while young designers in reality shows inspired her to combine her interest towards the two forms of art.
ADVERTISEMENT - CONTINUE READING BELOW
The artist treated each dress as a puzzle: How would she make this dress without sewing? What color would go where and how would it flow like fabric? Though the completed work is stunning, she admits that there's still a lot to learn about integrating fashion and art, especially when many would think of clothes as something useful and tangible to wear rather than a piece of art that invokes criticism.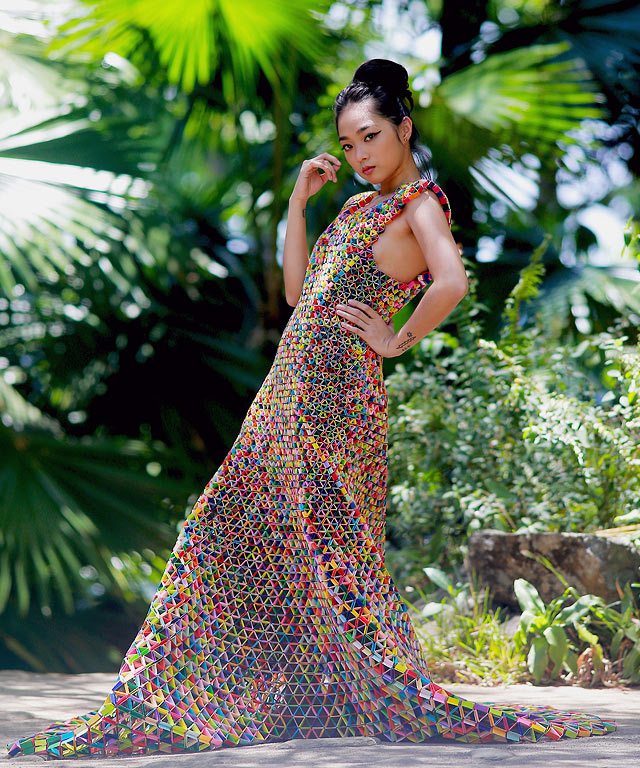 ADVERTISEMENT - CONTINUE READING BELOW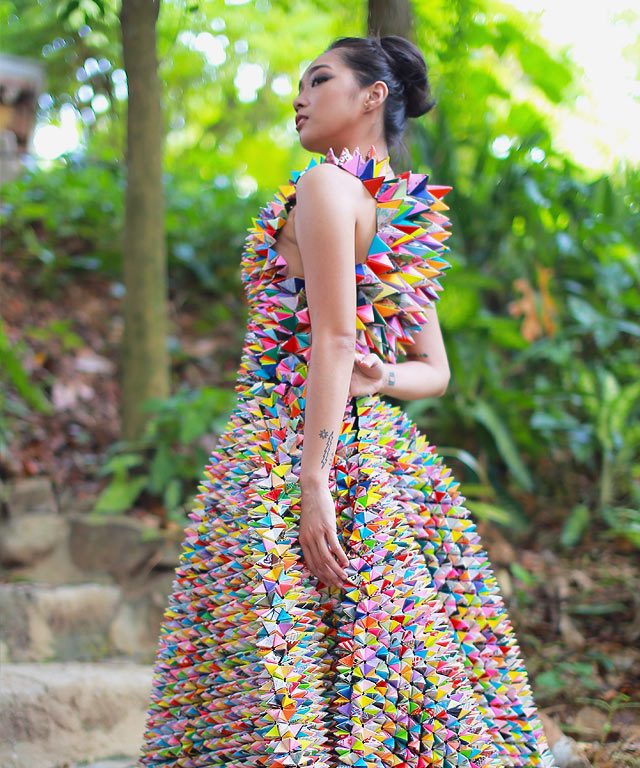 She also pondered how one's character could be changed by simply wearing a dress. For example, would a shy person become confident if made to wear a bold and sexy gown? Does the character of the artist and the tailor manifest in the work and would it be transferred to the person who will wear it?
ADVERTISEMENT - CONTINUE READING BELOW
The title for the show is influenced by this concept—Baby Girl X could be many things. It could be the way she treated her works, like babies that she nurtured and cared for, or it could be her relationships with people, especially the women around her. Hence, each "Baby Girl X" carries a character that has transformed the way Tamoria looked at things and at life in general.
Embracing Routines
Growing up, she observed her grandmother making clothes the entire day with a sewing machine. She confessed that she didn't think anything of it but as part of the ordinary routine; she only realized how difficult it was when she started studying garments production.
While most artists would flinch at the word "routine," Tamoria prides herself on living a life filled with it. And even if she now works as a full-time artist, she also does household tasks to assist her family and siblings. This is to say that artists are mainly ordinary people bound by their yearning for creativity even with limited resources and time. What Baby Girl X proves is that art does not always have to be something unattainable and impractical. The cleverness and ingenuity of talent and skill will always rise above the ordinary, giving color to the dull monotony of life.
ADVERTISEMENT - CONTINUE READING BELOW
Baby Girl X runs until June 20 at Kaida Contemporary, 45 Scout Madriñan Street, South Triangle, Quezon City. For more information, follow Kaida Contemporary on Facebook.
Share this story with your friends!
---
Help us make Spot.ph better!
Take the short survey
Load More Stories