Get A Glimpse of What a Sanctuary Can Be Through This Exhibit
Santuwaryo runs until September 6 at Art Cube Gallery.
(SPOT.ph) Everyone wants a place they can run to when things get tough, like a haven or a sanctuary. The chaos brought about by city life makes us ponder on things that represent serenity: Rice fields, oceans, rivers, forests, and birds humming in the sky. We have to admit that we sometimes catch ourselves in wonder, daydreaming about our next escapade. But where would we go?
Artist Edrick Daniel's fifth solo exhibition aptly titled Santuwaryo focuses on illustrating variations of what he feels a sanctuary should be about. It runs until September 6 at Art Cube Gallery in Makati City.
His works are filled with otherworldly and fantastic images, which will make you recall the work of Dungeons and Dragons illustrator David Trampier. But unlike the subtle color palette in the American artist's works, Daniel's creations exude somber tones despite hopeful themes.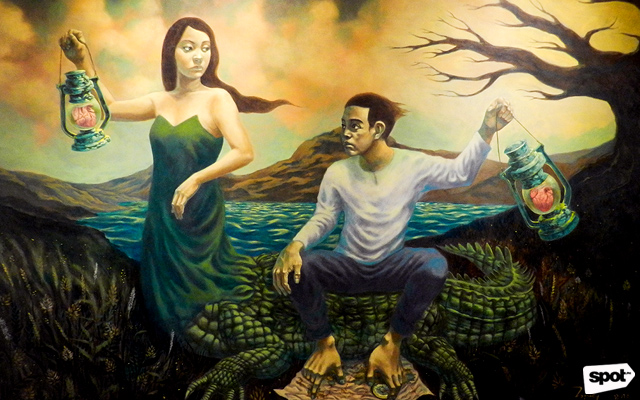 In one of his works titled "Tandem," Daniel paints a picture of a woman and a man with animal-like features—a hybrid of sorts. They gaze at each other while holding lamps fired up by their hearts—literally. This draws inspiration from an Indian tale about a monkey and a crocodile who built their friendship on loyalty and getting past betrayal. While working on this piece, Daniel thought about the way another person can become a form of our sanctuary—the body becoming a vessel for what we hold in our hearts; our vulnerabilities and weaknesses entrusted to another without any fear of betrayal.
ADVERTISEMENT - CONTINUE READING BELOW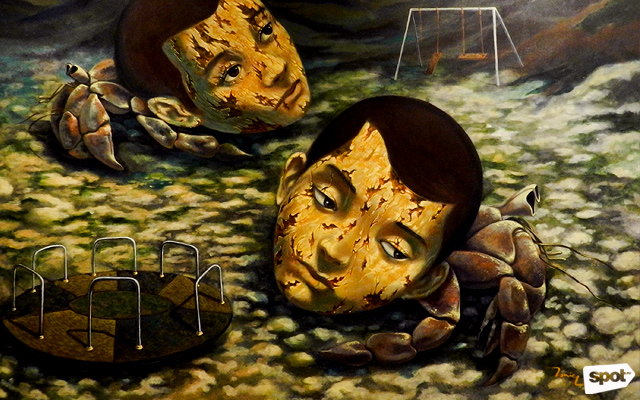 CONTINUE READING BELOW
Recommended Videos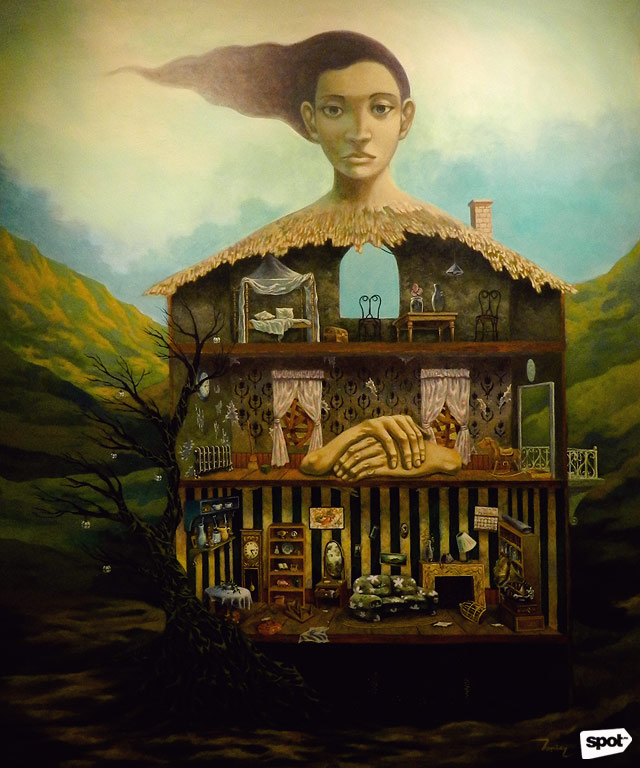 In "Kubli," a doll house with missing walls lies in the middle of a forest. The most striking part of the painting is the image of clasped hands on one of the house's floors. Daniel believes that though our lives are constantly under public scrutiny—thanks or no thanks to social media—there's still room within our soul where we keep private what is important to us. The sanctuary could also be how we burrow our deepest thoughts and desires, guarding them away from prying eyes.
ADVERTISEMENT - CONTINUE READING BELOW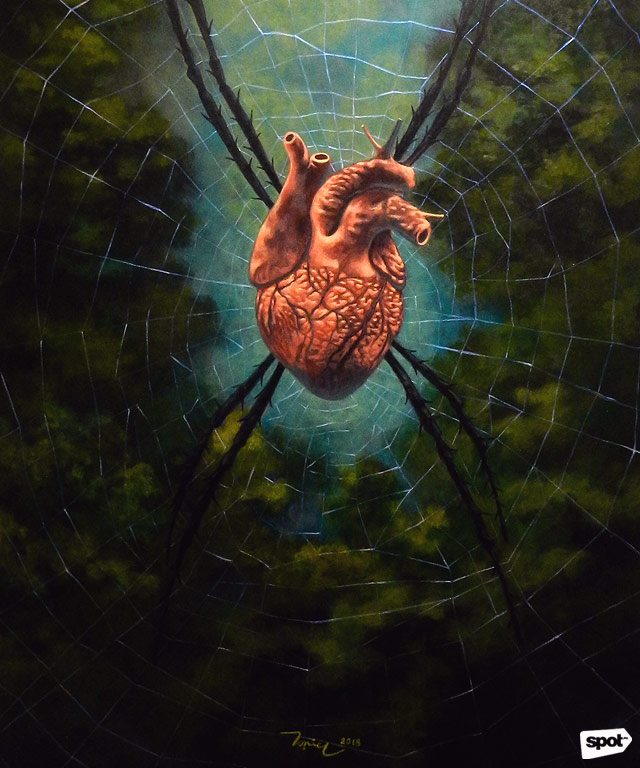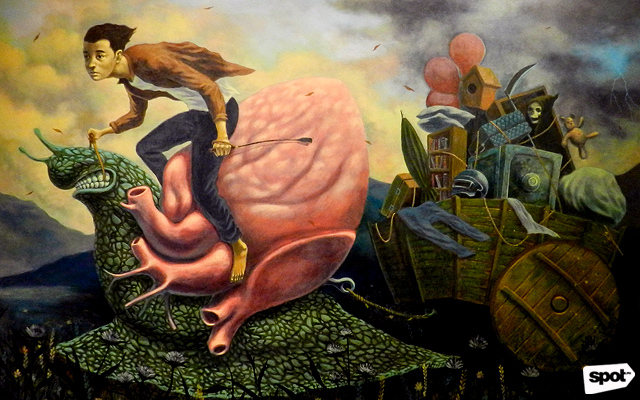 Daniel shifts into wordplay with "Likas." Here, he creates a story through the image of a man standing on a creature's back shaped as a heart. The creature is also attached to a carriage filled with things that don't make sense when put together. Although the man's face is filled with uncertainty and apprehension, his stance makes it appear that he still looks forward to the journey. For Daniel, it shows the fact that humans are innately discontented, which can also be seen in the Filipino word "likas"—which means nature if you pronounce it as likás, and the verb, which means to evacuate if you say it as líkas. The artist believes that our lack of contentment in the world will always lead us to find a place where we can be at peace with the versions of ourselves we have learned to live with. Hence, the carriage full of baggage that we have accumulated throughout our lives.
ADVERTISEMENT - CONTINUE READING BELOW
To Daniel, a sanctuary is not always a place filled with trees, fields, cold air, and solace (though he believes his beloved hometown of Antipolo can be called as such). A sanctuary is defined by the way it brings warmth; and in knowing that when our lives become too filled with fraught and trepidation, there is a place, a person, a time willing to take us in.
Santuwaryo runs until September 6 at Art Cube Gallery, Karrivin Plaza, 2316 Chino Roces Avenue, Makati City.
Share this story with your friends!
---
Help us make Spot.ph better!
Take the short survey
Load More Stories