(Spot.PH) Before diving into the artworks on display, our senses focus on the space we are in. Knowing that first impression lasts, Ayala Museum's exhibit titled Gold in Our Veins boasts a one-of-a-kind design that features shelves, floorboards, furniture, and items resembling a 1930s Chinese warehouse. Even scents of Eastern spices—cinnamon and bay leaves to be exact—welcome you once you enter this immersive space, which runs until May 26.
With a vision to bring forth precolonial history, Gold in Our Veins is inspired by Indochina, the East Indies, and the Philippine archipelago's rich past showcased through a series of paintings featuring figures of aristocratic men and women, animistic symbols, native textiles, and revered idols.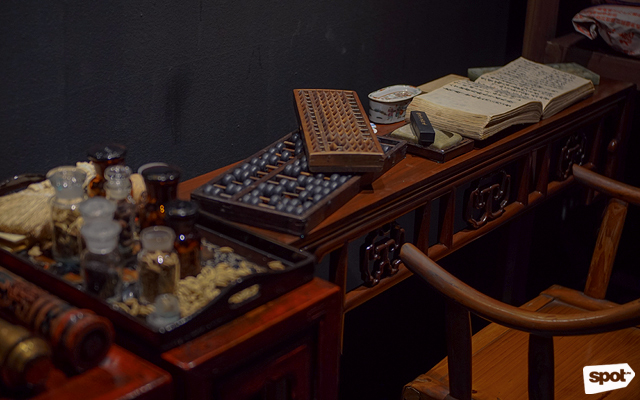 ADVERTISEMENT - CONTINUE READING BELOW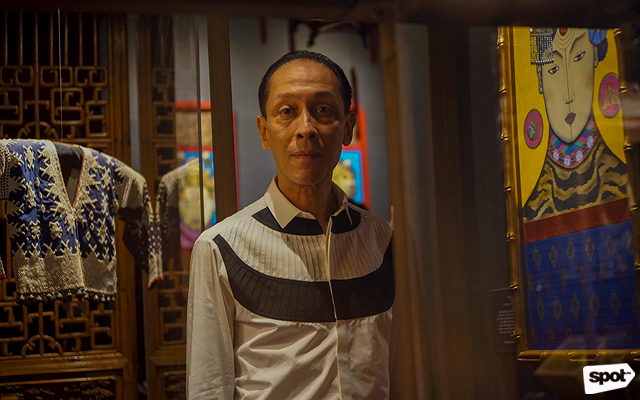 "It's not meant to tell a linear story; it's meant to feature reflective beauty as it uplifts you," artist Mark Lewis Higgins says in an interview with SPOT.ph. "And in doing those, the things I worked with were all kinds of elements: From Chinese porcelain to the spice trade, the flora and fauna, [archeological] gold, objects of worship, all kinds of sea creatures—all taken from histories of explorers when they came to this part of our world, as they document what they saw." Indeed, attention to detail is a key factor as showcased by acclaimed scenographer Gino Gonzales, whose exhibition design incorporates daily items that people from the portraits would have worn.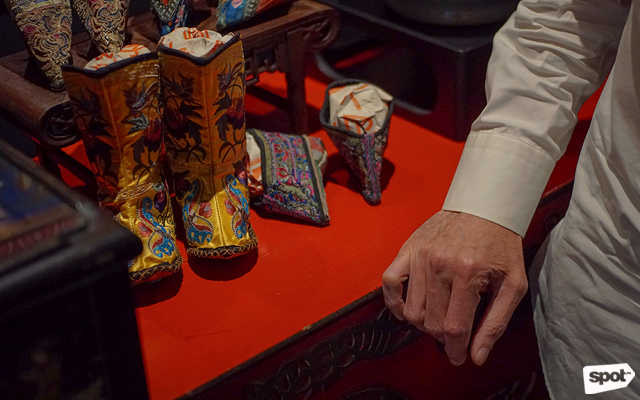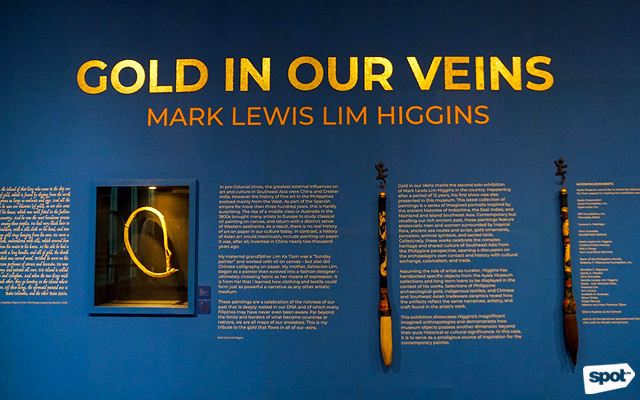 ADVERTISEMENT - CONTINUE READING BELOW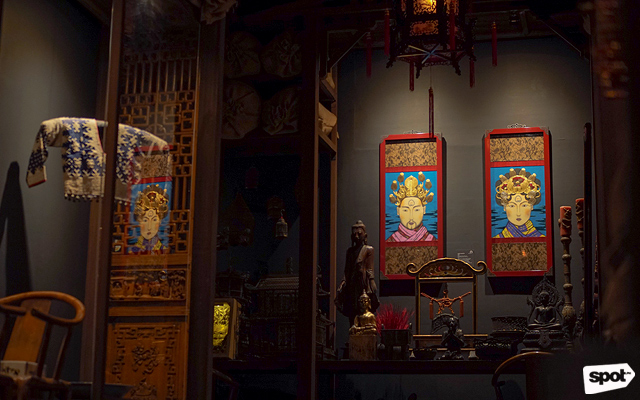 Speaking directly in celebration of our roots, Higgins intently explained the importance of appreciating the treasures of our historical past. "I would look at this [exhibit] as meditations on ancient Southeast Asia," he shares his perspective on the work. "What it actually tells you is like us Filipinos, we're not one thing," referring to our diversity as individuals and as a nation, "we're an amalgamation of different cultures and influences—and that's what these paintings are. And as a whole, as a collective meditation, they define Southeast Asia by not being one thing in particular."
ADVERTISEMENT - CONTINUE READING BELOW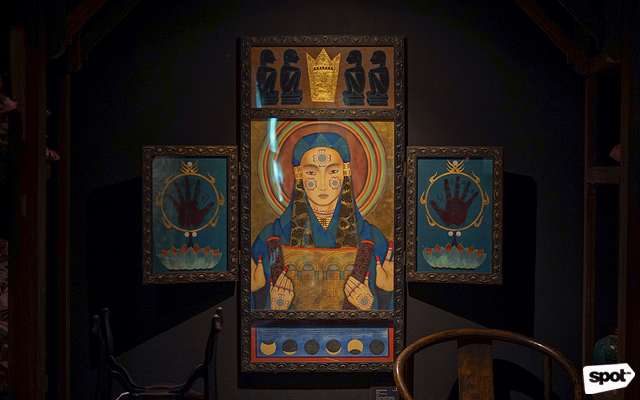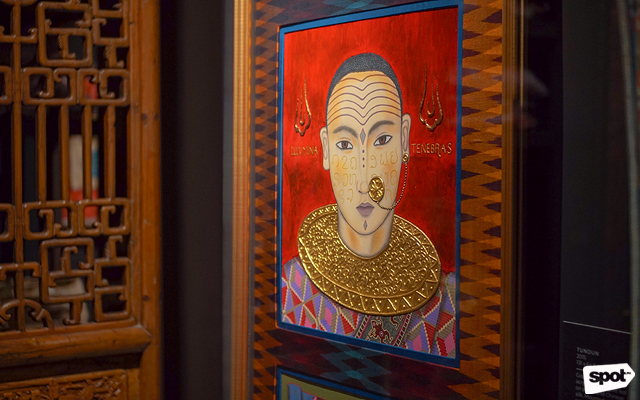 ADVERTISEMENT - CONTINUE READING BELOW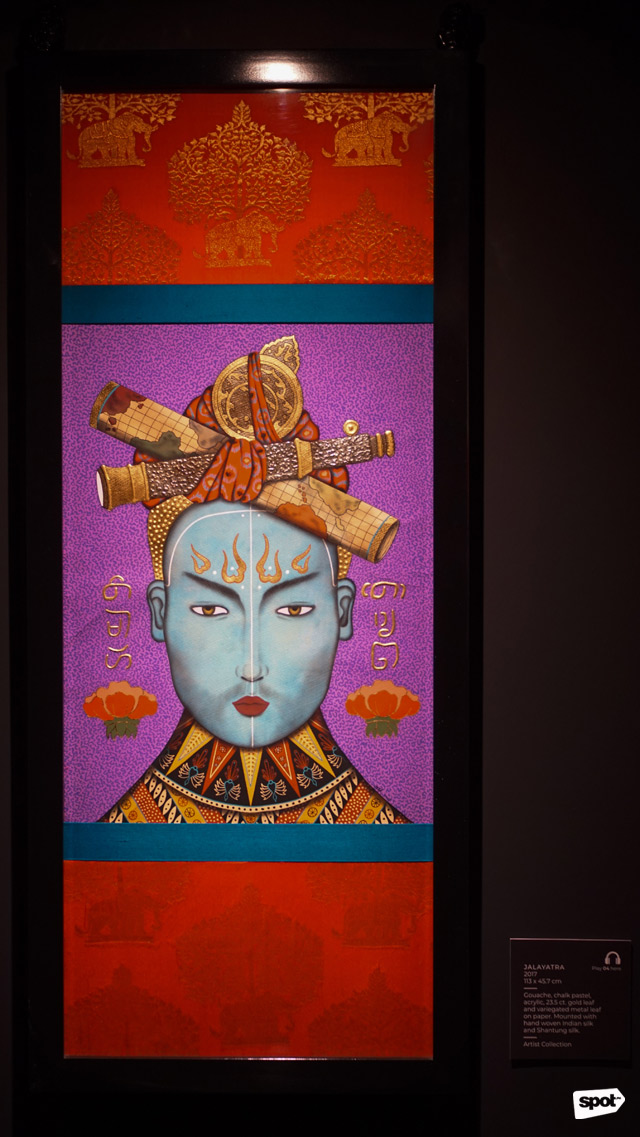 When asked which work represents his exhibit the most, he directed his answer to the painting he chose to be on the cover of the catalog, posters, and invitations—the "Jalayatra." "And it's not necessarily that it's the most important work," Higgins reiterates, "but for me, it's because that this painting symbolizes voyages and discoveries. Including the personal discovery of the viewer in realizing about the gold in our veins—of our ancestry and DNA."
ADVERTISEMENT - CONTINUE READING BELOW
Born from a Chinese-Filipino mother and an Irish-English father, Higgins shared that his art takes inspiration from his rich cultural background. Notably, it is his Southeast Asian ancestry that inspired his artistic career since his early exhibitions. "This is the most colorful series of paintings I've done because of the color palette of Southeast Asia, and so I used colors I've never used," Higgins says, referring to the aesthetic of Gold in Our Veins. "Fuchsias and lime green, mixing of colors like orange and green—it's that joyful color palette of the work that I would want to feel again and again by creating more."
Gold in Our Veins is a meditative space for our rich culture. Perhaps, this celebration of our past through a multisensory experience is just what we need in this time of misguided and misinformed nationalism.
Gold in Our Veins runs until May 26 at Ayala Museum, Makati Avenue corner De La Rosa Street, Greenbelt Park, Makati City. For more information, visit Ayala Museum's website.
ADVERTISEMENT - CONTINUE READING BELOW
Share this story with your friends!
---
Help us make Spot.ph better!
Take the short survey
More Videos You Can Watch
Load More Stories