(SPOT.ph) After being on display for six months in Italy in 2017, the Philippine entry to the 57th Venice Biennale is finally accessible for the Filipino audience. The Spectre of Comparison, which features the works of artists Lani Maestro and Manuel Ocampo, is now being exhibited at the Museum of Contemporary Art and Design at the College of Saint Benilde in Manila. It is curated by the university museum's director Joselina Cruz and runs until July 20.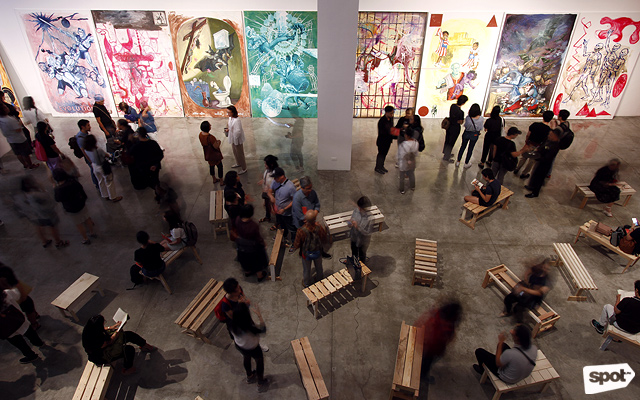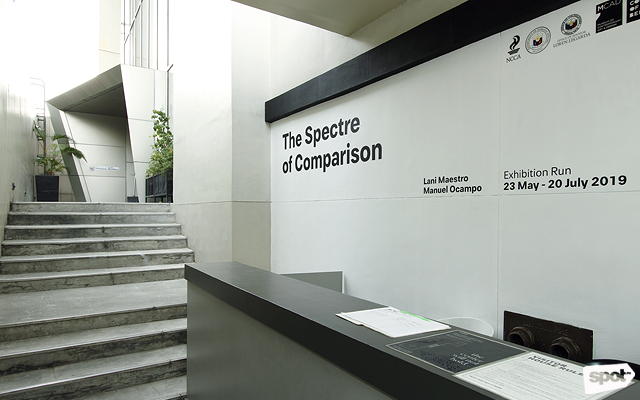 ADVERTISEMENT - CONTINUE READING BELOW
The Spectre of Comparison looks at how we position ourselves within the scope of nationalism—an idea that has been debated time and again for its broad and yet vague attempts in defining identity. The distinct body of works created by the two artists in this show navigates through the topic of representing a nation—specifically, a country that has experienced hundreds of years under colonial rule, decades of dictatorship, and a democracy at the mercy of populism and corruption.
The title is derived from a line written for Crisóstomo Ibarra, the protagonist of José Rizal's Noli Me Tangere. In the story, he is unable "to look at the Botanical Garden of Manila" without remembering the gardens of Europe. Rizal writes about this condition as "el demonio de las comparaciones" or "spectre of comparison." This is also the title of sociologist Benedict Anderson's book on the study of nationalism, particularly in former colonies such as the Philippines and Indonesia. Now, both the phrase from Rizal and the book of Anderson became references for the Philippine exhibit in understanding how it should represent the country. In Anderson's theory, the "spectre of comparison" is likely defined by our self-awareness to make comparisons of ourselves against others, like how Ibarra can no longer see his own country without comparing it to Europe and vice versa.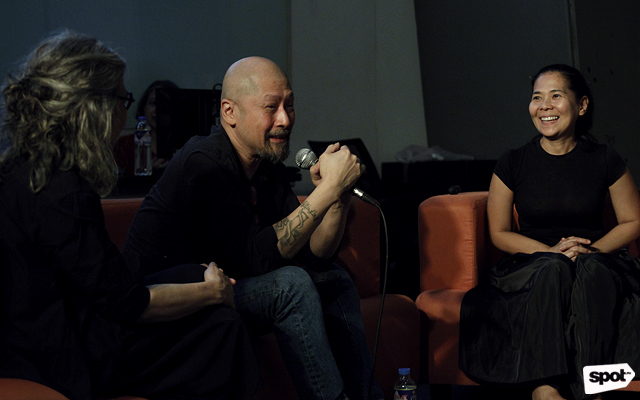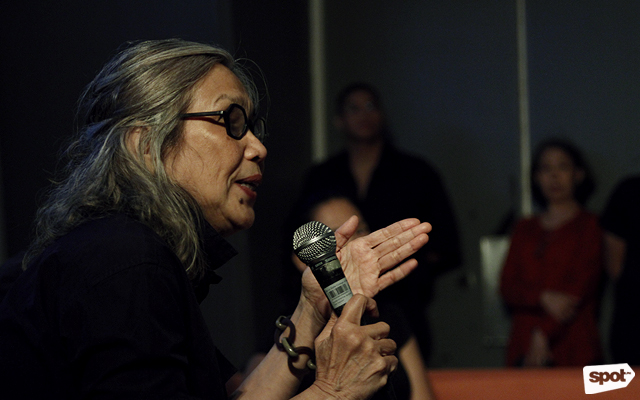 Such is the difficult but familiar bearings that Maestro and Ocampo considered in presenting their works at the Venice Biennale's Arsenale site two years ago.  Both are part of the Filipino diaspora as they expand their practices in other countries where they either once lived or continue to live as immigrants. (Maestro is Filipino-Canadian who shuttles between France, Canada, and Manila. Ocampo is Filipino-American but has since moved back to Manila after a successful career in the West.)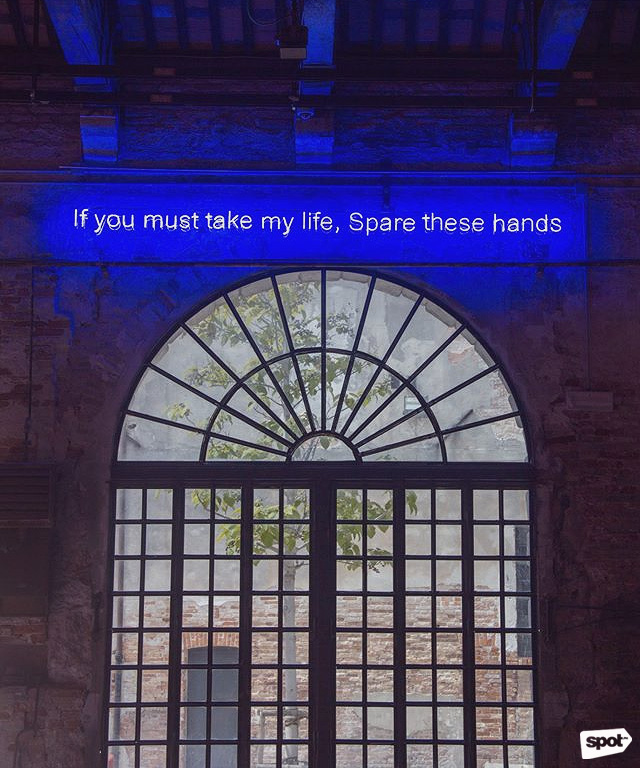 ADVERTISEMENT - CONTINUE READING BELOW
Inside the Museum of Contemporary Art and Design, Maestro's text-based work in blue neon light welcomes the public. Inscribed in it are the lines from the poem "Flowers of Glass" by New York-based Filipino poet José Perez Beduya, which says: "If you must take my life / Spare these hands." It is a haunting plea of someone who has accepted his fate and yet decides to unnerve his executioner until the very end. The hand is a synecdoche, if you will, in representing the body of the artist fighting back (as Rizal did in his writings).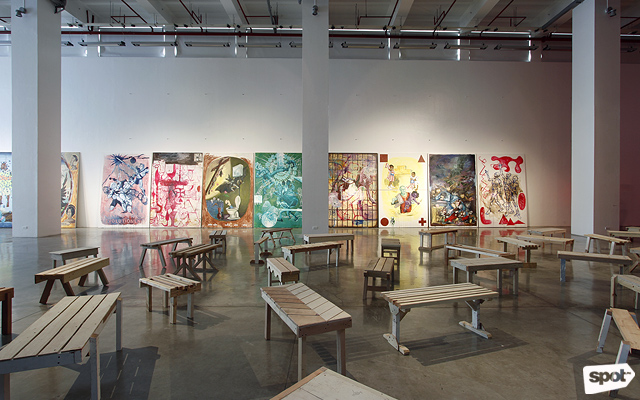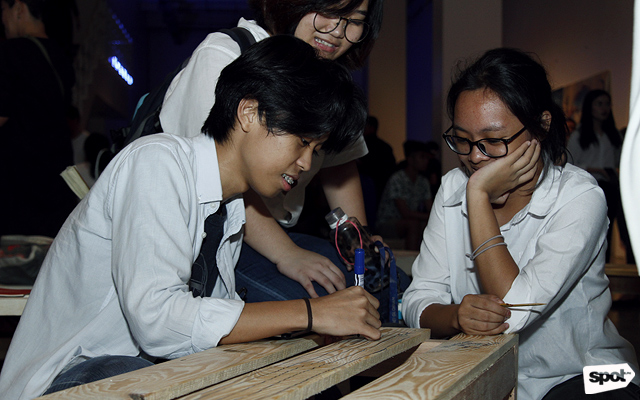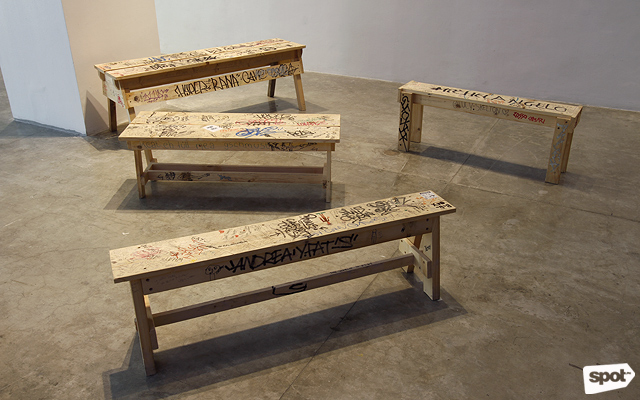 The center of Maestro's works brings us to understand our authority in the spaces we let our body occupy, and how in colonialism or in other forms of oppression, the same body loses its ability to decide and becomes the one forcefully occupied. This is evident in "meronmeron," an installation of wooden benches dominating the museum floor. Visitors are encouraged to sit and become more aware of our presence; the body that makes up this "imaginary community" is tied to an identity that we consume.
ADVERTISEMENT - CONTINUE READING BELOW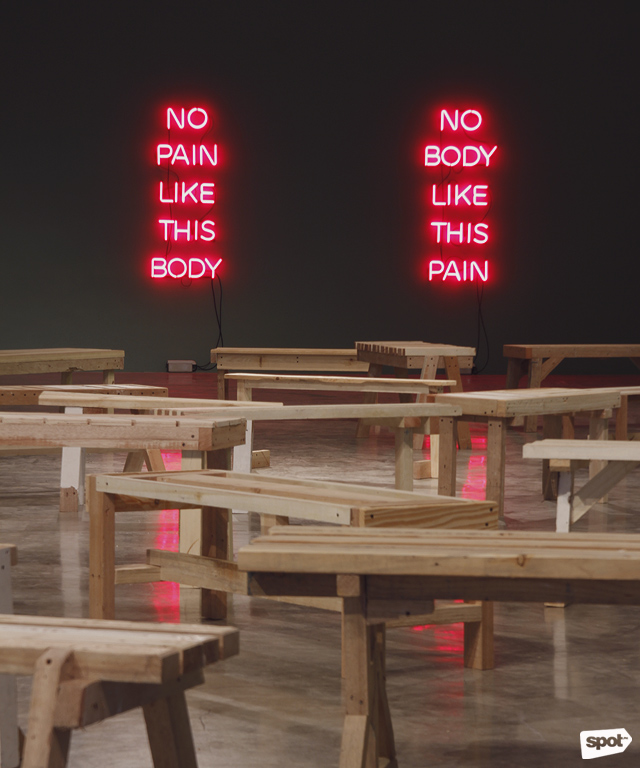 In front of it, Maestro's "No Pain Like This Body" is beautifully rendered in bright red neon lights and catches the eyes of the viewer. However, we become interrupted by the disquieting message of its text lifted from the novel of Harold Sonny Ladoo with the same title published in 1972, which describes the struggles of an impoverished family in the Carribean. Parallel to it is Maestro's response to Ladoo's text in alteration, "No Body Like This Pain," affirming the struggle of the fellow immigrant.
On the other hand, Ocampo's series of paintings are filled with disturbing imagery using religious iconography, satirical illustrations, pop culture, and historical references. His works address colonial trauma and how the country deals with it post-colonially.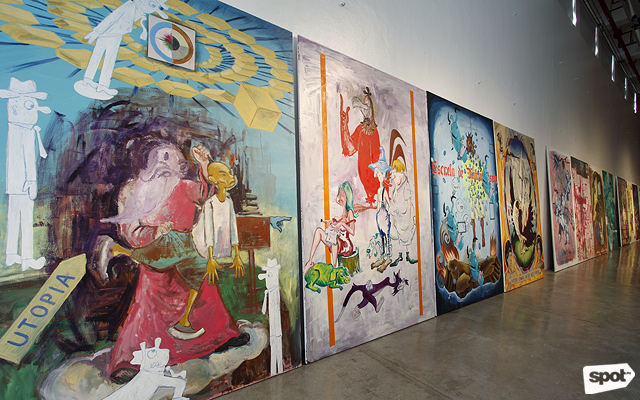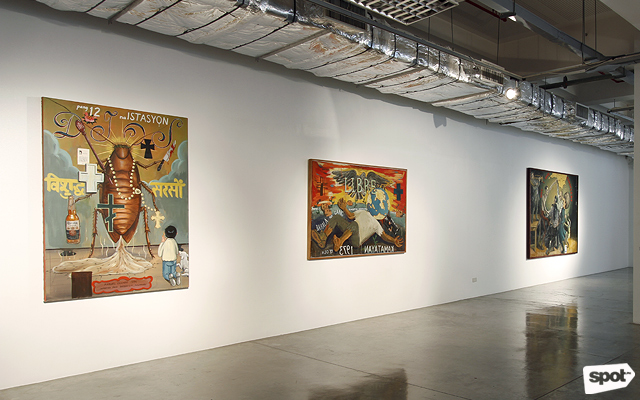 In his suite of paintings called "Torta Imperiales," the body is represented in exaggerated forms and macabre depictions. The movement inside Ocampo's canvases is one that terrifies and frightens us. In them are the morbid narratives of exploitation and anguish manifested in a Kafka-esque ensemble: Painful to look at and, yet, intriguing; a disparate invite when compared to the stillness of Maestro's works. However, curator Cruz notes that, "The interesting thing is that they may have come from very different practices but the sentiment is very close. Because it is all about the body, and, the text is also there. The idea of violence exists in both works."
ADVERTISEMENT - CONTINUE READING BELOW
Perhaps, this is what inhabits our identity as a nation. There is a history of violence that seeps in at every direction of identifying as a community: The colonial power as murderer; the dictator as an executioner; and the people cruelly plagued by what Rizal described a cancer in the eyelid that makes it unbearable for someone to open their eyes. It is what consumed us then, and it is what will consume us again if we fail to recognize the swollen scars of our nation.
The Spectre of Comparison runs until July 20 at Museum of Contemporary Art and Design, College of Saint Benilde's School of Design and Arts, Dominga Street, Malate, Manila City.
Share this story with your friends!
---
Help us make Spot.ph better!
Take the short survey
More Videos You Can Watch
Load More Stories