Reassembled Piano Parts Make a Statement at This Exhibit
It runs until July 15 at Altro Mondo Creative Space.
(SPOT.ph) When the piano was invented in the 1700 by Bartolomeo Cristofori, it was described as a harpsichord with soft and loud sounds—"gravicembalo col piano, e forte," then eventually, "pianoforte." Artist Alwin Reamillo takes this piece of information as a reference point to his latest one-man exhibition titled Pian o Fort e at the Altro Mondo Creative Space in Makati, which runs until July 15.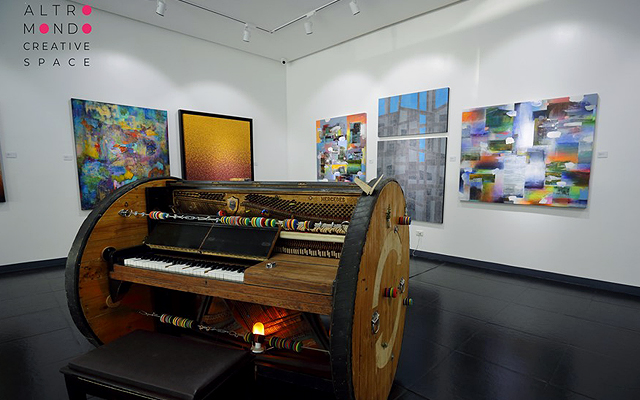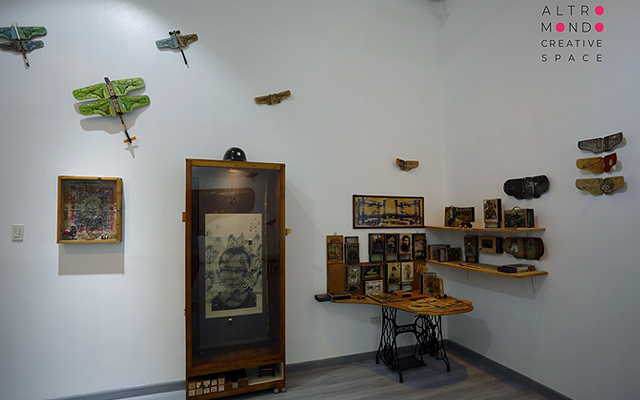 ADVERTISEMENT - CONTINUE READING BELOW
It features assemblages and large art installations that Reamillo had put together to create dynamic allegories of his views and reflections on being a Filipino. Central to this exhibition is the artist's use of piano parts reassembled to become a whole working piano, though not properly tuned. Combining other found objects and images alluding from political to pop-culture influences, he stages an exhibition that somehow forces us to become more critical of the Philippine society with its many forms of contradictions amid the multiplicity of cultures.
This affinity to the musical instrument can be traced back to his family's history: For 30 years, the Reamillos ran a factory that produced grand pianos until they decided to close shop during the Asian financial crisis in the late '90s. Less than a decade later, the artist tracked down his father's employees to help him in the completion of his installations, which mostly featured remnant structural parts of pianos collected from different people here and abroad.
By doing this, Reamillo was able to touch on the subject of the Filipino identity, which is ultimately a collection and examination of individual, separate narratives through the course of our history and key moments in our political landscape. The artist pushes a chaotic yet organized stream of fragments, parts, and ephemera to build what he calls the "social sculpture"—an idea embodied by German artist Joseph Beuys' notion of sculpture as an evolutionary process, which is identical to how our country and our people could change through the years.
CONTINUE READING BELOW
Recommended Videos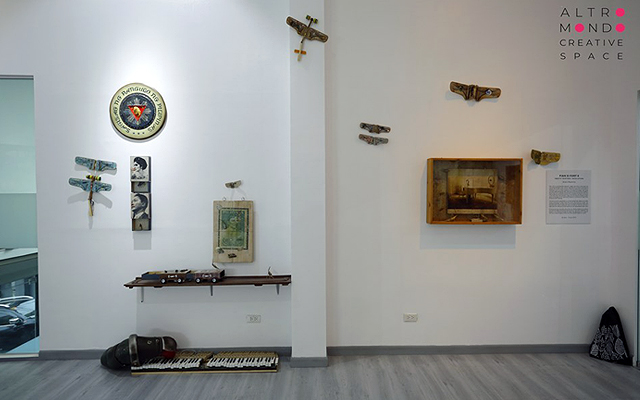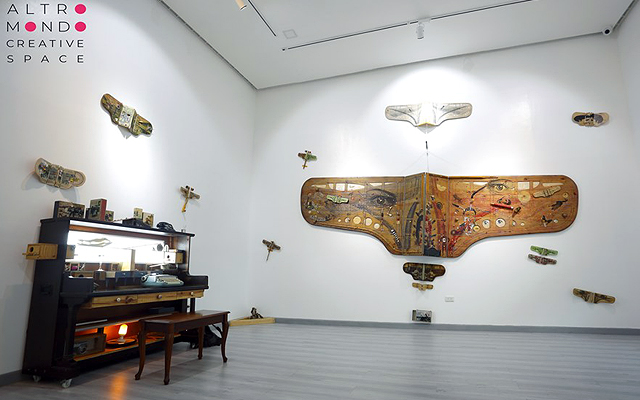 ADVERTISEMENT - CONTINUE READING BELOW
What captures our attention is a huge wooden piano frame that had been repurposed to look like an airplane. Its wings bear images of what appears to be that of the late dictator Ferdinand Marcos on one side and that of the current President Duterte—who has repeatedly declared in public his admiration for the late president—on the other.
Reamillo's works are filled with pictures that encourages the public to examine our unawareness to our very own culture and history. As a nation that has been through the hands of various colonizers, our identity has become a mixture of all these influences. This idea can be seen in the artworks that are filled with images that don't necessarily make sense, but intentionally put together and layered on top of one another to reflect a society grounded in chaos. There's a sculpture that resembles the fist of Thanos; airplane-like forms pinned to the walls; and found objects like a typewriter and matchboxes placed on top of a grand piano.
Like the piano, Reamillo's transformation of these objects imparts the capability of art to become a "soft" device that can produce "loud" echoes in our minds when fragments are put together to form something that has meaning. In this way, we look at how our individual stories make up our narrative as a nation.
Pian o Fort e runs until July 15 at Altro Mondo Creative Space, 1159 Don Chino Roces Avenue, San Antonio Village, Makati City. For more information, visit Altro Mondo's website.
ADVERTISEMENT - CONTINUE READING BELOW
Share this story with your friends!
---
Help us make Spot.ph better!
Take the short survey
Load More Stories