(SPOT.ph) Showing your real self can sometimes be difficult—sometimes, it's tempting to succumb to pressure or act in a certain way because of people's expectations. For artist Anton Belardo, the only way to express himself freely is to create a persona. He found it necessary to give birth to an identity that can liberate him: Jellyfish Kisses, who dresses up in bright-hued clothes and colorful wigs. The artist chronicles the daily life of his alter-ego through The Jellyfish Kisses Visual Diary Series. You can check out some of the works from the series in The Jellyfish Karaoke, an exhibit which runs until August 4 at Vinyl on Vinyl Gallery in Makati City.
Jellyfish Kisses' vibrant queerness is like a best friend and a second self to the reserved and shy Belardo. All the things that he thought might not be possible to do, he was able to through his other persona. This includes having the courage to become a full-time artist, something you don't often see in the Philippine art scene where artists often have a day job in an advertising agency or a related field.
ADVERTISEMENT - CONTINUE READING BELOW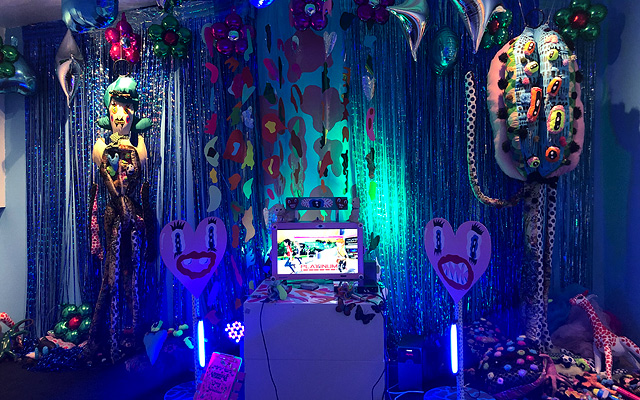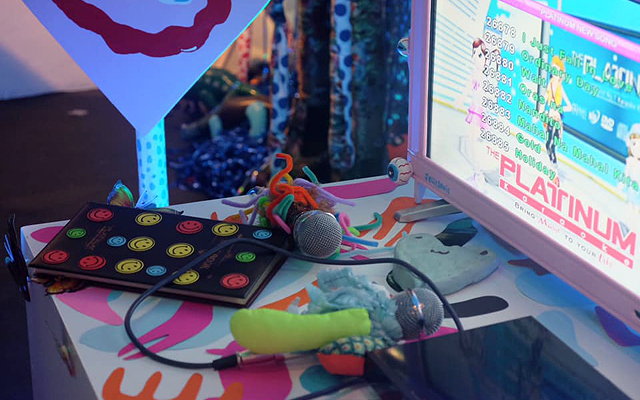 A colorful arrangement of balloons and pillows welcomes viewers inside the gallery's loft space dedicated to The Jellyfish Karaoke. In the middle, a television with two microphones awaits a brave soul who's ready to belt out a song. For Belardo, videoke bars are safe spaces—a place where anyone could go to have some good time or simply express one's self.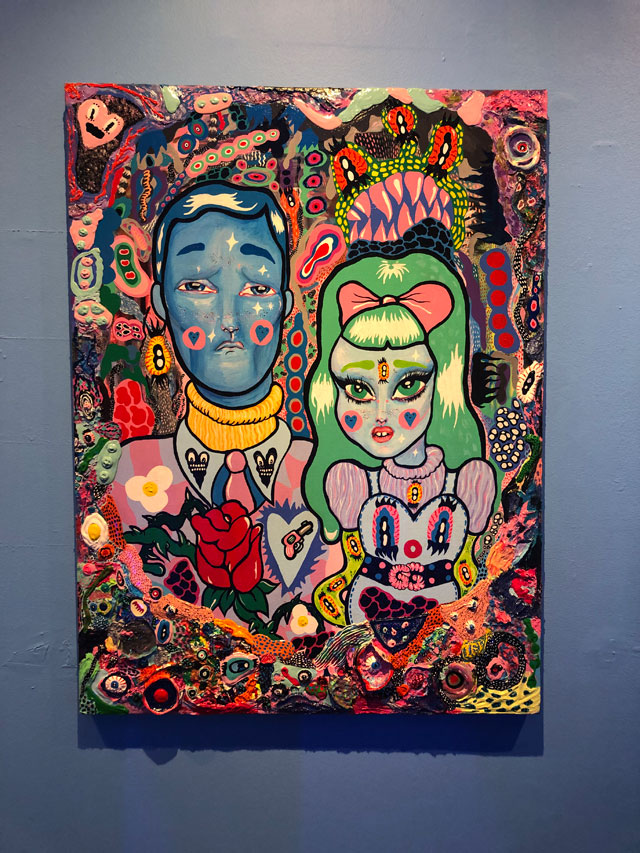 ADVERTISEMENT - CONTINUE READING BELOW
The songs in the videoke machine have also found their way in the artworks' titles for the show. They're mostly derived from the codes that are used to identify the track in a songbook. A piece called "11427" corresponds to the song "Dance With My Father" by Luther Vandross. It is Belardo's tribute to his late father who encouraged him to express himself freely and become who he wants to be.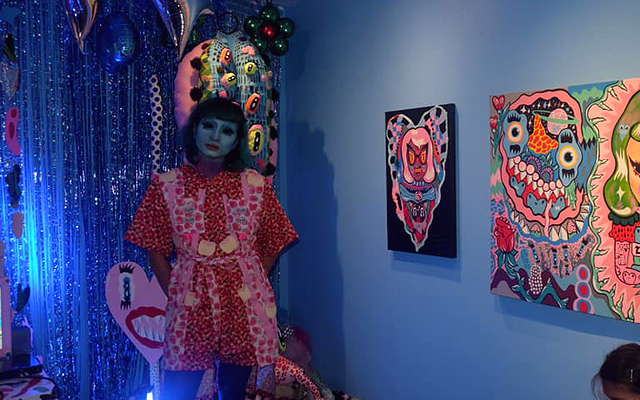 ADVERTISEMENT - CONTINUE READING BELOW
"0513," which takes a cue from Radiohead's "Creep," shows Belardo dressed as Jellyfish Kisses standing right beside a monstrous creature that's ready to swallow the persona whole. The artist is inspired by the song's story about how a relationship with a narcissist can make you feel like you're never enough.
To do such a tell-all, confessional exhibition is a brave act for someone like Belardo, who has experienced different forms of discrimination because of his sexuality and the flamboyant ways he chooses to express himself. Somehow, The Jellyfish Karaoke reminds us of the one thing that makes us all equal—a videoke microphone that gives voice to everyone who needs it. We just need to find it in ourselves to have the courage to take the mic and sing our own songs.
The Jellyfish Karaoke runs until August 4 at Vinyl on Vinyl Gallery, La Fuerza Compound, 2241 Chino Roces Avenue, Makati City. For more information, visit Vinyl on Vinyl Gallery's website.
ADVERTISEMENT - CONTINUE READING BELOW
Share this story with your friends!
---
Help us make Spot.ph better!
Take the short survey
More Videos You Can Watch
Load More Stories