Bose on Bose: A Daughter Uses Santiago Bose's Works to Explain the Philippines to Her American Kids
Santiago Bose's works are on view at Silverlens until September 14.
(SPOT.ph) When my father, artist Santiago Bose, died unexpectedly on December 3, 2002, he left behind a prolific body of work: about 5,000 prints, paintings, mixed-media works, as well as sketches, videos of performance art, installation studies.
The exhibition of his work at Silverlens Galleries in Makati City titled Bare Necessities, on view until September 14, features paintings and mixed-media work from the earliest years of his practice until he died in 2002. Journals that showcase his writing, community work, and sketches of installations; and video of his intangible work in performance art are also on view.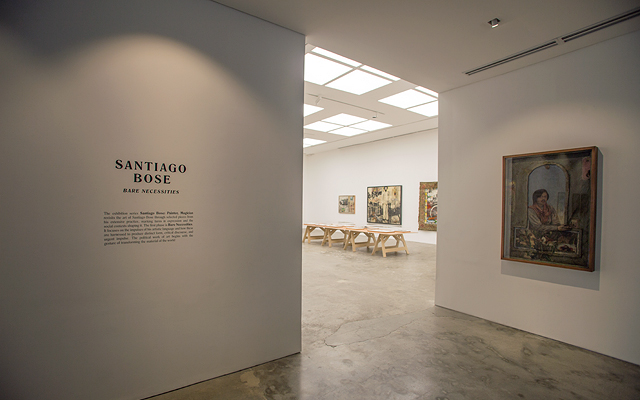 CONTINUE READING BELOW
Recommended Videos
ADVERTISEMENT - CONTINUE READING BELOW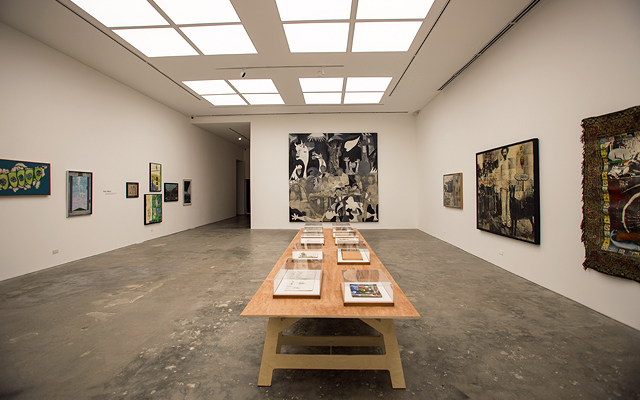 His impact—as an artist, as the founding president of the Baguio Arts Guild (a close-knit group that also included National Artists Kidlat Tahimik and BenCab), an educator, community organizer and art theorist—was recognized in his lifetime by critics, if not by art buyers. Granted the Thirteen Artists Award by the Cultural Center of the Philippines in 1976, he was presented the Gawad ng Maynila: Patnubay ng Sining at Makabagong Pamamaraan (Cultural Award for New Media presented to outstanding Filipino artists) by the City of Manila. In 2004, he was conferred the Gawad CCP Para sa Sining (CCP Award for the Arts). In his obituary in Asian Art Now, my dad was lauded as "one of the most prolific, ingenious and innovative artists the Philippine art scene has ever produced."
ADVERTISEMENT - CONTINUE READING BELOW
But 17 years after his death at the age of 52, his work deserves to be investigated again. Many of the issues he highlighted in his work are so endemic to Philippine culture that they are still relevant: Chinese occupation of the Spratlys Islands, Americans fighting terrorism, Filipino colonial mentality. His processes and politics, utilized by many contemporary artists, are still a constant source of discourse. And yet, we're in danger of forgetting him.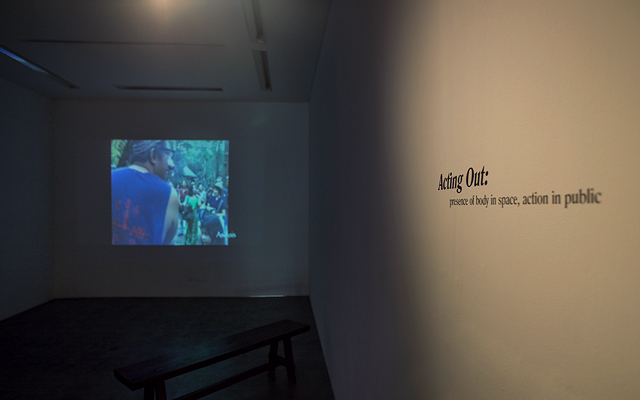 ADVERTISEMENT - CONTINUE READING BELOW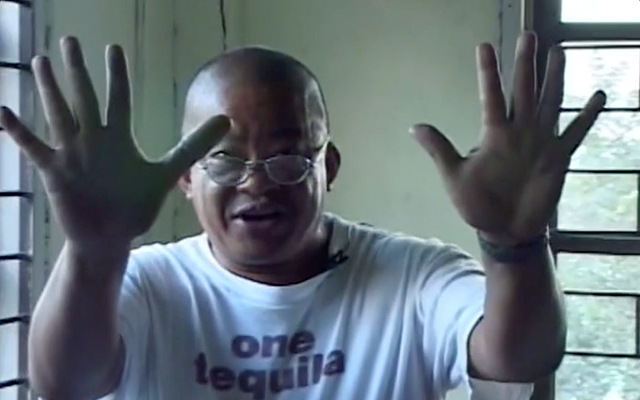 The Silverlens exhibition kicks off a four-year series titled Santiago Bose: Painter, Magician curated by Patrick Flores to make sure Filipinos understand how relevant he and his work still are. Bare Necessities requires a slow, deliberate look at my dad's art practice; he was a pioneer in using his materials as a political statement, with it proclaiming and defining his identity, marking geographic boundaries, but also creating an altar of personal memory. His works include ash from Mt. Pinatubo's explosion, bamboo shards used by penitents in Mindoro, rocks from Sagada, his late mother's record player, childhood drawings by his kids (including me). 
ADVERTISEMENT - CONTINUE READING BELOW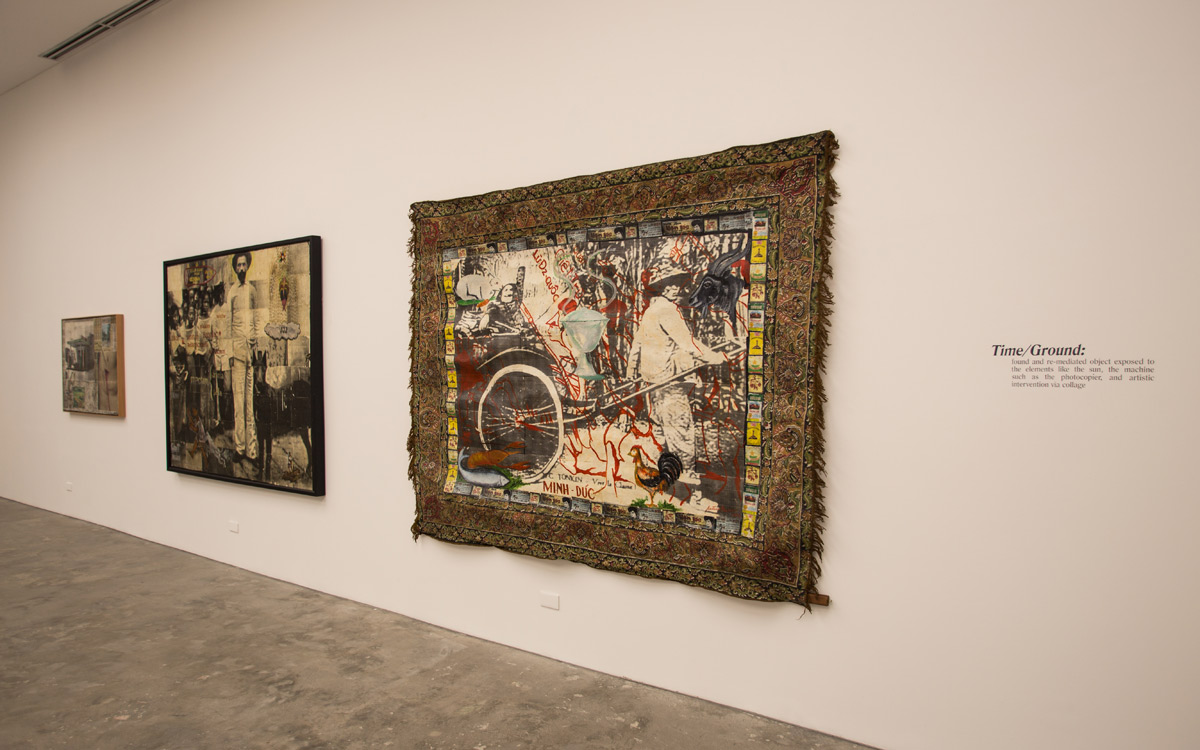 Bose's works always tell something about the Philippines, such as "Visayas Dream," which is a mixed media piece on a carpet.
In 2003, a year after his death, I moved to the U.S. Today, I live in Southern California, raising two American children, ages eight and four; we visit the Philippines every few years—not often enough. Their dad is from Wisconsin, so they barely look Asian; what they know about the Philippines is limited. They eat lumpia and sinigang, I tickle their kili-kilis and wipe their pwets, and they know I was born in a different continent, a 13-hour flight away from home. 
But they also know Lolo Santi's work. 
These days, I find that explaining my life in the Philippines is easier when I'm showing my kids my father's paintings. Like most artists, Bose's expansion from the personal to political was a fluid and constant oscillation. His journals were bursting with sketches and poetry, photos, ideas for community building, stories and mementos of events that made an impact. His paintings are visual cues for my children; within them, I can point out—here is our old house in Baguio; here is the church I was baptized in; here is your great-grandmother who looks exactly like me. 
ADVERTISEMENT - CONTINUE READING BELOW
Apart from that, I've also been able to impart lessons about history, culture, and politics to my children through my father's work.
"What is history, but a fable agreed upon?" (paraphrased from Voltaire)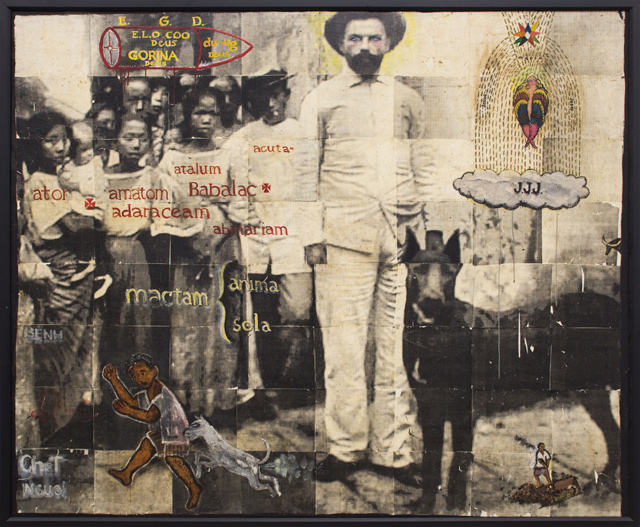 My third-grader, a history buff, knows all about the American Revolution, and World War II. He's also the only one in his class who knows that there was a Philippine – American War, which came after Spain sold their colonies (including Cuba and Puerto Rico) to the U.S. That's because I had to explain my dad's painting "Warning," where my dad addresses themes of colonialism and nationalism. He used a historical photo of an American soldier from the Philippine – American War flanked by Filipino children, and superimposed Philippine symbols of power (anting-antings) over it, reframing an image that highlighted the Western perspective (natives in the back, exceptional American plus dog in the foreground), and infusing it with power from Filipino mysticism. (Note the bullet pointed toward the soldier's head.) 
ADVERTISEMENT - CONTINUE READING BELOW
My dad valued anting-antings as someone who believed in them, and also as an artist. He said: "Anting-antings [have undergone] a process of empowerment. These objects and symbols give people hope through difficulties. They are a material reflection of the Filipino people's collective psyche that have been used for centuries to protect them from cultural domination."
For my dad, art was a means by which he could work toward reinstating the importance of indigenous traditions in establishing a contemporary world view, and in developing contemporary cultural symbols.
Marc Chagall said,
"

Great art picks up where nature ends.

"

To that, Bose might have replied instead,

"

To make great art, pick up from nature

"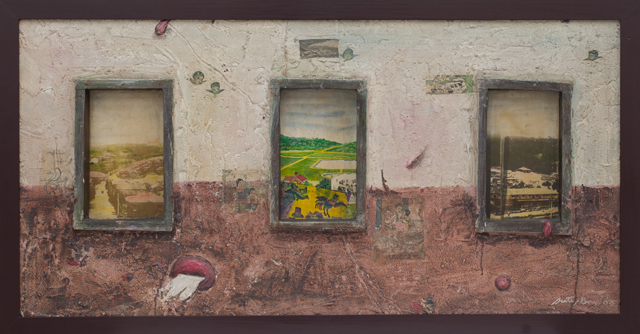 ADVERTISEMENT - CONTINUE READING BELOW
Bose used mixed media, fiber, grass, paper and organic materials, and the use of installation, which is also rooted in traditional communities, to make his art easily acceptable to a broad range of audiences. His use of indigenous materials wasn't just an economic statement; it was a deliberate act. He said, "The contemporary Filipino artist is liberated from paying the West every time he creates. The idea of art as 'property' or commodity is challenged, its prominence questioned. The idea of artist as individual creator is also challenged, and a sense of community opens up new possibilities. The artist is taught to be self-reliant, and using available materials and local concepts, he expands his visual vocabulary. This makes his art relevant to a broad spectrum of society, making it clear whose interest it serves."
 
Bose didn't have to abide by a Western aesthetic that equated refined lines with beauty. He could participate in and infiltrate an art system that was created and dominated by American imperialism, but he could use his work as a marker of resistance against it. In the same way, I tell my son that art isn't just found in galleries or museums; that not everything has to be pretty to be valuable; to draw outside the lines and explore various materials his art projects.
ADVERTISEMENT - CONTINUE READING BELOW
Use your history to create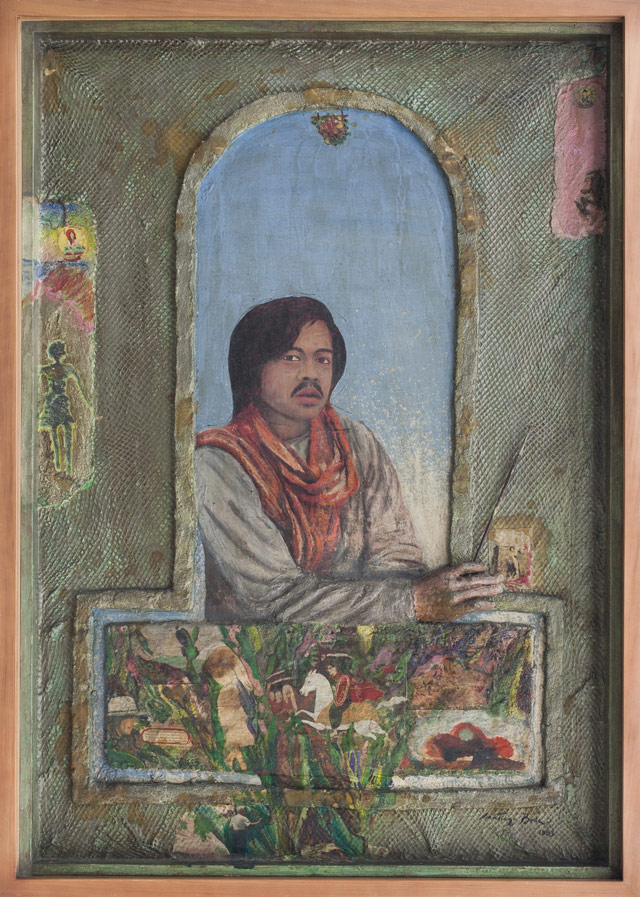 My dad's irascible humor, his arrogance, his innovation, his willingness to teach and how his life revolved around art, its creation, and its communication is a lesson in itself, but I feel extremely lucky that to find out who he was—to give my children a sense of personal history—we only have to look at his paintings. As my father was a prolific man who left more than 5,000 visual images for us to pore over and investigate, we're able to use each brush stroke was conjecture, each color deliberate, every material and method used was a clue.
ADVERTISEMENT - CONTINUE READING BELOW
An only child born to working class parents (his father was a policeman; his mother had a stall selling indigenous crafts in the Baguio market), he was doted on; his parents paid for art lessons from an American teacher when he was a child, and later scraped together the money to send him to Manila to study in the best universities. 
In 1983's "Eyes of Gauze," made when he was 33, he depicts himself as a Renaissance man, possibly contemplating his mortality at the age that both Jesus and Jose Rizal died. His 3D hand is holding a paintbrush, poised to paint, ever ready to create. Even though a prevailing theme in his work was to use aspects of his identity to create subversive statements, he operated on multiple levels of meaning, from his medium and materials, to his intent. He said, "Art is about ideas. Art is communication. Artists communicate ideas through color and texture. If an artist paints a mango, he is showing how a mango feels, its form, its essence. But he will not explain how a mango grows."
ADVERTISEMENT - CONTINUE READING BELOW
Creating art is a political act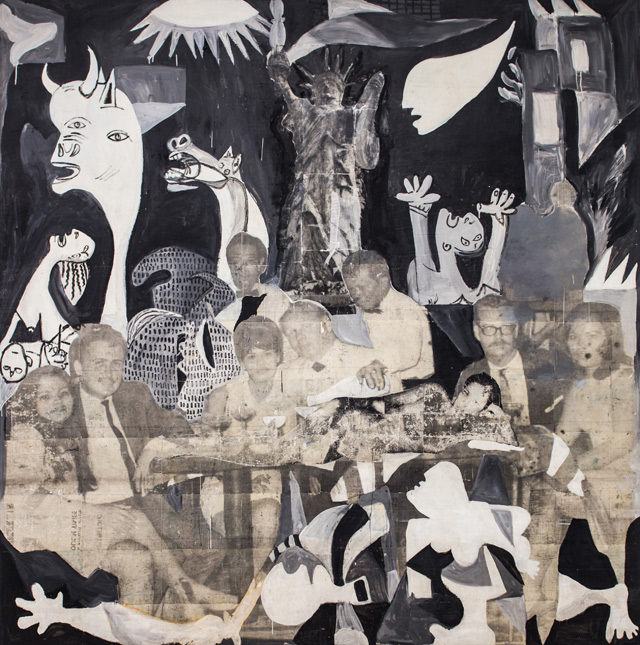 My son and I have many discussions centered around the social injustices perpetuated by Donald Trump. I like to tell my son that he comes from agitator stock: my dad often said that artists take a stand through the practice of creating art. How he expressed this belief is on display at "Bare Necessities." "9-11, or Return of the Comeback," is a painting he was working on before he died. It is an unfinished reflection on war-mongering Americans fighting terrorists in the Philippines based on Picasso's "Guernica." It is in gray scale, because, as he explained in a video, "War is never black and white." Quoted by Cherokee and then fellow New York-based artist Jimmie Durham in 1985, Bose said: "Someone says, 'I'm an artist, I have no politics,' so I say, 'Then you have no business being an artist'." Artists, my father believed, articulated the Filipino subconscious so that we could show a true picture of ourselves and our world.
ADVERTISEMENT - CONTINUE READING BELOW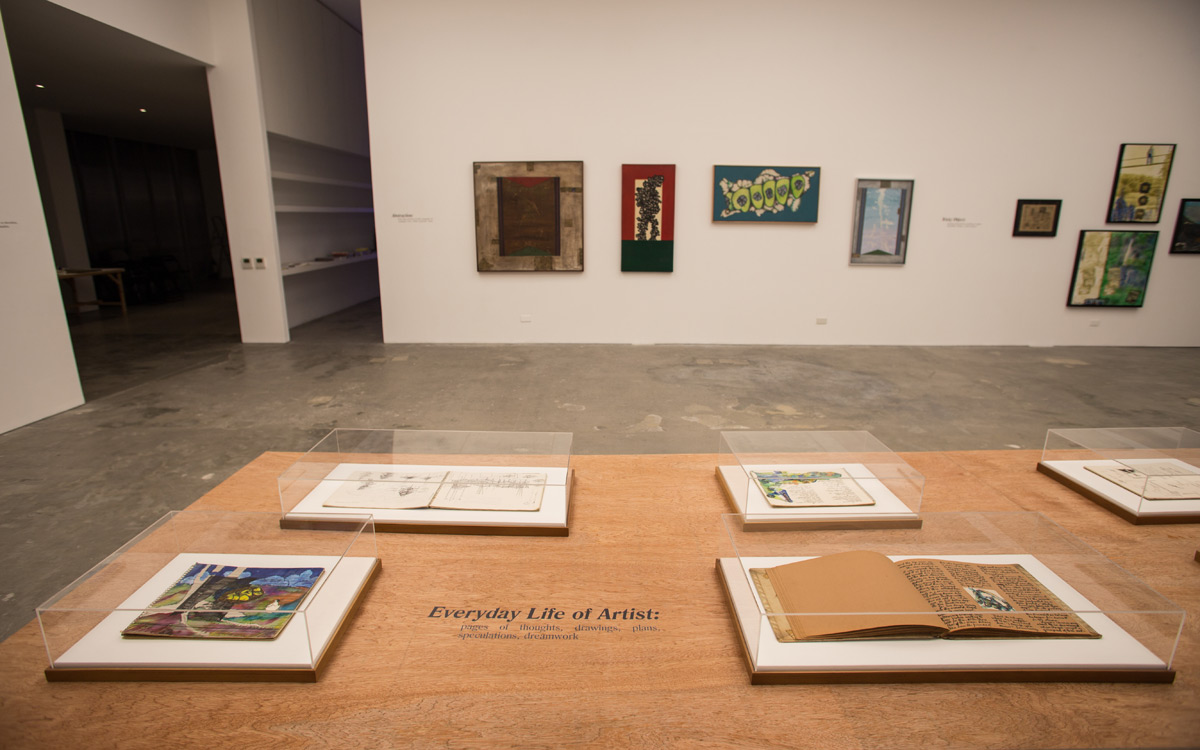 Bose's journals and sketchbooks, which are also on display, give us a different perspective on his creative process.
My father also had an acute sense of his own mortality.
"I want 10 more years," he said to me. "I want to paint 100 more paintings."
As if, by saying that, he could transcend his physical body and beat his deteriorating health—strokes, high blood pressure, gallstones, sinus problems, and all.
His physical degradation, coupled with his lifelong desire to create more and more art, also made him hyperaware of his legacy. In his e-mails to other people he would write: "I keep reinventing myself because art is long, life is short."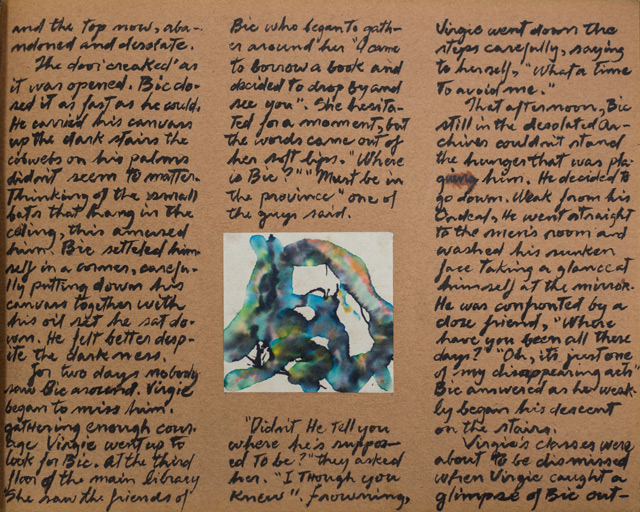 ADVERTISEMENT - CONTINUE READING BELOW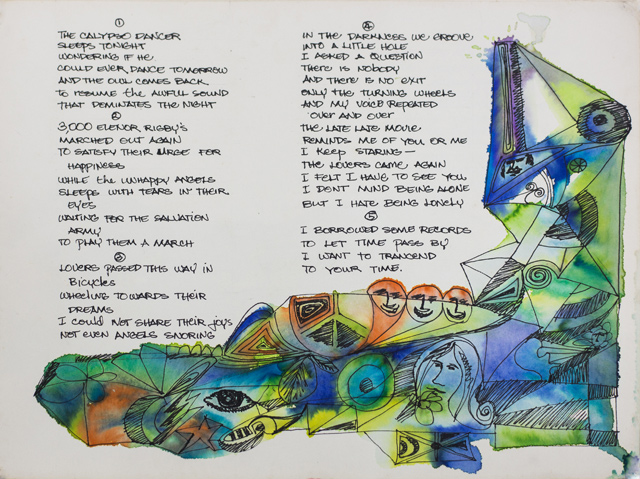 He knew—even if not everyone else did—that he was creating important work. In casual conversations, he would instruct me to preserve everything in his house and turn it into a museum. "You can freeze Ino [his houseboy] and put his body in the kitchen," he joked, cackling.
ADVERTISEMENT - CONTINUE READING BELOW
That Santiago Bose's art made a huge impact on the development of contemporary art in the Philippines is undeniable: Australian artist Pat Hoffie, his partner, collaborator, and a professor at Griffith University's Queensland College of Art, said, "Santi's work wove past histories into the present, and then on into probable and improbable futures. In the face of what often looked like insurmountable odds, he always continued to make art that breathed with the potential for new imaginings." That these new imaginings include lessons for his grandchildren that he never met fills me with sadness, bittersweet longing, and pride. 
Bare Necessities runs until September 14 at Silverlens, 2263 Don Chino Roces Avenue Extension, Makati City. For more information, visit Silverlens' website.