(SPOT.ph) Climate change is the buzzword of the moment in both social media and in the news, and there's good (or bad) reason for that. It's no longer an issue that can be ignored.
It's appropriate, then, that Institut für Auslandsbeziehungen (Institute for International Relations) and Goethe-Institut are bringing their exhibition Pure Gold - Upcycled! Upgraded! to the Philippines. It is currently on a 10-year tour of 20 venues worldwide. The show, which revolves around the process of upcycling, is on view until November 23 at the University of the Philippines – Diliman's Jorge B. Vargas Museum in Quezon City.
Pure Gold features 76 pieces by 54 designers from all over Europe, Latin America, Asia, and Africa. It aims to raise awareness about alternative production techniques and developments in European and non-European design, and also seeks to address the issue of pollution and climate change brought about by rapid global industrialization and hyper-consumption. The pieces featured in the exhibit are more than just those pencil holders that you made from a plastic bottles back in grade school. These innovative and cleverly designed objects bring new meaning to the adage "one man's trash is another man's treasure."
ADVERTISEMENT - CONTINUE READING BELOW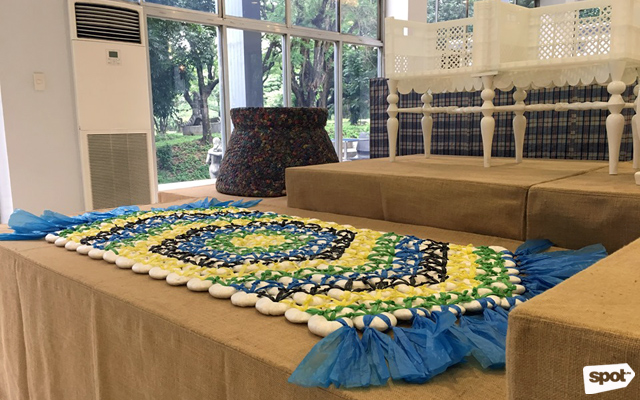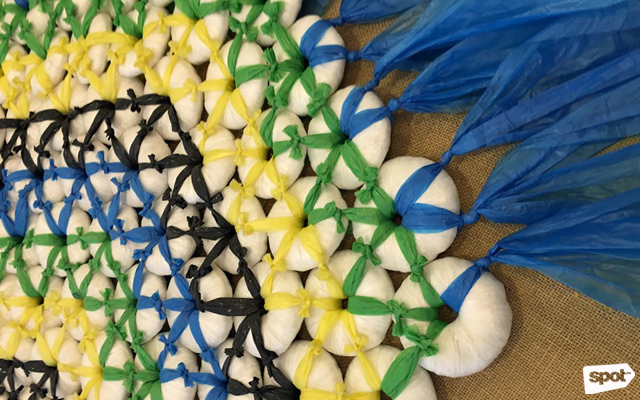 One of the first things you see upon entering the museum is Finnish designer Juli Foos' "Large Donut Rug," which was made in 2012. At first glance, it just looks like an intricately designed rug; but look closer and you'll notice that it is actually made out of white plastic bags shaped into donuts using cardboard discs. These donuts are held together by several threads of colored plastic that create its distinctive pattern.
Without reading the exhibit notes or knowing what the exhibit is about, one might assume that the exhibit is merely a showroom for furniture designs. None of the pieces call attention to the fact that they're made out of recycled waste and cheap materials, which is a testament to each of the designers' talents.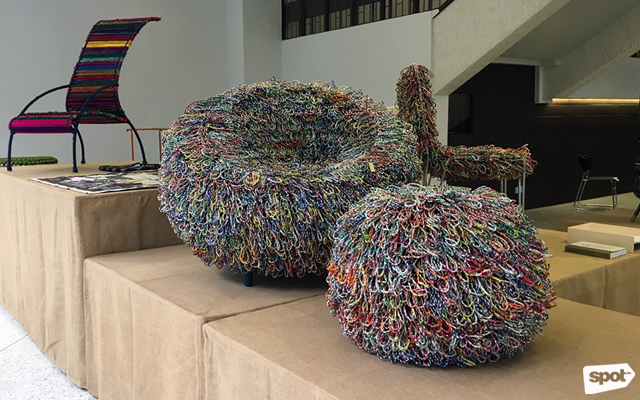 ADVERTISEMENT - CONTINUE READING BELOW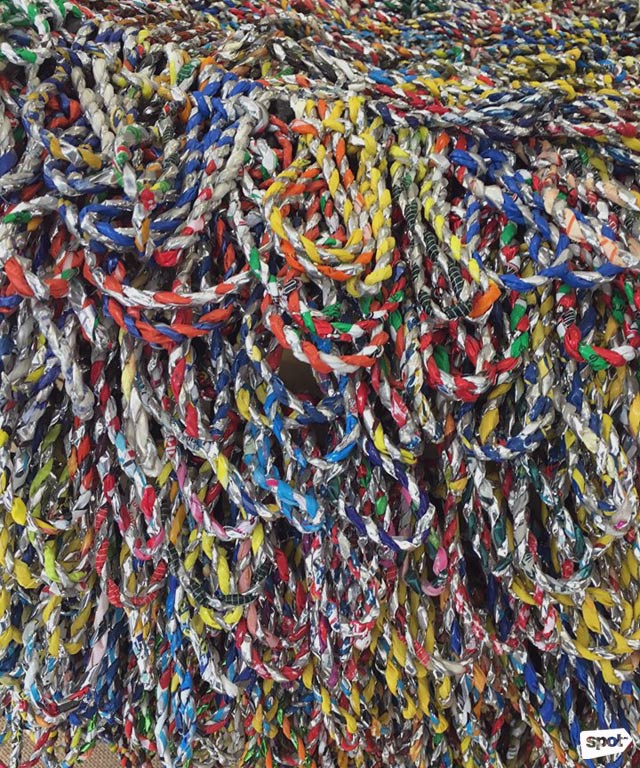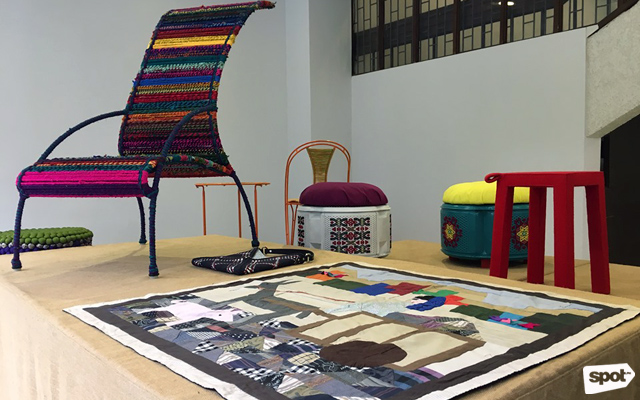 ADVERTISEMENT - CONTINUE READING BELOW
One of the most eye-catching pieces in the exhibit is Junk Not! Philippines' "Anak ng Tupa" and "Ikaw at Ako Chair," a furniture set composed of a chair, a round sofa, and a round foot stool made out of twined recycled snack packets and candy wrappers. From afar, the material is made to look like sheep wool. This is not an accident. Filipino designer Wilhelmina Garcia purposely chose this look as a reference to a sheep that died as a result of eating plastic waste that was carelessly thrown onto her farm.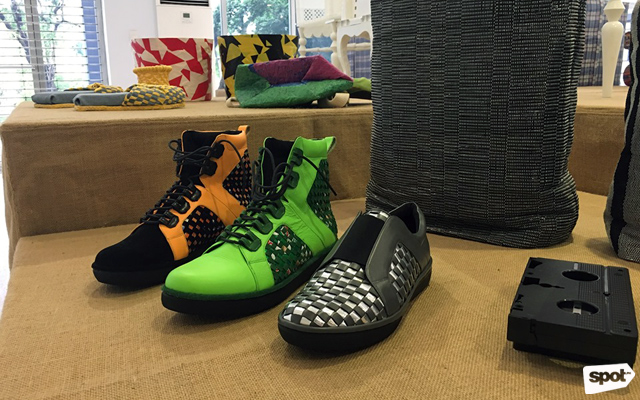 ADVERTISEMENT - CONTINUE READING BELOW
The exhibit isn't just limited to furniture, though. Along with "Large Donut Ring," you'll find an assortment of fashion accessories, such as quirky shoes made by Filipino fashion designer Maco Custodio of creative hub Zapateria. The shoes are handwoven from upcycled foil and leather. The fast-fashion industry is among the leading sources of pollution and climate change, so alternative production solutions like the ones presented in Pure Gold are especially urgent and necessary.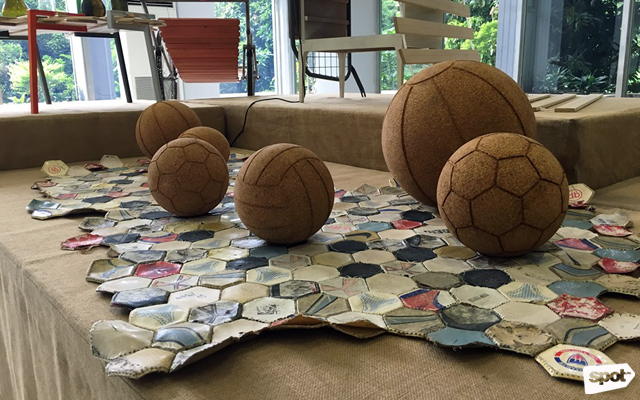 ADVERTISEMENT - CONTINUE READING BELOW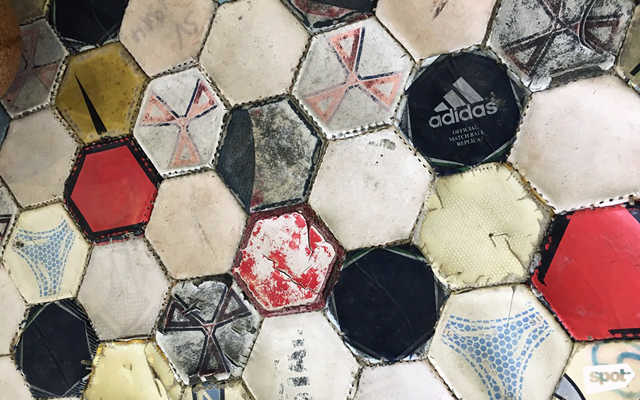 German jewelry artist and designer Janina Stüber's beautiful "Football Carpet," which is made out of recycled leather football skins, sits at the center of the exhibit. On top of it are laid several cork balls, which is actually German architect Volker Albus' installation "We Want Wind / We Want Water." The pieces were produced by pressing finely ground granulated cork into blocks made from synthetic resin, then shaped into footballs, basketballs, volleyballs, and more.
ADVERTISEMENT - CONTINUE READING BELOW
Put together, the two objects look as if they're part of a stylish living room set-up that you might find in a furniture store. But "We Want Wind / We Want Water" is not merely for decoration, as the balls are actually meant to be used for a game of volleyball or football on the beach. Its cork material can keep it from being blown away by the wind, aside from allowing it to float in water.
It is this marriage of sustainability, aesthetics, and functionality that underscores Pure Gold. We have more waste than we know what to do with, and we continue to generate even more at an alarming pace. It's about time we put a stop to producing new waste, and instead put to good use what is already out there, as these designers have been able to do.
Pure Gold - Upcycled! Upgraded! runs until November 23 at Jorge B. Vargas Museum and Filipiniana Research Center, University of the Philippines – Diliman, Quezon City. For more information, visit Jorge B. Vargas Museum's website.
ADVERTISEMENT - CONTINUE READING BELOW
Share this story with your friends!
---
Help us make Spot.ph better!
Take the short survey
More Videos You Can Watch
Load More Stories