(SPOT.ph) In Wawi Navarroza's "Portals/Double Portrait (Self-Portraits)," she—herself as the usual subject of the works—faces another portrait of her carrying a child. A red curtain, adorned with flowers and ribbons, separates these two portraits into two seemingly different settings as suggested by the recognizable '80s and '90s Filipino floral blanket in one of the two backdrops. The said work illustrates the recent transformations in Navarroza's life as she began her motherhood journey and while keeping on with her artistic practice.
It is included in the series As Wild As We Come, which was first shown at Kristin Hjellegjerde Gallery in London, United Kingdom. It is set to be exhibited through Silverlens, her home gallery, for the upcoming Art Fair Philippines 2023 at The Link in Makati City from February 17 to 19.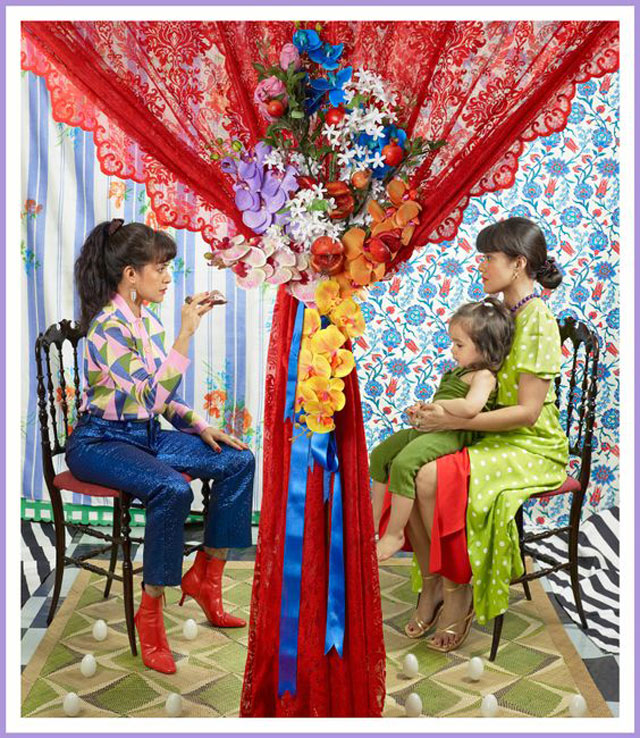 ADVERTISEMENT - CONTINUE READING BELOW
"It's like a continuity of regeneration and this series has a lot to do with that from the transformation, from the unease, from all that conflict within that transformation, onto like the rebirthing. You know like a woman gets to be rebirthed as well when she becomes a mother. She's not [only] giving birth to a child but she's also giving birth to another aspect of herself, another layer of being a woman. Not that it's a checklist that you have to be like in life," says Navarroza in an interview with SPOT.ph.
"[I] kind of like negotiating two sides of creativity. One creativity, making artworks, and [the] creativity of nurturing a child. Those are really loaded and this series kind of captures that transformative phase," she elaborates.
Also read:
Art Fair Philippines 2023 Goes Sustainable with Locsin and Partners
10 Artists to Watch at Art Fair Philippines 2023