Rain, Daniel Henney and Korean Drama Cast of "Runaway" meet the press
The Korean heartthrobs are here filming their upcoming drama <em>Runaway</em>.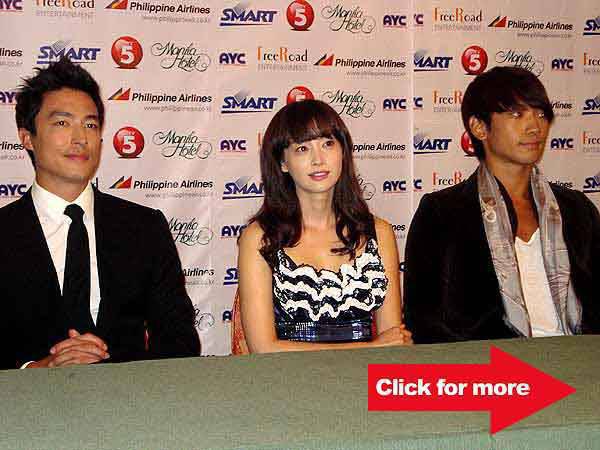 Daniel Henney, Lee Na Young and Rain at the Runaway/ Intensity presscon. Click to see more photos.
Korean superstar Rain and Hollywood actor Daniel Henney were welcomed by a jampacked media crowd at the press conference for the upcoming Korean drama Runaway (aka Fugitive) at the Manila Hotel September 9. Also present at the conference were co-actors Lee Na Young, Lee Jung Jin, and Yoon Jin Seo, as well as drama director Kwak Jing Hwan. Rain also talked about his music show Intensity, which was held last September 11 at the Mall of Asia concert grounds with K-pop boy band U-Kiss and Christian Bautista.

In Runaway, international singer and actor Rain stars as hotshot private investigator Ji Woo who gets involved in a mysterious murder case while looking for a large sum of money lost during the Korean War. Shot in several countries around Asia as Ji Woo races against the clock and unforeseen enemies, this drama series will be aired in Korea, the Philippines (TV-5), Hong Kong, Japan, China, Macau, and Taiwan. Rain's character Ji Woo eventually falls for Jin Yi (Lee Na Young). This gets in the way of his solving the case. Rain is noted for his roles in the previous drama programs Full House and A Love to Kill. He also recently starred in the Hollywood movie Ninja Assassin.
ADVERTISEMENT - CONTINUE READING BELOW
The five actors talked about their acting careers, dream roles and more.

It's been 8 years since you've been in the Philippines when you promoted your very first album. What, in your opinion, is your biggest achievement so far?
Rain: When I first came to the Philippines, I was a newbie and my album had just been released. I was the youngest at that time. So far, eight years have passed, and I have achieved so much for myself. I'm very proud of all my achievements and I hope to achieve so much more in the future. I am so happy to be back in the Philippines.


CONTINUE READING BELOW
Recommended Videos
Q: You have achieved international acclaim in acting, singing, and dancing. Is there anything else you'd like to do in your career? What other fields are you interested in conquering?
Rain: I want to shoot more TV dramas and show my capabilities as an actor.

Q: When you were starting out, you experienced hardships as a singer. Is struggle necessary for an artist? In relation to this, will it be a struggle for you to serve in the military next year?
Rain: In particular, I don't have any hardships. As of now, I just want to focus on my role and I will do my best as a performer. I'm also happy to see you. With love, I will make the best out of the performances I'm doing.
Q: What are your favorite spots in Manila so far?
Rain: The food is good, I'm happy, and I go anywhere!
ADVERTISEMENT - CONTINUE READING BELOW

Q: You seem like an unstoppable K-pop force. What drives you as a performer and artist?
Rain: Actually, I don't think about difficulties. My focus is on meeting the expectations of my fans and I'm happy with that. Also, I do my best in every role that I need to do.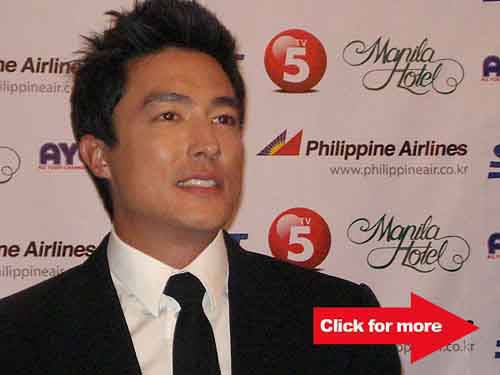 Daniel Henney also stars in Runaway. Click to see more photos.
Hollywood actor Daniel Henney, noted for his role in the movie X-Men Origins: Wolverine, plays Kai, the foil to Ji Woo, a gentle-hearted shipping tycoon who helps Jin Yi in times of trouble. He has also starred in Korean dramas My Name is Kim Sam Soon and Spring Waltz.

Q: Being an American of Korean and British descent, what traditions from America, Korea, and Great Britain do you practice?
Henney: That's a very difficult question. I'm actually not British, my father is of Irish descent. The Irish part, maybe the love for beer? The Korean part, having great respect for my elders. For the American part, I don't know, but maybe just being free-spirited and easygoing.


ADVERTISEMENT - CONTINUE READING BELOW
Q: We heard that you were in a band and played lead vocals and guitar. Who are your musical influences? Are any of them K-pop-related?
Henney: I doubt the K-pop fans will be happy about my answer. (laughter in the audience) I used to be in a band when I was in New York. [Some of our influences include] The Doors, Pearl Jam, and Stone Temple Pilots.


Q: After playing a playboy doctor role in the TV show Three Rivers, do you have other Hollywood plans?
Henney: [For other roles], it really depends on the character. [For Three Rivers, for example,] I really loved the character of David and thought it was a great role for an Asian actor. There are always scripts coming in, so I'm waiting patiently to find a role that I really admire and like. We've turned some down, but hopefully, in the coming season, I'll be able to find the right role.


Actress Lee Na Young, who previously appeared in Ruler of Your Own World and High Kick through the Roof, plays the mysterious Jin Yi who asks for the help of investigator Ji Woo under false pretenses (hidden motives, anyone?).


Q: What is the most challenging part about being an actress?
Lee: I don't think of myself as just an actress, meaning a woman, but also an actor [a performer in every aspect]. Every time I receive a new scenario or script, I concentrate on building the character and enjoying every drama I'm in.


ADVERTISEMENT - CONTINUE READING BELOW
Q: This TV series has taken you all over Asia. What discoveries have you made about the different countries you've been in?
Young: While shooting this drama, I really experienced a lot of things in different countries in Asia. The food is good, and although our schedule is very busy, our cast tries to make an effort to perform well for the drama. When I travel to each country, I feel that each one is different. Each country has different colors so I try to find out about them when I'm there.


Actor Lee Jung Jin plays Detective Do Soo who chases after Ji Woo and Jin Yi, suspicious of the circumstances surrounding the case. His previous drama credits include I Love You Don't Cry, Love Story in Harvard, and Bottom of the 9th Inning with 2 Outs.


Q: You've done a lot of roles for TV and film. What roles are you most attracted to doing? What kind of roles do you prefer?
Lee: Every time I shoot a movie, I try to make a lot of effort. But, right now, since I'm working on Fugitive, I'm concentrating on my acting for the drama and I feel very optimistic about it. Right now, we haven't finished shooting the entire drama so I can't say it's 100 percent satisfactory yet for the audience, but I always try my best to satisfy everyone.


Actress Yoon Jin Seo portrays a cheerful detective who works under Do Soo. Jin Seo has also appeared in the drama The Return of Iljimae and the movie Sympathy for Lady Vengeance.

Q: You're surrounded by extremely sexy leading men like Rain, Daniel Henney, and Lee Jung Jin. How do you feel about them?
ADVERTISEMENT - CONTINUE READING BELOW
Yoon: The person to my right [Daniel]'s character has a really nice disposition, very gentle. Jung Ji Hoon's [Rain] is a very naughty guy, very mischievous. And the man on my left, Lee Jung Jin's character, is a very wild and tough guy. At the same time, he also knows how to love. My favorite is my partner in the drama, Lee Jung Jin.






Share this story with your friends!
---
Help us make Spot.ph better!
Take the short survey
Load More Stories