French pop artist Delphine De Lorme pays homage to Manny Pacquiao in "Pacman and the Girls"
Meet the Cebu-based neo-expressionist whose dream is to meet her favorite subject Manny Pacquiao.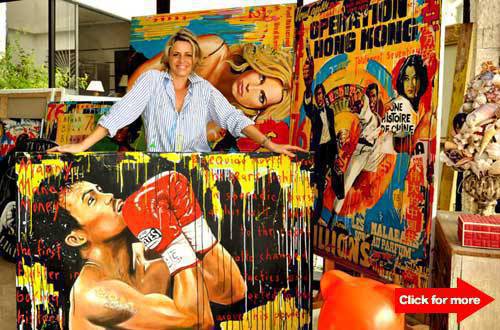 The French artist is known for her pop art style. Click for more.
It's hard to believe that someone living in Paris would leave everything behind and relocate to the Philippines but French artist-slash-furniture maker Delphine De Lorme did just that. Five years ago, she transplanted her family, husband Henri, and children, Angele, Cesar, and Lilly, from their 200-year-old Parisian abode to a home in the hills of Mandaue, Cebu.
The 44-year-old artist, known for her adventurous spirit and spontaneity, began painting when she was six years old. She shares, "My love for painting started at this exact period of my life. I never stopped since then. My father was the first to exhibit my paintings in his gallery in the south of France in Saint Paul de Vence, a famous place near Nice." Judging by her latest body of work, "Pacman and the Girls," on exhibition at the Nova Gallery in Pasong Tamo-it's easy to presume that Delphine De Lorme is just as Pinoy as all of us.

SPOT.ph chats with the Cebu-based artist about her love for the Philippines and her dream to meet Pacman.
Why did you decide to relocate to the Philippines?

When you live in Asia, your dream is to leave for Europe. When you live in Paris, your dream is to live on a tropical island. We chose the Philippines because of the kindness, and happy disposition, of the Filipinos, the warm climate, and because it's an English-speaking country.

Did you ever visit the Philippines before you decided to move here?

Yes. We first did a trip from France to Manila because we heard the Philippines is an incredible country. We went to Iloilo, Guimaras, Siargao, Bohol, Puerto Galera, Dumaguete, Cagayan de Oro, and Cebu. We came back to France totally exalted and announced to our three children that we found the perfect place. We sold everything in France, packed our life in a container and left to start a new life in Cebu.

Why did you choose to live in Cebu?

Because there's an international school for our kids.

What do you love about the Philippines?

The Filipinos and all the paradoxes-the Philippines is a land of contrasts. Life is both magical and tragic, beautiful and ugly, marvelous and violent, paradisiacal and dirty. It's amidst this paradox of life that I find my inspiration.

What's the idea behind your exhibit, Pacman and the Girls?

When I arrived in the Philippines I was amazed to see how the streets are empty during the Manny Pacquiao fights. You could say I discovered the country's hero, literally "the lord of rings." But Manny couldn't be alone. Each hero must be surrounded by heroines and femme fatales, powerful girls, and provocative seductresses.

Why did you choose to create art about Manny Pacquiao?

I got caught up in this "Pacmania" and decided to honor the country's biggest contemporary hero so I started to paint a series representing Manny's major fights and titles. As a foreigner I wanted to give another image of the Philippines, to honor and glorify him. Pacquiao brings a lesson of courage, humanity, and hope. This guy is really amazing! After more than a year of painting him everyday, I have to confide it's my dream to meet him.

How long does it take you to finish a painting?

I work faster when I have a challenge. Before an exhibit I don't go out from my atelier, I can produce three to four paintings in a month.

How would you describe your style of art?

My work could be described as neo-expressionist, "figuration libre" (in French), or street art with a large pop art influence. My paintings are complex compositions.

You also design furniture, when did you start?

I started four years ago, when I arrived in Cebu. I drew a collection for myself because I didn't find any furniture I like (except antique pieces I found in an antique shop). When I had enough nice sketches, I opened my small factory. It was very easy to find very talented workers and artists in Cebu. I taught them delicate French molding and the way we do the patine in France. And because I love to put color everywhere, I finished my desk in cotton candy pink and my "cabinet de curiosite" with black and white polka dots. My furniture is stamped with my pop art.

If you weren't an artist what would you be?

Being a painter is actually my second profession. In Paris, I was working as a director for live television shows for 15 years. I also would have loved to be a professional dancer. I love performance, perseverance, and physical movement.


ADVERTISEMENT - CONTINUE READING BELOW
Pacman and the Girls is on exhibit at NOVA Gallery from March 18 to 28.
Photos by Miguel Nacianceno for Town & Country, Sandra Casterán-Pesch, and from Nova Gallery.



CONTINUE READING BELOW
Recommended Videos
Share this story with your friends!
---
Help us make Spot.ph better!
Take the short survey
Load More Stories