Woodplay & Wanderlust: Award-winning Furniture Designer Vito Selma
The Cebuano wunderkind talks about his travels, inspiration, and design process.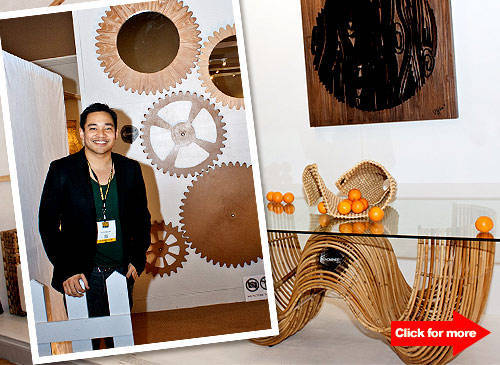 Click for more photos of Vito Selma's works.
(SPOT.ph)"Play" isn't a word anyone would think of when they see 28-year-old Vito Selma's resume, but that's exactly what's at the root of his career as a furniture designer.
"My parents have been in the [furniture] industry for 24 years, so I grew up with their factory being a playground of some sort," the Cebuano designer, photographer, and travel junkie shares with Spot.PH. "Every afternoon after school, I had to go there to pick up my parents, or on the weekends, I had my father bring me there just to play in the factory."
While this childhood "playground" instilled a love of wood and furniture in him, though, it was through studying art that he discovered his talent for design. "Every summer, [my parents] forced me to go to art school to make sure that I adapted myself to different forms of art," he says with a chuckle. Eventually, he shares, he joined a workshop by the Designers' Guild of Cebu during his third year of high school. "I designed something, and I attended my first show. Then it got a nomination, and then I said, 'Ah, maybe I can design.'"
ADVERTISEMENT - CONTINUE READING BELOW
Critical Acclaim
But despite his self-effacing smile and modest words, there are no "maybes" when it comes to the question of whether Vito Selma can design. Just a year after graduating from high school, he joined the Cebu International Furniture & Furnishings Exhibition and was nominated for the Best Product award for his Uzima Ottoman. More recently, he won the first prize for Industrial Design in the 2010 DOST National Invention Contest, and he was one of two designers nominated for the Katha Award by the Manila FAME organizers in the design and lifestyle event held at the SMX Convention Center in March 2012.
Vito earned his masters degree in industrial design from the Scuola Politecnica di Design in Milan, Italy, just last year, and even though he hasn't even hit his 30s, he is already earning a name for himself internationally. He shared that he would be launching his VS furniture line in Dubai right after he left the Manila FAME event. Then, when asked where else aficionados might find his furniture, he reluctantly admits, "You can find my stuff in about 30 different countries. In South America, North America, Europe, Africa, Australia, and Asia."
ADVERTISEMENT - CONTINUE READING BELOW
When asked about designers he looks up to, he is quick to name fellow Filipinos. "Kenneth Cobonpue, obviously," he says with a grin. "For paving the way, not only for [other] Filipino designers, but also for Asian designers. I'm personally a big fan of Debbie Palao-she's also Cebuana. She's the Bamboo Lady. Every time I have problems with dimensions or materials I ask her. Bernice Montenegro-her works are very commercial. It's a different side of design. It's more about understanding what people want and creating that for them."
He is also quick to name international influences, though. "I love the Campana brothers," he says, naming Brazilians Humberto and Fernando Campana, who are known for creating artistic and sometimes controversial pieces and incorporating "waste" products like wood and fabric scraps or cardboard in their designs. "What I like about them [is] they said, at the end of the day, you have the like the design that you did. I mean, don't be so influenced by what other people think about your work. Just make sure you love it."
ADVERTISEMENT - CONTINUE READING BELOW
"With design, what I've learned from [the Campana brothers is] always start with the material," Vito says. "I mean, who needs another chair? So what you can do is experiment with material, and from that experimentation, you can have different forms. I like starting with the material, and then I guess it evolves from there."
International Inspiration
Vito lights up when he talks about his travels. "I'm very much influenced by what I see, what's out there, and I think that, for me, travel is the biggest form of inspiration," he shares.
When asked to name his top destinations worldwide, he quickly ticks off his favorites. "Number one would be Iceland," he says decisively. "They understand how to keep things very simple, be it design or their lifestyle. It [comes] down to what you really need. Second would be Namibia. I've never seen nature so beautiful and orange before. Third would be Morocco because of its culture and how rich it is. I mean, it's not like other countries, where they can adapt to [whoever] conquers them or if there is an influx of Chinese or Indian. They stick to who they are, and you see it everywhere-from the floors to the chairs.
ADVERTISEMENT - CONTINUE READING BELOW
"Fourth," he says, counting off on his fingers, "and it could [have been] my number one, would be South Africa. I call it my second home because Cape Town is like Cebu. You have the sea, you have the mountains in one city, and it's a merge of different cultures-of Africa, of Europe, and of Asia, of India. It's a very interesting mix of people and culture."
Finally, he names Israel. "For me, it was very surprising how two very different religions, two different cultures, two very different people live in one country or in one city and how that evolves through the years."
He shares that he isn't quite sure what comes next for him when it comes to his furniture line or his designs. "I think it all depends on my next destination," he says with a laugh.
"See, [it's] what I'm influenced by. I was in Italy for a year and a half, so [you see] this new collection"-he indicates the chairs in his "Allegra" collection-"is very Italian, very Missoni, very colorful and playful. Because what I learned there was to be colorful and playful."
ADVERTISEMENT - CONTINUE READING BELOW
But while Vito may travel the globe, it's the Philippines, and Cebu in particular, that's home for him. He speaks excitedly of wanting to go to Oslob, a municipality in southeastern Cebu, to see the whale sharks there and also of looking forward to catching up with old friends. Still, even the pleasure of being home won't curb his wanderlust- he mentioned having plans to go camping in New Zealand at the end of the year.
"I love to travel," he says fervently, explaining that it's one of the things he's most passionate about, and he recommends that other designers try to see more of the world as well. When asked for tips he would give aspiring furniture or interior designers, he's quick to answer. "Make sure you are passionate about what you are doing because you have to love what you do," he says. "You have to wake up and you have to go to bed and enjoy what you are about to do, [whether it's] interior design or design in general."
ADVERTISEMENT - CONTINUE READING BELOW
CONTINUE READING BELOW
Recommended Videos
Share this story with your friends!
---
Help us make Spot.ph better!
Take the short survey
Load More Stories