A Tour Around Escolta Courtesy of 98B
We take a walk around Escolta
(SPOT.ph) You might have seen or heard-or you might have been there, yourself-about the Saturday market at Escolta last weekend. It was organized by 98B.org, a multidisiplinary art collab which has its headquarters at, you guessed it, Escolta.
Given all the manicured communities and hip avenues that are all too easy to get to these days, we get why not very many people brave Escolta. But like its neighbors Binondo and DV, the street has recently been experiencing a rebirth. We asked 98B to show us around.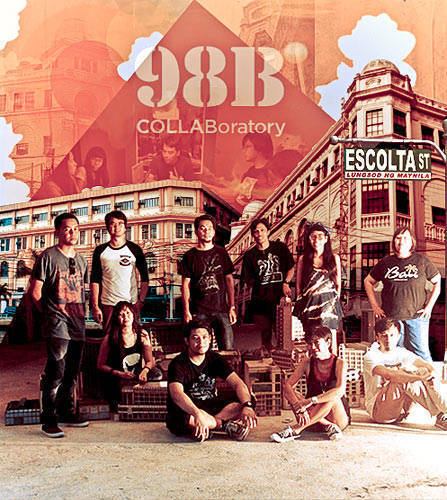 What is 98B? What does it aim to do?
98B is a multi-disciplinary art COLLABoratory that seeks to connect artists, designers, curators, writers, musicians, film makers, educators, researchers, cultural workers, performers, architects, and students with the general public. Essentially, we are a community that has a library, a kitchen and a shop. The idea is to have a setting where artists and creative individuals from other disciplines can interact and work together while presenting art in different ways; be it a talk, a bazaar, a publication, a meal or a simple gathering.

98B is run by Anjo Bolarda, Con Cabrera, Marika Constantino, Vermont Coronel III, Camz Dagal, Don Dalmacio, Zyrael Fortes, Mayumi Hirano, Mik Laborde, Pau Reyes, Mark Salvatus, and Gabriel Villegas.
ADVERTISEMENT - CONTINUE READING BELOW


Why did you choose Escolta as your headquarters?
98B started in Cubao in January 2012, in Mark Salvatus' house actually, so we couldn't do that much. Sometime in July last year, we transferred to Escolta. We met people from ECAI and were invited to help out in the revival of Escolta. We fell in love with it and there you have it. We have started to grow our roots here and it is an on-going love affair with the area, the community and its history.


The idea of going to Escolta can seem pretty intimidating. Can you recommend five other Escolta haunts people should go to or check out?
On the contrary, it's not that difficult to get to Escolta. The easiest and fastest way is via the LRT and MRT.

From SM NORTH / TRINOMA:
At the Roosevelt Station of the LRT 1 (YELLOW LINE), take the train at Platform A (southbound), headed towards Baclaran. Get off at the Carriedo Station (11 stations). Walk towards the BPI Building. Right next to it is Escolta Street.
CONTINUE READING BELOW
Recommended Videos
From CUBAO:
At the Araneta Center Cubao Station of the LRT 2 (Purple Line), take the train at Platform A, westbound headed for Recto Station. This is the last train stop. Head toward the Odeon Mall exit. Exit the Odeon Mall at its Rizal Avenue exit and cross the street towards Chowking. Ride a Jeep going to Sta. Cruz (Php 8.00) and tell the driver to drop you off at Escolta.

Coming from EDSA TAFT:
Take a bus, jeep, taxi, MRT etc. going to the EDSA Station of the LRT 1 (YELLOW LINE).
Take a train at Platform B Northbound headed for Roosevelt Station.
Get off at the Carriedo Station (Count 8 stations). Walk towards the BPI Building and right next to it is Escolta St.

The nearest LRT1 station is Carriedo and in less than five minutes you're already in 98B.

Anyway, before you reach the street there is the Carriedo fountain and the Sta. Cruz Church. Along Escolta you have a number of places to visit. The Escolta Museum at the Calvo Building is where you can see what Escolta looked like in its heyday. It has old documents and photographs, old newspaper ads of Escolta shops and vintage bottles. Walk the whole strip of Escolta and building-watch.
ADVERTISEMENT - CONTINUE READING BELOW
If you're able to get permission, the rooftop view of Manila from the First United Building or the Regina Building is definitely a treat! One can also marvel at the frieze detail of Capitol Theater and nearby Muelle del Banco Nacional's beautiful façade.
Muelle del Banco Nacional, which is behind the Calvo and Panpisco Building, has a good view of the Pasig river and one of the excellent ways to enjoy the Post Office Building. For your gastronomic cravings, Escolta Ice cream and Snacks is highly recommended! It has very affordable but delicious ice cream. They have a variety of unique flavors like durian, green tea, bubble gum and sesame. Towards the end of the street is Polland Hopia for quick snacks and coffee. Savory, UNO Seafood Restaurant and Singapore Chicken Rice are also must-trys.
Escolta is known for its beautiful buildings. Which building is your favorite? Why?
At the top of our list would be the First United Building, which we call home. Even after months of staying there we are still in awe [of] its art deco architecture and details. It was designed by Andres Luna de San Pedro, the son of Juan Luna. The service elevator and the stylish staircase are also interesting points of interest, not to mention the vacated ground floor where the Berg Department Store was located in the 1930s. We also like the Calvo, Regina, Burke, Juan Luna, Panpisco, Capitol Theater and TEOFF Center (formerly Natividad Building). Each of these buildings has a different story to tell in terms of its design and history.
ADVERTISEMENT - CONTINUE READING BELOW
Is this the same as your favorite building to photograph and IG?
Yes! The whole street actually has a distinct allure. It grows on you. There is always something in Escolta, whether it's the street, the people, the structures, that captures our attention.

If you look at old photos of Escolta, FUB and Regina are visible in most of them. Maybe because it is situated at the beginning of the street like sentinels. This is excellent when taking photographs, especially since the walls, the bridge and the light posts have remained the same and did not drastically change over time.

The BPI Building is also quite photogenic like the TEOFF Center (formerly known as the Natividad Building) which has been recently painted and renovated.
What don't people know about Escolta?
Escolta is a very important street in Manila. It has lots of history and [there are so many] stories about this place. It is very romantic and quite memorable. The buildings add a lot to its charm. We know a lot of people who have nice memories about this area.

There were many firsts in the Philippines that originated in Escolta. In fact according to a piece in SPOT.ph "the first ice cream parlor (Clarke's Ice Cream), the first movie house, the very first electric cable car (the Tranvia), the first elevator (at the Burke Building, which was named after cardiologist William J. Burke who introduced and installed the first electrocardiograph in the country)."


What is the biggest misconception of Escolta?
It has been often misconstrued that Escolta is dangerous, dark at night and has no life. What would come to mind is the grime and chaos. Some would even say that it has been left behind compared to other business districts in Manila like Divisoria, Chinatown, and Quiapo. What people don't know is that there are many fascinating things to do and find in Escolta. It is pretty laidback and safe. The Escolta Commercial Association (ECAI) is very active and sincere in reviving the historical strip and they don't take security for granted. They have been working with the police authorities and the local barangay to make it safe from petty crimes. Escolta is a virtual time-travel-machine to those blessed with an active imagination.
ADVERTISEMENT - CONTINUE READING BELOW


Does Escolta have famous sons and daughters? People who hail from here?
Escolta is a street of firsts. It was the first commercial district in Manila. Production outfits started here like RVQ and GMA 7. Dolphy stayed in one of the units in the First United Building. National Bookstore and Bookmark had their humble beginnings here as well. The remains of Jose Rizal were kept somewhere in Escolta for safekeeping before they were transferred to Luneta.
What would you like Escolta to be known for?
We want art, culture and community to flourish in Escolta. Escolta can be a hub where history, creativity, artistry, design and sustainability can merge and exist in harmony.


When you're at your HQ, where do you have lunch?
There is a combination of old and new food joints along Escolta. There's an old Savory restaurant with a sari-sari store inside. The price is a bit expensive but the servings are good enough to share. If you prefer something cheaper, Pizza Hut is nearby. The ever-reliable Ministop and 7 Eleven are just around the corner for some quick snacks, too. Lunch would usually be at Escolta Ice Cream and Snacks which is a favorite of ours because they serve rice meals and snacks. There are also a lot of small eateries or carinderias around the area that have really good home-cooked meals.


Where in Escolta do you bring VIPs out for lunch? What's good there?
Uno Seafood Restaurant's seafood dishes are fresh and the servings are good for big meals and for sharing. There are also a number of restaurants around Escolta like Ying Ying Tea House, Singapore Chicken Rice, and Wying in Binondo, which is walking distance from Escolta. If we have energy left we troop to New Po Heng Fresh Lumpia, which has the best fresh lumpia we have ever tasted. For vegetarians, Masangkay is the place to eat. You need to ride a pedicab or if you have a bike, just pedal your way to the Chinese health restaurant.
ADVERTISEMENT - CONTINUE READING BELOW


For coffee?
In our space - watch out for the 98B Cafe soon!
Share this story with your friends!
---
Help us make Spot.ph better!
Take the short survey
Load More Stories