On the Spot: Ito Kish on his new collection, Basilisa
A quick Q & A with Ito Kish
(SPOT.ph) Ito Kish's booth at the recently concluded Manila FAME, held from March 14 to 16 at the SMX Convention Hall, sat right smack in the center of the ground floor, attracting buyers and regular design enthusiasts with his second collection, Basilisa. The collection won the NextOneNow Design Award for Best Furniture Design Transitional and Best Visual Merchandising at the twice-annual design and lifestyle event, his second straight year to be recognized for excellence in furniture design.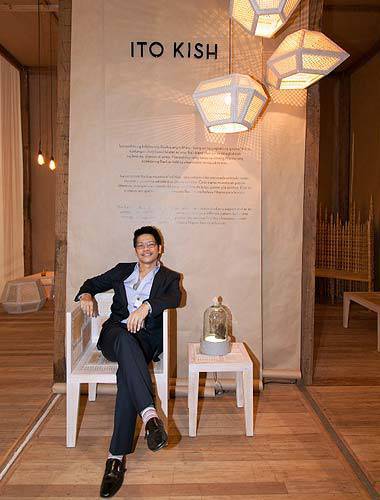 Ito Kish at his Manila FAME booth. Photo by Tammy David
"I named my second collection after my grandmother," the famed designer says. The collection puts the classic Solihiya patterns front and center, demonstrating how it can be updated to fit the modern times. SPOT.ph had a quick chat via e-mail with the designer about his new creations.
How different was the process of creating this collection from your last?
There was really no difference. I started with one basic inspiration which was the Solihiya and then drew the first piece of furniture which was the three-seater and the rest just followed.


ADVERTISEMENT - CONTINUE READING BELOW
How do you deal when your brain just won't function?
I run a store and a design team so my life can be very hectic and seriously hectic. I am lucky if I can find time to really stop and just do nothing.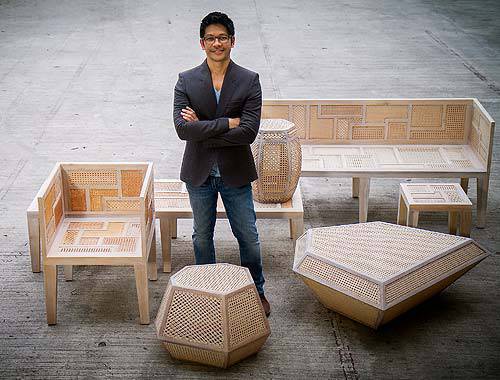 The designer with a few pieces from his second collection, Basilisa


CONTINUE READING BELOW
Recommended Videos
What is the one piece of furniture/art that never fails to inspire you?
The Batibot. Very Pinoy.


Where else do you find inspiration?
Cinema Paradiso is a favorite of mine. I see my self in Toto. I wallpapered our small little wooden house when I was 11 and told myself I [would] have the most beautiful home store and create beautiful things.

Is there a science behind the patterns? For instance, is there a pattern that works better on a chair than on a lighting fixture?
The solid patterns are best used for support while the more open weaves are good for lighting to create magical shadows.
ADVERTISEMENT - CONTINUE READING BELOW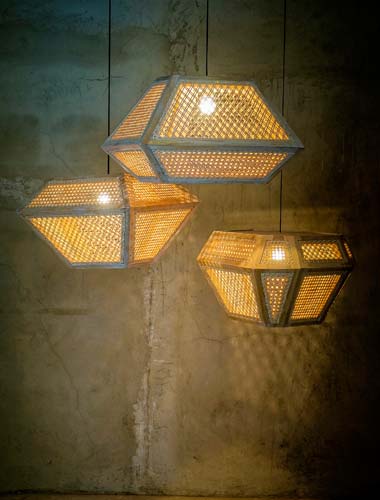 Your Basilisa collection features different Solihiya patterns. Do you have a favorite pattern?
The one considered the most basic because it reminds me of my dear grandmother Nanay Sisang (Basilisa) who was good at doing Solihiya. She used that pattern.
What materials did you use? The Basilisa arm features different colored patterns-is this a matter of dye, or do the different colors mean different materials as well?
We used rattan for the Solihiya and we applied finishes (three) to create highlights.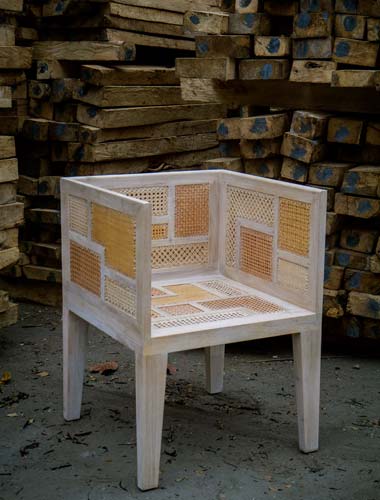 ADVERTISEMENT - CONTINUE READING BELOW
If it's okay to ask: What sort of people did Basilisa attract at Manila FAME?
Lots of Europeans and [people] from the Middle East. A number of specialty stores and galleries because they think my work is more of an art piece than anything else.


What sort of reaction were you going for with your Basilisa? Did you want people to feel nostalgia? Or get them to see Solihiya patterns in a new and modern light?
To most locals, it was really reviving the Solihiya. The chance to give it a new life and appreciation.  To foreigners, the unexpected understated beauty of the patterns and shapes.


Are there any young local designers whose work you're excited to see?
Lots of them: Stanley Ruiz, Olivia d'Aborville, Wataru Sakuma, Vito Selma to name a few. Most of them are younger than me (LOL).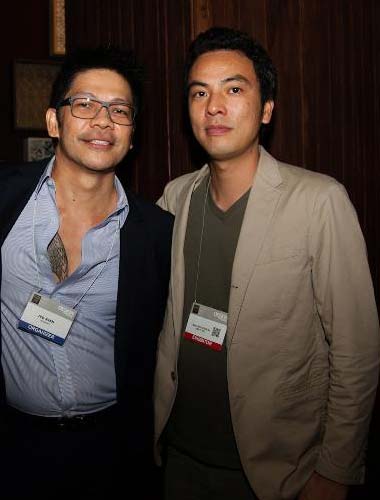 Ito Kish with Wataru Sakuma at Manila FAME.
Photo by Tammy David
ADVERTISEMENT - CONTINUE READING BELOW
What are your hopes and wishes for Philippine design?
World recognition. For more individual designers to be recognized. More support from the government to make design part of our life. Use design to change the way we live and to discipline us.



---
Help us make Spot.ph better!
Take the short survey
Load More Stories