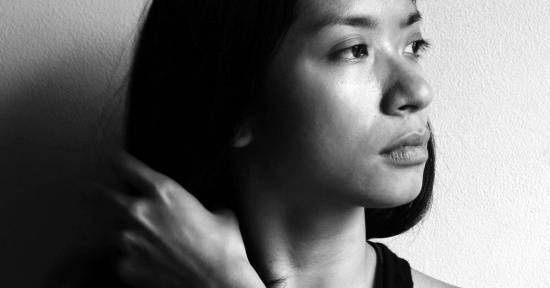 Eisa Jocson, photo from her official website
(SPOT.ph) After the spectacular launch of her exhibit, and we mean to use an adjective rooted in the word spectacle, Eisa Jocson proceeded to the next phase of her performance: passing the figurative baton. The attendees of her free workshop (the last session of which will be held this Friday, March 7) were a mix of college students and people who gave in to their curiosity. Jocson was initially just another onlooker herself.
The All-Important Question: Why?
"It was 2010, some friends and I decided to check out a bar. I immediately found the physical vocabulary fascinating, but it didn't occur to me to study it. At the time, I was collaborating with someone from Brussels, focusing on pole dancing in our research on erotic dancing." Jocson revealed, relating the story casually-as though we were simply talking about something as trivial as the weather.
ADVERTISEMENT - CONTINUE READING BELOW
When asked if she ever considered the fact that she's a woman before she took on the challenge, her nonchalance doesn't dissipate. "I think it's inevitable that the performance will draw discourse. At this point, there's so many layers to it because you can talk about the social context of the marginal group performing it, selling the body, and of course, objectification."
She added, "Ako, minsan, hindi ko alam kung saan ilulugar 'yung sarili ko in that loop because as a woman, I'm already objectified. Tapos, I perform a dance that objectifies a male...so there's some form of re-objectification there. I don't know. I think sometimes, what the audience sees comes from their own personal background."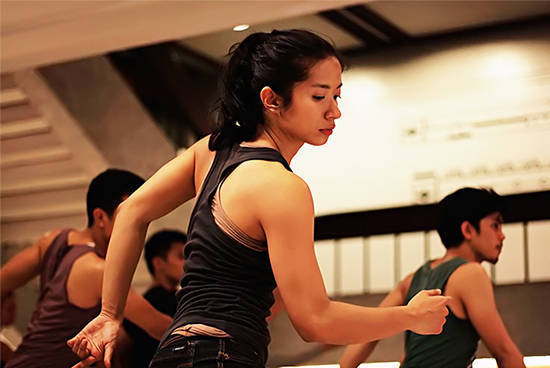 Forms and Social Norms
Jocson acknowledges that being a woman performing a "macho" dance will inevitably draw attention, but for her, it seems incidental. It's evident to us that she thinks of herself as a dancer or a performer first, before anything else. When she performed for the Queer New York Arts Festival in 2013, the androgyny in her features helped the audience understand the play between power and weakness, as "the strong image of a male body is objectified."
Post-workshop, a student shared his thoughts about feeling less masculine after doing the undulations of macho dancing. It is an interesting perspective, which Jocson did not exactly take into consideration when she was beginning her research. She saw it for what it is: dance.
As Li Shang from Mulan puts it, "How do I make a man out of you?"
"It was a huge challenge for me as a woman. My background is pole dancing, and I also did burlesque and ballet, so all the while I was thinking, kaya ko ba 'to?" she said, referring to the very masculine vocabulary of the dance. To prepare herself for the performance, Jocson hits the gym and bulks up. "I appreciated the dance more when I started developing my body. It's a showcase of the human form kasi."
ADVERTISEMENT - CONTINUE READING BELOW
"Kapag inaral mo siya, mararamdaman mo yung, oh my God, ang hirap pala niya!" Jocson talks about dance as the language that some may perceive it to be, and as she learned the vocabulary of macho dancing, it began to change her in some ways-she became more forward, more matter of fact, and a change in wardrobe was involved. After all, her more developed "maskels" don't really go well with dresses. She just laughs about it.
Macho Mentors
Her mentors-the men who worked in "those" bars-didn't really fully understand what a girl like her was trying to do ("Inisip na lang nila weird ako," Jocson explained), but they did delight in someone recognizing their craft.
"They're actually very strict, and also, very supportive of each other. Kapag may kasama sila na may gagawing new move, makikita mo sila sa tabi [cheering]." She explained that dancers have their signature moves and that copying is frowned upon, so even she had to develop her own choreography for her performance.
ADVERTISEMENT - CONTINUE READING BELOW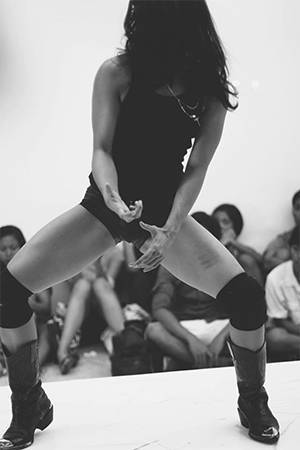 Subtle suggestions. Photo by Goks
Spot the Difference: Steven Soderbergh's Magic Mike and Lino Brocka's Macho Dancer
As her research progressed, the difference between "male strippers" and "macho dancers" surfaced. The Western choreography had a Trance music base, whereas our version relies on power ballads.
"With the Western dancing, the movements are fast, aggressive, and sharper. Ang galing nga, dito sa atin the dancers are able to stretch time. They're able to manipulate it, it's very dynamic. They have a relationship with the space around them." The admiration for the choreography is obviously there as Jocson describes the almost primal movement that the macho dancers do on stage, where they are almost on all fours, "Lupang-lupa yung galaw."
ADVERTISEMENT - CONTINUE READING BELOW
Woman as Man-as in mankind, not just having the biological parts
Jocson continued to talk about the culture of the marginalized group and how, as she was being trained by the Customer Care Assitance (CCA, or the new term for sex workers), they have a very limited knowledge of the world that she was taking their craft to.
In celebration of women's month, it was exciting to see someone transcending (not transforming) her femininity.
"There's an organic understanding to the dance when you perform it and when you see it," she stated, and it is clear that she is moving in a world where this kind of discourse can occur. The resolution of the conflict of seeing a woman dancing as a man (who is, in a way, celebrating what is masculine...but is being feminized due to the association of objectification with women) is entirely up to the people who will encounter these "anomalies" in life.
ADVERTISEMENT - CONTINUE READING BELOW
Flashback for perspective: Jocson in 2010, as a pole dancer
Jocson doesn't see her art as a way for macho dancing to be institutionalized the way pole dancing has been as a fitness regimen, because she recognizes that there is a right time and audience for this kind of spectacle. You need not rub it in people's faces, but hopefully, those who do chance upon her performance get the encouragement to think about the society where macho dancing moves.
It's a very Pinoy dance, and our culture is embedded in the undulations of these entertainers.
Share this story with your friends!
---
Help us make Spot.ph better!
Take the short survey
More Videos You Can Watch
Load More Stories