Margaret Wise Brown's Goodnight Songs to feature work by Pinay illustrator Isabel "Pepper" Roxas
We asked Pepper Roxas a few questions about her work in the new book by the author of children's classic Goodnight Moon.
(SPOT.ph) Art is evocative, and in the case of Isabel Roxas', it conjures worlds that are full of magic and whimsy. Her endearing illustrations first came to life on the covers and pages of Adarna House children's books like Araw sa Palengke and Si Segunda, Noong Panahon ng Mga Espanyol. This month, her work is featured together with that of 11 other award-winning artists in Goodnight Songs, a new collection of lullabies previously unpublished by author of the classic Goodnight Moon, Margaret Wise Brown. We asked Pepper a few questions via email.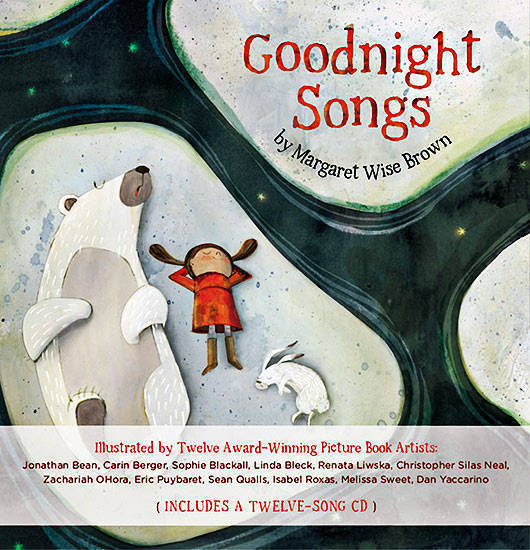 How did your illustration career get started, back in the Philippines?
I was an avid reader and collector of children's books. One day I spotted some artists drawing a big, luscious dragon on the wall of my favorite bookstore, Young Minds. They were members of an organization called Ang Ink (Ang Ilustrador ng Kabataan) and I asked them if I could join them. I was just a young student then, and most of them were already established professionals (Robert Alejandro, Arnold Arre, Beth Parrocha-Doctolero etc...) but they were kind, and let me join anyway. I sat in several meetings and joined all the group projects until one day I was offered my first commission-the creation of a character for a Junior Inquirer column that reviewed books for young people. The "author" of the column was named Iggy Ipis, a little cockroach who loved to read. Iggy was the brainchild of Carla Pacis and Natasha Vizcarra. I started contributing regularly to the magazine, the I started getting book commissions after that.
ADVERTISEMENT - CONTINUE READING BELOW
What made you decide to move to the US?
After a few years of working with all my favorite publishing houses, I felt that there was still a lot I needed to learn. I wanted to deepen my understanding of art and learn about typography, so I decided to go to New York for my graduate studies.
Do you still visit Manila? If so, what's your favorite thing to do?
Of course. I try to go at least once a year. My favorite things to do, in no particular order: eat mangoes, taho, fresh crab and tapa, lounging on the beach, and visiting far-flung islands.
CONTINUE READING BELOW
Recommended Videos
Is coming back something you would consider?
Yes. My husband and I care deeply about Philippine art and culture and are looking for a way to perhaps live part of the year here in New York and the other half in the Philippines.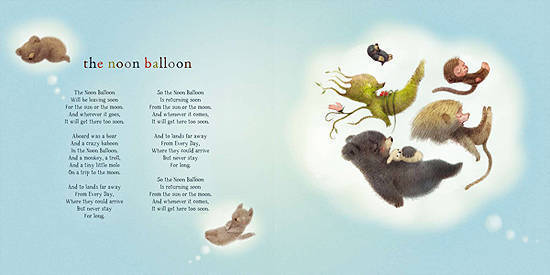 "The Noon Balloon," illustration by Renata Liwska
ADVERTISEMENT - CONTINUE READING BELOW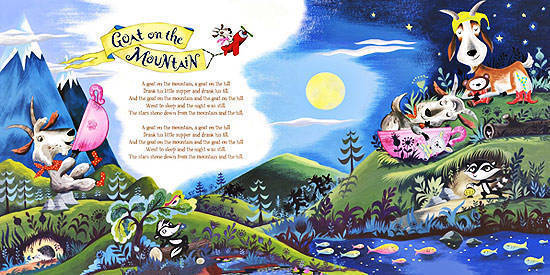 "Goat on the Mountain," illustration by Linda Bleck
What do you think about the developments in the Manila art scene?
I find it all very exciting-it's great that people are becoming interested in local, contemporary art.
More interesting for me are the developments in the design and illustration communities. There are a lot of sophisticated individuals and teams now doing great work, and working for both local and international publications.
Do you follow any local artists? Who are your favorites?
Dead folk: Manansala, H.R. Ocampo, Damian Domingo, Juan Luna
Mature folk: BenCab, Arturo Luz
Young folk: Mariano Ching, Dina Gadia and Nona Garcia
Illustrators: Dan Matutina, Electrolychee, Conrad Raquel
How did you celebrate when you learned that you'd be one of the illustrators doing work on Goodnight Songs?
I think I was in the middle of a book project, and a studio move...so there was no time to celebrate sadly. Knowing myself though, I must've done a little jig, and gone back to work.
ADVERTISEMENT - CONTINUE READING BELOW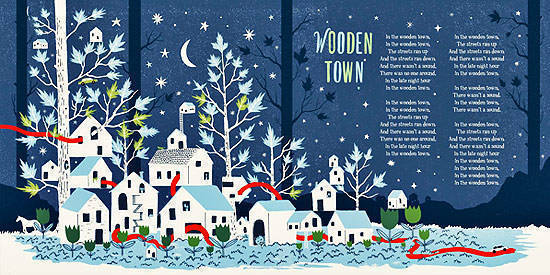 "Wooden Town," illustration by Chris Silas Neal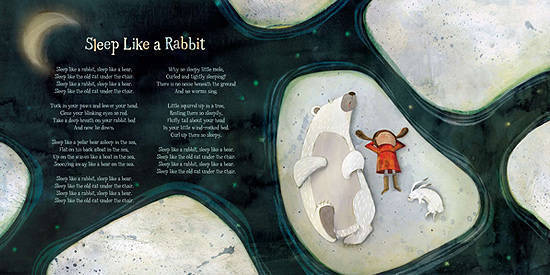 "Sleep Like a Rabbit," illustration by Isabel Roxas
If you could choose any book to illustrate, from Shakespeare to Suzanne Collins, which would you choose and why?
Holy Bagumba! What a question. I think it would be really great to discover a box of unpublished Ruth Krauss storybooks or poems. I think that would be wonderful. I love her with and the playfulness of her writing.
ADVERTISEMENT - CONTINUE READING BELOW
Did you always want to be an illustrator/graphic artist, growing up?
First Lady was my original dream job.
What advice would you give to aspiring illustrators in the Philippines who want to be as successful?
Work hard, be interesting, be interested, be brave, and be compassionate.
Images courtesy of Isabel Roxas
Share this story with your friends!
---
Help us make Spot.ph better!
Take the short survey
Load More Stories