A witchy Rachel Alejandro is heading Into the Woods
Her favorite song, the tragedy of the witch, and not wanting to make kids cry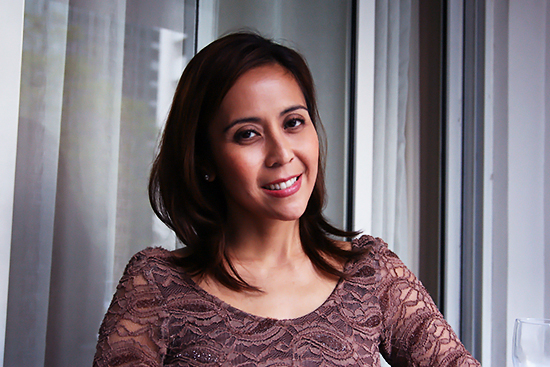 (SPOT.ph) Did you feel like something was missing in the Disney movie, but you can't quite place it? We'll clue you in: an intermission. The nearly 15-minute intro is tiring enough and without the energy of the actors reaching the audience, the magic of Stephen Sondheim's Into the Woods is greatly diminished. There's also the fact that five songs were omitted and at least one character written out entirely...so yeah. We who cannot afford to fly to Broadway (or go back in time to when Repertory Philippines did it) sort of missed out on a few things.
ADVERTISEMENT - CONTINUE READING BELOW
Fortunately, under the direction of Joel Trinidad (who said that the play highlights the advantages of the stage over film), Upstart Productions has assembled a cast determined to amaze the audience with the genius of the script. Tasked to portray the witch-now made famous by the Meryl Streep-is Rachel Alejandro. The singer and Sexy Chef co-founder confirmed our suspicions that, given the difficulty of the songs and the large cast, Into the Woods is quite a challenge to stage (forgive the film?). She shared with us her husband's observation that he has never seen her work this hard for a role. We had to find out more about it, of course.
How are you playing the witch?
In the movie it was more "realistic" kasi kailangan, while Bernadette Peters was more comical. I think what I am going for is a balance between the realistic and the comical. What Joel [Trinidad] is doing right now is rehearsing the big scenes first, but his approach with all of us is he blocks us and he lets us do our thing. I wish I knew at this point what's going to come out, but I don't know yet.
ADVERTISEMENT - CONTINUE READING BELOW
I'm not a mom yet, so I still have to find a way to make that side of the witch real. Right now I think of my niece, because I'm very protective of her and I would do anything for her.
What is your perception of the character?
Her perception of life is colored because of her mother. She didn't receive much kindness in the world and she's holding on to this one thing, si Rapunzel. She didn't have a good example for mothering, so in the end her fear causes her to do things that drives Rapunzel away. But she's still a mother and she wants to hold on to this one good thing. That's the tragedy of the witch. It's so sad. She's such a tragic character!
One of the most challenging parts of the play so far is "Your Fault." It's the scene where the characters try to go back and find out, sino ba talaga ang may kasalanan? Who started the destruction of the land and blah, blah, blah. In the end, umabot sa point na the witch just went, "You know what? I'm outta here." To her, it doesn't even matter anymore because what she's saying in the end is that everyone has their own desire. You go after what you want in life like a job, but because you were able to get it, somebody else didn't. The witch wants the other characters to take responsibility for their desires and she's pointing out that she's not the only one who is bad.
ADVERTISEMENT - CONTINUE READING BELOW
Since the story is a bit dark, what kind of audience are you thinking of when you're rehearsing?
Fans of the music, I think, are definitely excited for the show-the songs are poignant and very good. Aside from them, people will probably bring their kids thinking it's a children's show. I hope the kids don't cry!
What do you love the most about the musical?
There are so many! I can't really say if this is my favorite thing, but I like that it's not about fate. It's not about characters who get whisked away to marry a prince. It's all about decisions and in the end, there's this beautiful, beautiful, beautiful song "You Are Not Alone." There they acknowledge that people make mistakes and that you have to honor your mistakes. It's part of life: You cause something to happen and someone's going to be against that-and it happens to everyone. It's really up to you to at the end of the day to decide what's right for you. And when Cinderella sings it to Little Red Riding Hood, kinikilabutan ako! I think that's my favorite song.
ADVERTISEMENT - CONTINUE READING BELOW
Also read:
Into the Woods to open in Manila in February 2015
MOVIE REVIEW: Into the Woods
Into the Woods will run on Saturdays and Sundays from February 21 to March 15, 2015 at Kasalikasan Garden, Crescent Park West, Bonifacio Global City. Tickets are available at TicketWorld.
Recommended Videos
Load More Stories