Artist Profile: Raffy Napay weaves breathtaking works of art
Get to know the Art Fair Philippines 2016 featured artist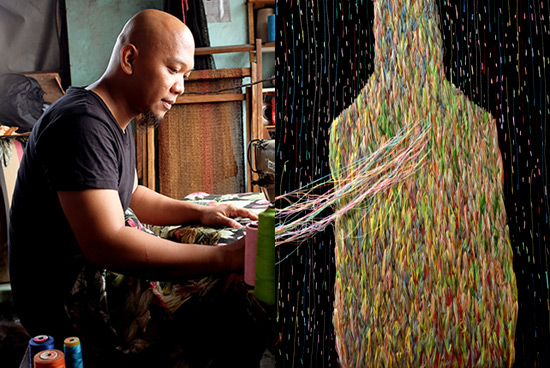 (SPOT.ph) Art Fair Philippines 2016 is back and we know you're as thrilled as we are. Trust us when we say it will blow your mind as you overdose on Philippine contemporary art—in a way you will absolutely love. As the fair draws nearer, we'll keep you in the know on what's in store at this year's Special Exhibits.
Meet Raffy Napay, one of Art Fair Philippines 2016's featured artists.
Also read: 
Sneak Peek: Art Fair Philippines 2016 is bigger and more exciting than ever 
Art Fair Philippines 2016: Artists to Watch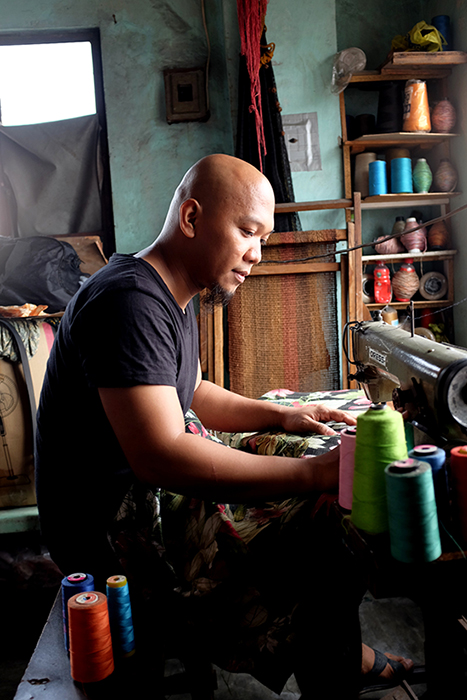 As the middle son of a tricycle driver and a seamstress, Raffy Napay grew up joining art competitions and painting with oils to help with his family's day-to-day needs. One of his early paintings made it to the finals of the Philippine Art Awards in 2008, but after a while, he started feeling suffocated from the funk of working with oils in his confined working space.
ADVERTISEMENT - CONTINUE READING BELOW
He has always loved creating art and has managed to make do with what was readily available. In his drive to submit a piece for the 2010 Philippine Art Awards, Napay asked his mother to teach him how to sew. That's when he found a new friend in thread—along with the endless possibilities it laid before him as an artist. His work, "Ang Mananahi ng Buhay at ang Makinang na Makina," a portrait of his parents done with crisscrossed, layered stitches on canvas, earned the nods of the jurors.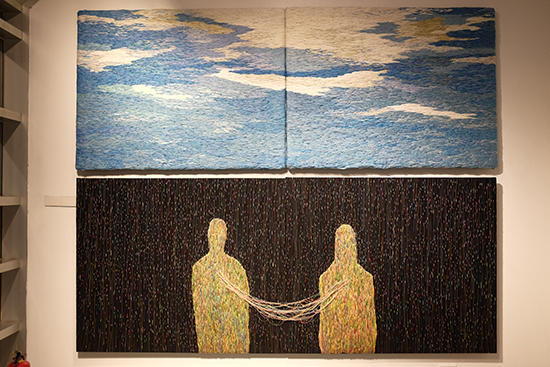 CONTINUE READING BELOW
Recommended Videos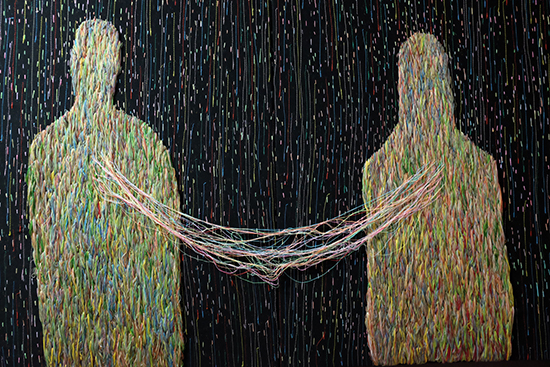 ADVERTISEMENT - CONTINUE READING BELOW

Since then, thread became Raffy Napay's medium of choice. "I felt my options—the styles that I could adopt as an artist—expanded with the use of thread and fabric. Walang limitations. I've always been experimental anyway, always wanting my succeeding works to rise to a level above the previous ones," Raffy told Town&Country in 2014.
As artistic mediums, thread is to oil as paint is to water; they are incomparable. You must not look at seams as a substandard replacements for pigment. Napay's body of work involves meticulous attention to detail. It starts off slow and meditative, executed one stitch at a time—fastidious until it gives birth to a piece of symbolic expression.
His signature styles of stitching, tufting, and weaving thread and scrap fabric onto canvas have already been knitted into the Filipino art scene. Napay gives new depth to wall-mounted canvases—a totally different dimension from paint—with intricately sewn, uneven fringes of colorful fibers. The required skill is very technical, that's one way of looking at it. Or one could see that his creations are the extension of the canvas (it's made of thread, after all). The artist stretches these simple materials to express his personal journey and in the process tells a visual story.
ADVERTISEMENT - CONTINUE READING BELOW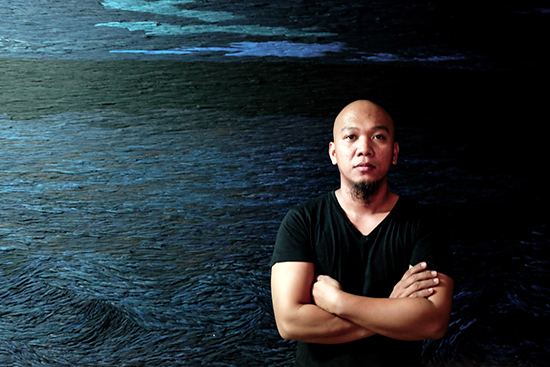 In 2013, Napay won the Ateneo Art Awards with his exhibit composed entirely of creations from thread and patches of cloth, Thread Experience. This earned him a residency grant in Liverpool Hope University, England. He's also a recipient of the 2015 Florence Biennale's International "Lorenzo il Magnifico" Award for Textile Art.
Stay tuned as we tell you more about the featured artists' bright minds as we move closer to Art Fair Philippines 2016!
Also read: 
Sneak Peek: Art Fair Philippines 2016 is bigger and more exciting than ever 
Art Fair Philippines 2016: Artists to Watch
Art Fair Philippines 2016 is happening from February 18 to 21, 10 a.m. to 9 p.m. at 5/F to 7/F The Link, Ayala Center, Makati City. For more information, visit Art Fair Philippines' website.
Share this story with your friends!
---
Help us make Spot.ph better!
Take the short survey
Load More Stories