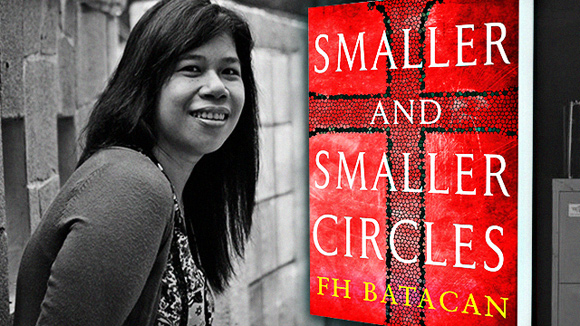 (SPOT.ph) When a movie still of Smaller and Smaller Circles started circulating online in June, we could not believe our eyes. The Philippines' first detective novel—in all its mutilated-body and maggot-swarmed glory—is coming to life, and it'll be produced by the makers of Heneral Luna. We can already imagine how effectively they'd portray the omnipresent stench of Payatas, the gripping scenes of the murders, and the mind-boggling chase between the serial killer and the Jesuit priests-turned-sleuths Gus Saenz and Jerome Lucero.
This is the world that the best-selling novel's author F.H. Batacan first created.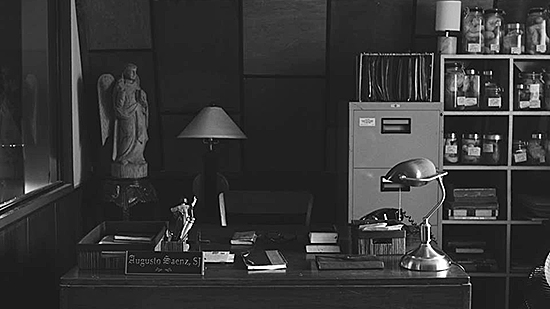 ADVERTISEMENT - CONTINUE READING BELOW
Smaller and Smaller Circles started out as a 35,000-word manuscript that won the 1999 Carlos Palanca Memorial Award for Best English Novel, the 2002 Madrigal-Gonzalez Best First Book Award, and the 2003 Manila Critics' Circle National Book Award for Fiction. It was published as a novella in September 2002, and then expanded into its current version produced by New York City-based publisher Soho Press in August 2015. In the Soho Press website, associate publisher Juliet Grames explained, "I knew the format was not quite what the global crime fiction audience expects in a novel—it was rather short—so I approached Ichi (Editor's Note: Ichi is F.H. Batacan's nickname) to see if she would be willing to tell more of the priests' story. As it turned out, she had already considered such a story expansion, and immediately got to work on what would become the finished manuscript of the Soho edition."
ADVERTISEMENT - CONTINUE READING BELOW
Recommended Videos
In an e-mail interview with SPOT.ph, now Singapore-based Batacan revealed how the book took shape and how "things took off very quickly in [her] absence."
Who is F.H. Batacan?
I'm an ordinary person, an ordinary Filipino, who writes as a form of protest, as a way of interrogating my society, my faith, my world. I don't claim to speak for anyone but myself. I don't imagine that my work is going to change the system. I write because it is one of the few ways in this world and this life that I am ever going to have a voice.
What was the inspiration behind Smaller and Smaller Circles?
I worked in a government intelligence agency for nearly a decade and at some point found myself incredibly frustrated and angry about the complacency and corruption I saw in my workplace. I wanted to bolt, but at the same time there was the sense of inis-talo—that you have to stand your ground and do what you think is right, even if only to annoy certain people. I was struggling with insomnia and anger one night and I just sat down at my computer then started banging out that first scene in the book. And I just kept going. I think that scene—the discovery of a decomposing body in the dump—must have been analogous to the kind of rot I was seeing every day at work.
ADVERTISEMENT - CONTINUE READING BELOW
Time was always a challenge, with the first version as with the expanded Soho version. I'm not by nature a fast writer or a very disciplined one. Real life always got in the way, especially when I was working on the Soho version, because by then I was resettling in Manila, raising a child, looking for a job.
The book's acknowledged as the first "Western-style" Filipino crime novel because of the methodical approach of the serial killer. How did you choose this form?
I didn't consciously choose this form, to be honest. I didn't sit down at my computer one night thinking, "I'm going to write a crime novel." Much of the first version of the book was written, well, almost on instinct; I just kept going where the story took me.
At the time I first started writing it, back in 1996, there was a lot less information available on the Internet for the kind of writing that it eventually turned out to be. So I read any books I could get my hands on, even encyclopedias, boring old technical manuals. I experimented—simple things such as acting out movements, like defending yourself from attack or striking someone with a rock. And of course I also drew on my own experience of the prevailing mindsets and attitudes in my agency and other agencies I came in contact with.
ADVERTISEMENT - CONTINUE READING BELOW
What are your influences as a fiction writer?
I've been a working television producer for longer than I've been writing fiction. I think that's been a huge influence on how I write, in the sense that I consciously try to write visually—it's the reverse of writing for television, where you write to pictures, you let them tell as much of the story as they can. In print you don't have the luxury of pictures, so you try to paint those pictures with words instead.
From a very young age my parents used to let me watch the films and the television shows that they themselves enjoyed, and most of those were thrillers, cop shows—The Professionals, Ironside, The Streets of San Francisco, The Sweeney, Columbo, Baretta, Quincy M.E., Hawaii Five-O. Three Days of the Condor, the French Connection films. So much of the way I write is connected to the way I put words to images in my head, and that is tied very much to these formative years.
ADVERTISEMENT - CONTINUE READING BELOW
And of course I read a lot of crime fiction and thrillers—anyone from Marsh to Highsmith, Lehane, Kirino, Sjöwall andWahlöö, Mankell, le Carré, Miyabe. So many great ones, so many new ones to discover. You have to try and learn from it all.
How do you feel about the upcoming movie adaptation of Smaller and Smaller Circles?
The film adaptation was completely unexpected. I never had huge ambitions for the book, so its journey has been a very surprising and very satisfying one. I often say this book has had a life out in the world quite independent from me. I have been busy with my own life while it has been on a journey of its own.
Photos from Smaller and Smaller Circles' and F. H. Batacan's Facebook pages
Share this story with your friends!
---
Help us make Spot.ph better!
Take the short survey
Load More Stories