15 Minutes with Jacqueline Hughes and Carly Anderson, Stars of Wicked in Manila
They reveal their pinch-me moments, "greenifying" process, and traits they share with their respective characters.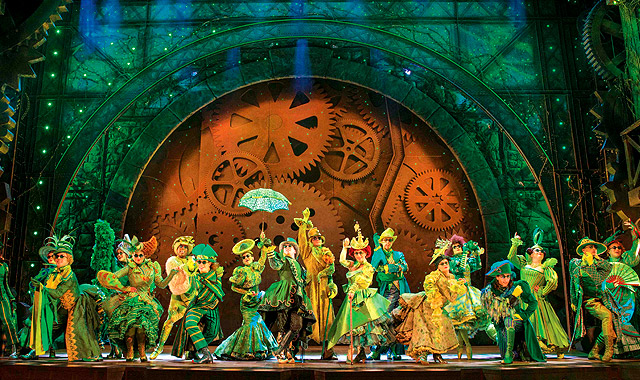 (SPOT.ph) Award-winning Broadway and West End musical, Wicked, first came to Manila in 2014 and fans came to the gala performance in full on Oz costume. In case you weren't there to watch this fantastic show, then you're in luck as Elphaba, Glinda, and the whole gang fly back to our country to stage Wicked once again in February 2017 at The Theatre at Solaire in Parañaque City. By the way, it'll be with the original production, which is coming direct from international tours in the United Kingdom and Ireland.
ADVERTISEMENT - CONTINUE READING BELOW
Wicked, with music and lyrics by Stephen Schwartz and theatrical adaptation by Winnie Holzman, is based on the novel Wicked: The Life and Times of the Wicked Witch of the West by Gregory Maguire. The whole thing is a retelling of the tale and characters once created by L. Frank Baum in the children's book The Wonderful Wizard of Oz. It follows the unlikely but profound friendship between two sorcery students—popular girl Glinda (Carly Anderson) and green-skinned girl Elphaba (Jacqueline Hughes).
Taking a break from rehearsals, the two actors came to the Philippines this week to answer questions in a press conference today, September 2, at the Diamond Hotel in Manila. They reveal their pinch-me moments, "greenifying" process, and traits they share with their respective characters—all before they fly back to Oz tomorrow on their broomsticks.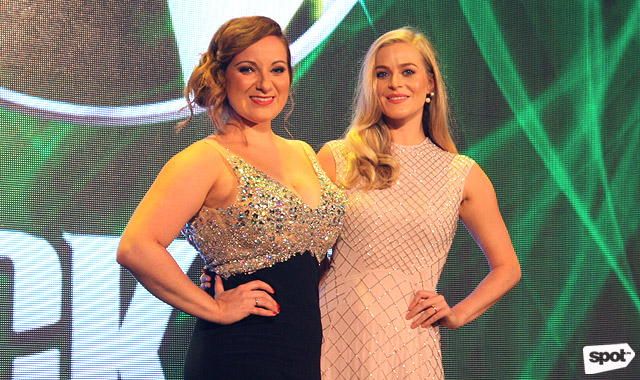 ADVERTISEMENT - CONTINUE READING BELOW
Jacqueline Hughes (as Elphaba) and Carly Anderson (as Glinda)
From your own perspective, what would you say Wicked is all about?
Jacqueline Hughes: Wicked tells the story of two sorcery students who are in university. Both Elphaba and Glinda, they go on in this incredible journey of love, friendship, acceptance, discovery...and by the end, they are both the best of friends. And it really is a true story of friendship.
Were there any particular requirements asked of you before you decided to take the role of Elphaba and Glinda—"must be willing to spend the night in green make-up"?
Hughes: The green thing sort of just comes with the job, it is sort of expected. Definitely being able to sing these huge, huge song numbers is a requirement.
Carly Anderson: When my agent called me, I screamed very loudly on the phone. It's just such an honor to be part of Wicked. And it's something that, I think, both of us dreamed for a long time now. We're very lucky to be here.
ADVERTISEMENT - CONTINUE READING BELOW
What was it like preparing, emotionally?
Hughes: I have been very fortunate of being with Wicked for five and a half years now. I joined the London company [in the] beginning of 2011. I started off as "Swing" in the New York song book. So I've had a huge journey with Wicked. And Elphaba being the ultimate goal and I managed to have it myself. I feel very fortunate and very, very lucky.
Anderson: Wicked was the first West End musical I ever saw when I was 17. I cried pretty much through the whole way of Act I, and towards the end of Act II as well. So I remember leaving the theaters that evening and I said to myself, "I really want to play that part one day." And I never actually thought that it would happen so every evening is...yeah, coming  onstage and doing the show is a pinch-me moment definitely.
ADVERTISEMENT - CONTINUE READING BELOW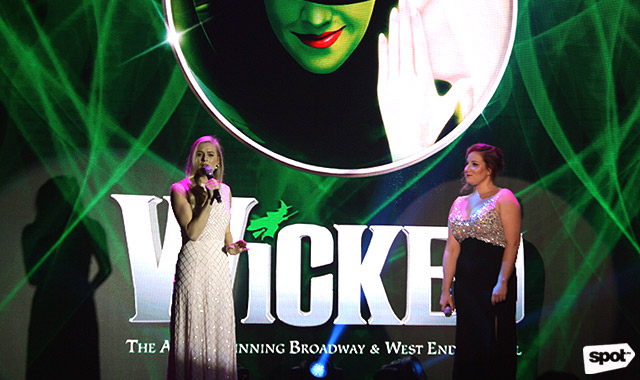 How do you tackle the underlying issues of bullying and acceptance in this show and in your personal stories as well?
Anderson: Wicked's a fantastic show. And it's such an honor to have this platform in these roles to be able to tell people about these fantastic morals that are within Wicked. We deal with anti-bullying, discrimination, and it's amazing to be able to teach people that it's okay to be different. It's okay to have different opinions and different views.
ADVERTISEMENT - CONTINUE READING BELOW
Hughes: Also, Elpheba is obviously green and obviously different. So what I admire about Elpheba is that she is tough, and that she takes on so much. She's unique. She's proud to be different. What is different? Who defines that? I think it's a matter of everyone else accepting. Be proud of you who are. Be unique. Be you.
How long does it take to put on that green makeup?
Hughes: It takes probably about 30 minutes. We have a wonderful team of makeup artists who come in and help with the "greenifying" process. And they do it all for me. So I just get to sit there and chat. We have eye shadows, blushers, green lipstick. We've got everything.
How big a part of you is Elphaba? Glinda?
Hughes: Elphaba is a dreamer, especially in her younger years before she reached university. Me being a Pisces, I am definitely there, we have the same traits. However, she is incredibly tough, and incredibly powerful. I aspire to have that trait. She's quite feisty, hot-headed. Being from Scotland, I think I may have a bit that. She's funny, she's witty. I think I share that, I hope.
ADVERTISEMENT - CONTINUE READING BELOW
Anderson: There are a lot of personality traits that I share with Glinda, some of which I will not admit to. But she's extremely ambitious. And I think being in this industry, that's definitely something I share with her. And I probably have the same love for shoes that she does. She's extremely bubbly. What I really adore about Glinda is that...those moments that I get a laugh. Her being extremely innocent, and honest, I adore that. She has a huge heart, a really warm heart.
Wicked opens on February 2, 2017 at The Theatre at Solaire, Solaire Resort and Casino, Aseana Avenue, Parañaque City. Tickets are priced at P7,000, P5,800, P4,500, P3,350, and P1,750, available through Ticketworld.
Recommended Videos
Load More Stories