On the Spot: Garapata Man creator Dex Fernandez on being scared of empty spaces and staying in the mood to paint
His site-specific mural is on exhibit at the Singapore Art Museum.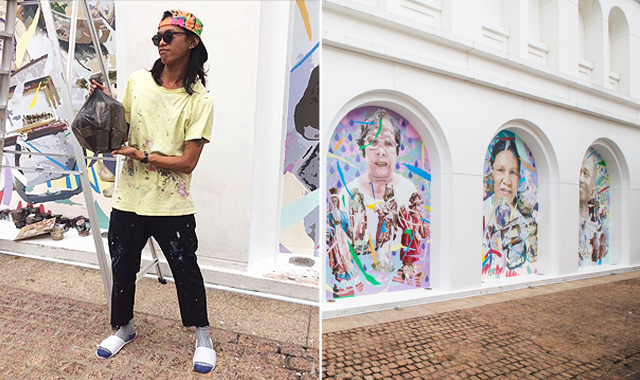 (SPOT.ph) You may have seen one of Dex Fernandez's creations on a lamppost, on the back of a bus seat, or even under a bench of a sari-sari store. He's the artist behind Garapata Man, a round and multi-legged creature that's reminiscent of the small arachnid also known as a tick. Creatively executed as stickers, graffiti, and murals, Garapata Man has become an urban icon, conquering the streets of Metro Manila, the U.S., Taiwan, Indonesia, and Japan. Yes, this lanky and long-haired artist is making his way around the world, being invited for solo exhibits in the most prestigious galleries and receiving residency grants from art institutions.  
Fernandez, now 32, identifies himself as an interdisciplinary artist. Six years after he graduated with a Fine Arts degree in Advertising from the Technological University of the Philippines in 2005, he received back-to-back artist residencies from the Vermont Studio Center in the U.S., Ping Pong Art Space in Taipei, Lir Art Space in Yogyakarta, Asian Cultural Council in New York, and Ongoing Art Center in Tokyo.
ADVERTISEMENT - CONTINUE READING BELOW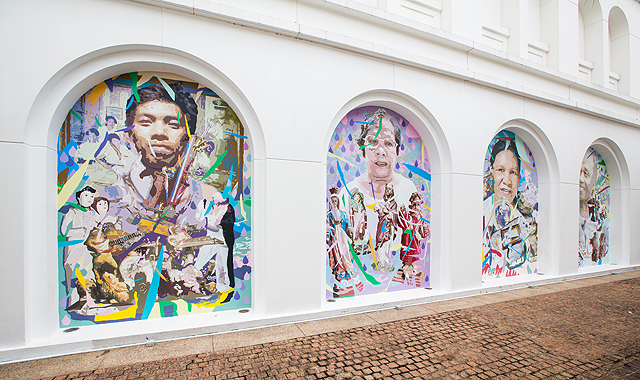 CONTINUE READING BELOW
Recommended Videos
"I Wander, I Wonder" (Singapore Art Museum, 2016)
This year, his artwork titled "I Wander, I Wonder" graces Singapore Biennale, one of Asia's leading contemporary visual arts exhibitions. The site-specific mural reflects on the Philippines' reality of being prone to typhoons, disastrous floods, and nationwide calamities. "In a typical Filipino home, you'll find objects that might seem out of place and without rational purpose, but are safely kept as memorabilia that reflects the keeper's desires and interests," he claims. "I Wander, I Wonder" uses these unnecessary objects as inspiration and explores how the items describe the Filipino lifestyle.
Fernandez took the time off from his busy schedule—probably posting Garapata Man stickers all over Clarke Quay—to answer some of our queries about his life as an artist.
What's the general theme of your works?
I can't say that there is a general theme in my works, but I'm thinking this could be the way the world looks like if it was set on psychedelic drugs. I love adding lots of layers on my picture. I'm scared of empty spaces so I fill in everything such as forms, shapes, colors, abstract geometry, characters and creatures that reflect the memories from the past, current or even future. The illustrations and texts tend to correspond to the images.
ADVERTISEMENT - CONTINUE READING BELOW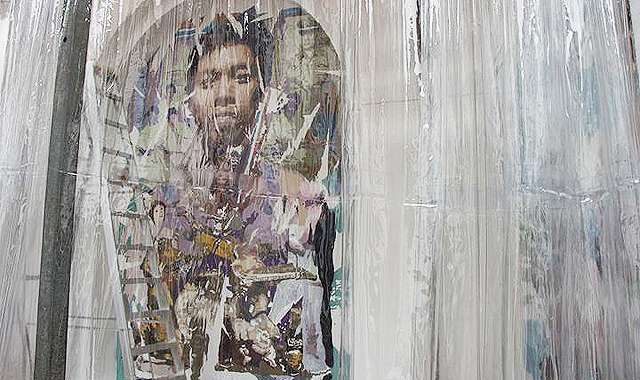 What's your primary medium?
I'm still in the process of developing my medium. There is a lot of experimentation to come. Painting on a photograph print is really fun and I also tend to apply thread works and collages on it. I think I get easily bored of a plain medium so I come up with this idea of mixed media on photograph print. I could say that's my primary medium. On the other hand, I also love doing mural paintings and line drawings in a spontaneous approach.
ADVERTISEMENT - CONTINUE READING BELOW
Where do you get your inspiration and ideas?
Simple things inspire me. I tend to set and dissect the layers and explode it on frame to let the audience decipher it. Sometimes I am selfish by not giving them all the information.
Describe a regular day when you're working on a project.
I give my full focus when I am intensely painting a mural. It is like meditation to me. I feel like I am on a trance, as if I'm high on something because that's how I work on my art. I have no ritual, as long as I'm in the mood to paint, it means fun time.
Singapore Biennale 2016: Atlas of Mirrors runs until February 26, 2017 in various locations including the Singapore Art Museum, SAM at 8Q, Asian Civilizations Museum, de Suantio Gallery at Singapore Management University, National Museum of Singapore, Stamford Green, and Peranakan Museum. For more information, visit Singapore Biennale's official website.
ADVERTISEMENT - CONTINUE READING BELOW
Share this story with your friends!
---
Help us make Spot.ph better!
Take the short survey
Load More Stories