How Art Restoration Is an Art in Itself, Especially in the Philippines
Annali Garcia revives pieces with expert precision.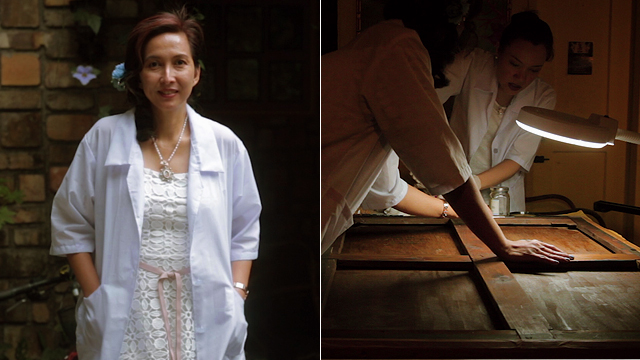 (SPOT.ph) When you walk into Annali Garcia's home in Quezon City, you get a distinct feeling that you've stepped through a portal which leads to a Mediterranean villa. Though she lives a stone's throw away from a major thoroughfare, often clogged and noisy, there is a distinct peacefulness that inhabits her studio, which is also her home. Suddenly you don't feel like you're in a city at all. And decidedly so: It is important to this seasoned painter and art restorer to cultivate a serene atmosphere—much like the ones in which her Italian maestros instructed her.
ADVERTISEMENT - CONTINUE READING BELOW
Having been educated first as an interior designer in the Philippines, Annali became wary of her colleagues' career-fatigue. Armed with a love of art, which came about during her teenage years at JASMS, a non-traditional, progressive school in West Triangle—she left her steady job and pursued a Master of Fine Arts degree at the Universidad de Salamanca in Spain.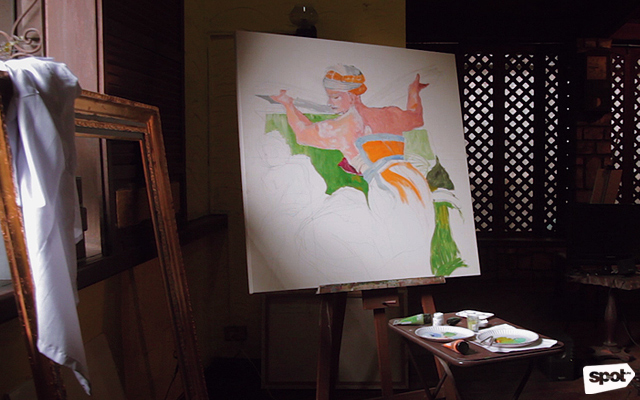 ADVERTISEMENT - CONTINUE READING BELOW
On her patio, she serves guests herself, pouring home-brewed coffee into hand-painted blue and white porcelain vessels with dainty embellished handles. Even the dollops of organic honey she swirls into the artisanal coffee cups say something about the way she marches to her own drum. Unusual as it is, it's no surprise that this art restorer who adds 21st Century paint and resin to pieces that are older than our nation, would be open to the idea of combining two seemingly dissonant elements to produce something beautiful.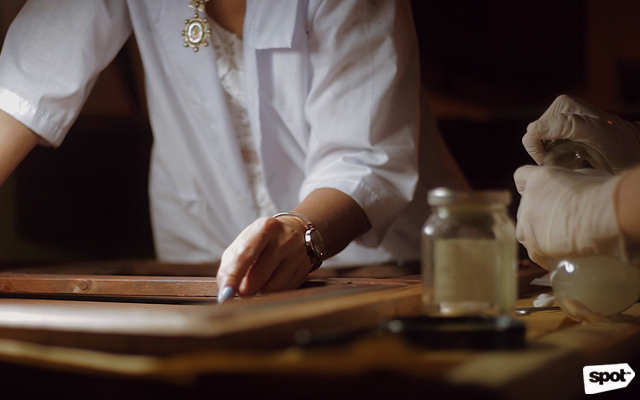 ADVERTISEMENT - CONTINUE READING BELOW
Likewise, she combines her foreign education with her love of local art. Especially because of the Philippine climate—resulting in humidity, flooding, and other inclement weather—art in this country endures much damage, and therefore, needs much restoration.
Annali cites a heavy altar that she recently restored. It could not be moved from the home where it was situated, because of its weight. And so, she recruited the estate's gardener to act as her apprentice during the restoration. This man, who had no formal education, but an eye for aesthetics, took to the skill well. Now, to Annali's delight, the owner of the altar no longer has to call on her for each minor repair, since the gardener is capable of fixing small damages himself.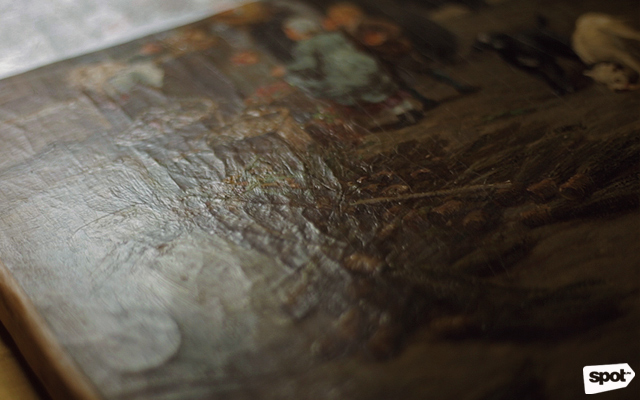 ADVERTISEMENT - CONTINUE READING BELOW
When she's not restoring art on-site, Annali is working from home. Just beyond the orchid-shaded patio is her studio. The sprawling, sunlit room is a workspace that is seamlessly embedded in her living quarters. Every nook has been charmingly overtaken by art restoration materials.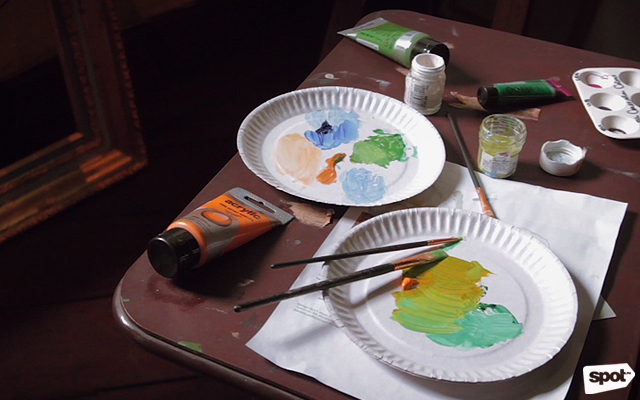 Instead of a television, a large easel and canvas are situated in the corner of the sala. There, her assistant mixes pigments to match the color of flesh on an existing painting. Nearby, where a couch should be, there is a hefty frame half-covered in gold foil—one of her projects in progress. Next to that, a coffee table holds trays full of paint, brushes, and rubber gloves—which Annali and her assistant wear in order to protect the pieces they are restoring, and to protect themselves from the sometimes-harsh chemicals they handle. These chemicals can be found lined up on a former computer desk: paint-healing potions in glass jars sit beside an adorably tiny iron.
ADVERTISEMENT - CONTINUE READING BELOW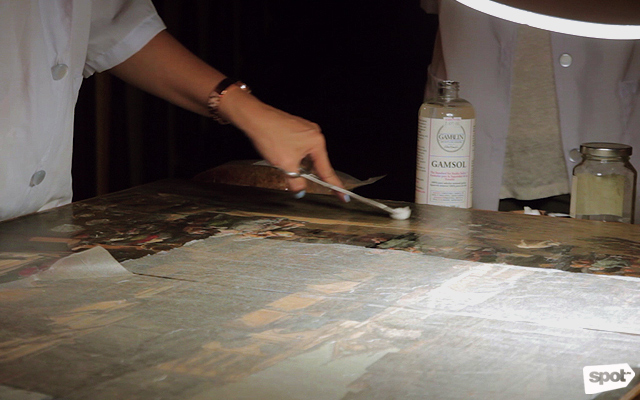 Together, these elements are the secret to Annali's success. They are the tools she uses to revive centuries-old art, with expert precision.
On the day of the interview, her dining table has been converted into a workbench. There, a 19th Century European painting is dressed in delicate Japanese paper. The waxy sheet acts as a shield for when an iron is passed over the artwork to seal paint cracks shut. Annali peels it back to reveal a street scene outside a glowing cathedral. Even mid-restoration, it is breathtaking. The artist—whose name she wants to keep anonymous, in deference to her client's privacy—has work gracing the walls of Paris' famed museum, the Louvre.
ADVERTISEMENT - CONTINUE READING BELOW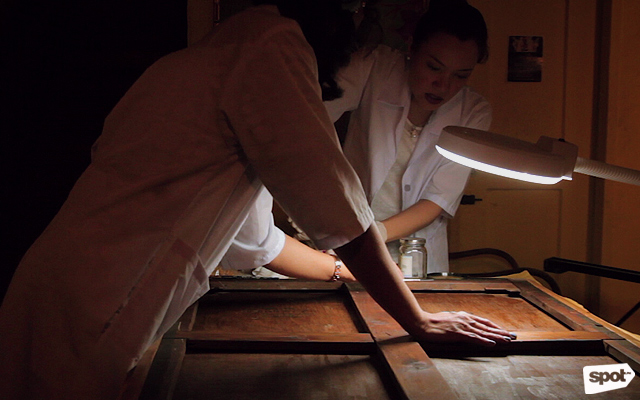 But restoration doesn't start or end at the canvas. To fix a piece of art requires lots of research in order to "respect what the original artist was doing," as Annali says. It also requires the technical skills of a scientist since "paintings are organic matter [which] degrade," and need expert technical attention to be revived. Moreover, it requires communication skills in order to keep up with the methodical documentation required of each piece.
ADVERTISEMENT - CONTINUE READING BELOW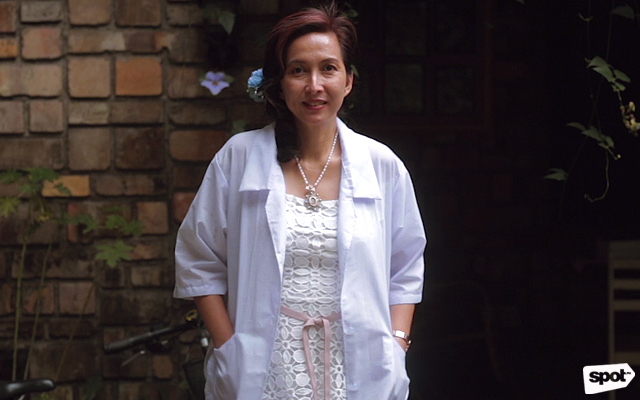 With her white eyelet dress revealing her delicate collarbones, and a powder blue flower adorning her side-braided hair, Annali does not seem like a conqueror. And yet there is something warrior-like in her pride about Philippine art. A successful painter herself, with a collection in the works, she looks up to native masters like Juan Luna, Félix Hidalgo, and Fernando Amorsolo. Despite the country's strong painting tradition, one of her driving motivations for locating her art restoration business in the Philippines despite being established in Europe, is that "there's so much heritage in this country that remains unappreciated."
ADVERTISEMENT - CONTINUE READING BELOW
For inquiries, contact Bottega di Anna at 281-7774, 0905-458-2850, or e-mail conservationart2020@gmail.com.
Photos by Elaine Villanueva
Recommended Videos
Load More Stories