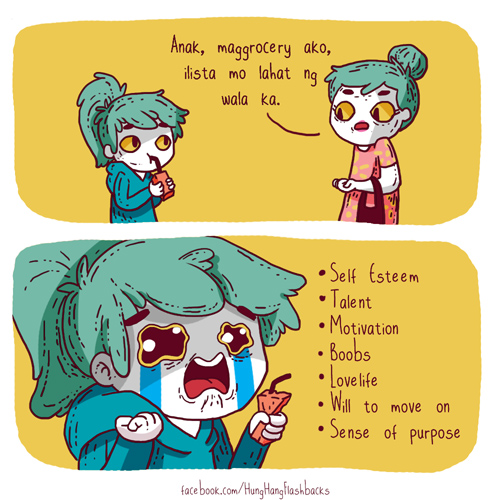 (SPOT.ph) How does your special someone inspire you? For one guy, the result of his girlfriend's incessant nagging was a 100,000++ Likes-strong web comics series called Hunghang Flashbacks. It draws from everyday awkward moments like responding to a fist bump with a high five, cheesy pickup lines including the annoying "sa puso ko" statements, and even dumb puns. Who can't relate to that? We can, for sure.
We got in touch with the brains behind the project—D. Borja, a licensed nurse who ended up becoming a creative designer—to find out how he came up with all the "wholesome kahunghangans" on his Facebook page.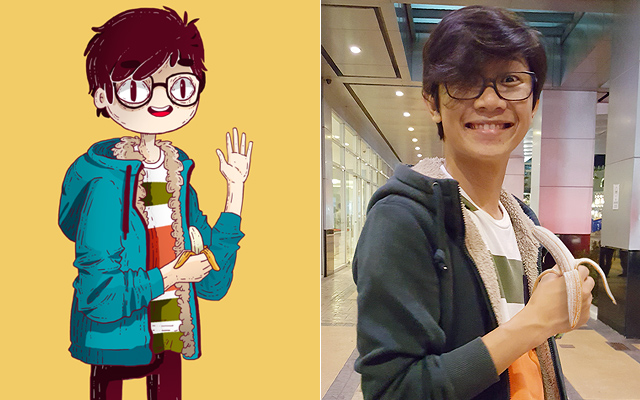 How did you get into art?
Ever since I was a kid [I've been] the go-to person for any art-related tasks. My teachers' default choice for an art contest rep was me. I am easily inspired by other artists and I try to make my own version of almost anything that blows my mind. I've always wanted to be a flexible, Jack-of-all-trades kind of artist. I am self-taught in most things because I think art is something that you really discover on your own. When I was a kid I only doodled on notebooks, but now I'm into watercolor, murals, lettering, digital arts, photography, animation, and I'm even looking for tattoo apprenticeship.   
ADVERTISEMENT - CONTINUE READING BELOW
I graduated as a nursing student at Centro Escolar University in Makati. I passed the board but never really practiced it though. From my first job and also freelancing, I saved enough and then took courses for digital arts, illustration, web design, and web programming at CIIT College of Arts and Technology.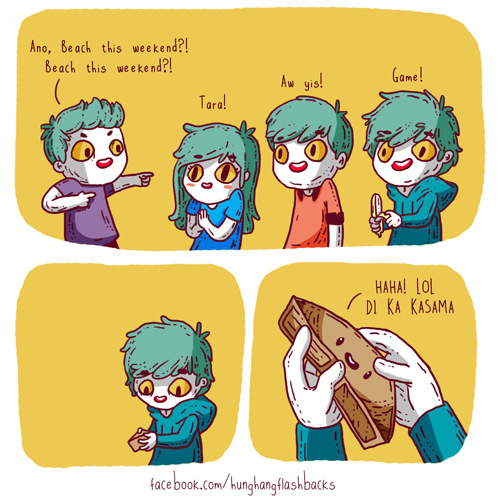 Who are your influences?
I really love the silent and disturbing comics of Joan Cornella, the humor is inexplicably entertaining. Kerby Rosanes, Joseph Catimbang, Manix Abrera, and Margaret Morales are also just some amazing Filipino artists off the top of my head. Seeing their works really fires me up. I also follow a lot (A LOT) of art accounts on Instagram that inspire me every day, Jared Muralt and Kim Jung Gi to name a couple.
For the ideas, I hang out a lot on Tumblr and Tapastic so I guess some of my ideas are mashed up from what I [see] there. Four Panel Life, Little Things PH, Mr. Lovenstein, and Fail by Error are some of the witty ones. But bottom line, it's the stories from my friends and actual experiences that lead me to creating the comic, and that's why I call it Flashbacks. 
CONTINUE READING BELOW
Recommended Videos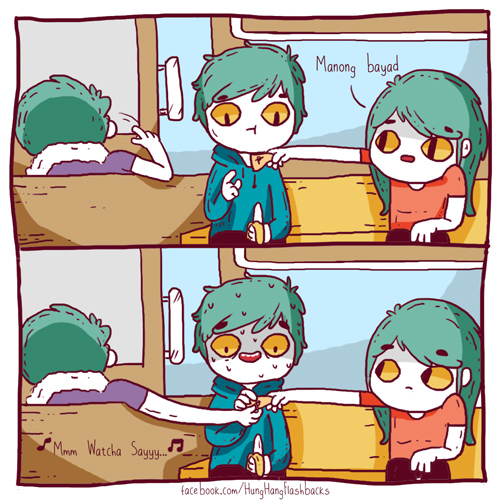 How would you describe your style?
I'd describe my style as flexible and funky. I used a unique color palette that easily grabs people's attention. Who wouldn't be curious about the stories of green-haired, yellow-eyed, white-skinned, adorable dorks? I try to change the comic style depending on the joke. Some ideas work best through GIFs, because really, it creates more drama with an actual blinking cartoon than just putting the text: *blinks rapidly*.
I created twin characters since I want everyone to be able to relate. I'd use the girl for flirty encounters, and the boy for the awkward ones. It all comes down to how I want my stories to connect with the general public, regardless of gender and age.
I also like creating silent comics, or one-panel episodes. I even have a Meta Monday episode where the comics become self-aware. I'm also trying to put my animation skills to the test. If a joke can be funny with just the idea, might as well just tweet it, right? 
ADVERTISEMENT - CONTINUE READING BELOW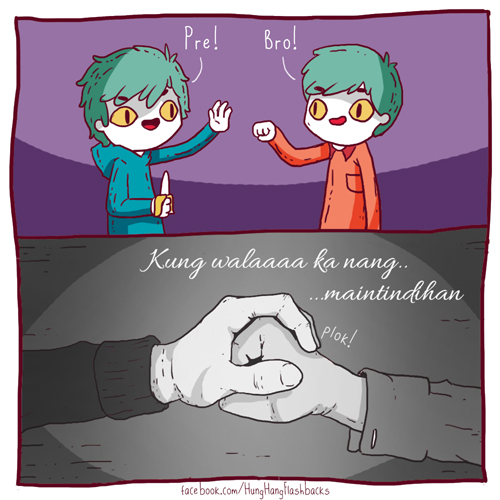 When did you put up your Facebook page, Hunghang Flashbacks?
I put it up on December 5, 2016 when my girlfriend found this Facebook comic page that got a ton of likes overnight. It's called Shortless and it's super awesome. She nagged me (like, a lot) that I could have done something similar if only I didn't stop drawing. So to prove a point, I created Hunghang Flashbacks secretly and waited until it reached around 5,000 likes, asked her if she think it's funny, wait for her to nag me again, and then revealed that it was actually me. Yes, I was actually just that petty. So now, we're both running it. It's all thanks to her and Shortless.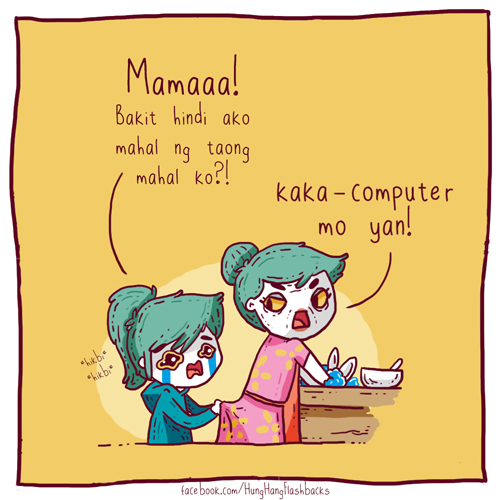 ADVERTISEMENT - CONTINUE READING BELOW
Why "Hunghang Flashbacks"?
A lot of people [have] asked me this and it's a little hard to answer sometimes. It's called Flashbacks because most comics were based on "Naalala mo dati?" moments. It was actually supposed to be something like Girlfriend Flashbacks or Anne's Flashbacks as inspired by my partner. But I didn't want it to be gender-specific. I want as [many] people to relate to it as possible, so I was supposed to think of a gender-neutral name. A friend saw my drawings and said "Haha. Mukha siyang hunghang," so I used it for the meantime. Then, I got lazy. I realized I could have changed it to Dorky Flashbacks or something. But I don't think I want to change it now, since people love it as it is.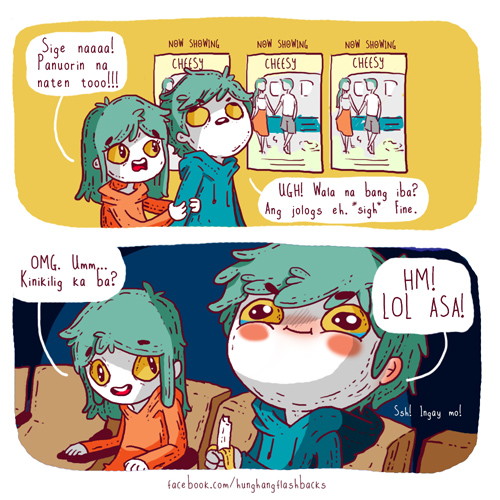 What's your inspiration behind the comic strips?
My girlfriend, really. The theme where the characters openly flirt with each other with bad pickup lines are actual flashbacks of us back in the day. She's also very goofy in a way; she embraces her insecurities and laughs at/with them, instead of wanting to change [things]. I think it's a super cool and charming way of looking at things. Hopefully, the effect on the readers is similar. Some of the ideas actually came from her.
ADVERTISEMENT - CONTINUE READING BELOW
Basically, the themes revolve around relatable awkward moments, witty puns, and flirty moments with crushes, because who doesn't have one?
You can follow Hunghang Flashbacks on Facebook.
Share this story with your friends!
---
Help us make Spot.ph better!
Take the short survey
Load More Stories