This Ilokano dancer's journey to Miss Saigon was written in the stars
He tells us how he went from working in a cruise to landing the major role!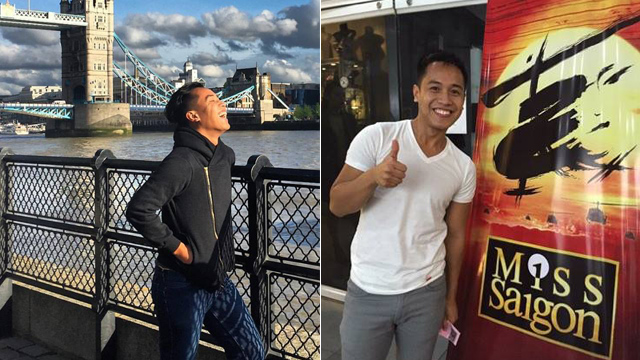 (L) Winchester Lopez in London for the U.K. Tour; (R) At the Miss Saigon auditions
(SPOT.ph) Winchester Lopez, a dancer from Balaoan, La Union and proud Ilokano, believes in signs and his audition for the Swing role in Miss Saigon was filled with these. "The whole year may mga sign po akong nakikita. 'Yong heart ko ay gusto talagang mag-Miss Saigon," he tells SPOT.ph a day before leaving for London for the U.K. Tour of the legendary musical. He even sent photos to prove it.
ADVERTISEMENT - CONTINUE READING BELOW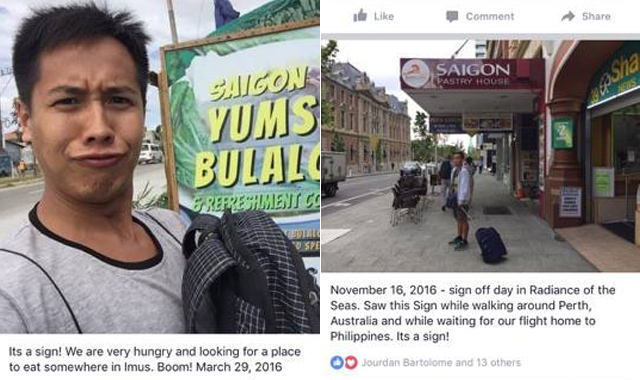 But of course, it's not all happenstance because Lopez has been working hard as an artist for as long as he can remember. "My first teacher in dance and performing is my mom, Leticia Lopez," he reveals. He went on to become a runner-up in the Solo Voice Category for the National Music Competition for Young Artists when he was in Grade 3 at Balaoan Central School in La Union. He then moved to St. Martin School in Baguio City where he became a soloist singer and dancer. By high school, he was ready to learn from the best and earned a dance scholarship from the Philippine High School for the Arts in Laguna. Though he took a course in Anthropology in college, he didn't forget his passion and joined the UP Filipiniana Dance Group of the state university. He later became a principal dancer and faculty of Douglas Nierras' Powerdance, an internationally-recognized dance company based in Quezon City.
ADVERTISEMENT - CONTINUE READING BELOW
Lopez has been a professional jazz and contemporary dance artist for more than 13 years and snagging a part in Miss Saigon is just the start of something bigger in his career. We learn more about him and the tough role he's about to play.
Can you tell us more about your role?
My role is Swing. Personally, this is the most challenging and toughest role in a musical. Swing means that you have to learn and cover the ensemble tracks, it's like an understudy for the chorus parts. So during the tour, I may cover six different tracks/parts/role or more, including different harmonies, choreography, dialogue, music, spacing, et cetera, when someone gets sick, injured, or on vacation. The best part is that sometimes you get to go onstage within an hour's notice. It is challenging but I'm so ready to rock and roll.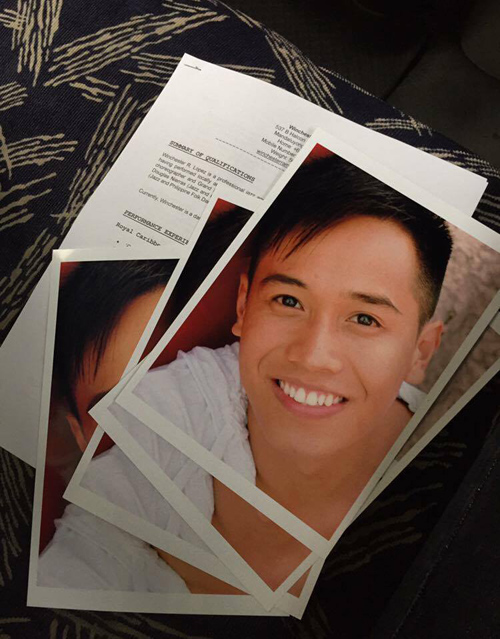 ADVERTISEMENT - CONTINUE READING BELOW
How did you audition for Miss Saigon?
I was on my vacation here in the Philippines coming from an eight-month contract with Royal Caribbean Cruise Line as a dancer when I learned about the audition. Les Miserables was ongoing at that time in Solaire and the producer of the show—who happens to be the same producer of Miss Saigon—was in town so they held an audition here in the Philippines. They were casting for the U.K. and Ireland tour, Broadway, and Germany productions. Most of my friends posted on Facebook about the audition. Some of them came home from other countries and invited me. Truth be told, I had no plans of auditioning because I'm not that confident in singing. One of my good friends tagged me along and I just found myself rehearsing with our pianist friend.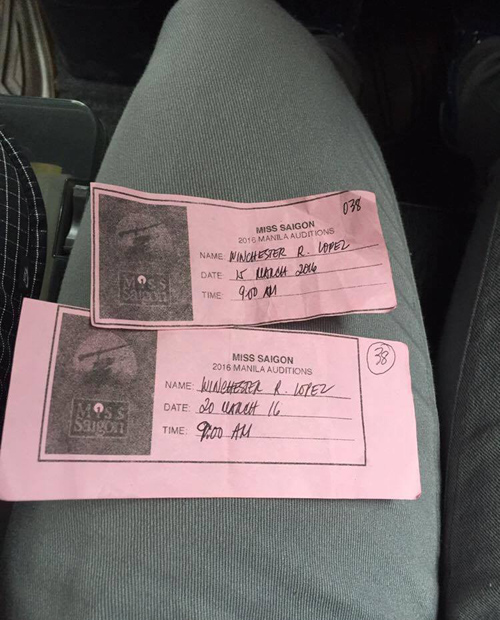 ADVERTISEMENT - CONTINUE READING BELOW
Lopez' sought-after callback slips
Fast-forward to March 2016, we went to the audition venue, Opera House in Makati, around 6:30 a.m. and the line was already long. We filled out the application form and wrote "auditioning for ensemble." First part of the audition was singing. I was feeling edgy. I sang the last eight measures of "Why God Why?" of Miss Saigon in the audition room for less than two minutes. After waiting outside with the rest of the auditionees, I got a callback slip for a dance audition. I felt confident because it's absolutely my wheelhouse—a dance audition which I was trained for.
The next round was four days later. They taught us dance combinations from the show and let us sing "This is the Hour" one by one and then as a group. I got goosebumps while singing with everyone. It felt like I was already in U.K. rehearsing. Once it [was] over, they just said, "Thank you, good job..." and told us to wait for their e-mail.
ADVERTISEMENT - CONTINUE READING BELOW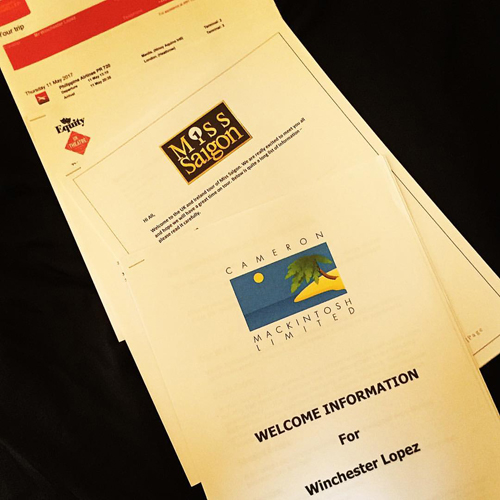 When did you learn that you snagged the role?
I waited for almost a year. I was rehearsing in Miami for another eight-month contract with Royal Caribbean Productions (RCCL) rehearsal when I received an e-mail from the casting director in April. He said they [were] considering me, [asked] if I can speak German, and if I [had] any work commitments in 2017. I told them I cannot speak German but am willing to learn and that I have no commitments starting November. I was thrilled and surprised!
ADVERTISEMENT - CONTINUE READING BELOW
In the middle of my contract with Royal Caribbean Cruise Line, I received another e-mail, around October, informing me that they'll start the U.K. audition for Miss Saigon in November and they are still very much considering me for the show. I finished my contract with RCCL a month later without any assignment. I was of course worried that I won't have work for months. But on the one hand, I didn't request any contract because I was waiting for it. I really wanted to be a part of Miss Saigon. In my heart, there is a chance that I'll get in. My contract ended in November and I went back home to Philippines for vacation. I had no work for almost three months—only side gigs—and I thought of requesting a contract with RCCL. I was worried. Come Valentine's Day in 2017, I was on the bus at 11:30 a.m., and got an e-mail. I received an offer for the upcoming Miss Saigon U.K. and Ireland tour. I was shocked, speechless. I can't believe it. I felt nervous, but at the same time happy and very excited. I only told this to my family first.
ADVERTISEMENT - CONTINUE READING BELOW
On March 12, 2017, Cameron Mackintosh finally announced the casting and dates of the tour. And I saw my name on different websites and also on TV. It's official. It's real! I [was] so excited, and that's when I announced it to the world.
Miss Saigon's U.K. Tour starts on July 3. For more information, visit Miss Saigon's website. 
Load More Stories