Spamalot Promises to Make You Laugh Out Loud Come Opening Night
We hear it from the cast members.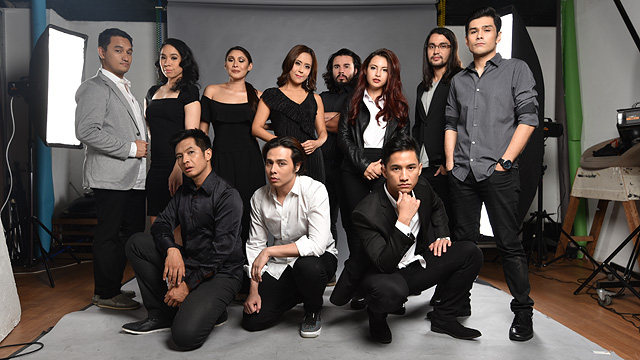 (SPOT.ph) Stepping into the rehearsals of Upstart Productions' newest musical Spamalot at CitruSnap Studio, you wouldn't think they were actually warming up for their challenging scenes and tiring choreography. The members of the ensemble are slapping their heads with fish made of styro, the leads are laughing their asses off, and the others are twirling around the mats. Can't blame them, Monty Python's Spamalot (and the movie it's based on which is Monty Python and the Holy Grail) is a musical comedy that pokes fun at the famous Arthurian Legend, so laughter is embedded in its DNA.
Spamalot follows King Arthur's quest to find the Holy Grail. Accompanying him on his journey are his recruits: Sir Bedevere, Sir Robin, Sir Lancelot, and Sir Galahad. But this narrative is not all there is to it. Expect to see flatulent Frenchmen, killer rabbits, Vegas showgirls, and other outrageous characters like Lady of the Lake, the Black Knight, and more.
ADVERTISEMENT - CONTINUE READING BELOW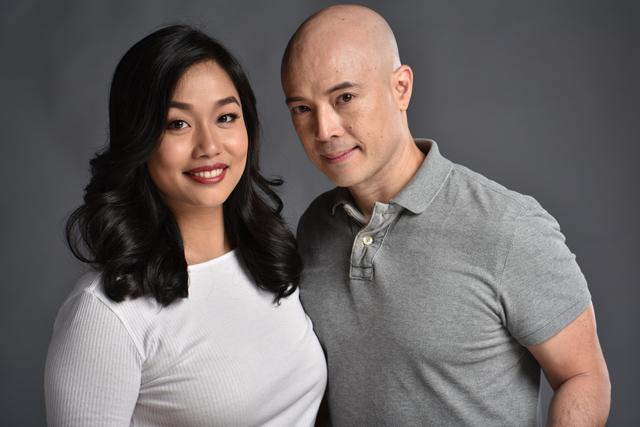 CONTINUE READING BELOW
Recommended Videos
Co-directors Nicky Triviño and Joel Trinidad
"This story is mostly about funny accents and catapulting cows. It's a silly version of the story that doesn't really use the story that much," explains Joel Trinidad, co-director and producer, in an interview with SPOT.ph. He grew up loving the British surreal comedy group Monty Python, so when it was time to mount a comedy show through his theater outfit, Spamalot was an easy choice. "It's a very smart comedy. Sometimes, it's just a banter. The timing has to be perfect for it work. Otherwise, the comedy just dies," co-director Nicky Triviño chimes in.
It's so hilarious that sometimes during rehearsals, they would have to go on 10-minute break because the cast can't stop laughing at each other. "Sometimes they're just playing around and we see something we like and we'd go 'We like that, do that again!'" Triviño reveals.
ADVERTISEMENT - CONTINUE READING BELOW
"The biggest challenge is not laughing in the wings while everything is happening because the cast is hilarious. Joel and Nikki couldn't have gathered a more insane cast," Carla Guevara-Laforteza, who plays The Lady of the Lake, says. It's a small cast of 13 for a total of more than 20 characters, so a lot of the cast members play up to five roles. This intimate set-up just makes everything more enjoyable.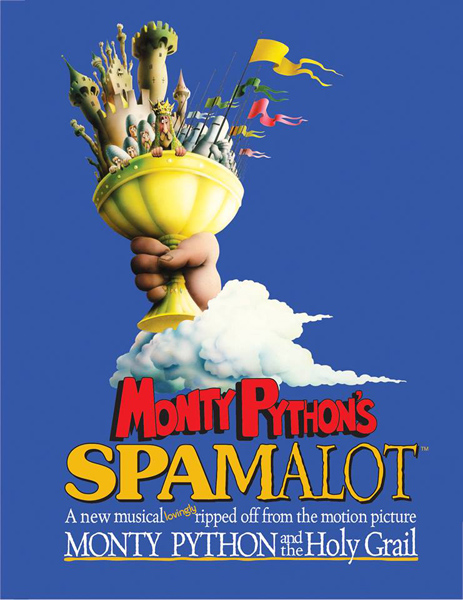 "The show is very, very funny and funny is always good. Funny always sells because people need to laugh. The worse, for example, the economy gets, the more people want to laugh. And if the economy is good, they want to go out and they want to laugh. People will be surprised because they think they're going to see a Broadway musical. But what they're going to see is more like a Broadway musical turned on its head," Trinidad hopes when asked what the audience should expect from the musical.
ADVERTISEMENT - CONTINUE READING BELOW
We hear more from the cast members:
Rachel Alejandro (The Lady of the Lake): It's such a natural role for me to get to. The Lady is really a diva, she's a star, she's a singer like a Mariah Carey one moment, and the next like a Vegas showgirl type. Every time she comes out, she portrays a different type of diva. It just gets more and more and more over the top. There's just no stopping her. The best part about it is that I get to wear all these fabulous costumes done by my favorite designer Francis Libiran. She's kind of an other worldly character, almost like a diwata. It's something really big to live up to.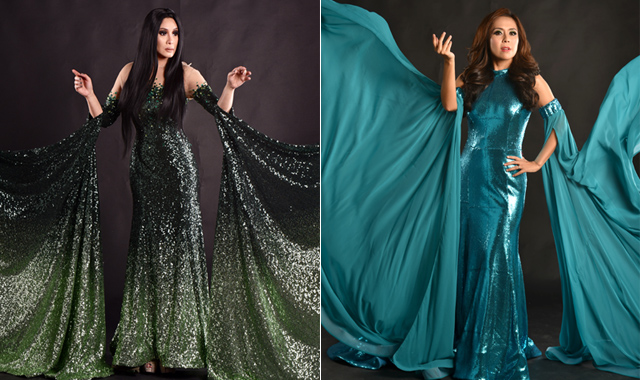 Carla Guevera-Laforteza and Rachel Alejandro
Carla Guevara-Laforteza (The Lady of the Lake): I've always wanted to play this role since Sara Ramirez, my favorite character in Grey's Anatomy, portrayed it. When I heard her sing, I said "loka-loka 'tong role na 'to." Another perfect role for me! She's basically insane.
ADVERTISEMENT - CONTINUE READING BELOW
Lorenz Martinez (King Arthur): I love my role because I can do almost anything. Well, anything within context comedy-wise.
Bibo Reyes (Sir Bedevere, Dennis' Mother): Sir Bedevere is, in a way, King Arthur's lieutenant. If only because if they find themselves in a pinch, King Arthur would go "Bedevere, what should we do?" He's also the brains of the operation, the problem is he's not as smart as he thinks he is. I'm [also] excited to play my first ever female role in a musical.
Goerge Schulze (Sir Robin, Guard #1, Brother Maynard): I grew up in musical theater so it's been the love of my life. To be able to play a character who is a knight—which is one of the coolest things ever—who also has a place in his heart for musical theaters is a lot I can relate to.
Dean Rosen (Sir Dennis Galahad, The Black Knight, Prince Herbert's Father): The role of Sir Galahad is already three characters in one. He changes so much over the course of the play and it is super fun to play that transition as stupidly as possible. This is the funniest role where you get to mess with people the most. The Black Knight is one of my favorite characters in all of Monty Python history because he is the most ridiculous idea that could come out of the love of Medieval culture. I'm hoping people would laugh at what I bring to the table with regards to The Black Knight.
ADVERTISEMENT - CONTINUE READING BELOW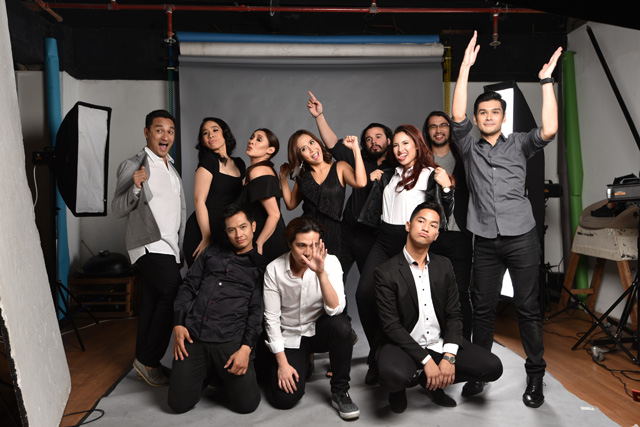 Domi Espejo (Patsy): I love that Patsy gets to sing one of the more meaningful songs in the show because with all the setbacks we face in life it's good to be reminded to always look on the bright side.
Roxy Aldiosa (Ensemble): I'm one of the four biologically females in the cast. On top of that, I'm everything—from a knight to a Vegas showgirl, to a Broadway showgirl, to a corpse, to a dancing corpse, and everything in between. [The most challenging role is] keeping still being a corpse because the scene happening while I'm a corpse is very funny. You don't want to be shaking in laughter while you're supposed to be dead.
Reb Atadero (Ensemble): The hardest thing about [playing a lot of roles] is making quick costume changes. Everything else, basically it's a playground so just do whatever you want...within reason. Controlled insanity.
ADVERTISEMENT - CONTINUE READING BELOW
Chino Veguillas (Ensemble): I play crazy roles here. I die like...how many times do I die? It's a fun show. We're all crazy.
Rachel Coates (Ensemble): We play a lot of characters because the cast is so small, it's really exciting.
Spamalot has 10 shows from July 28 to August 12 at Carlos P. Romulo Auditorium, 4/F RCBC Plaza, Ayala Avenue corner Gil Puyat Avenue, Makati City. Tickets, priced from P1,000 to P2,000, are available through Ticketworld.
Share this story with your friends!
---
Help us make Spot.ph better!
Take the short survey
Load More Stories