Take a Look at John Lloyd Cruz's Personal Art Collection
His Instagram photos are interesting, to say the least.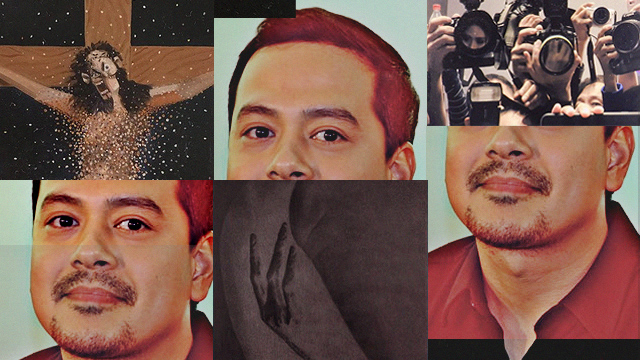 Is something eating John Lloyd Cruz? He's been getting flak these days for behavior not normally associated with matinee idols—such as posting photographs of toilet bowls, one with its seat on fire and one with what looks like actual poop. (We'll leave that one to your imagination.)
ADVERTISEMENT - CONTINUE READING BELOW
This September, he posted photos of fly traps and escalators, and a painting of a crucifix with a distorted face showing a half-man and a half-demon. He posted the crucifix (a work by American artist George Condo) 17 times, which generated mixed reactions from his followers: observers called the painting "blasphemous," others expressed real concern for him, and diehards rallied behind him, pleading for the public not to judge their idol.
Overall, the public has found them disturbing, and they can't help but wonder if the photos and paintings John Lloyd has been posting reflect his current state of mind.
The A-list star also posts note cards, such as this one quoting Austrian poet Rainer Maria Rilke's Letters To A Young Poet, originally written in German: "I want to beseech you...to be patient toward all that is unsolved in your heart and try to love the questions themselves like locked rooms and like books that are written in a very foreign tongue."
ADVERTISEMENT - CONTINUE READING BELOW
Is he hinting at unresolved issues? Or could it merely be that his sensibility as an artist veers towards the bizarre and the avant-garde? If so, has he kept this side of himself hidden, to conform with the image that his adoring fans and his image-makers want? Is he in rebellion, seeking freedom from the shackles of public expectation?
For now, all that's clear is that John Lloyd himself seems to not care that his more than 120,000 followers, plus everyone else online, have seen these photos and artworks.
Letting Go
An art collector now dabbling in his own kind of art, John Lloyd has made an impression on the artist Manuel Ocampo, whose work is on display at the actor's home.
In its February 2014 cover story on John Lloyd, Esquire magazine spoke with Ocampo about the actor as an art enthusiast. Ocampo said, "What he likes is something unexplainable and visceral that speaks to the oldest parts of the brain. Maybe they access a place of unreconciled emotions, deep fears or perverse fantasies, who knows. Maybe, as a mutual friend theorizes, Cruz's widely suspected 'dark side' manifests itself through the art that he buys."
ADVERTISEMENT - CONTINUE READING BELOW
This could explain why, among all of Condo's known works, John Lloyd chose to post the artist's painting of the crucifixion. The work may seem grotesque, but they have been hailed as "strangely respectful" by the New Yorker and were snatched up by art connoisseurs.
This could also explain why he is drawn to Romeo Lee, a visual artist and punk musician known for letting loose in his paintings. And, inspired perhaps by his artist buddy, John Lloyd may be opening up and letting people in through his own artworks.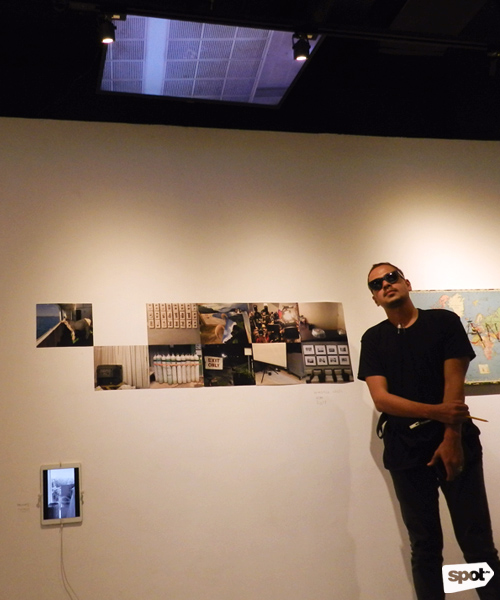 ADVERTISEMENT - CONTINUE READING BELOW
Idan Cruz
John Lloyd is called Idan by his family and other people close to him. And Idan Cruz is the name that appears on the roster of 19 artists exhibiting their works in the group show Ingress/Egress, currently on view at the Underground Gallery at the Makati Cinema Square until October 14.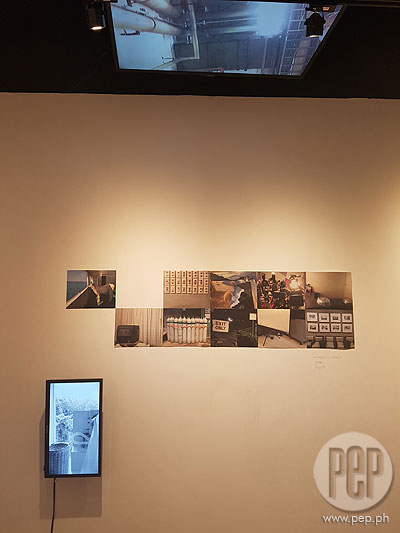 ADVERTISEMENT - CONTINUE READING BELOW
In the exhibit, John Lloyd's mixed-media art installation features 10 photographs and a video of random things that must have caught his attention in his travels in and out of the Metro. The photographs on the first row include a cow facing the blue sea, a series of light switch fixtures, tables painted with blue skies and mountains, press people, and covered dishes on a table.
The photographs on the second row show a television turned backward, oxygen tanks closely put together, a manhole with an exit-only signage, a pair of feet peeking below a projector's white screen, and a shot of scenic photographs above a row of chairs.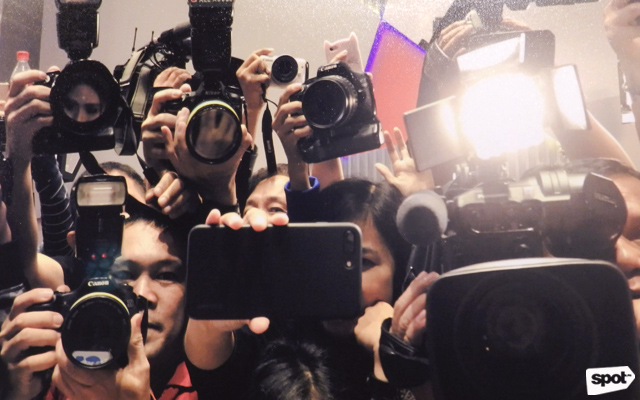 ADVERTISEMENT - CONTINUE READING BELOW
Arguably the most striking piece among his photographs is one showing the press all poised to take his picture because it depicts a common scene in showbiz, but it does so from the actor's perspective. John Lloyd took the untitled photograph during one of his many press engagements to promote his last Star Cinema movie opposite Sarah Geronimo, Finally Found Someone. It is an ingenious shot, showing a reflection of Sarah's face on one of the camera lenses pointed at John Lloyd, who presumably took the shot.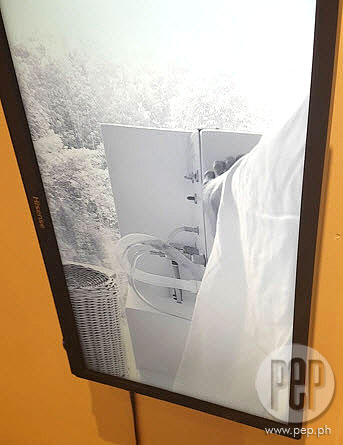 ADVERTISEMENT - CONTINUE READING BELOW
Another clever installation is a video presentation shown on a tablet positioned at the lower-left side of his photographs. The jarring video projects an odd medical suction as it absorbs body fluids that appear to be coming out of an obscured patient lying on a bed.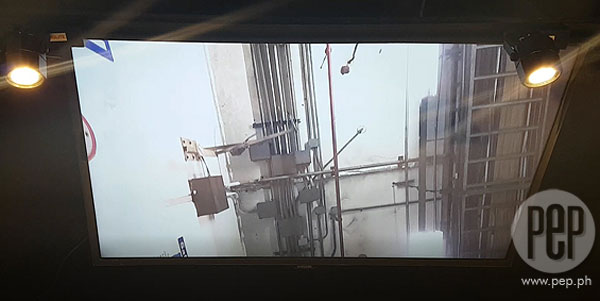 A flat-screen TV strategically placed on the ceiling above his photographs shows a video of what appears to be an old industrial building. 
ADVERTISEMENT - CONTINUE READING BELOW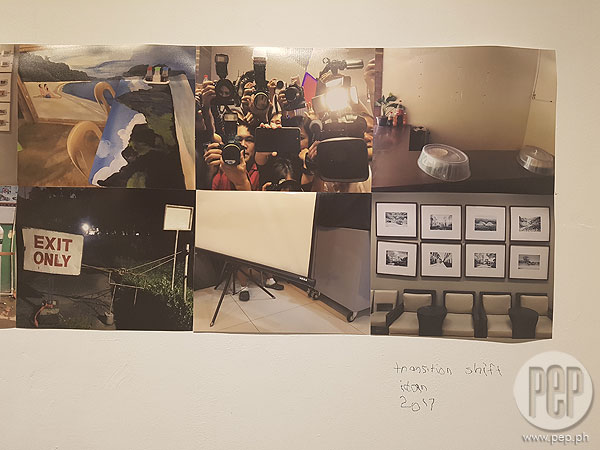 John Lloyd uses camera panning and tilting to show details of the structure. His mixed media art corner is titled (and handwritten in pencil), "transition shift." It carries his signature, "idan."
@ekomsi
Is the emerging narrative of the photographs of John Lloyd/Idan his way of showing his desire to be himself, let off some steam, and just breathe? It seems so.
ADVERTISEMENT - CONTINUE READING BELOW
John Lloyd, who has always tightly guarded his privacy, has been posting photos on his Instagram page since May 2017, using the peculiar handle @ekomsi, which reads "ismoke" backward. His Instagram bio only carries the word "portal." 
Indeed, John Lloyd has made his Instagram a portal for random photos and videos that barely make sense to others. His outtakes of ordinary things seem absurd, such as a photo of tangled electric wires in Malate, Manila.
Another clue to John Lloyd's turn of mind may be found in his art collection. Manuel Ocampo hinted as much. The Kapamilya actor himself has also said, "I choose pieces based on gut feel. It's really more of the heart and not the mind that decides." He said this in the article, "John Lloyd Cruz gets really serious about art," published in Inquirer.net in March 2014.
His collection of works by contemporary Filipino artists, reported to be stashed in the apartment where he currently lives, may be the key to actually understanding why John Lloyd posts toilets with poop, among other things.
ADVERTISEMENT - CONTINUE READING BELOW
We round up John Lloyd's art collection between the years 2012 and 2014, as they were featured in Esquire magazine's cover story on the actor.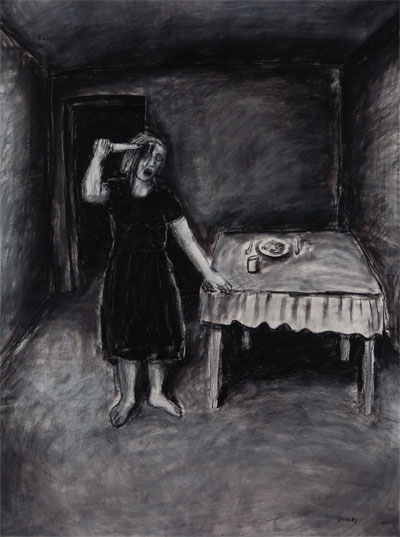 Jose Legaspi
An untitled work by Jojo Legaspi showing a woman stabbing her brains out is hung on the wall of John Lloyd's apartment. Some of Legaspi's similar graphic renditions of a man or a woman stabbing a part of one's body were displayed at the Singapore Art Museum in June 2011.
ADVERTISEMENT - CONTINUE READING BELOW
His work has been described as "obsessional and gruesome," depicting the spectacle of violence and various taboos in Filipino society, and carrying provocative references to the Catholic faith. In an article posted on Australia's National Portrait Gallery website, art critic and University of the Philippines' Vargas Museum curator Dr. Patrick Flores calls Legaspi's portraits "confessional."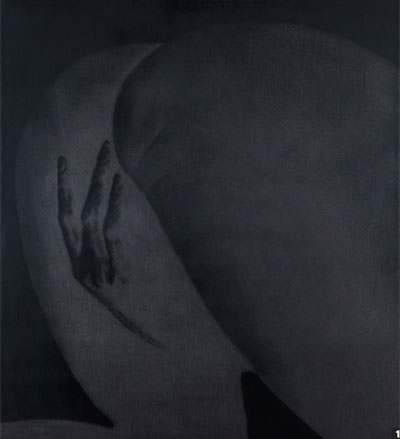 ADVERTISEMENT - CONTINUE READING BELOW
Francisco "Kiko" Escora
An artwork titled One Speed by Kiko Escora showing a woman pleasuring herself hangs in the actor's bedroom. Sharing his thoughts about this art piece, John Lloyd told Esquire, "It's very sensual. It takes a certain level of courage for a woman to pleasure herself. It's inspiring."
A Cultural Center of the Philippines Thirteen Artists awardee, Escora's works have been featured in various art fairs abroad since 1996. The artist spoke about using dark and sexual themes in his paintings in an interview published in a Philippine Center for Investigative Journalism article dated February 2, 2008. "My work is not for everyone. My paintings have to be viewed by the right audience," said Escora, who at the time was among the artists featured in a gallery exhibit in Singapore.
While he describes his first works as "stylized versions" of his reality, Escora's most recent works are inspired by his own photographs, which are close-up shots of his subjects that are then interpreted with charcoal on paper and acrylic on canvas.
ADVERTISEMENT - CONTINUE READING BELOW
According to Drawing Room Gallery, Escora concentrates on showing a specific gesture, expression, and vibe that "gives away a subject's uncompromising claim on his own life." He was born in 1970 and studied fine arts at UP Diliman.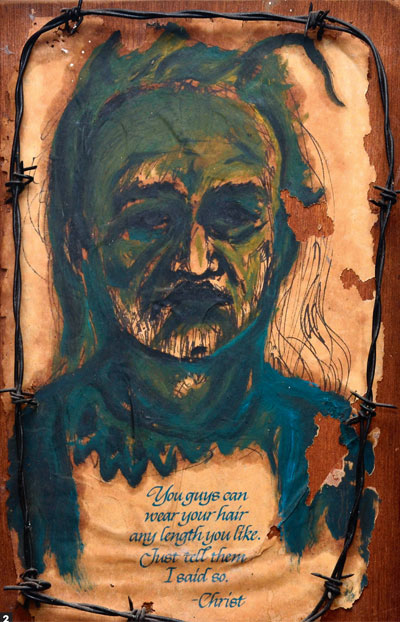 Romeo Lee
A Romeo Lee painting displayed in the dining area of John Lloyd's apartment has a text that reads: "You guys can wear your hair any length you like. Just tell them I said so. —Christ"
ADVERTISEMENT - CONTINUE READING BELOW
Touted as the King of Punk in the '80s, Lee has had a cult following since his college days when he was the frontman for the band Brown Briefs, which is known for its signature cover tune "Wild Things." In the past 30 years, Lee has earned the reputation of an eccentric, contemporary artist who "refuses to paint anything other than what he feels like," and has had underrated yet impressive accomplishments in the local art scene.
A short feature in Town and Country's February 2016 issue described Lee's work as characterized by unusual colors, layers of dripping, swirling paint, and ghoulish imagery. Lee was formally introduced to John Lloyd in February 2013 at the first Art Fair Philippines.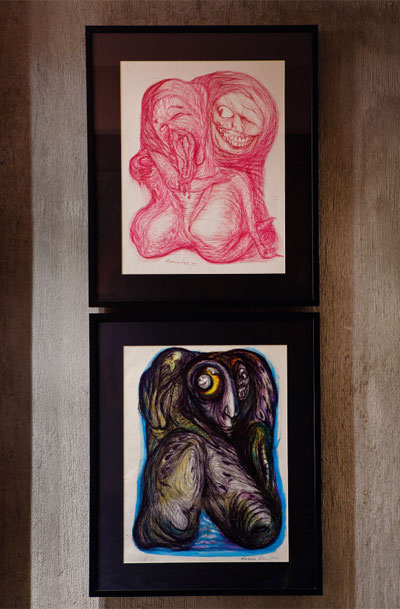 ADVERTISEMENT - CONTINUE READING BELOW
John Lloyd owns a number of Lee's paintings, including two cartoonish drawings.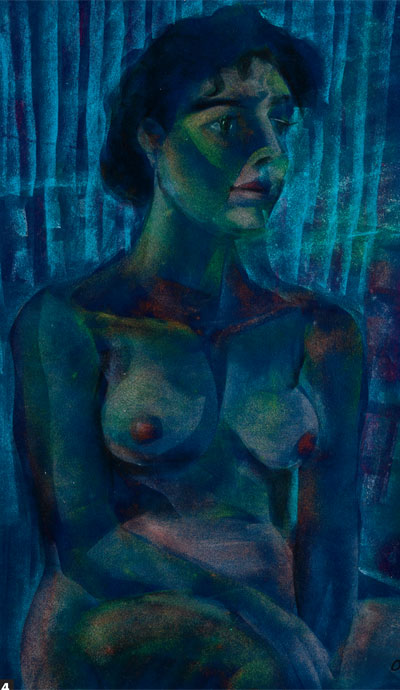 Luis Claudio "Onib" Olmedo
John Lloyd also has a 1988 Olmedo nude painting. A National Artist nominee, the late Onib (1936 to 1996) was an award-winning Filipino expressionist painter. Depictions of his paintings focused on marginalized society.
ADVERTISEMENT - CONTINUE READING BELOW
In 1970, Onib decided to leave his 12-year career as an architect and became a painter. Through the '70s, Olmedo shocked Filipino art lovers with art pieces described as dark and depressing. Though he used distortion in painting his subjects, Onib became a known expressionist, with works aiming to show the depth of the human character.
Manuel Ocampo
A 2003 oil-on-canvas portrait of Mao Tse Tung and Chou En-lai, a collaborative work by Romeo Lee and Manuel Ocampo, called The Searching For Freedom Tour, is also part of John Lloyd's art collection.
Ocampo is a Filipino artist who has a following internationally. He graduated from UP Diliman, and then flew to the U.S. in the 1980s to study at the California State University. He has long since returned to the Philippines, holding a number of exhibitions in the '90s, in Asia, Europe, and America.
His paintings are often disturbing and dark, with references to history and politics. His paintings also became the album cover of international performers, such as American singer-songwriter Beck and the Canadian musical group Skinny Puppy.
ADVERTISEMENT - CONTINUE READING BELOW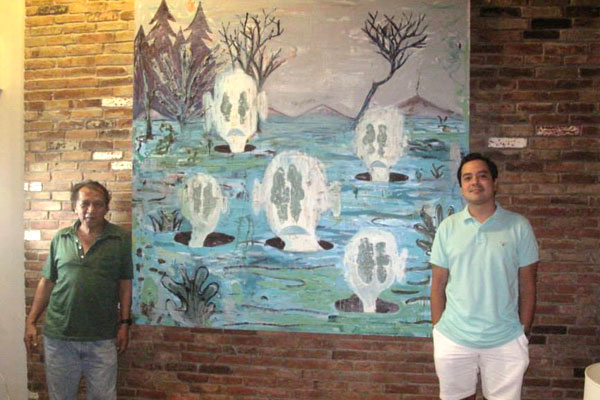 Pow Martinez
Martinez's large painting of alien heads takes center stage in John Lloyd's living room. Even John Lloyd's friend Romeo Lee, visiting the actor's home, couldn't resist a photo op with Martinez's piece. That day was captured and posted on Lee's Facebook dated November 2013. 
Born in Manila in 1983, Martinez took up Visual Communication at UP Diliman, but dropped out to become a full-time painter. His works usually focus on Philippine history and culture, painted not without irony. His subjects are dark, but he renders them in bright and lively colors.
ADVERTISEMENT - CONTINUE READING BELOW
What makes this contemporary artist a cut above the rest? "I'm not the type of artist who's going to give you a sentimental and boring art explanation," he was quoted as saying in a February 2016 article in Status Magazine.
Aside from art exhibits in Manila, he has also shown his works in other parts of the world, including the U.S., Singapore, Tokyo, and Thailand. In 2010, he was also one of the recipients of the Ateneo Art Award.
Recalling his conversation with Martinez, John Lloyd told Esquire, "I asked who he followed as an artist. He said, Romeo [Lee]. So humaling kay Romeo. Naging item na kami."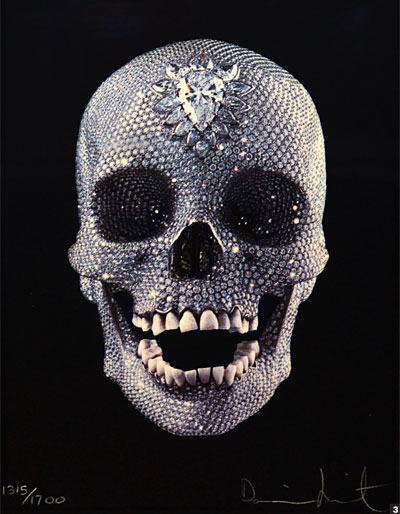 ADVERTISEMENT - CONTINUE READING BELOW
Damien Hirst
John Lloyd acquired a signed lithograph of Hirst's For The Love of God, which is also displayed in his home. Also known as The Skull, the original piece is a platinum-cast human skull encrusted with 8,601 diamonds and embellished on the forehead with a 52.4 carat pink diamond.
The skull, according to forensic analysis, belonged to a 30-year-old male from the 18th Century. In a 2012 video interview, Hirst related that he wanted to achieve "perfection" with this particular artwork. The original For The Love of God, acquired by an investment group for 50 million pounds, was controversial. But Hirst said he wanted to frame death in a positive light through his now-iconic piece.
He named For The Love of God after his mom's shocked reaction whenever he comes up with "crazy ideas."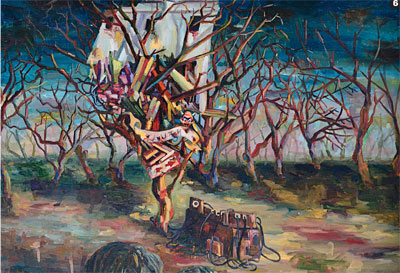 ADVERTISEMENT - CONTINUE READING BELOW
Mariano Ching
John Lloyd purchased a Mariano Ching painting from October 2013, titled Terror Twilight Series. Ching is a Filipino-Chinese artist who works as a painter, photographer, and an illustrator. Born in 1971, Mariano studied at UP Diliman.
Granted a scholarship by the Japanese government, he studied at Kyoto University from 2002 to 2004, where he majored in printmaking, specializing in Japanese woodblock printmaking. His works are usually imaginative, with fairytale-like landscapes with deformed figures, yet strangely, according to critics, offer redemption with the inclusion of images of spiritual beliefs.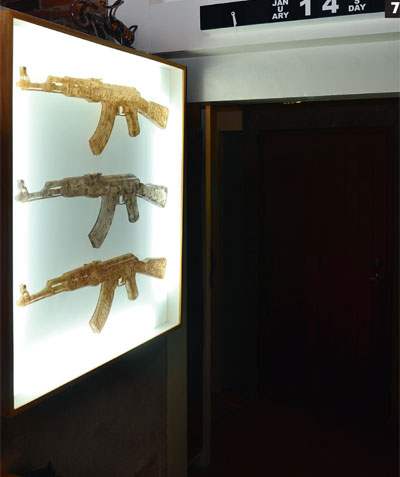 ADVERTISEMENT - CONTINUE READING BELOW
Nikki Luna
John Lloyd also got Nikki Luna's Rebel Women, where lace-covered resin takes the form of three AK47 Kalashnikov guns, a 2012 work from the 5th International Beijing Biennale.
In her interview with Esquire Magazine, Luna described the way John Lloyd chooses art pieces. She said, "John is a good collector because he allows himself to experience the results of pure creativity. He likes the piece as it is, and I see he gives importance to the meaning and concept behind the artwork."
Luna, who studied at UP Diliman, is an artist, a feminist, and an advocate for women, children, and the oppressed. One of her art pieces that features machine guns was part of her Rebel Women exhibit in 2012.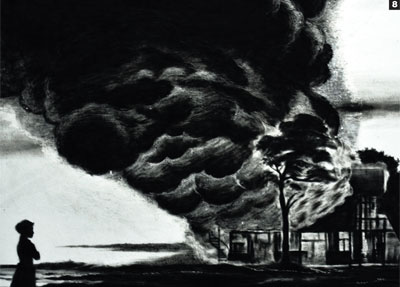 ADVERTISEMENT - CONTINUE READING BELOW
Victore "Vic" Balanon
Another artwork that Esquire found at John Lloyd's apartment was Vic Balanon's Sacrifice, created with India ink on canvas paper.
A self-taught artist, Balanon took up dental medicine in college but dropped out of school and followed his passion for the arts. He studied film and animation at the Mowelfund Film Institute and worked as an illustrator in movies, independent comics, and underground punk labels. Vic has had art exhibits both here and abroad.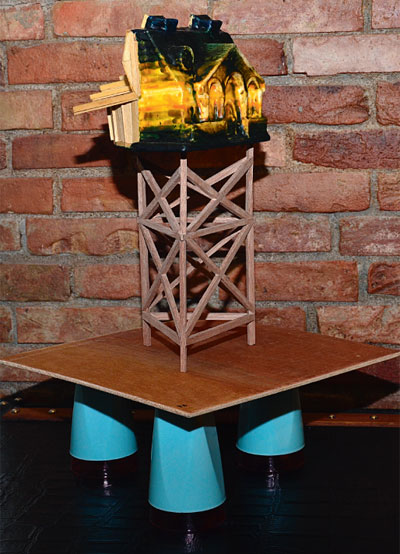 ADVERTISEMENT - CONTINUE READING BELOW
Yasmin Sison
Sitting on top of one of John Lloyd's side tables is a miniature house called Stacking Up, a collaborative work with her husband Mariano Ching from their 2013 show at MO_Space.
Sison is a UP Diliman graduate who is known for combining various materials, like paper, paint, old cardboard, shaped wood, and foam cut­outs, in her paintings.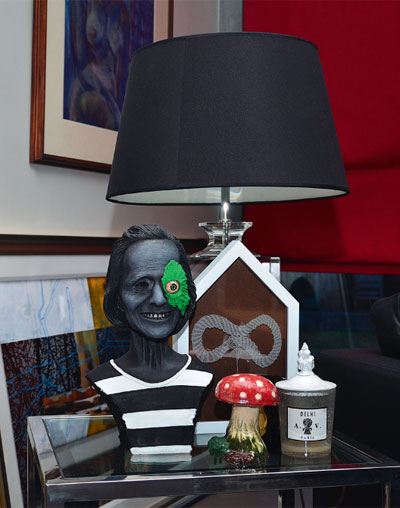 ADVERTISEMENT - CONTINUE READING BELOW
Epjey Pacheco
In John Lloyd's home, another side table is adorned with a bust of the late comedian Palito's likeness, titled Slapstick. 
Pacheco's attention to detail can be seen not only in his toy creations and resin figures but even in his paintings. In May 2012, he mounted a one-man exhibit called Shift, which featured intricately designed and brightly colored portraits depicting man. Among them were the artworks Homo Execessum (man of excess), showing a long-haired rock star surrounded by skeletons and otherworldly figures versus Homo Simplex medium (man of simple means) whose mane has interwoven doves and flowers.
Born in 1986, he finished Fine Arts at the University of Santo Tomas.

ADVERTISEMENT - CONTINUE READING BELOW
Mawen Ong
John Lloyd acquired an untitled work by Mawen Ong, a series of toasted bread, from the 2013 show Picture Imperfect.
In her previous and most recent works, Ong creates art using commonplace objects imbued with symbolism. In 2009, she did the show The Light At The End Of The Tunnel Has Been Turned Off featuring light fixtures and electric plugs that were lit in particular and deliberate ways to depict a definite notion or vibe. Ong is also the co-founder of MOs Design, which offers top brands of furniture housed in a three-storey structure in Bonifacio Global City.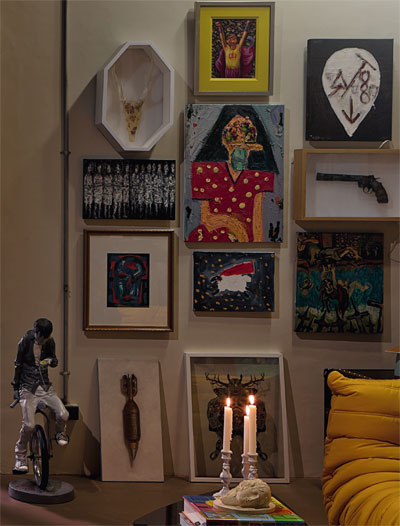 ADVERTISEMENT - CONTINUE READING BELOW
Seen in the living room of John Lloyd's apartment are more art pieces by: Pow Martinez (girl in red dotted dress), Nikki Luna (framed antlers), Manuel Ocampo (white mask with graffiti), and Ryan Villamael (framed cut felt on glass chest and behind candles). The framed cut felt, seen beside Pacheco's bust of Palito's likeness, is also an artwork by Villamael.
Born in 1987, Villamael studied painting at the University of the Philippines, but has become known for his creations from paper cutting. He produces intricate and complicated art-installation designs, which has given him fame in Taiwan, Singapore, United Kingdom, and France.
His art exhibit Locus Amoenus the Latin phrase for "pleasant place" was displayed at the Singapore Art Museum for the Singapore Biennale 2016.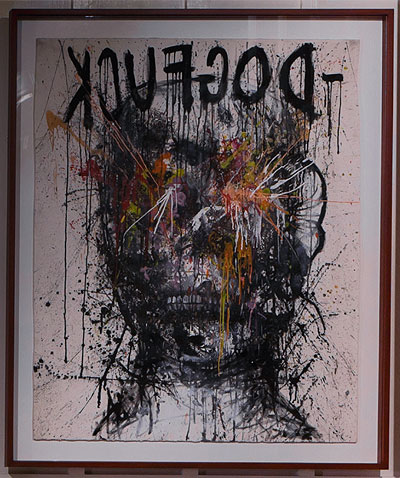 ADVERTISEMENT - CONTINUE READING BELOW
Dave Lock
The portrait of a skull painted over with the text "dogfuck" must have been one of the early pieces collected by John Lloyd. It can't be missed in the actor's living room as it hangs above the garage door.
Lock's eerie portraits have been described as "permutations of neurosis." In 2010, for the "bad boy" art exhibit curated by Manuel Ocampo, Lock created a skull with humans popping out of it.
This story originally appeared on Pep.ph. Minor edits have been made by SPOT.ph editors.
Recommended Videos
Load More Stories