10 Filipino Artists Under 30 That You Should Follow on Instagram
These twenty-somethings are #lifegoals.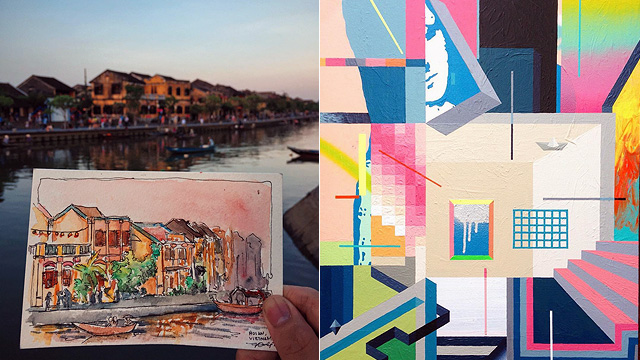 (SPOT.ph) The adage "Age doesn't matter" isn't only true for relationships, because for some young artists, it doesn't determine how far they are in their career. The most talented and hardworking ones have toiled day and night to master their craft and be at par with the maestros and veterans.
ADVERTISEMENT - CONTINUE READING BELOW
We list down artists in their 20s who prove that they're wise beyond their years; but at the same time, show that they're true-blue millennials who find a lot of things Instagram-worthy.
Kris Abrigo | @krisabrigo
Born: 1989
Filipino muralist Kris Abrigo is known for his abstract diagrams, geometric shapes, bright colors, and gradient designs. You can see his creations around the Metro (such as the huge artwork titled "Manpower" on the wall of Net One Center in Bonifacio Global City) and abroad (such as his mural on the walls of Ovolo Southside Hotel in Hong Kong). His Instagram account is likewise a splash of colors, mostly of his works-in-progress and newly finished works.
ADVERTISEMENT - CONTINUE READING BELOW
Kevin Roque | @kevinroqueart
Born: 1991
Kevin Roque harnessed his talent in pencil drawing as the former Managing Editor of De La Salle University's Malate Literary Folio and as a current member of Ang Ilustrador ng Kabataan. He uses graphite pencils to illustrate his explorations and expressions about the city, such as a man with the head of a horse crossing the street and a lost deer under a flyover.
ADVERTISEMENT - CONTINUE READING BELOW
Veronica Peralejo | @veronicaperlajejo
Born: 1989
Veronica Peralejo (a.k.a. Veronica Pee) majored in painting and graduated with honors from the University of the Philippines College of Fine Arts in 2010. But she quickly shifted to 3D creations, as seen in her installation pieces for her first solo exhibit in 2015 at Art Informal—Pocket Universe, which was shortlisted for the Ateneo Art Awards. She created sculptures of the microscopic images of parasites, cells, and other miniscule details. Peralejo also uses other materials, such as yarn, plastic tubes, speaker wires, and clotheslines for her works.
ADVERTISEMENT - CONTINUE READING BELOW
Carina Santos | @presidents
Born: 1988
Art runs in the blood of Carina Santos, granddaughter of famous artist Malang and offspring of gallery-owners Soler and Mona (of West Gallery). She constantly switches from one medium to another, depending on whatever subject gets her attention. Santos has had five solo shows as of writing, starting with one at West Gallery in 2011.
ADVERTISEMENT - CONTINUE READING BELOW
Czar Kristoff | @czarkristoff
Born: 1989
Laguna-based photographer Czar Kristoff often renders monochromatic images of city streets, skateboarding scenes, and other snippets from daily life. His last solo exhibit in 2016, Configurations, was an exploration of urban development and featured photographs of construction sites, workers, half-done buildings, and so on.
ADVERTISEMENT - CONTINUE READING BELOW
Rocky Cajigan | @rockycajigan
Born: 1988
Rocky Cajigan is a multimedia artist from the Mountain Province. He was awarded the 2016 Ateneo Art Awards' Fernando Zobel Prizes for Visual Art for his solo show Museumified, which featured 22 assemblage pieces and sculptures made up of found objects and artifacts from the Cordilleras.
Vincent Quilop | @vinquilop
ADVERTISEMENT - CONTINUE READING BELOW
Born: 1994
At his young age, '90s-born Vincent Quilop is already at the helm of advertising agency McCann's creative unit as its Art Director. He paints for fun, illustrates covers for magazines, and creates his own artful interpretations of movie posters. Check out his Instagram account for photos of his latest travels, mostly matched with his own quick sketches of beautiful scenery.
ADVERTISEMENT - CONTINUE READING BELOW
Catalina Africa | @cardboardparadise
Born: 1988
Catalina Africa Espinosa combines her love for nature and painting through her canvases. A surfer and beach-lover, she often revels in the fluidity and flux of the ocean in her artworks as in her solo shows The Floating Corner in 2013 and Studies on the Movement of Water in 2016. You can see her communing with nature on her Instagram account.
ADVERTISEMENT - CONTINUE READING BELOW
Jel Suarez | @jelsuarez
Born: 1990
A pre-school teacher by day, Jel Suarez' weapon of choice in the arts are pieces of paper from old books and found objects that she puts together in collages and assemblages. She recently exhibited her creations in Hong Kong for the annual Art Central.
Renz Baluyot | @renz.baluyot
ADVERTISEMENT - CONTINUE READING BELOW
Born: 1989
Renz Baluyot was born in Saudi Arabia and educated at the University of the Philippines College of Fine Arts. He often explores the concepts of time, change, and history in his artworks. This is especially true in his most recent exhibit By Sword and Fire, which tries to reimagine the struggle of Filipinos during World War II through an assemblage of paintings, photographs, and original memorabilia from that period in history. Baluyot was a finalist in the 41st Shell National Students Art in Competition in 2008.
Recommended Videos
Load More Stories