(SPOT.ph) Director Bobby Garcia certainly brings out the worst in his characters in the Atlantis production of Yasmina Reza's Tony Award-winning play God of Carnage. And that statement is meant as a compliment.
The quartet of characters onstage is made up of two sets of parents meeting to have a civilized discussion about their sons, one of whom has hit another with a stick, resulting in the loss of two teeth.
From the minute the lights go on, the audience already feels the undercurrent of simmering tension-pairs of shifty eyes, raised eyebrows, a fidget here and there.
Hosting the meeting at their Brooklyn home are Veronica (Lea Salonga), a neat-freak writer working on a book about the atrocities in Darfur and her more laidback husband Michael (Adrian Pang), a wholesale dealer of frying pans and toilets.
The accused boy's parents are Alan (Art Acuna), a brash, boorish lawyer who keeps taking calls on his cellphone and his prim and proper wife Anette (Menchu Lauchengco), a "wealth manager."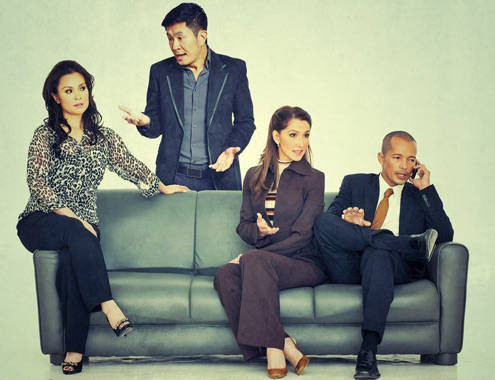 Lea Salonga, Adrian Pang, Menchu Lauchengo and Art Acuna in God of Carnage
(photo from their Facebook page)
ADVERTISEMENT - CONTINUE READING BELOW

The one-act play unfolds in real time, and over the next 90 minutes or so, the audience watches the characters' civilized demeanors quickly disintegrate into a shrill, turbulent mass of raw emotion.
Onstage, the seasoned actors become the characters themselves. They own their roles, and the script flows naturally. The venomous exchanges are real, not scripted nor stilted. Unlike other locally produced shows where accents feel put on or quite fake, watching this show feels like one is voyeuristically peering into someone else's living room, and the audience feels every searing insult, every blazing arrow of hate let loose.
And what an attractive home. Set designer Lawyn Cruz has put together an eye-catching blood-red wall made up of geometric patterns to serve as the backdrop for the scene of emotional carnage. Sleek sofas, a Noguchi coffee table, a simple bar and bookshelf, and vases of pretty yellow tulips make up the rest of the tasteful tableau.
Tony Award-winning actress (for Miss Saigon) Lea Salonga has indeed blossomed into a mature actress, proving that musical theater is not her only forte. And the crisp four-letter profanities that her character spews out throughout the show are a definite departure from her trademark sweet-faced innocent girl roles that she's played for the last twenty years.
Menchu Lauchengco, who, as a bipolar mother in last year's Atlantis production of Next to Normal reduced her audience to tears night after night, once again proves herself to be the multi-facted actor that she is, vomiting from a panic attack, and then later having an alcohol-laced meltdown.
CONTINUE READING BELOW
Recommended Videos
Singaporean actor Adrian Pang returns to the Philippine stage 12 years after he starred with Lea Salonga in the Singapore Repertory Theater production of the musical They're Playing Our Song. As a hamster-murdering father, he at least redeems himself by his concern for his ailing mother.
The easiest to detest of the group is Art Acuna, who plays a stereotypical, sleazy corporate lawyer defending a large pharmaceutical firm. He is annoying to watch, and at the same time, quite funny too.
For every stressful moment, the script has a humorous one too, eliciting guffaws from the audience with witty repartee as well as non-verbal body movements.
By the show's end, these four popular, well-liked thespians manage to bring out the worst qualities in themselves, and become quite despicable--a testament to their own acting abilities, as well as to the astute direction of Bobby Garcia. A stellar performance.
Through July 22 at the Carlos P. Romulo Auditorium, RCBC Plaza. Atlantis Productions. 892.7078. www.atlantisproductionsinc.com
The production will also have a three-week run in Singapore.
Share this story with your friends!
---
Help us make Spot.ph better!
Take the short survey
Load More Stories