Theater Review: Cinderella
Resorts World Manila's production of Rodgers and Hammerstein's Cinderella presents a spectacle from beginning to end.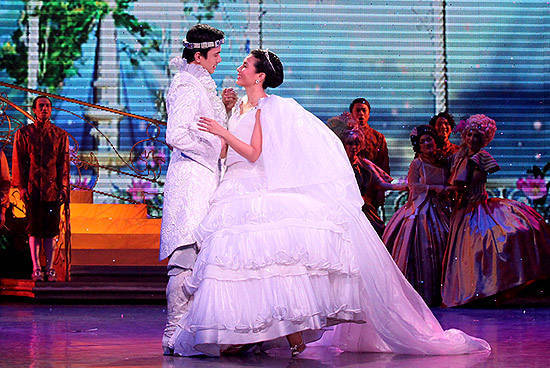 (SPOT.ph) Some favorite childhood movies are so indelible that to rework them would be sacrilegious. Take for instance Walt Disney's 1950 animated feature film Cinderella, which was based on the fairy tale "Cendrillon" by Charles Perrault and the Grimms' Fairy Tales. Everyone knows the story, and the animated film is a beloved classic. The challenge then for Resorts World Manila's production of Rodgers and Hammerstein's Cinderella is to measure up to such high standards.
Just an aside: Rodgers and Hammerstein's Cinderella is a 1957 musical written for television, starring no less than Julie Andrews. It's been remade for television twice, with one version featuring Brandy Norwood, Whitney Houston, Bernadette Peters, and our very own Paolo Montalban. It's also been adapted for the stage numerous times. Most recently, Lea Salonga played the title role.
Stepping into the glass slippers this time is Karylle Tatlonghari, with Christian Bautista playing Prince Charming (or rather, as his character is named, Prince Christopher). The chemistry between the romantic leads is crucial, and Karylle and Christian have it in spades. Having partnered up before in West Side Story, Rama Hari, and Kitchen Musical, it's obvious they are naturally at ease with one another, which helps them portray the breathless exhilaration of falling in love without appearing corny (perfect casting for a telenovela!) And their stellar vocal chops allow them to hit the difficult high notes of the songs.
ADVERTISEMENT - CONTINUE READING BELOW
Rodgers and Hammerstein's songs are very pleasant and hummable, with organic lyrics that are essential to narrating the story. Standout songs include "In My Own Little Corner," "Impossible/It's Possible," and the haunting "Do I Love You Because You're Beautiful?"
Playing Cinderella's stepmother, Sweet Plantado chews the scenery (but in a good way) and steals the show with every lip curl and cutting one-liner. The two bickering stepsisters (Gianina Ocampo and Maronne Cruz) display a flair for physical comedy and slapstick. The comic relief provided by the villains is a nice antidote to all the sweetness.
Menchu Lauchengco-Yulo, the glamorous fairy godmother, appears at a critical time and in grand fashion, landing from the sky. Cinderella wishes she could go to the Prince's ball, along with all the young ladies in the land. Applying reverse psychology, the fairy godmother gently chides her for fixating on wishes and dreams and encourages her to be responsible for her own destiny. Cinderella starts to form a plan. What if she hitched a ride along the next carriage, or fixed the dress that her stepmother had callously ripped? But before she can figure out a plan, the fairy godmother praises her for her newfound confidence and grants her wish. The message of female empowerment is not pushed far enough, unlike in, say, Ever After. One wonders how the story would turn out if Cinderella had taken control of the situation.
CONTINUE READING BELOW
Recommended Videos
But then we would have missed the magic. With the aid of smoke and fog, a bit of pyrotechnics, and a super-quick costume change, the mice are transformed into horsemen, a white carriage arrives (but alas, no pumpkin!) and Cinderella gets a makeover, changing from peasant to princess. These transformations were much appreciated by the audience, who clapped with every dramatic presto change-o.
ADVERTISEMENT - CONTINUE READING BELOW
Aside from the performances, the show's winning formula is the fantastic stage design by Andrew Botha. How do you measure up to Walt Disney's Cinderella? With the clever use of animation, of course. The stage scenery includes a massive video wall that shows flat and 3D animated illustrations of the different locations, from the town, to Cinderella's house, to the palace. This presents endless possibilities for setting and scene changes. The quaint illustrations, similar to that of a storybook, are jazzed up with layers, motion, and precise transitions, creating an immersive world. There are also video screens flanking the stage, providing a live feed of the action onstage, as well as close-ups. The more traditional set design includes a grand staircase and an enormous fireplace.
The songs, performance, and multi-media stage design all come together to bring the fairy tale to life. It may not achieve the perfection of the Walt Disney animated film, but it holds its own.
Plays through October 2013 at the Newport Performing Arts Theater, Resorts World Manila, Newport Boulevard, Newport City, Pasay. http://www.rwmanila.com.
Share this story with your friends!
---
Help us make Spot.ph better!
Take the short survey
Load More Stories