THEATER REVIEW: Maxie the Musicale
Based on the 2005 coming-of-age film Ang Pagdadalaga ni Maximo Oliveros, the theatrical adaptation is just as good, but with more confetti and more sass.
(SPOT.ph) Openly gay and accepted in their household, twelve-year-old Maxie falls in love for the first time with the idealistic Victor, a newbie in their town's police force. Maxie's loyalty for his family is later challenged when Victor investigates a case that involves one of his older brothers.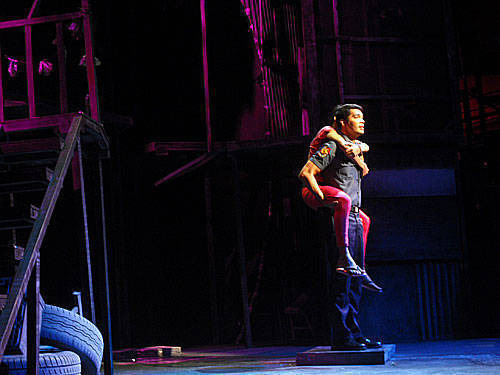 Playwright Nicolas Pichay translates this story beautifully into a musical, the language updated with the latest gay lingo. It is not for the faint of heart. As boisterous as a comedy bar, it is served scandalously on a delicious platter of topless men and glitter.
ADVERTISEMENT - CONTINUE READING BELOW
With its big-muscled men and pak na pak production numbers, it is obvious who this musical is targeting as their primary audience, but it also does not alienate. The central theme of the story, after all, is about love and family - something close to the hearts of Filipinos. Smartly hidden in the song lyrics are the more serious sub-themes of police corruption and brutality. Just imagine a chorus line of men singing about drug dealers and dirty cops while wearing nothing but bath towels!
But it's not all song and dance. In between the songs, there are snappy scenes with witty one-liners. This is evident in the fantasy number of "Pelikula" where Maxie fantasizes that he is a princess who needs to be saved by Victor, who transforms into a prince and slays monsters. A sure crowd favorite is "BeauCon," where Maxie and his friends pretend they are in a beauty contest. The scene is an endless series of laughs from the moment those heels walk up the stage until the coronation.
ADVERTISEMENT - CONTINUE READING BELOW
Playing Maxie is YouTube sensation Jayvhot Galang. This high school student won in various televised singing contests and has garnered a reputation for being a biritera. Although this is Galang's theater debut, don't underestimate him. The twinkie teen is actually a powerhouse!
While Galang revels in the spotlight, the other characters and even the chorus line are not to be outdone. Jojo Riguerra plays Victor to a tee - he is sincere and confused and tender. Nazer Salcedo as Mang Paco, Maxie's father, and Greg de Leon as the evil Chief Dominguez, do not hold back in their vocal prowess. Al Gatmaitan and Jay Gonzaga as Maxie's brothers, Boy and Bogs, are adorable, especially in their heartwarming scene "Kupal" where they comfort a heartbroken Maxie.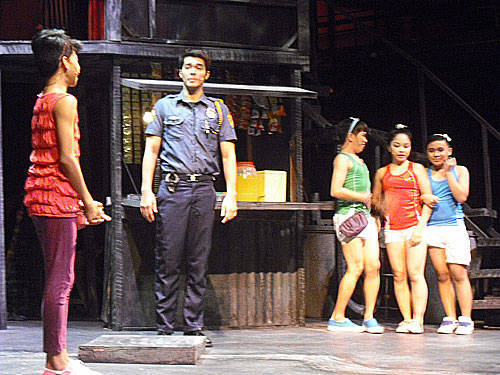 ADVERTISEMENT - CONTINUE READING BELOW
Maxie's friends, played by Teetin Villanueva, Nomer Limatog Jr. and Aaron Ching, all deserve their own Miss Universe titles. They give the production numbers that extra spunk and gaiety. Just wait till you see their adrenaline-fueled recap of the story.
Minor characters like Aling Carinderia and Peter, Maxie's frenemy, are show-stealers. The chorus line's energy never runs low. If in other musicals, the chorus line may as well be part of the backdrop, in Maxie, they are dynamic and capable of camouflage. One minute they are naked policemen, the next, they dolled-up beauty contestants. They are hyped as they celebrate the feast of "Sto. Nino ng mga UFOs and DVDs" in one scene, and in another, they are an angry mob, attacking the policemen.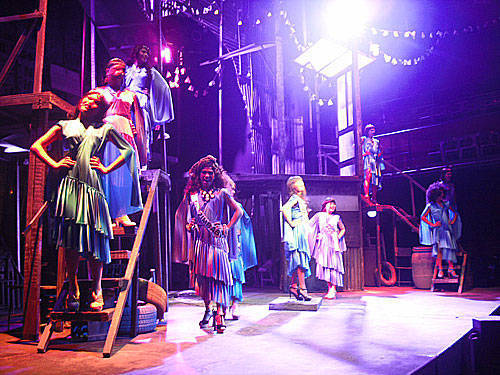 ADVERTISEMENT - CONTINUE READING BELOW
The music is supposed to capture the feel of the town of Sampaloc, Manila, where Maxie lives, but really, it could be any other chaotic Manila city. That's not necessarily a bad thing. It has a chaos and uncertainty that reflects the inner struggles of Maxie as he experiences the pangs of first love. The same can be said for Victor, who is trying to find himself, as he has to struggle with sticking to his principles. The story could have been like any other story about uncertainty, but Maxie uncertainty carries it off with glamour - complete with dance numbers! If broken hearts can be mended with a production number, Maxie makes it seem like it's worth a try. Hence, the play's most potent weapon: the fool-proof formula of hilarity and heart.
The musical is not too comedy and not too melodramatic - just the right amount of singing, acting, tears, and tiaras. It kind of makes one wonder why the original wasn't a musical in the first place.
ADVERTISEMENT - CONTINUE READING BELOW
Maxie The Musicale runs until

December 8

at the PETA Theater Center, 5 Eymard Drive, New Manila, Quezon City. For ticket reservations, contact 09175336267 or 09151916384. You can also visit their official Facebook page.
Photos courtesy of PETA

CONTINUE READING BELOW
Recommended Videos
Share this story with your friends!
---
Help us make Spot.ph better!
Take the short survey
Load More Stories