THEATER REVIEW: Nick Joaquin's Mga Ama, Mga Anak
An energetic cast, directed by Joel Lamangan, and a fine drama attuned to today's pop sensibilities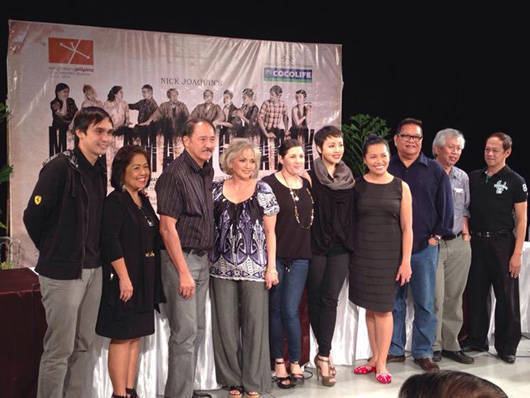 The cast with Lamangan, Lacaba (third, second from right). Photo: Tuxqs Rutaquio's Facebook page
(SPOT.ph) On learning about the premiere of Tanghalang Pilipino's production of this play-its second staging since the 1970s-we sensed right away a cultural event worth revisiting. It turned out to be much more-apart from the venerable names behind and on the stage-because the play turned out to be a refreshing alternative to the predominant teleseryes, although not quite a departure from it. Here are some notes on yet another production that affirms how theater can be a more exciting scene than cinema.
ADVERTISEMENT - CONTINUE READING BELOW
CONTINUE READING BELOW
Recommended Videos
The Set. The old furniture, the arched doorways, the gas lamps, the sepia lighting, the huge portrait of the main character (looking much like Robert Arevalo than his alternate SpankyManikan). And the fourth wall - at which the characters in this story point out an unseen yet crucial furniture or fixture. You know that you've stepped into Nick Joaquin's world. It's an old-school world, and in his lifetime, his skeptics had derided Joaquin for being old-fashioned, out of date-even if nobody else since has yet to surpass the greatest Filipino writer in the last and this present century. So went the eulogy of his old friend, F. Sionil Jose, to resounding applause in 2004, the year of Joaquin's death. The most curious facet about this old-fashioned set was that many among the audience on premiere night were prompted to take out their phonecams and capture this splendid empty moment before the start of the play, in plain violation of theater regulations. Hay naku, impetuous youth. Kudos to production designer Tuxqs Rutaquio and lighting designer Monino Duque for their work.
ADVERTISEMENT - CONTINUE READING BELOW
Plot and Theme. Mga Ama is a more fleshed-out narrative of Joaquin's classic short story "Three Generations." It's a loose yet complex character-driven story taking off from Freudian family romance-as a proud but ailing old womanizer (Zacarias) vents his sound and fury against a resentful son (Celo) who upholds virtue to spite him, only to find this semblance challenged by the loftier aspirations of his own son (Chitong), the priesthood. So ends the machismo in this lineage disrupted by the women in their lives, and by the relentless transitions of time. The dynamics of nostalgia and the war of the sexes are among Joaquin's recurring themes-and it's plain to see on whose side Joaquin had always been, going by the formidable women in his fiction and in this play, despite their near-absence in its title.
The Cast (Here, There's Much to Commend). Arevalo, who plays the main character (alternating with Manikan), is widely celebrated for his committed performances in film and theater. But because of the inherent weakness and futility of his character, he is eclipsed by the more flamboyant parts reserved for Cris Villonco, Madeleine Nicolas, Peewee O'Hara, and Celeste Legaspi.
ADVERTISEMENT - CONTINUE READING BELOW
As the honky-tonk woman Bessie, the last among the bedridden patriarch's lovers, Villonco is a pleasantly shocking accent in this ensemble-flashing her lovely legs and midriff. That such an alluring vision should stand alongside the senility of Arevalo's character reveals this production's attempt to outdistance Joaquin's imagination-because Villonco is a lot lusher than the Bessie of "Three Generations." Apart from the hot legs, she's always an electrifying actress. But here, she gives way to Nicolas and Legaspi. One fancies that Bea Alonzo would also be ideal for the Bessie part, or Lovi Poe-that would be truly pursuing the theater tradition in the resumés of Nora Aunor and Boyet de Leon.
Nicolas further refines the spinsters of Portrait of the Artist as Filipino and gives this stereotype a remarkably sensual dimension. But this is really all of Legaspi's show, in her small part as the bawdy yet imperious wife of Celo (Fernando Josef).This is one singer-actress who sings her speaking lines as beautifully as she acts her songs. To her (and to alternate Jackie Lou Blanco, who would also be fascinating to watch) are entrusted this play's most startling lines: "Mas mabuti para sa iyo at para sa ating pagsasama kung nagkaroon ka ng...kabit." "Nagagalit ka sa iyong sarili dahil nalilibugan ka sa babaeng iyon!" "Hindi mo ba alam, kung bakit ako naibig sa iyo... ay dahil panis kang pari?"
ADVERTISEMENT - CONTINUE READING BELOW
The Text and Its Adaptation. There's always something of a European farce even in Joaquin's most earnest stories. Unfortunately, the comedy was missing amid the somberness and rococo gentility of that otherwise stunning film painting, Lamberto Avellana's movie version of Portrait (1965). (SPOT.ph blogger Ria Limjap revisited this film in 2013.)
This Joaquinesque venture, on the other hand, is a full-scale comedy framed by the senti trappings of melodrama-the monologue confessions facing the window (à la LVN and Sampaguita), the lovely music by TJ Ramos which should do George Canseco proud, and the violent confrontations which one wishes Direk Joel Lamangan would have intensified. In its tragicomic diversity, the melodrama continues to thrive, as this production shows. It is as inherent to the Filipino as it is to the flamboyant Spanish. Joaquin himself, in Portrait, even dared to qualify the events of 1896 as melodrama, pointing out too its farcical qualities in his essays on history as Quijano de Manila.
ADVERTISEMENT - CONTINUE READING BELOW
Mga Ama is altogether a wonderful adaptation of "Three Generations"-aided by this play's translator, Pete Lacaba (executive editor of Yes! and Joaquin's long-time colleague in journalism), with further tweaking by Rio Alma. Like Joaquin in his lifetime, both these esteemed writers have their radars alert to the past and to the future. Their text is punctuated by keywords fleeting through time: "tango," "mod," "bailarina" (a term one still heard in Eighties cinema), "call girl," "Forbes Park," "subdivision," "mairaos ang gabi," "magsalsal" (this one brought the house down), "no dice," "kitams?" One wishes Lamangan would stick around on the stage a little while longer, to show us through prime time outside television.
Mga Ama, Mga Anak will be staged again at the Tanghalang Aurelio Tolentino of the Cultural Center of the Philippines on February 28 and March 7, 8 p.m.; March 1 and March 8, 3 p.m. and 8 p.m.; and March 2 and March 9, 3 p.m. For inquiries, contact Tanghalang Pilipino at 832-1125, locals 1620 and 1621.
ADVERTISEMENT - CONTINUE READING BELOW
Load More Stories