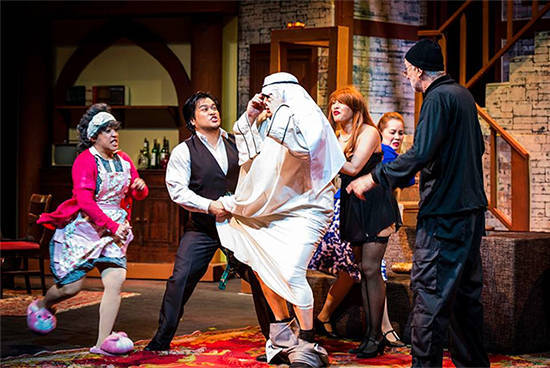 (SPOT.ph) You must see Michael Frayn's Noises Off, directed by Miguel Faustmann. If you live in an absurd reality where you are only allowed to watch one play per year, then pick this one. It's a bargain-you get to see two plays with one ticket...and they even throw in a backstage pass. The absurd hijinks in this farce will have you falling off your seat laughing and you'll walk away with a much better appreciation for theater.
It begins with the rehearsal of Nothing On, the "inner" play within Noises Off. Frances Makil Ignacio expertly sets the tone of the play with a plate of sardines in hand as the actress Dotty Otley, who plays Mrs. Clackett. Dotty practices her cues with Garry Lejeune who plays Roger Tramplemain (Lorenz Martinez), and Brook Ashton, who sleazed her way into playing Vicki (Carla Guevara-Laforteza). Through their banter, we see what performers have to deal with while working on a play. And yes, it is work: memorizing pages and pages of dialogue, hitting your cues, and, of course, dealing with the quirks of your fellow actors.
ADVERTISEMENT - CONTINUE READING BELOW
The first act is a hilarious take on the unnecessarily complicated situations people get themselves into-and the madness that the director has to contain with such a zany bunch of characters in one place. Of course, he has to stop himself from contributing to the insanity as well, which Lloyd Dallas (the director of Nothing On, played by Chinggoy Alonso) fails to do.
After the first act establishes the relationship between everyone on stage, an explosion of absurdities happen. The second act literally flips the set, and the audience becomes privy to what goes on behind it. Lloyd Dallas somehow manages not to die of shame and embarrassment as his two lovers bicker behind the curtains and his play loses all of its integrity on stage.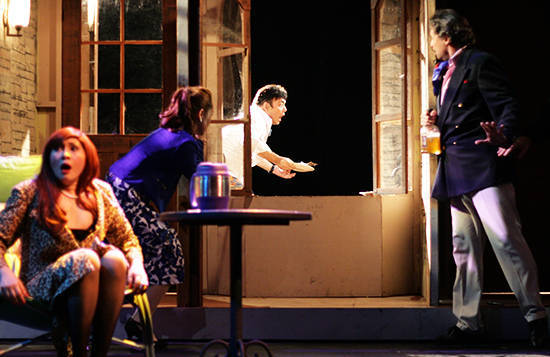 ADVERTISEMENT - CONTINUE READING BELOW
Recommended Videos
The second act takes the farce where it needs to go: the land of everything ridiculous. The actors fight behind the set (and by fight we mean chase each other with an ax) and then enter the stage to perform (poorly). Directors Faustmann and Robbie Guevara choreograph the chaos perfectly. The cast puts on a failing show and we're all out of breath-the ensemble from the demands of the slapstick humor and the audience from excessive laughter.
Slapstick might not even be the right word to use here, because Repertory Philippines wasn't goofing around. They were performing for two audiences (fictional and real), and they had to sustain the energy for both-synchronizing Nothing On with Noises Off. From the behind-the-scenes perspective of the second act, you'll see all the hoops that actors go through to put on a play for us, and hopefully, this encourages you to love them (more).
ADVERTISEMENT - CONTINUE READING BELOW
As the old adage goes, the show must go on... and the third act stretches this phrase to its limits. Now on its last leg, the cast performs the first act of Nothing On, and it is terrible. Shiela Valderrama's character Belinda Blair, who plays Flavia Brent, tries everything and anything to save the show, but alas, improvisation is not her strong suit. Insert Kris Aquino's laugh here. Everyone is missing their cues, the props are all wrong, and the set is literally falling apart. It's astounding to find out that the senseless scenes on stage are carefully curated to make you laugh.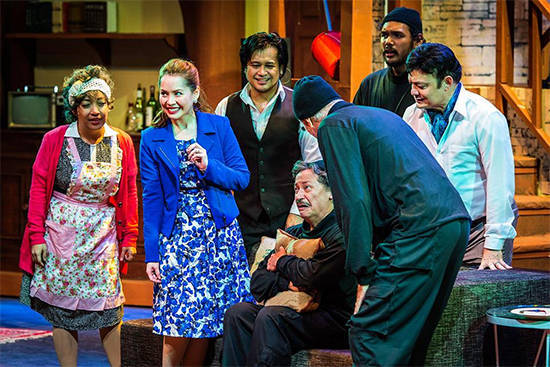 ADVERTISEMENT - CONTINUE READING BELOW
If you've never seen a play in your life, buy a ticket now, and let Noises Off show you how to enjoy theater.
For tickets, log on to www.repertoryphilippines.com or call Ticket World at 891-9999. Prices are at P625.20 (Gold), P521 (Silver), and P416.80 (Bronze).
Share this story with your friends!
---
Help us make Spot.ph better!
Take the short survey
Load More Stories