Theater Review: Priscilla, Queen of the Desert
Big hair, elaborate everything, "It's Raining Men"? This musical is drag without being dragging.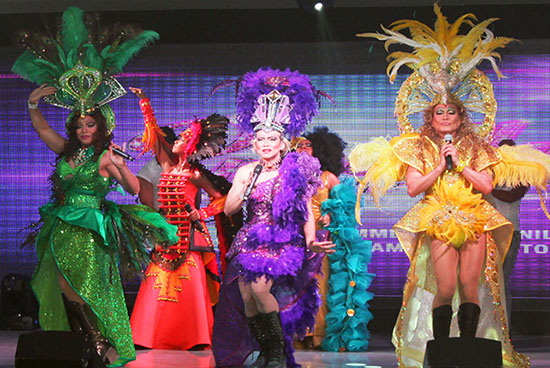 (SPOT.ph) You have to wonder what's left in the country's supply of sequins and rhinestones after watching Priscilla, Queen of the Desert. It's a show that does nothing but dazzle from the glitz in the costume design to the star-studded cast composed of Leo Tavarro Valdez, Jon Santos, Menchu Lauchengco-Yulo, Pinky Marquez, and Bituin Escalante.
Priscilla, Queen of the Desert is a high-energy, power-packed, and muscled performance of pure sparkles in the package of two outrageous drag queens and one elegant transvestite. Staged and produced by Resorts World Manila's Full House Theater Productions, the story follows three drag queens aboard a rundown bus, nicknamed "Priscilla." The trio are traveling across the Outback to a gig in the remote town of Alice Springs. The musical is based on the 1994 Australian movie of the same name, starring Hugo Weaving, Terence Stamp, and Guy Pearce (notice how all three have played a comic-book villain in film), and was converted to the theater in 2006. It made its Broadway debut in 2011.
Ask RuPaul and he'd tell you that any media about drag queens puts pressure on the pageantry. Jo Tecson's stage is elaborate and vivid, with more colors than the rainbow, and the props department doing just about everything it could to deliver an Australian desert to the audience-mostly in the form of a giant screen in the background. Edgar San Diego whips out every hue, cut, and type of fabric to craft outrageous costumery. From Bernadette Bassinger's (Santos) Stepford Wife-inspired wardrobe to Felicia Jollygoodfellow's (Red Concepcion) disco-meets-Cinderella frock, the local revival of Priscilla knows how to slap on the fabulous in terms of clothing-as it should. The film and musical won Academy and Tony awards respectively, for costume design.
ADVERTISEMENT - CONTINUE READING BELOW
It's a 90-minute mass of larger-than-life headdresses, big hair, and one mullet, but the powerhouse cast outshines even the glitziest getup. The leads skip the Australian accent (which was only executed by one supporting and one minor character-and quite excellently), but it's a minor oversight. Emotive performances make the silly but substantiated storyline matter. Two projectors on the sides of the main stage feature the actors up close, making the audience appreciate the genuine expressions behind the false lashes.
Valdez, who carries the lead role of Tick/Mitzi Del Bra, is wonderfully relatable in his turnaround backstory of a father seeking approval from his son. The actor, who moves from king (RW's King and I) to queen, effortlessly convinces the audience of his personal struggles in a way only Dionne Warwick and Petula Clark songs could express. Concepcion, the excitable Felicia, puts up the vitality required of a novice, but when his character takes the biggest dramatic turn in the plot, he shocks, he stammers, he sings, and the princess becomes a true queen. Next to the other two, Santos isn't as strong vocally, but years of impressions and comedy has given this stage veteran impeccable timing and restraint. Though his pitch isn't perfect, he is the perfect pitch as the nose-up-in-the-air motherly bitch. You look forward to his one-liners, eye rolls, and fashion that would make Sarah Jessica Parker hide in a closet.
CONTINUE READING BELOW
Recommended Videos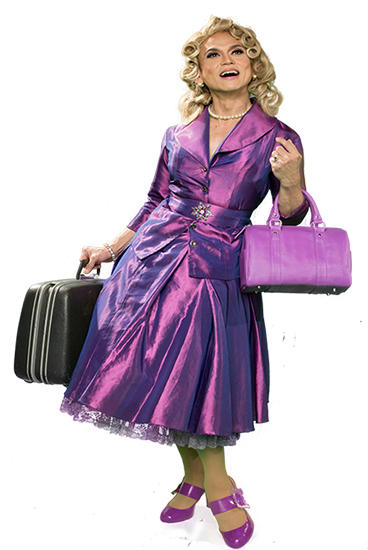 ADVERTISEMENT - CONTINUE READING BELOW
She reminds us of Elle Woods seeing Harvard for the first time.
There are obviously no female leads in a story about this kind of queens, but Lauchengco-Yulo's and Marquez's individual talents were largely underused. Bituin, who was part of the Divas trio, however, stood out with her strong, crystal-clear voice.
The drag queen theme could easily be either too overwhelming, too pushy, or too generic, but director Jaime del Mundo knows when exactly to bring out the smooth velvet gowns and when the scenario calls for the bejeweled ensemble. While there's a wealth of drag anthems like "True Colors," "It's Raining Men," and "I Will Survive," there's noticeably none from the most popular gay icons such as Cher and Celine Dion. Perhaps it remind the audience that there's a deeper message under the inch-thick contouring. Del Mundo's edit of the Asian character, however, dangerously fuels the stereotype.
Priscilla, Queen of the Desert is an engagingly loud and exuberant affair with contagious vivacity that starts with uncontrollable foot-tapping to full-fledged dancing. Still, the strength of its superb leads, supported by the effective flamboyance of drag culture, was all it took to pull off this sparkly political statement that ultimately culminates in the importance of family-and glitter.
Be sure to glam up when you watch Priscilla, Queen of the Desert. Anything less than shimmery seems disrespectful.
Catch Priscilla, Queen of the Desert at the Newport Performing Arts Theater, Resorts World Manila, Pasay City. Tickets are priced P3,966.40, P3,323.20, P2,572.80, P1,715.20, P1,286.40, and are available at Ticket World (891-9999), TicketNet, and RW Box Office.
ADVERTISEMENT - CONTINUE READING BELOW
Share this story with your friends!
---
Help us make Spot.ph better!
Take the short survey
Load More Stories