Theater Review: Red Turnip's Rabbit Hole, featuring Agot Isidro and Michael Williams
A funny play about a seemingly humorless topic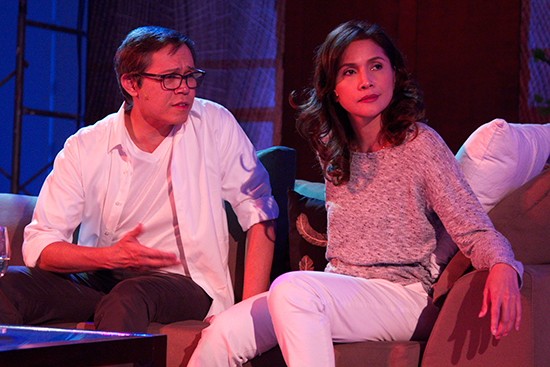 Agot Isidro and Michael Williams as Becca and Howie
(SPOT.ph) There is a scene in the film Magnifico, where Magnifico's mother (played by Lorna Tolentino) opens a cabinet and breaks down while clinging to the clothes of her now-deceased son. The same shot is in American Beauty and this is frequently how grief is visualized for us as viewers and as people.
The scenes from Rabbit Hole are a few days, weeks, months past that. It's past the stage of wailing and weeping uncontrollably. The parents of Daniel, a young boy who chased the family dog out onto the street-an innocent act that had a fatal result, are now living with his absence. The play opens with the mother, Becca (played by Agot Isidro), folding Daniel's clothes. No clutching with tears. It's an ordinary day with her sister, Izzy (Che Ramos-Cosio), and they are having an ordinary conversation. Big sister is reprimanding little sister about something little sisters typically do.
And then, in the middle of banter, grief stops by to say hello. It doesn't linger and the two carry on with their chat. Life goes on. This is essentially what Rabbit Hole seems to want to say. It sounds hopeful, but it is also a burden that people who must deal with something so irrevocably absolute carry. You've gone through something (oh, so that's where the play's title comes from) and things will never be the same.
Death is a funny thing. The play hits the first definition of the word right in the gut. David Lindsay-Abaire's play might have won the Pulitzer for drama, but you will laugh. Perhaps not at a person telling a joke, but at a situation that is downright ridiculous. Agot Isidro succinctly expresses shock and amazement while her character relays a story about smacking a person at the grocery. Shoulders slouched, sitting on the couch, eyebrows together, one hand on her thigh, and the other poised near her face, asking herself, "I smacked her?"
ADVERTISEMENT - CONTINUE READING BELOW
The audience at the press screening didn't chortle, chuckle, or giggle. They laughed. Guffawed, even. Life isn't on pause. Things like that happen. It's absurd, hence funny.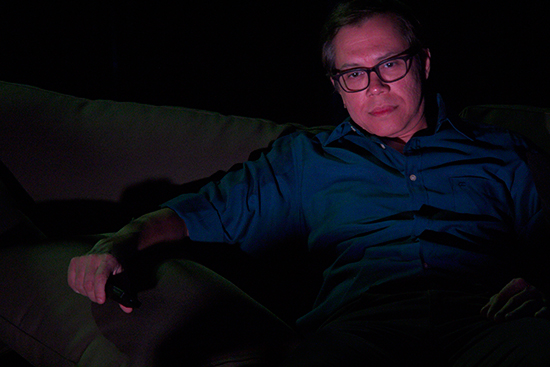 CONTINUE READING BELOW
Recommended Videos
The scenes filled with silence are pregnant with memories of Daniel. Even without the benefit of close ups, Williams evokes the sense of loss a little too effectively. Good thing Red Turnip allows you to drink beer while watching!
Funny is also a way to describe something "difficult to explain or understand; strange." Director Topper Fabregas understood that about the play and executed the thought behind it faithfully. The ensemble cast spoke the different languages of grief with ample comprehension, most vividly seen between Becca and her husband, Howie (played by Michael Williams). The chemistry between Isidro and Williams might not be an overtly romantic one, but the push and pull between two people who are coping with the loss of their child in different ways is one that is a challenge to portray realistically. They did it, with exhilarating brilliance...while doing something so banal!
ADVERTISEMENT - CONTINUE READING BELOW
Becca, sitting on the couch (Isidro with her feet up as though she had owned that piece of furniture for years), with her husband not-so-subtly trying to seduce her left us with a strange feeling. You almost want to look away. It's like you're a voyeur, stalking your neighbor through the window. You watch them fight because one wants to hold on to something tangible, while the other is carrying an emotion so grand that every little object is like a reverse lobotomy. Something as ordinary as a picture starts things (an umbrella term for whatever the picture will set off: a fight, a crying fit, et cetera). You never really understand that about death until you experience it for yourself.
We would like to call Rabbit Hole funny for the third time to "draw your attention to something interesting." Not just Che Ramos-Cosio's lovely yellow polka dot socks, but the entire production itself. The play is working on the premise that grief is almost incomprehensible for others, creating a bit of a paradox. What is the point of watching a play if it's about something that you can't relate to?
Curiously, people seem to forget that we have all wandered into that room where words and touch offer no comfort and we've all experienced a loss from which we never quite recovered. We just forget intermittently. Because life goes on.  Rabbit Hole will remind you of the time when the pain seemed unbearable, but you will walk out feeling happy that despite circumstances, you're still here. You survived. You go, you!
ADVERTISEMENT - CONTINUE READING BELOW
Rabbit Hole opens on August 1, and runs all weekends of August. Tickets are available through TicketWorld. Visit Red Turnip Theater's Facebook page for more details. Red Turnip performs at Whitespace (2314 Chino Roces Avenue Extension).
Share this story with your friends!
---
Help us make Spot.ph better!
Take the short survey
Load More Stories